Shayari for Jaam"Tu Dalta Ja Sharab Mere Pyale Mai"
|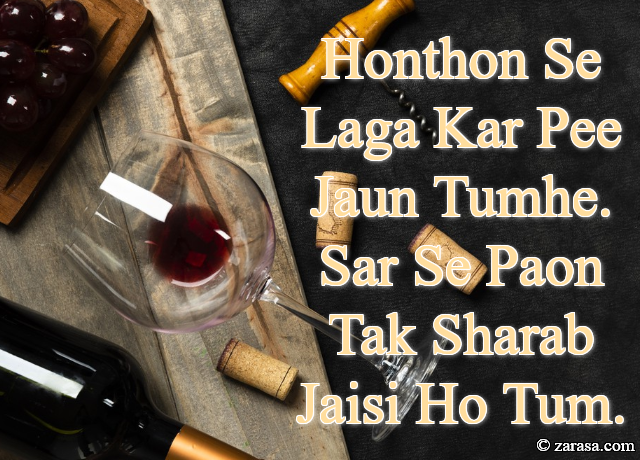 Honthon Se Laga Kar Pee Jaun Tumhe.
Sar Se Paon Tak Sharab Jaisi Ho Tum.
होंठों से लगा कर पी जॉन तुम्हे .
सर से पाऊँ तक शराब जैसी हो तुम .
ہونتھوں سے لگا کر پی جون تمھ .
سر سے پاؤں تک شراب جیسی ہو تم .
---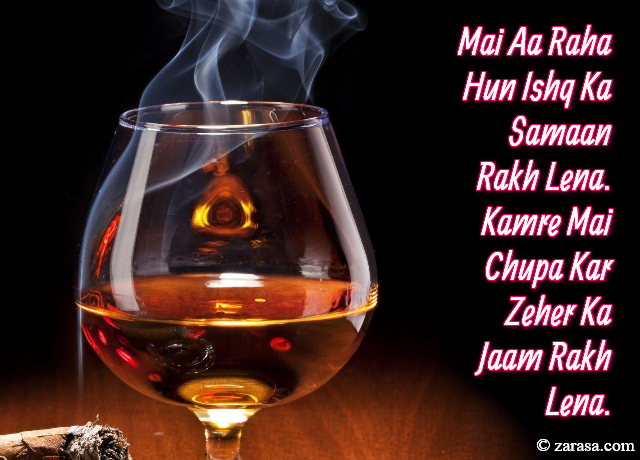 Mai Aa Raha Hun Ishq Ka Samaan Rakh Lena.
Kamre Mai Chupa Kar Zeher Ka Jaam Rakh Lena.
मै आ रहा हूँ इश्क़ का सामान रख लेना .
कमरे मै छुपा कर ज़हर का जाम रख लेना .
می آ رہا ہوں اشک کا سامان رکھ لینا .
کمرے می چھپا کر زہر کا جام رکھ لینا .
---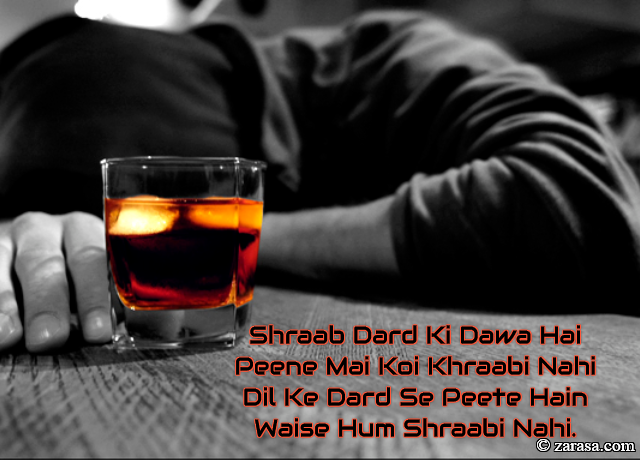 Shraab Dard Ki Dawa Hai Peene Mai Koi Khraabi Nahi Dil Ke Dard Se Peete Hain Waise Hum Shraabi Nahi.
शराब दर्द की दवा है पीने मैं कोई ख़राबी नहीं दिल के दर्द से पीते हैं वैसे हम शराबी नहीं .
شراب درد کی دوا ہے پینے می کوئی خرابی نہیں دل کے درد سے پیتے ہیں ویسے ہم شرابی نہیں .
---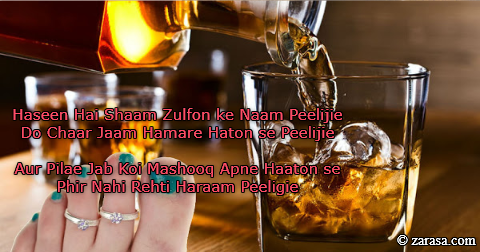 Haseen Hai Shaam Zulfon ke Naam Peelijie
Do Chaar Jaam Hamare Haton se Peelijie
Aur Pilae Jab Koi Mashooq Apne Haaton se
Phir Nahi Rehti Haraam Peeligie
हसीन है शाम ज़ुल्फ़ों के नाम पिलीजिए
दो चार जाम हमारे हातों से पिलीजिए
और पिलाए जब कोई माशूक़ अपने हातों से'
फिर नहीं रहती हराम पीलीजिए
حسین ہے شام زلفوں کے نام پیلیجئے
دو چار جام ہمارے ہاتوں سے پیلیجئے
اور پلاے جب کوئی ماشوق اپنے ہاتوں سے
پھر نہیں رہتی حرام پیلیجئے


---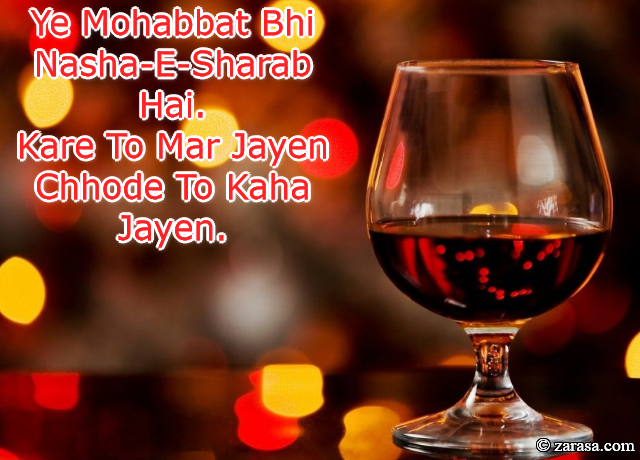 Ye Mohabbat Bhi Nasha-E-Sharab Hai.
Kare To Mar Jayen Chhode To Kaha Jayen.
ये मोहब्बत भी नशा -इ -शराब है .
करे तो मर जाएँ छोड़े तो कहा जाएँ .
یہ موحبّت بھی نشہ -ا -شراب ہے .
کرے تو مر جین چھوڈے تو کہا جین .
---