Shayari for Jaam "Yahan Libaas Ki Keemat Hai"
|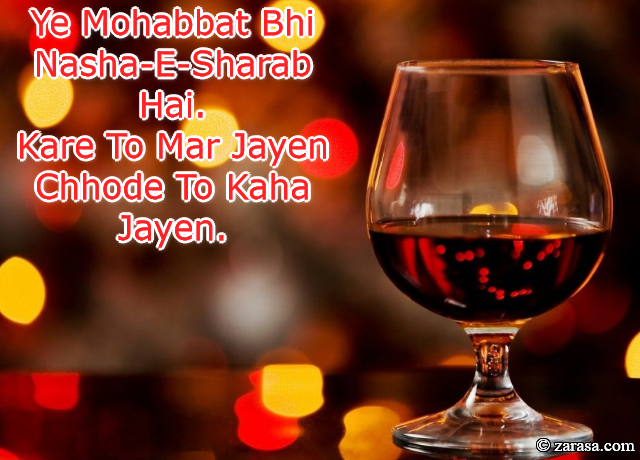 Ye Mohabbat Bhi Nasha-E-Sharab Hai.
Kare To Mar Jayen Chhode To Kaha Jayen.
ये मोहब्बत भी नशा -इ -शराब है .
करे तो मर जाएँ छोड़े तो कहा जाएँ .
یہ موحبّت بھی نشہ -ا -شراب ہے .
کرے تو مر جین چھوڈے تو کہا جین .
---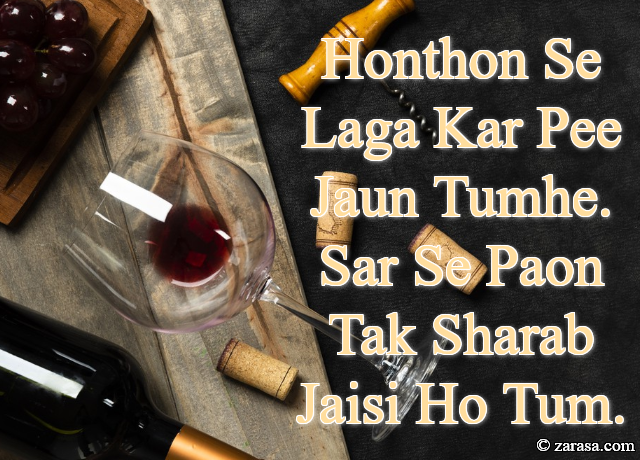 Honthon Se Laga Kar Pee Jaun Tumhe.
Sar Se Paon Tak Sharab Jaisi Ho Tum.
होंठों से लगा कर पी जॉन तुम्हे .
सर से पाऊँ तक शराब जैसी हो तुम .
ہونتھوں سے لگا کر پی جون تمھ .
سر سے پاؤں تک شراب جیسی ہو تم .
---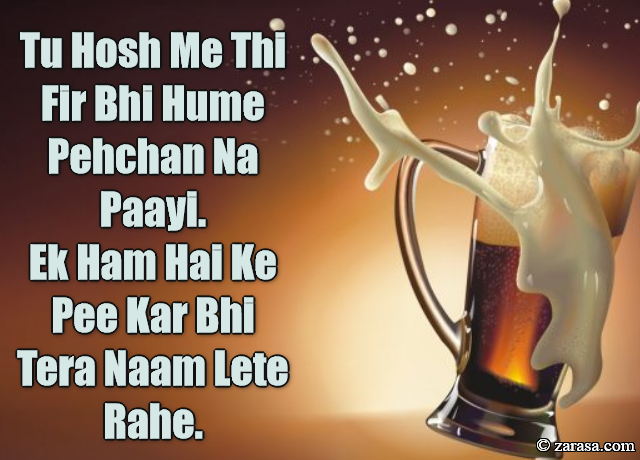 Tu Hosh Me Thi Fir Bhi Hume Pehchan Na Paayi.
Ek Ham Hai Ke Pee Kar Bhi Tera Naam Lete Rahe.
तू होश में थी फिर भी हमे पहचान न पाई .
एक हम है के पी कर भी तेरा नाम लेते रहे .
تو ہوش مے تھی فر بھی ہمے پہچان نہ پیی .
ایک ہم ہے کے پی کر بھی تیرا نام لیتے رہے .
---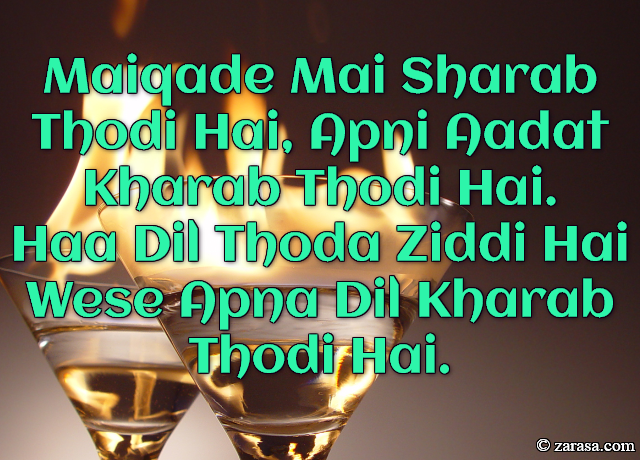 Maiqade Mai Sharab Thodi Hai, Apni Aadat Kharab Thodi Hai.
Haa Dil Thoda Ziddi Hai Wese Apna Dil Kharab Thodi Hai.
मैक़दे मै शराब थोड़ी है , अपनी आदत ख़राब थोड़ी है .
हाँ दिल थोड़ा ज़िद्दी है वैसे अपना दिल ख़राब थोड़ी है .
میقدے می شراب ٹھوڈی ہے , اپنی عادت خراب ٹھوڈی ہے .
ہا دل تھودا زادی ہے ویسے اپنا دل خراب ٹھوڈی ہے .
---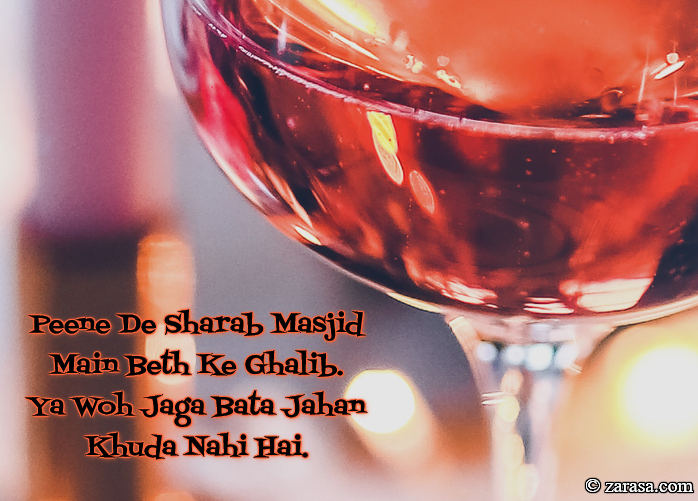 Peene De Sharab Masjid Main Beth Ke Ghalib.
Ya Woh Jaga Bata Jahan Khuda Nahi Hai.
पीने दे शराब मस्जिद मैं बेठ के ग़ालिब .
या वह जगा बता जहाँ खुदा नही है .
پینے دے شراب مسجد میں بیٹھ کے غالب .
یا وہ جگا بتا جہاں خدا نہیں ہے .
---