Shayari for Jaam"Ye Jo Haule Haule Jaam Bharta Hai Saaki"
|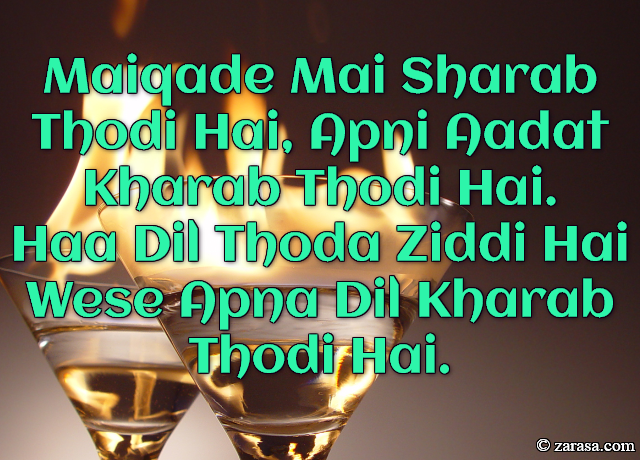 Maiqade Mai Sharab Thodi Hai, Apni Aadat Kharab Thodi Hai.
Haa Dil Thoda Ziddi Hai Wese Apna Dil Kharab Thodi Hai.
मैक़दे मै शराब थोड़ी है , अपनी आदत ख़राब थोड़ी है .
हाँ दिल थोड़ा ज़िद्दी है वैसे अपना दिल ख़राब थोड़ी है .
میقدے می شراب ٹھوڈی ہے , اپنی عادت خراب ٹھوڈی ہے .
ہا دل تھودا زادی ہے ویسے اپنا دل خراب ٹھوڈی ہے .
---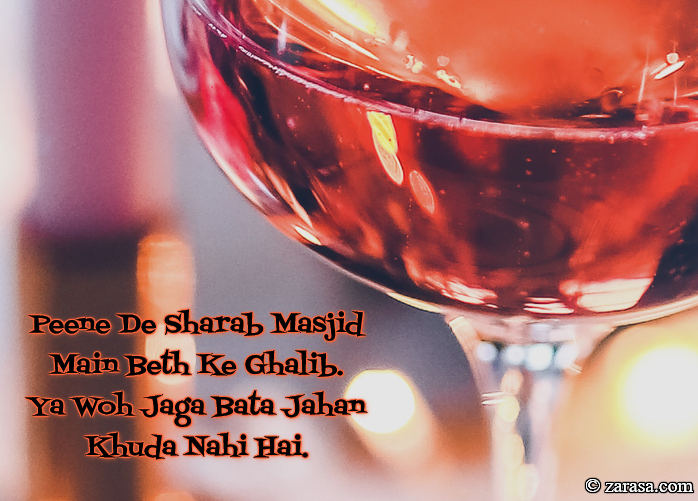 Peene De Sharab Masjid Main Beth Ke Ghalib.
Ya Woh Jaga Bata Jahan Khuda Nahi Hai.
पीने दे शराब मस्जिद मैं बेठ के ग़ालिब .
या वह जगा बता जहाँ खुदा नही है .
پینے دے شراب مسجد میں بیٹھ کے غالب .
یا وہ جگا بتا جہاں خدا نہیں ہے .
---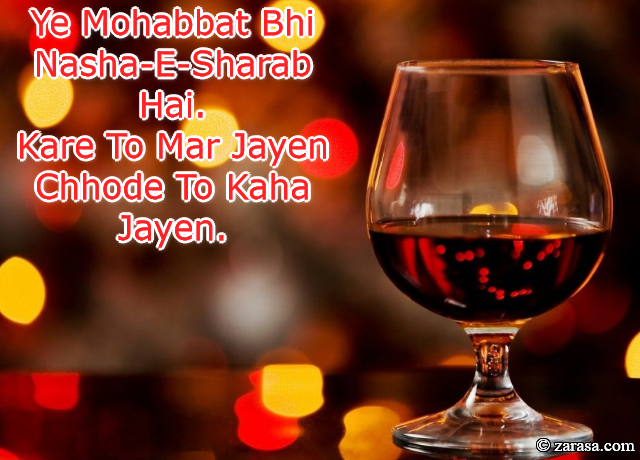 Ye Mohabbat Bhi Nasha-E-Sharab Hai.
Kare To Mar Jayen Chhode To Kaha Jayen.
ये मोहब्बत भी नशा -इ -शराब है .
करे तो मर जाएँ छोड़े तो कहा जाएँ .
یہ موحبّت بھی نشہ -ا -شراب ہے .
کرے تو مر جین چھوڈے تو کہا جین .
---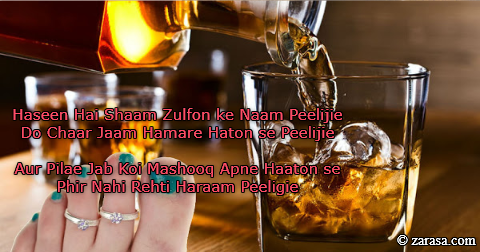 Haseen Hai Shaam Zulfon ke Naam Peelijie
Do Chaar Jaam Hamare Haton se Peelijie
Aur Pilae Jab Koi Mashooq Apne Haaton se
Phir Nahi Rehti Haraam Peeligie
हसीन है शाम ज़ुल्फ़ों के नाम पिलीजिए
दो चार जाम हमारे हातों से पिलीजिए
और पिलाए जब कोई माशूक़ अपने हातों से'
फिर नहीं रहती हराम पीलीजिए
حسین ہے شام زلفوں کے نام پیلیجئے
دو چار جام ہمارے ہاتوں سے پیلیجئے
اور پلاے جب کوئی ماشوق اپنے ہاتوں سے
پھر نہیں رہتی حرام پیلیجئے


---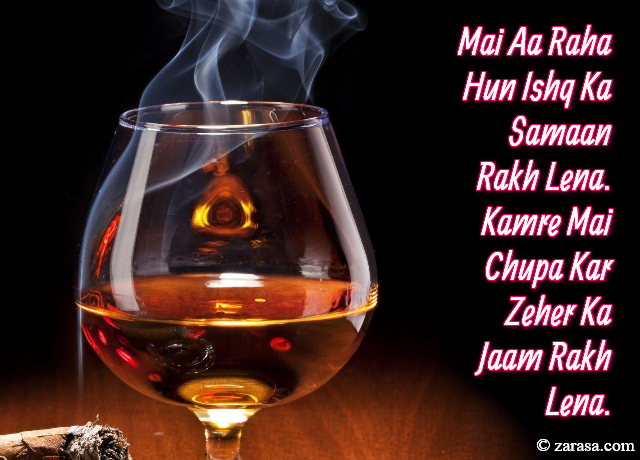 Mai Aa Raha Hun Ishq Ka Samaan Rakh Lena.
Kamre Mai Chupa Kar Zeher Ka Jaam Rakh Lena.
मै आ रहा हूँ इश्क़ का सामान रख लेना .
कमरे मै छुपा कर ज़हर का जाम रख लेना .
می آ رہا ہوں اشک کا سامان رکھ لینا .
کمرے می چھپا کر زہر کا جام رکھ لینا .
---