Shayari for Jaam"Wo Pila Kar Jaam Labo Se Apni Mohabbat Ka"
|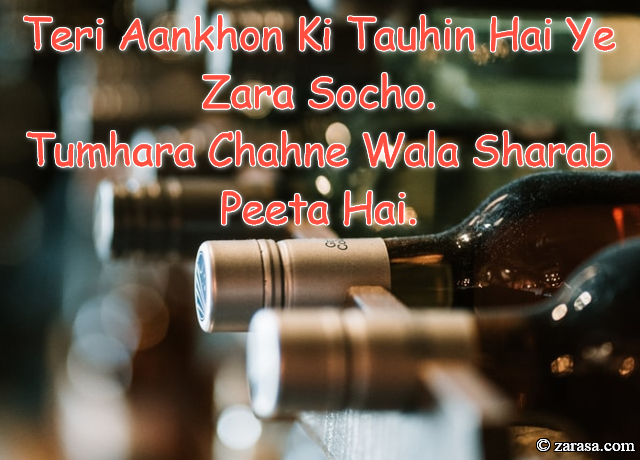 Teri Aankhon Ki Tauhin Hai Ye Zara Socho.
Tumhara Chahne Wala Sharab Peeta Hai.
तेरी आँखों की तौहीन है ये ज़रा सोचो .
तुम्हारा चाहने वाला शराब पीटा है .
تیری آنکھوں کی توہین ہے یہ ذرا سوچو .
تمہارا چاہنے والا شراب پیتا ہے .
---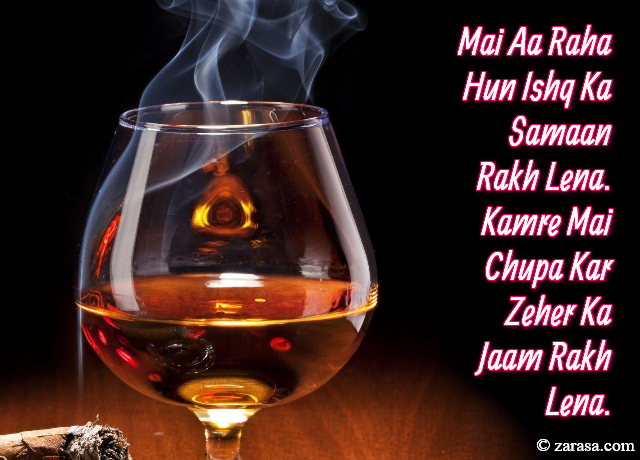 Mai Aa Raha Hun Ishq Ka Samaan Rakh Lena.
Kamre Mai Chupa Kar Zeher Ka Jaam Rakh Lena.
मै आ रहा हूँ इश्क़ का सामान रख लेना .
कमरे मै छुपा कर ज़हर का जाम रख लेना .
می آ رہا ہوں اشک کا سامان رکھ لینا .
کمرے می چھپا کر زہر کا جام رکھ لینا .
---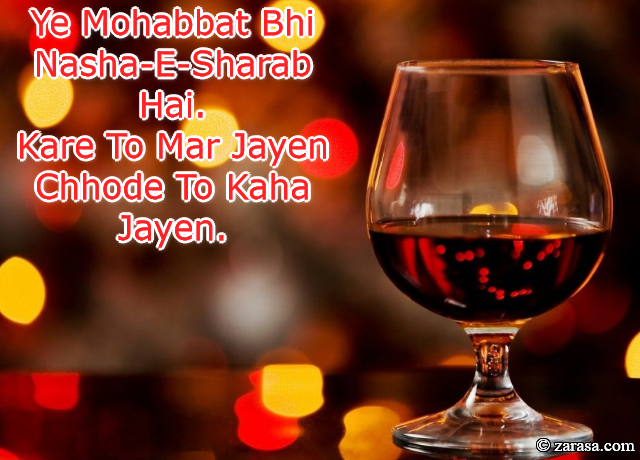 Ye Mohabbat Bhi Nasha-E-Sharab Hai.
Kare To Mar Jayen Chhode To Kaha Jayen.
ये मोहब्बत भी नशा -इ -शराब है .
करे तो मर जाएँ छोड़े तो कहा जाएँ .
یہ موحبّت بھی نشہ -ا -شراب ہے .
کرے تو مر جین چھوڈے تو کہا جین .
---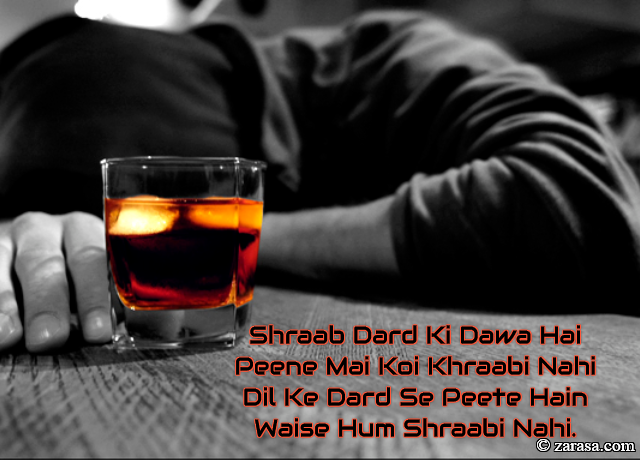 Shraab Dard Ki Dawa Hai Peene Mai Koi Khraabi Nahi Dil Ke Dard Se Peete Hain Waise Hum Shraabi Nahi.
शराब दर्द की दवा है पीने मैं कोई ख़राबी नहीं दिल के दर्द से पीते हैं वैसे हम शराबी नहीं .
شراب درد کی دوا ہے پینے می کوئی خرابی نہیں دل کے درد سے پیتے ہیں ویسے ہم شرابی نہیں .
---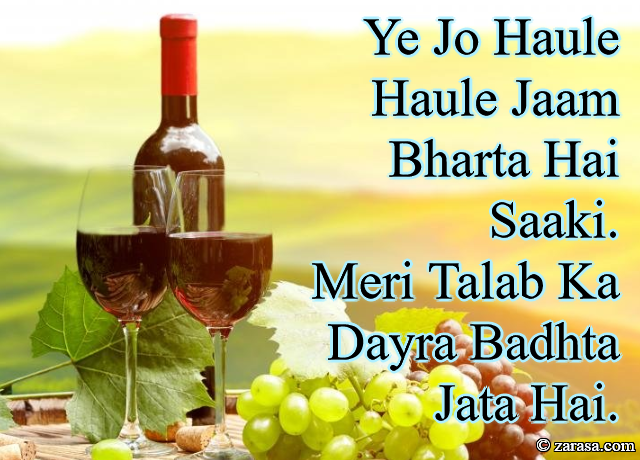 Ye Jo Haule Haule Jaam Bharta Hai Saaki.
Meri Talab Ka Dayra Badhta Jata Hai.
ये जो हौले हौले जाम भरता है साकी .
मेरी तालाब का दायरा बढ़ता जाता है .
یہ جو ہولے ہولے جام بھرتا ہے ساکی .
میری طلب کا ڈیڑہ بڑھتا جاتا ہے .
---