Shayari for Jaam"Wo Pila Kar Jaam Labo Se Apni Mohabbat Ka"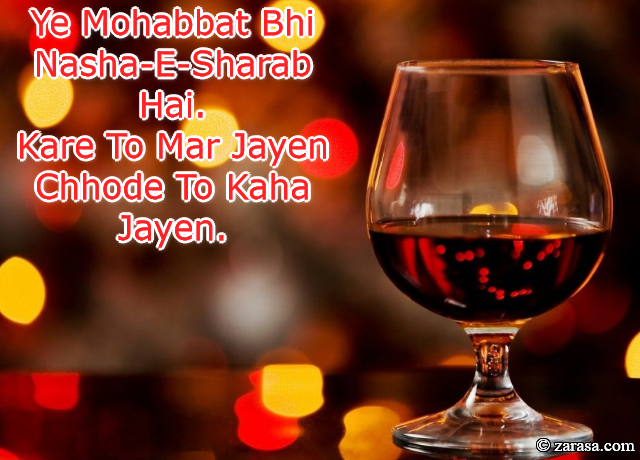 Ye Mohabbat Bhi Nasha-E-Sharab Hai.
Kare To Mar Jayen Chhode To Kaha Jayen.
ये मोहब्बत भी नशा -इ -शराब है .
करे तो मर जाएँ छोड़े तो कहा जाएँ .
یہ موحبّت بھی نشہ -ا -شراب ہے .
کرے تو مر جین چھوڈے تو کہا جین .
---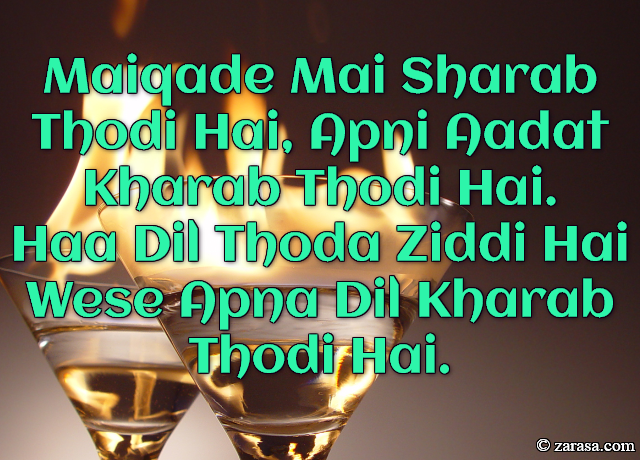 Maiqade Mai Sharab Thodi Hai, Apni Aadat Kharab Thodi Hai.
Haa Dil Thoda Ziddi Hai Wese Apna Dil Kharab Thodi Hai.
मैक़दे मै शराब थोड़ी है , अपनी आदत ख़राब थोड़ी है .
हाँ दिल थोड़ा ज़िद्दी है वैसे अपना दिल ख़राब थोड़ी है .
میقدے می شراب ٹھوڈی ہے , اپنی عادت خراب ٹھوڈی ہے .
ہا دل تھودا زادی ہے ویسے اپنا دل خراب ٹھوڈی ہے .
---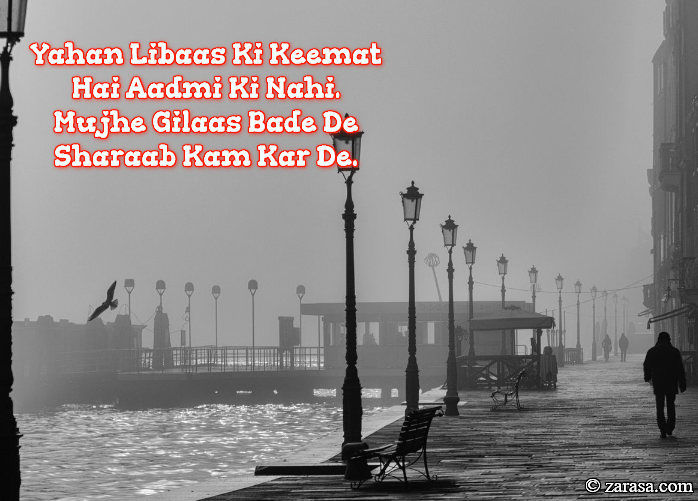 Yahan Libaas Ki Keemat Hai Aadmi Ki Nahi.
Mujhe Gilaas Bade De Sharaab Kam Kar De.
यहाँ लिबास की कीमत है आदमी की नहीं .
मुझे गिलास बड़े दे शराब कम कर दे .
یہاں لباس کی کےمت ہے آدمی کی نہیں .
مجھے گلاس بدی دے شراب کم کر دے .
---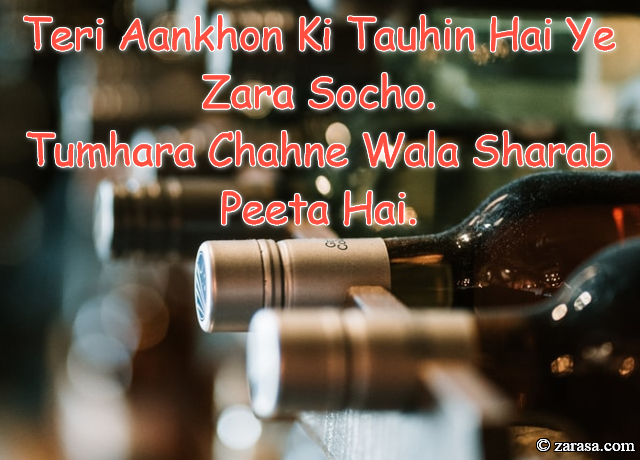 Teri Aankhon Ki Tauhin Hai Ye Zara Socho.
Tumhara Chahne Wala Sharab Peeta Hai.
तेरी आँखों की तौहीन है ये ज़रा सोचो .
तुम्हारा चाहने वाला शराब पीटा है .
تیری آنکھوں کی توہین ہے یہ ذرا سوچو .
تمہارا چاہنے والا شراب پیتا ہے .
---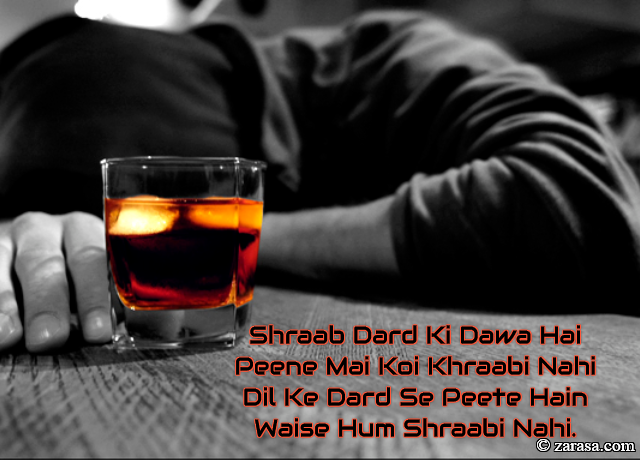 Shraab Dard Ki Dawa Hai Peene Mai Koi Khraabi Nahi Dil Ke Dard Se Peete Hain Waise Hum Shraabi Nahi.
शराब दर्द की दवा है पीने मैं कोई ख़राबी नहीं दिल के दर्द से पीते हैं वैसे हम शराबी नहीं .
شراب درد کی دوا ہے پینے می کوئی خرابی نہیں دل کے درد سے پیتے ہیں ویسے ہم شرابی نہیں .
---