Shayari for Kamyabi (success) "Badal Dunga"
Teri Har Nakami Ko Kamyabi Me Badal Dunga.
Tere Har Sapno Ko Haqeekat Me Badal Dunga.
Aye Dost Hum Khuda Se Dua Aisi Karenge.
Ki Tere Har Gham Ko Khusi Me Badal Denge.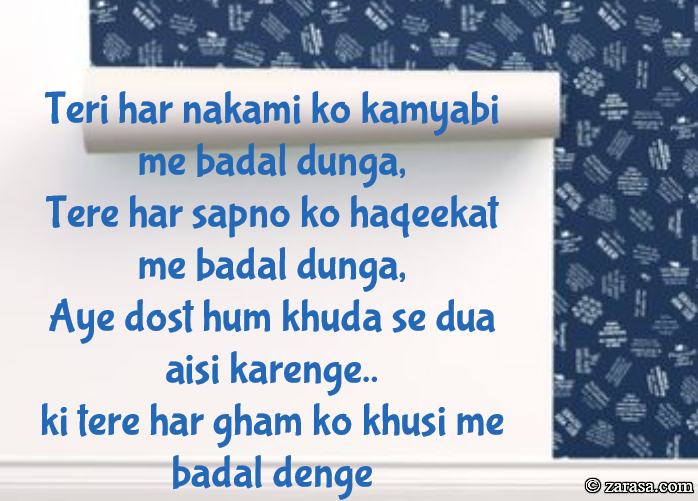 ---

तेरी हर नाकामी को कामयाब में बदल दूंगा ,
तेरे हर सपनो को हक़ीक़त में बदल दूंगा ,
ए दोस्त हम खुदा से दुआ ऐसी करेंगे ..
की तेरे हर ग़म को खुसी में बदल देंगे


---

تیری ہر ناکامی کو کامیابی مے بدل دونگ ,
تیرے ہر سپنو کو حقیقت مے بدل دونگا ,
ہے دوست ہم خدا سے دوا ایسی کرینگے ..
کی تیرے ہر غم کو خصی مے بدل دینگے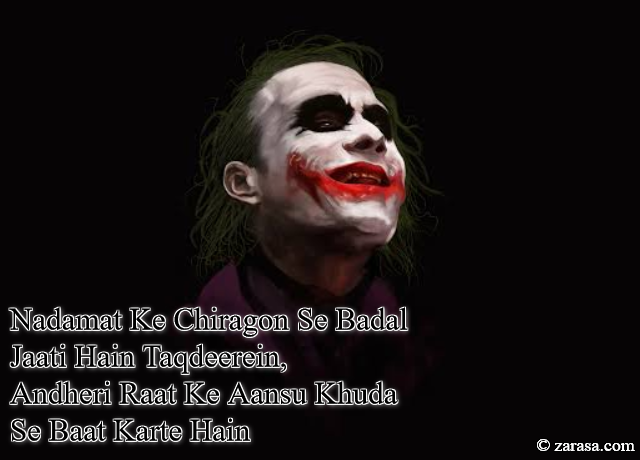 Nadamat Ke Chiragon Se Badal Jaati Hain Taqdeerein,
Andheri Raat Ke Aansu Khuda Se Baat Karte Hain
नदामत के चिरागों से बदल जाती हैं तक़दीरें ,
अँधेरी रात के आंसू खुदा से बात करते हैं
ندامت کے چرگوں سے بدل جاتی ہیں تقدیریں ,
اندھیری رات کے آنسو خدا سے بات کرتے ہیں
---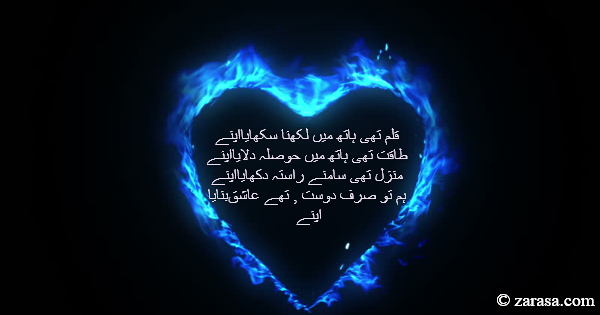 Kalam thi haath mai likhna sikhaya aapne

Taakt thi haath mai hausla Dilaya aapne

Manzil thi saamne rasta dikhaya aapne

Hm toh sirf Dost the ,Aashiq banaya aapne
कलम थी हाथ मई लिखना सिखाया आपने
ताकत थी हाथ मई हौसला दिलाया आपने
मंज़िल थी सामने रास्ता दिखाया आपने
हम तो सिर्फ दोस्त थे , आशिक़ बनाया आपने
قلم تھی ہاتھ میں لکھنا سکھایا اپنے
طاقت تھی ہاتھ میں حوصلہ دلایا اپنے
منزل تھی سامنے راستہ دکھایا اپنے
ہم تو صرف دوست تھے , عاشق بنایا اپنے
---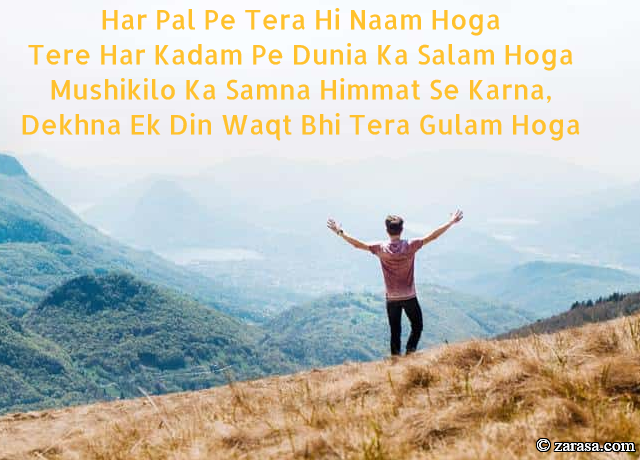 Har Pal Pe Tera Hi Naam Hoga
Tere Har Kadam Pe Dunia Ka Salam Hoga
Mushikilo Ka Samna Himmat Se Karna,
Dekhna Ek Din Waqt Bhi Tera Gulam Hoga




हर पल पे तेरा ही नाम होगा
तेरे हर कदम पे दुनिआ का सलाम होगा
मुशिकिलो का सामना हिम्मत से करना
देखना एक दिन वक़्त भी तेरा गुलाम होगा
ہر پل پہ تیرا ہی نام ہوگا
تیرے ہر قدم پہ دنیا کا سلام ہوگا
مشیکلو کا سامنا ہیممت سے کرن
دیکھنا ایک دن وقت بھی تیرا غلام ہوگا
---
Thodi Si Ebaadat Bohat Sa Sila Deti Hai
Gulab Ki Tarha Chehra Khila Deti Hai
Allah Ki Yaad Ko Dil Se Jane Na Dena
Kabhi Kabhi Choti Si Dua Arsh Hila Deti Hai
थोड़ी सी इबादत बोहत सा सिला देती है
गुलाब की तरह चेहरा खिला देती है
अल्लाह की याद को दिल से जाने न देना
कभी कभी छोटी सी दुआ अर्श हिला देती है
تھوڑی سی عبادت بہت سا سلا دیتی ہے
گلاب کی طرھ چہرہ کھلا دیتی ہے
الله کی یاد کو دل سے جانے نہ دینا  
کبھی کبھی چھوٹی سی دوا عرش ہلا دیتی ہے
---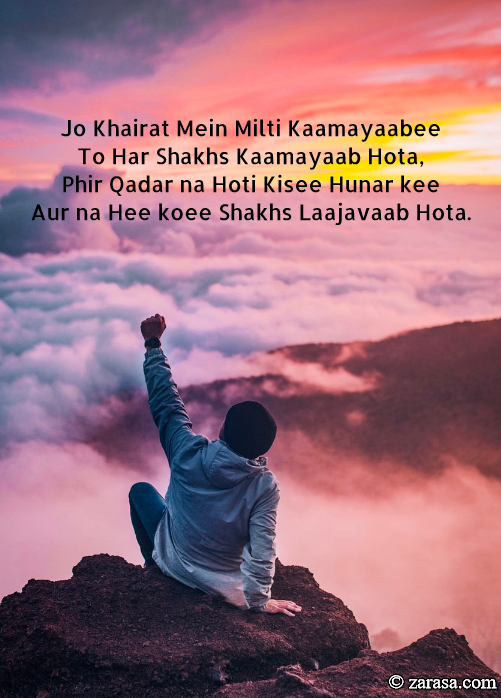 Jo Khairat Mein Milti Kaamayaabee
To Har Shakhs Kaamayaab Hota,
Phir Qadar na Hoti Kisee Hunar kee
Aur na Hee koee Shakhs Laajavaab Hota.
जो खैरात में मिलती कामयाबी
तो हर शख्स कामयाब होता ,
फिर क़दर न होती किसी हुनर की
और न ही कोइ शख्स लाजवाब होता


جو خیرات میں ملتی کامےابے
تو ہر شخص کامیاب ہوتا
پھر قدر نہ ہوتے کیسے ہنر کی
اور نہ ہی کوئی شخص لاجواب ہوتا
---