Shayari for Kamyabi (success) "To Har Shakhs Kaamayaab Hota"
|
Jo Khairat Mein Milti Kaamayaabee
To Har Shakhs Kaamayaab Hota,
Phir Qadar na Hoti Kisee Hunar kee
Aur na Hee koee Shakhs Laajavaab Hota.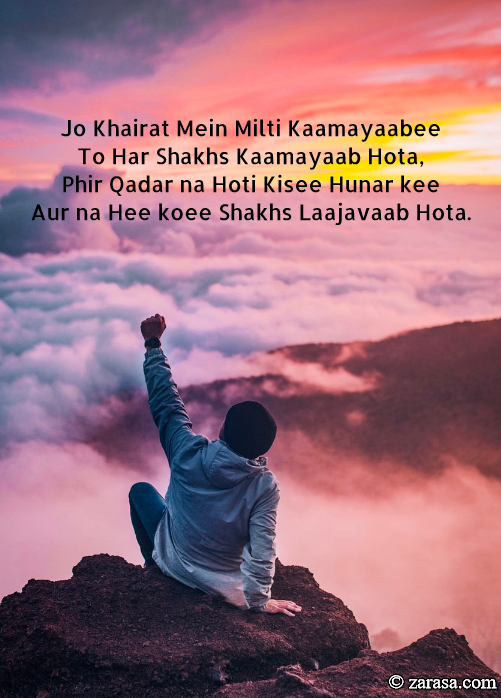 ---

जो खैरात में मिलती कामयाबी
तो हर शख्स कामयाब होता ,
फिर क़दर न होती किसी हुनर की
और न ही कोइ शख्स लाजवाब होता




---

جو خیرات میں ملتی کامےابے
تو ہر شخص کامیاب ہوتا
پھر قدر نہ ہوتے کیسے ہنر کی
اور نہ ہی کوئی شخص لاجواب ہوتا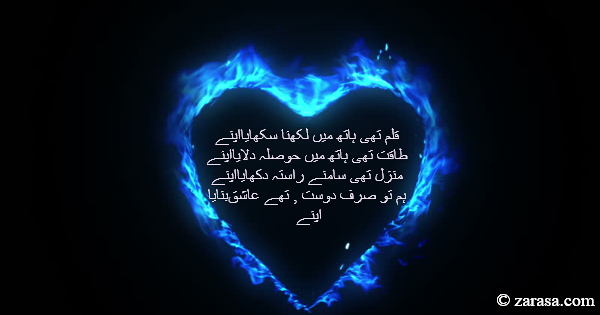 Kalam thi haath mai likhna sikhaya aapne

Taakt thi haath mai hausla Dilaya aapne

Manzil thi saamne rasta dikhaya aapne

Hm toh sirf Dost the ,Aashiq banaya aapne
कलम थी हाथ मई लिखना सिखाया आपने
ताकत थी हाथ मई हौसला दिलाया आपने
मंज़िल थी सामने रास्ता दिखाया आपने
हम तो सिर्फ दोस्त थे , आशिक़ बनाया आपने
قلم تھی ہاتھ میں لکھنا سکھایا اپنے
طاقت تھی ہاتھ میں حوصلہ دلایا اپنے
منزل تھی سامنے راستہ دکھایا اپنے
ہم تو صرف دوست تھے , عاشق بنایا اپنے
---
Thodi Si Ebaadat Bohat Sa Sila Deti Hai
Gulab Ki Tarha Chehra Khila Deti Hai
Allah Ki Yaad Ko Dil Se Jane Na Dena
Kabhi Kabhi Choti Si Dua Arsh Hila Deti Hai
थोड़ी सी इबादत बोहत सा सिला देती है
गुलाब की तरह चेहरा खिला देती है
अल्लाह की याद को दिल से जाने न देना
कभी कभी छोटी सी दुआ अर्श हिला देती है
تھوڑی سی عبادت بہت سا سلا دیتی ہے
گلاب کی طرھ چہرہ کھلا دیتی ہے
الله کی یاد کو دل سے جانے نہ دینا  
کبھی کبھی چھوٹی سی دوا عرش ہلا دیتی ہے
---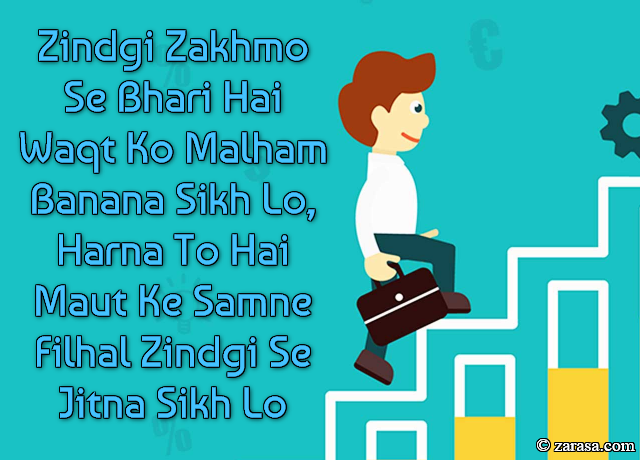 Zindgi Zakhmo Se Bhari Hai
Waqt Ko Malham Banana Sikh Lo,
Harna To Hai Maut Ke Samne
Filhal Zindgi Se Jitna Sikh Lo
ज़िंदगी ज़ख्मो से भरी है
को मलहम बनाना सिख लो
हारना तो है मौत के सामने
फ़िलहाल ज़िंदगी से जितना सिख लो
زندگی زخمو سے بھری ہے
وقت کو ملہم بنانا سکھ لو
ہارنا تو ہے موت کے سامنے
فلحال زندگی سے جتنا سکھ لو
---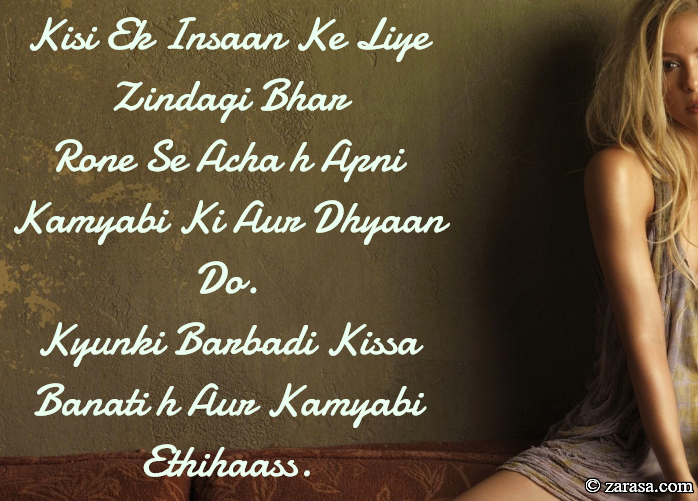 Kisi Ek Insaan Ke Liye Zindagi Bhar
Rone Se Acha h Apni Kamyabi Ki Aur Dhyaan Do.
Kyunki Barbadi Kissa Banati h Aur Kamyabi Ethihaass.
किसी एक इंसान के लिए ज़िन्दगी भर
रोने से ाचा ह अपनी कामयाबी की और ध्यान दो ..
क्यूंकि बर्बादी किस्सा बनती ह और कामयाबी इतिहास.
کسی ایک انسان کے لئے زندگی بھر
رونے سے اچھا ہ اپنی کامیابی کی اور دھیان دو .
کیونکی بربادی کسسا بناتی ہ اور کامیابی ایتھاسس .
---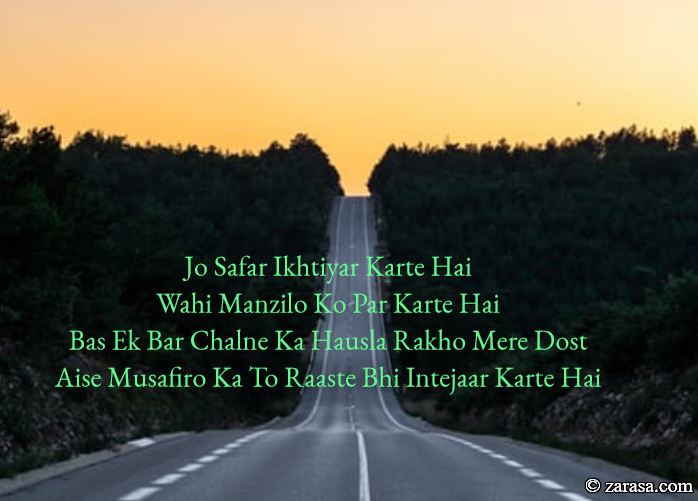 Jo Safar Ikhtiyar Karte Hai
Wahi Manzilo Ko Par Karte Hai
Bas Ek Bar Chalne Ka Hausla Rakho Mere Dost
Aise Musafiro Ka To Raaste Bhi Intejaar Karte Hai
जो सफर इख़्तियार करते है
वही मंजिलो को पर करते है
बस एक बार चलने का हौसला रखो मेरे दोस्त
ऐसे मुसाफिरों का तो रास्ते भी इंतज़ार करते है
جو سفر اختیار کرتے ہے
وہی منزلو کو پار کرتے ہے
بس ایک بار چلنے کا حوصلہ رکھو میرے دوست
ایسے مسافروں کا تو راستے بھی انتظار کرتے ہے
---