Shayari for Kamyabi (success) "To Har Shakhs Kaamayaab Hota"
|
Jo Khairat Mein Milti Kaamayaabee
To Har Shakhs Kaamayaab Hota,
Phir Qadar na Hoti Kisee Hunar kee
Aur na Hee koee Shakhs Laajavaab Hota.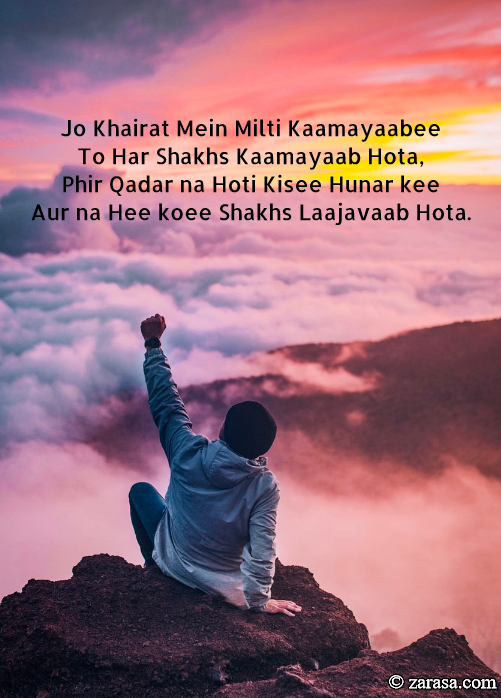 ---

जो खैरात में मिलती कामयाबी
तो हर शख्स कामयाब होता ,
फिर क़दर न होती किसी हुनर की
और न ही कोइ शख्स लाजवाब होता




---

جو خیرات میں ملتی کامےابے
تو ہر شخص کامیاب ہوتا
پھر قدر نہ ہوتے کیسے ہنر کی
اور نہ ہی کوئی شخص لاجواب ہوتا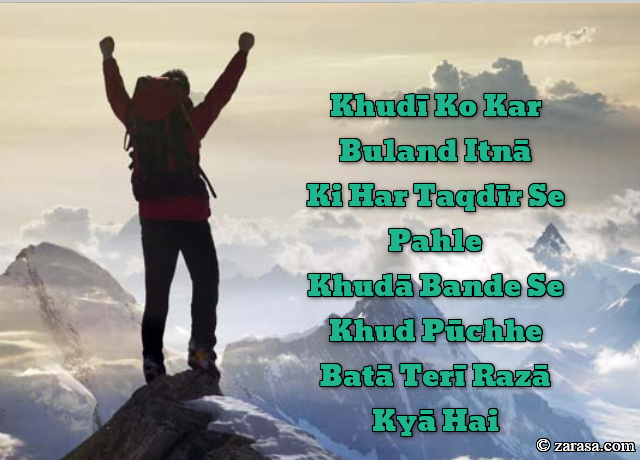 Khudī Ko Kar Buland Itnā Ki Har Taqdīr Se Pahle
Khudā Bande Se Khud Pūchhe Batā Terī Razā Kyā Hai




खुदी को का बुलंद इतना की हर तक़दीर से पहले
खुदा बन्दे से खुद पूछे बता तेरी राजा क्या है
خودی کو کر بلند اتنا کی ہر تقدیر سے پہلے
خدا بندے سے خود پوچھے بتا تیری رضا کیا ہے
---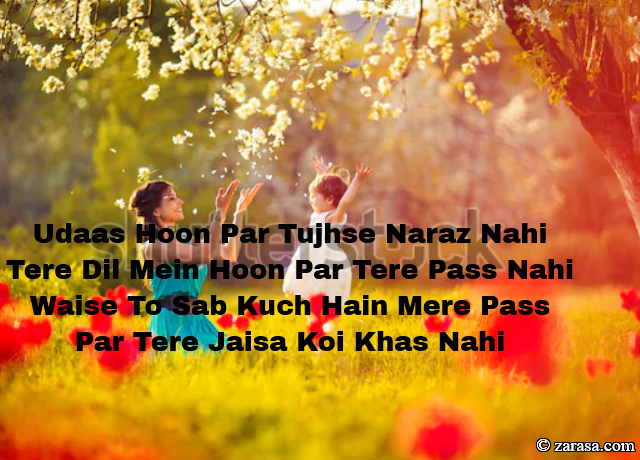 Udaas Hoon Par Tujhse Naraz Nahi
Tere Dil Mein Hoon Par Tere Pass Nahi
Waise To Sab Kuch Hain Mere Pass
Par Tere Jaisa Koi Khas Nahi
उदास हूँ पर तुझसे नाराज़ नहीं
तेरे दिल में हूँ पर तेरे पास नहीं
वैसे तो सब कुछ हैं मेरे पास
पर तेरे जैसा कोई खास नहीं
اداس ہوں پر تجھسے ناراض نہیں
تیرے دل میں ہوں پر تیرے پاسس نہیں
ویسے تو سب کچھ ہیں میرے پاسس
پر تیرے جیسا کوئی خاص نہیں
---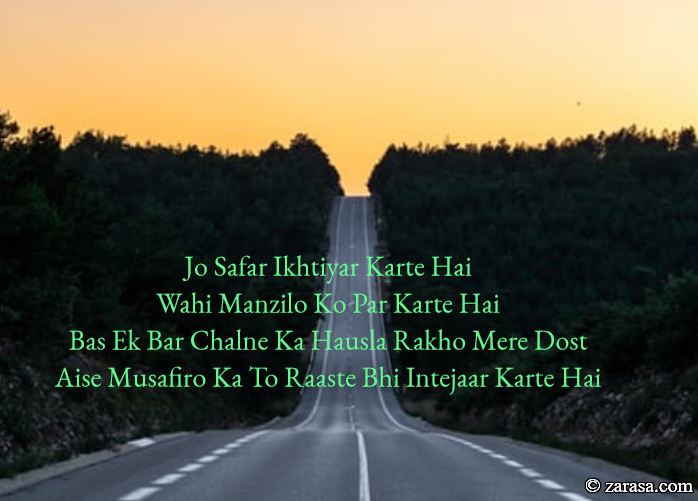 Jo Safar Ikhtiyar Karte Hai
Wahi Manzilo Ko Par Karte Hai
Bas Ek Bar Chalne Ka Hausla Rakho Mere Dost
Aise Musafiro Ka To Raaste Bhi Intejaar Karte Hai
जो सफर इख़्तियार करते है
वही मंजिलो को पर करते है
बस एक बार चलने का हौसला रखो मेरे दोस्त
ऐसे मुसाफिरों का तो रास्ते भी इंतज़ार करते है
جو سفر اختیار کرتے ہے
وہی منزلو کو پار کرتے ہے
بس ایک بار چلنے کا حوصلہ رکھو میرے دوست
ایسے مسافروں کا تو راستے بھی انتظار کرتے ہے
---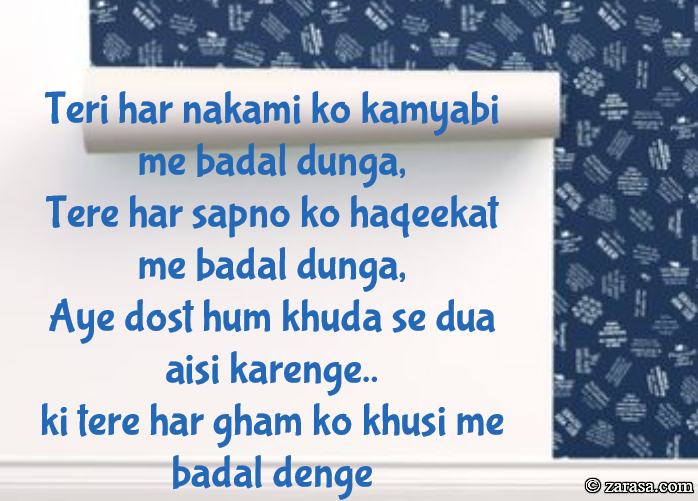 Teri Har Nakami Ko Kamyabi Me Badal Dunga.
Tere Har Sapno Ko Haqeekat Me Badal Dunga.
Aye Dost Hum Khuda Se Dua Aisi Karenge.
Ki Tere Har Gham Ko Khusi Me Badal Denge.
तेरी हर नाकामी को कामयाब में बदल दूंगा ,
तेरे हर सपनो को हक़ीक़त में बदल दूंगा ,
ए दोस्त हम खुदा से दुआ ऐसी करेंगे ..
की तेरे हर ग़म को खुसी में बदल देंगे
تیری ہر ناکامی کو کامیابی مے بدل دونگ ,
تیرے ہر سپنو کو حقیقت مے بدل دونگا ,
ہے دوست ہم خدا سے دوا ایسی کرینگے ..
کی تیرے ہر غم کو خصی مے بدل دینگے
---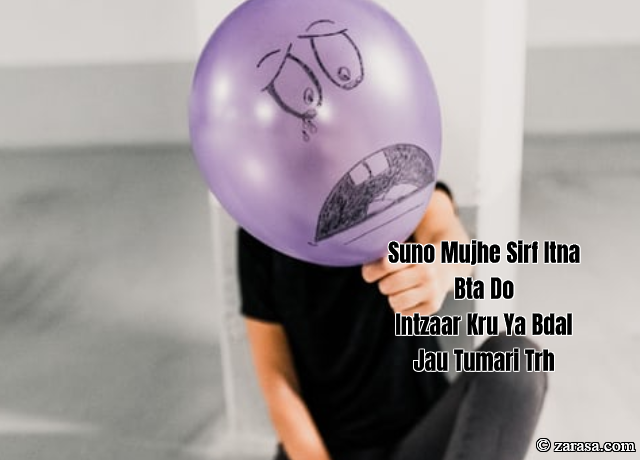 Suno Mujhe Sirf Itna Bta Do
Intzaar Kru Ya Bdal Jau Tumhari Tarh
सुनो मुझे सिर्फ इतना बता दो
इंतज़ार कृ या बदल जाऊ तुम्हारी तरह
سنو مجھے صرف اتنا بتا دو
انتظار کرو یا بدل جاؤ تماری طرح
---