Shayari for Dard "Jaan ho hamari par Jaan se pyaari ho"
|
Aap Khud nhi janti aap kitni pyaari ho
Jaan ho hamari par Jaan se pyaari ho
Dooriyon ke hone se koi fark nhi padta
Aap kal bhi hamari thi Aaj bhi hamari ho…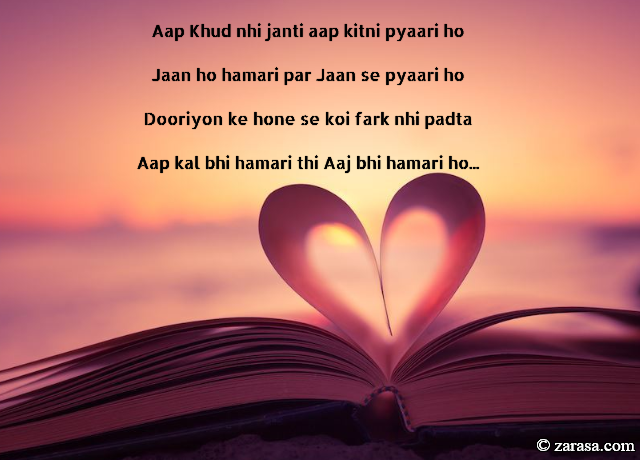 ---

आप खुद नहीं जानती आप कितनी प्यारी हो
जान हो हमारी पर जान से प्यारी हो
दूरियों के होने से कोई फर्क नहीं पड़ता
आप कल भी हमारी थी आज भी हमारी हो


---

آپ خود نہیں جانتی آپ کتنی پیاری ہو
جان ہو ہماری پر جان سے پیاری ہو
دوریوں کے ہونے سے کوئی پھڑک نہیں پڑتا
آپ کل بھی ہماری تھی آج بھی ہماری ہو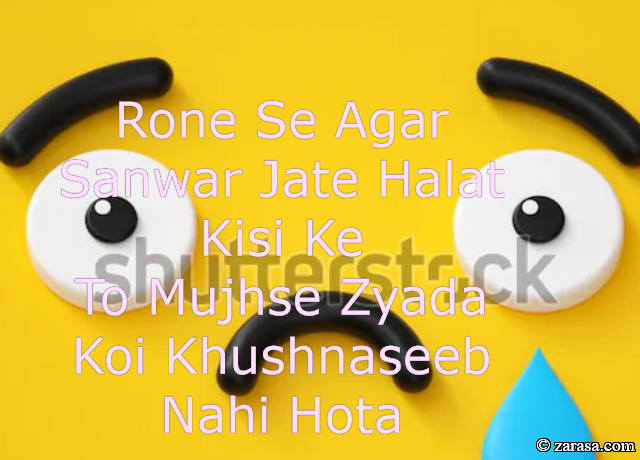 Rone Se Agar Sawar Jate Halat Kisi Ke
To Mujhse Zyada Koi Khushnaseeb Nahi Hota
रोने से अगर संवर जाते हालत किसी के
तो मुझसे ज़्यादा कोई खुशनसीब नहीं होता
رونے سے اگر سنوار جاتے حالت کسی کے
تو مجھسے زیادہ کوئی خوشنصیب نہیں ہوتا
---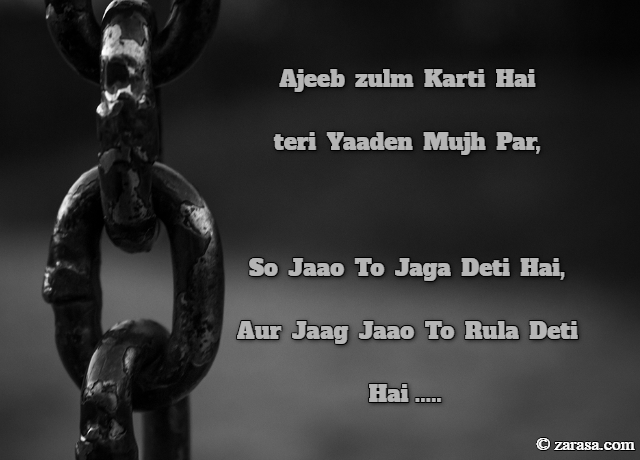 Ajeeb zulm Karti Hai teri Yaaden Mujh Par,
So Jaao To Jaga Deti Hai,Aur Jaag Jaao To Rula Deti Hai .....
अजीब जुल्म करती है तेरी यादें मुझ पर,
सो जाऊ तो जगा देती है, और जाग जाऊ तो रुला देती है…
عجیب ظلم کرتی ہے تیری یادیں مجھ پر
سو جاؤ تو جگا دیتی ہے ، اور جاگ جاؤ تو رولا دیتی ہے
---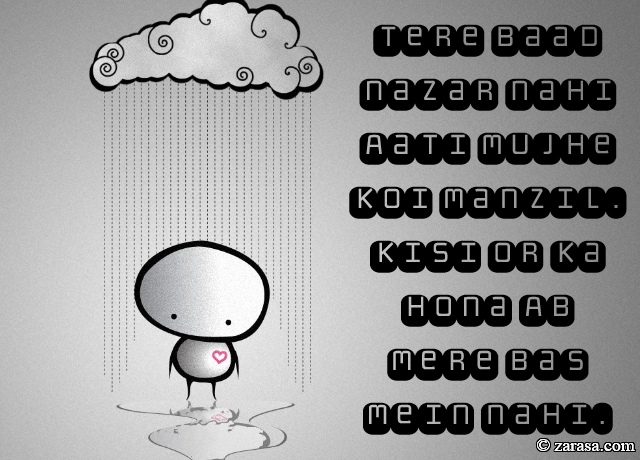 Tere Baad Nazar Nahi Aati Mujhe Koi Manzil.
Kisi Or Ka Hona Ab Mere Bas Mein Nahi.
तेरे बाद नज़र नहीं आती मुझे कोई मंज़िल .
किसी और का होना अब मेरे बस में नहीं .
تیرے بعد نظر نہیں آتی مجھے کوئی منزل .
کسی ور کا ہونا اب میرے بسس میں نہیں .
---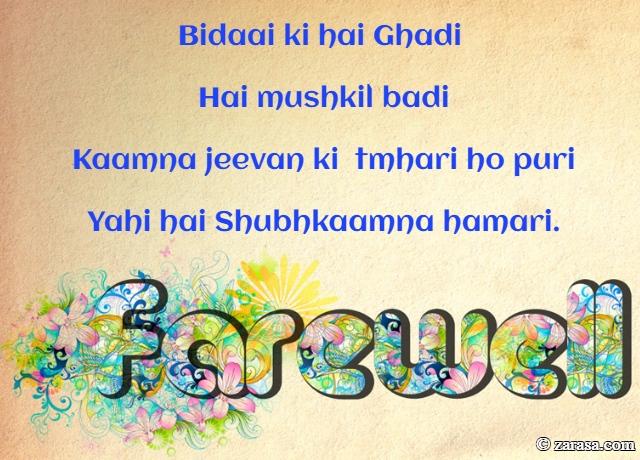 Bidaai ki hai Ghadi
Hai mushkil badi
Kaamna jeevan ki  tmhari ho puri
Yahi hai Shubhkaamna hamari.
विदाई की है घड़ी
है मुश्किल बड़ी
कामना जीवन की तम्हारी हो पूरी
यही है शुभकामना हमारी।
بدای کی ہے گھاڈی
ہے موشکل باڈی
کامنہ جیون کی تمہاری ھو پوری
یہی ہے شبھکامنہ ہماری
---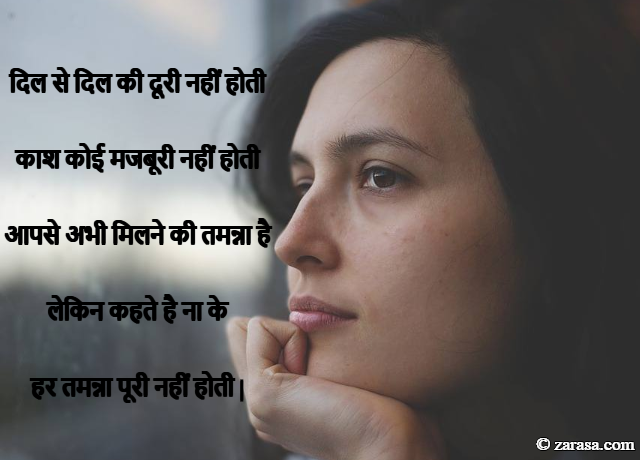 Dil se Dil ki Doori Nahi Hoti
Kash Koi Majburi nahi Hoti
Apse Abi Milne ki Tamanna Hai
Lekin Kehte Hain Na ke Har Tamanna Puri Nahi Hoti.
दिल से दिल की दूरी नहीं होती
काश कोई मजबूरी नहीं होती
आपसे अभी मिलने की तमन्ना है
लेकिन कहते है ना के हर तमन्ना पूरी नहीं होती |
دل سے دل کی دوری نہی ہوتی
کش کوئی مجبوری نہی ہوتی
آپسے ابھی ملنے کی تمنّا ہے
لیکن کہتے ہے نہ کے ہر تمننا پوری نہی ہوتی
---