Shayari For Mohabbat "Woh Rabki Mohabbat."
Jo Kho Kar Kabhi Na Miley
Woh Insan Ki Mohabbat,
Aur Jisey Tu Baar Baar Kho Kar
Har  Baar Pa Ley,
Woh Rab ki Mohabbat.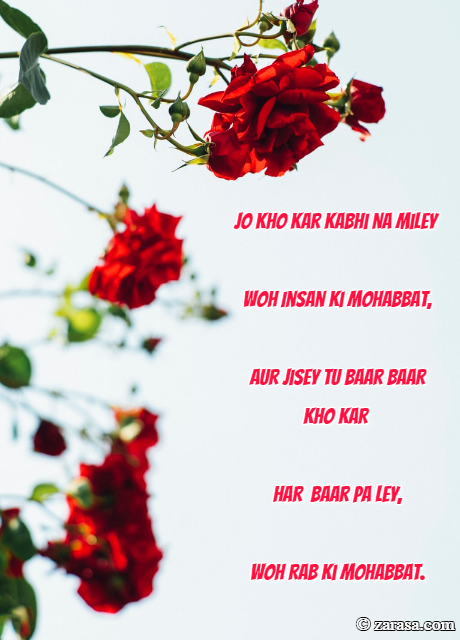 ---

जो खो कर कभी ना मिले
वोह इंसान की मोहब्बत ,
और जिसे तू बार बार खो कर
हर बार पा ले ,
वोह रब की मोहब्बत।


---

جو کھو کر کبھی نہ ملے
وہ انسان کی موحبّت
اور جسے تو بار بار کھو کر
ہر بار پا لے
وہ رب کی موحبّت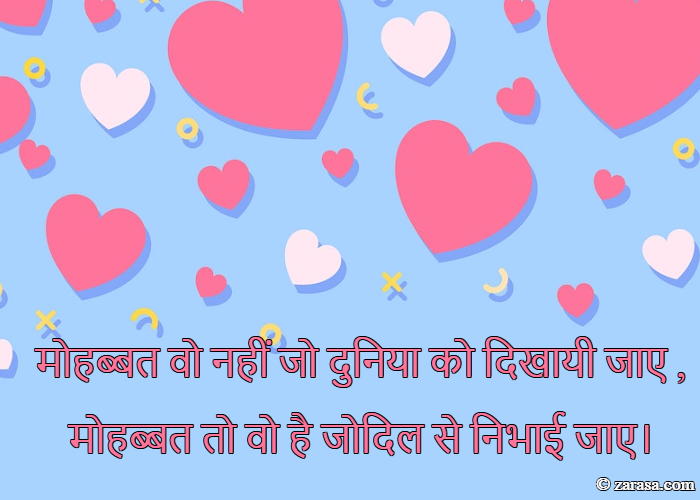 Mohabbat Wo Nahi Jo
Duniya Ko Dikhayi Jaye,
 Mohabbat To Wo Hai Jo
Dil Se Nibhayi Jaaye.
मोहब्बत वो नहीं जो
दुनिया को दिखायी जाए ,
मोहब्बत तो वो है जो
दिल से निभाई जाए।
موحبّت وہ نہیں جو
دنیا کو دکھایی جائے
موحبّت تو وہ ہے جو
دل سے نبھیی جائے
---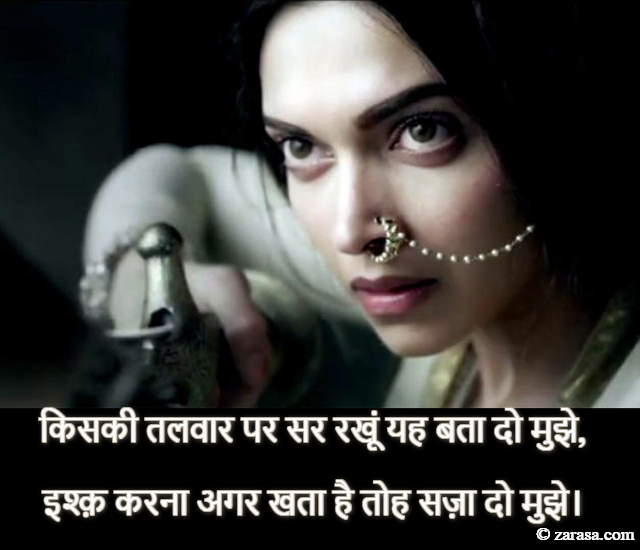 Kiski Talvar Par Sar Rakhun Yeh Bata Do Mujhe …
Ishq Karna Agar Khata Hai Toh Saza Do Mujhe
किसकी तलवार पर सर रखूं यह बता दो मुझे,
इश्क़ करना अगर खता है तोह सज़ा दो मुझे।
کسکی تلوار پر سر رکھوں بتا دو مجھے
عشق کرنا اگر کھاتا ہے ٹوہ سزا دو مجھے
---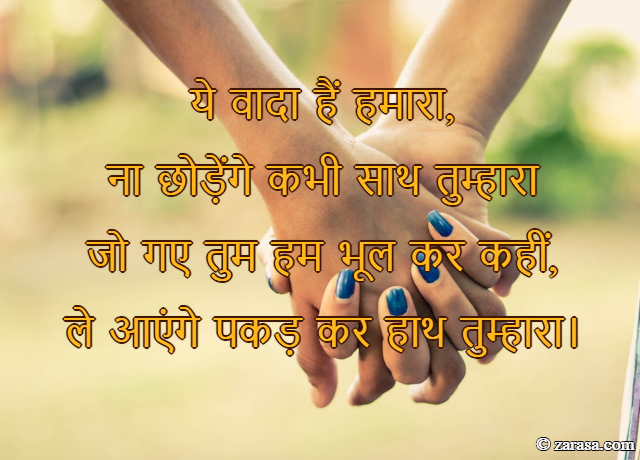 Yeh Vada Hain Hamara,
Na Chodenge Kabhi Saath Tumhara
Jo Gye Tum Hum Bhul kar Kahin,
Le Aayenge Pakad kar Haath Tumhara.
Happy Promise Day
ये वादा हैं हमारा,
ना छोड़ेंगे कभी साथ तुम्हारा
जो गए तुम हम भूल कर कहीं,
ले आएंगे पकड़ कर हाथ तुम्हारा।

Happy Promise Day
یہ وادا ہیں ہمارا
نہ چودینگے کبھی ساتھ تمہارا
جو گے بھلکر کہیں
لے ااینگے پکاڈ کر ہاتھ تمہارا
---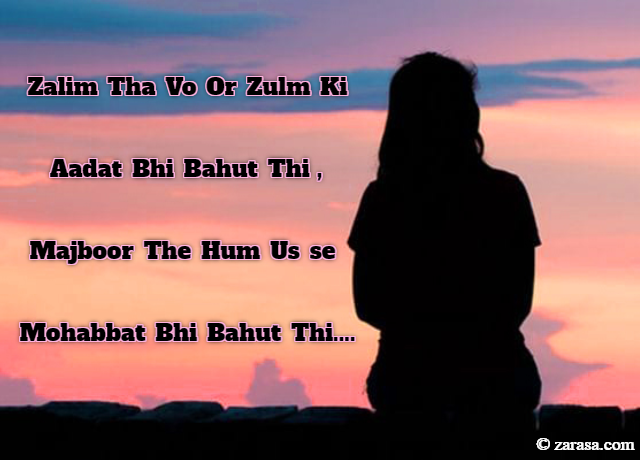 Zalim Tha Vo Or Zulm Ki
Aadat Bhi Bahut Thi ,
Majboor The Hum Us se
Mohabbat Bhi Bahut Thi....
ज़ालिम था वो और ज़ुल्म की
आदत भी बहुत थी ,
मजबूर थे हम उस से
मोहब्बत भी बहुत थी।
ظالم تھا وہ اور ظلم کی
عادت بھی بہت تھی
مجبور تھے ہم اس سے
موحبّت بھی بہت تھی
---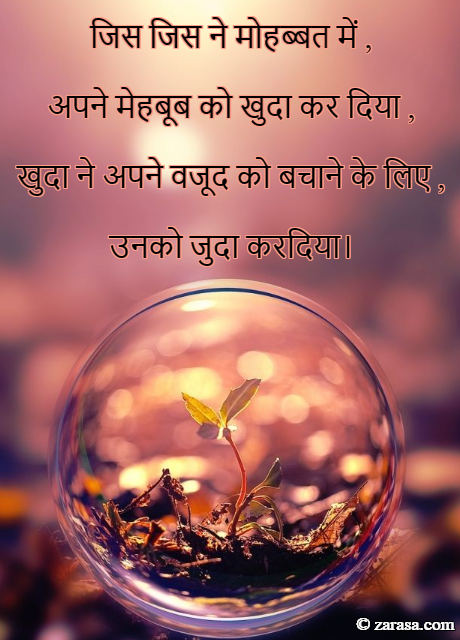 Jis Jis Ne Mohabbat Mai,
Apne Mehboob Ko Khuda Kar Diya ,
Khuda Ne Apne Wajud Ko Bachane Ke Liye ,
Unko Juda Kr Diya.
जिस जिस ने मोहब्बत में ,
अपने मेहबूब को खुदा कर दिया ,
खुदा ने अपने वजूद को बचाने के लिए ,
उनको जुदा करदिया।
جس جس نے موحبّت می
اپنے محبوب کو خدا کر دیا
خدا نے اپنے وجود کو بچانے کے لئے
انکو جودا کر دیا
---