Shayari for Old peoples "Rafta Rafta Dhadkano"
|
Rafta Rafta Dhadkano Se Rooh Ka Naata Chhoota Hai.
Is Khamosh Mohabbat Me Dil Bade Shor Se Toota Hai.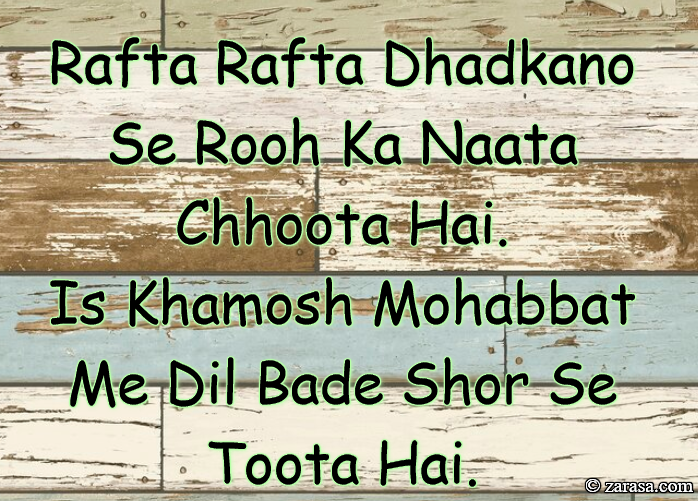 ---

रफ्ता रफ्ता धड़कनो से रूह का नाता छूटा है .
इस खामोश मोहब्बत में दिल बड़े शोर से टूटा है .


---

رفتہ رفتہ ودھدکان سے روح کا ناتا چھوٹا ہے .
اس خاموش موحبّت مے دل بدی شور سے ٹوٹا ہے .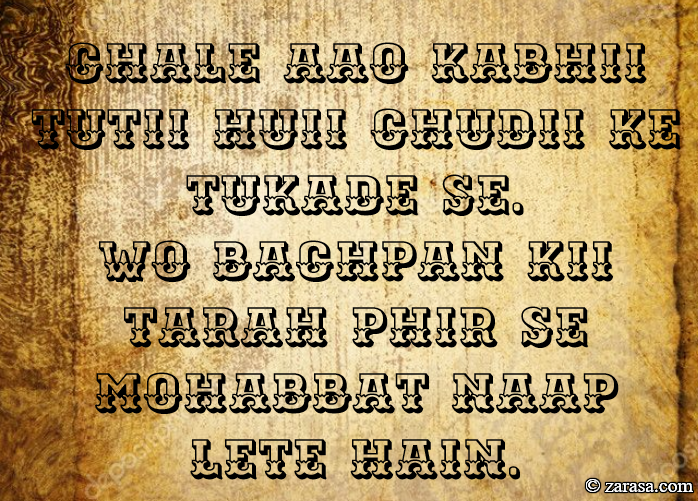 Chale Aao Kabhii Tutii Huii Chudii Ke Tukade Se.
Wo Bachpan Kii Tarah Phir Se Mohabbat Naap Lete Hain.
चले आओ कभी टूटी हुई चूड़ी के टुकड़े से .
वो बचपन की तरह फिर से मोहब्बत नाप लेते हैं .
چلے اؤ کبھی ٹوٹی ہوئی کھودی کے تکدے سے .
وو بچپن کی طرح پھر سے موحبّت ناپ لیتے ہیں .
---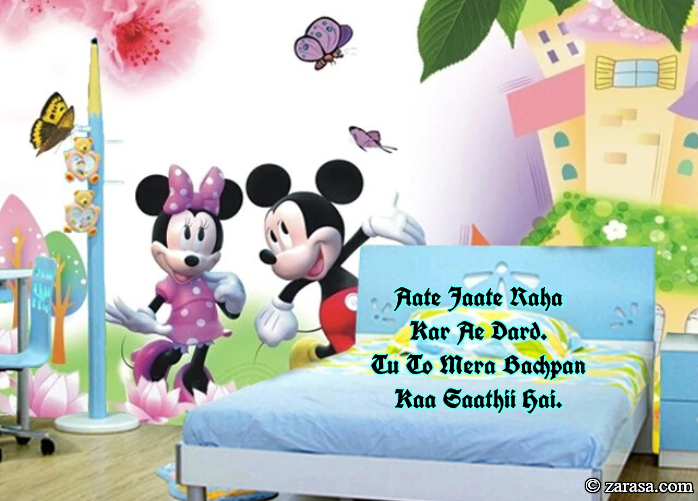 Aate Jaate Raha Kar Ae Dard.
Tu To Mera Bachpan Kaa Saathii Hai.
आते जाते रहा कर ऐ दर्द .
तू तो मेरा बचपन का साथी है .
آتے جاتے رہا کر اے درد .
تو تو میرا بچپن کا ساتھی ہے .
---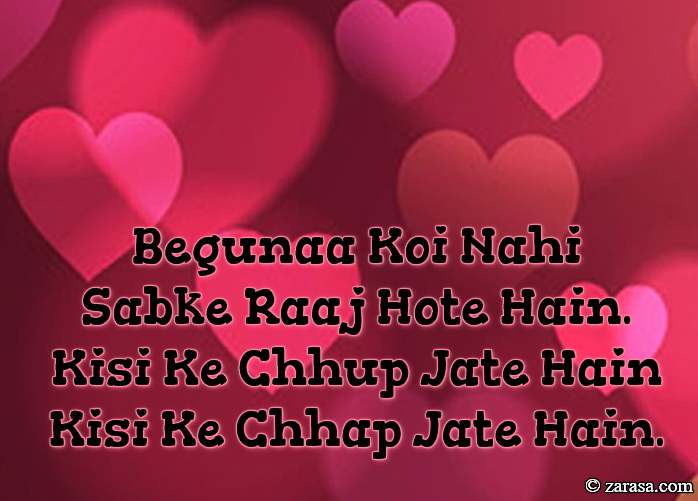 Begunaah Koi Nahi Sabke Raaj Hote Hain.
Kisi Ke Chhup Jate Hain Kisi Ke Chhap Jate Hain.
बेगुनाह कोई नहीं सबके राज़ होते हैं .
किसी के छुप जाते हैं किसी के छाप जाते हैं .

بیگناہ کوئی نہیں سبکے راز ہوتے ہیں .
کسی کے چھپ جاتے ہیں کسی کے چھپ جاتے ہیں .
---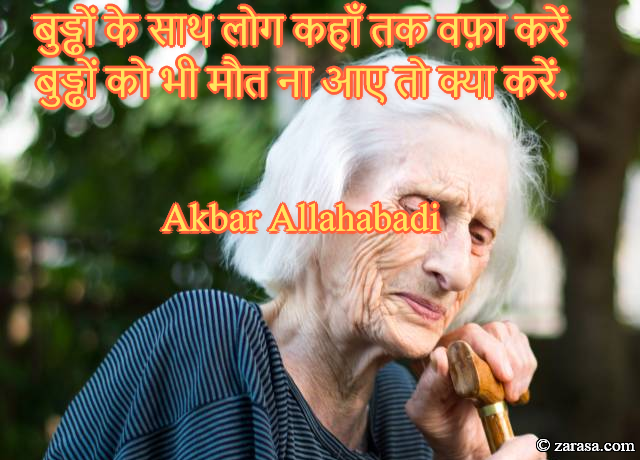 Boordhon Ke Saath Log Kahan Tak Wafa Karen
Boordhon Ko Bhi Maut Naa Aae To Kya Karen.
बुड्ढों के साथ लोग कहाँ तक वफ़ा करें
बुड्ढों को भी मौत ना आए तो क्या करें .
بوڑھوں کے ساتھ لوگ کہاں تک وفا کریں
بوڑھوں کو بھی موت نا اے تو کیا کریں .


---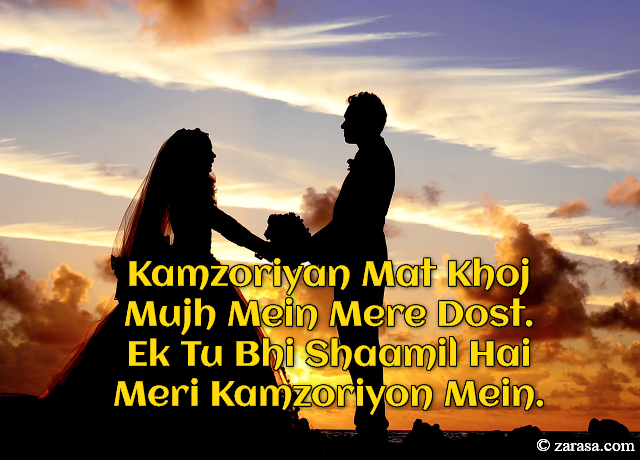 Kamzoriyan Mat Khoj Mujh Mein Mere Dost.
Ek Tu Bhi Shaamil Hai Meri Kamzoriyon Mein.
कमज़ोरियाँ मत खोज मुझ में मेरे दोस्त .
एक तू भी शामिल है मेरी कमज़ोरियों में .
کمزوریاں مت کھوج مجھ میں میرے دوست .
ایک تو بھی شامل ہے میری کمزوریوں میں .
---