Shayari for Old peoples "Aate Jaate Raha Kar Ae Dard"
|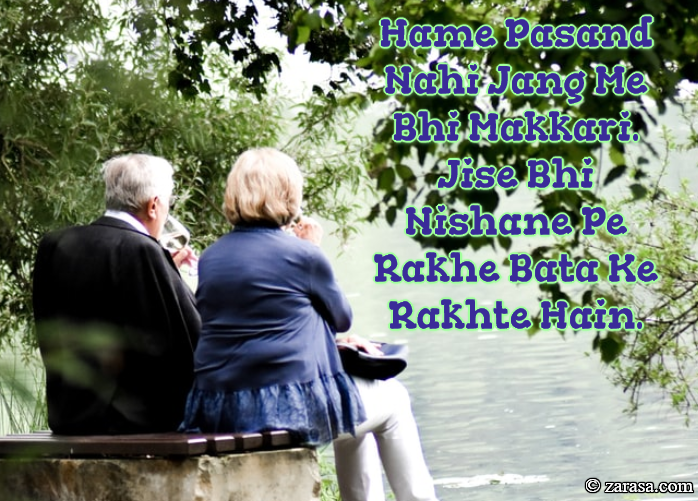 Hame Pasand Nahi Jang Me Bhi Makkari.
Jise Bhi Nishane Pe Rakhe Bata Ke Rakhte Hain.
हमें पसंद नहीं जंग में भी मक्कारी .
जिसे भी निशाने पे रखे बता के रखते हैं .

ہمی پسند نہیں جنگ مے بھی مکّاری .
جسے بھی نشانے پی رکھے بتا کے رکھتے ہیں .

---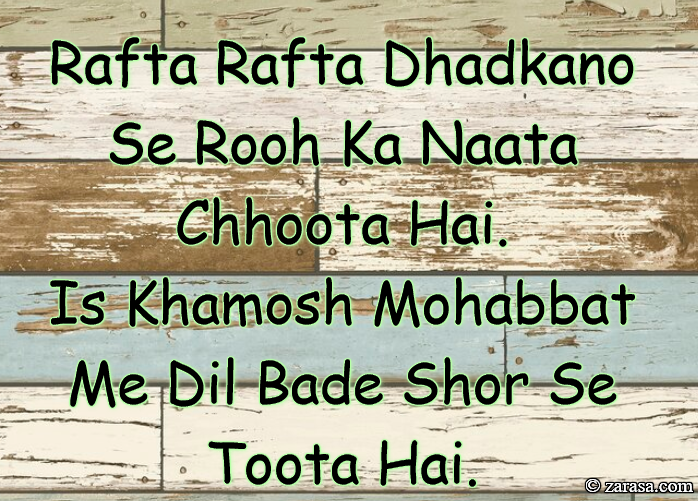 Rafta Rafta Dhadkano Se Rooh Ka Naata Chhoota Hai.
Is Khamosh Mohabbat Me Dil Bade Shor Se Toota Hai.
रफ्ता रफ्ता धड़कनो से रूह का नाता छूटा है .
इस खामोश मोहब्बत में दिल बड़े शोर से टूटा है .
رفتہ رفتہ ودھدکان سے روح کا ناتا چھوٹا ہے .
اس خاموش موحبّت مے دل بدی شور سے ٹوٹا ہے .
---
Ajeeb Saudaagar Hai ye Waqt Bhii.
Jawaani Kaa Laalach De Ke Bachpan Le Gayaa.
अजीब सौदागर है ये वक़्त भी .
जवानी का लालच दे के बचपन ले गया .
عجیب سوداگر ہے یہ وقت بھی .
جوانی کا لالچ دے کے بچپن لے گیا .
---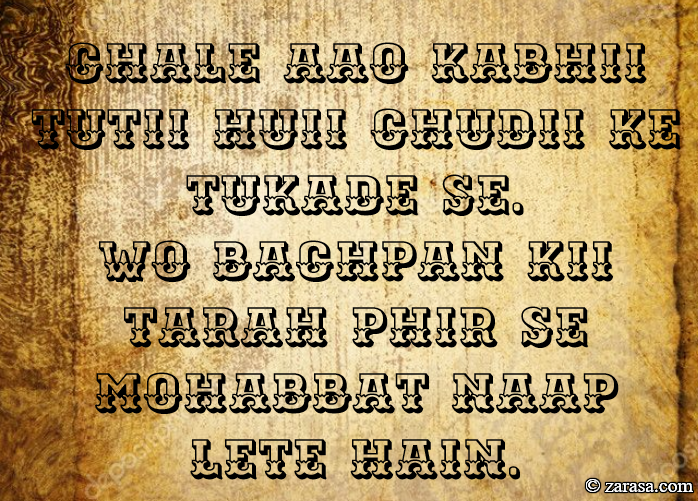 Chale Aao Kabhii Tutii Huii Chudii Ke Tukade Se.
Wo Bachpan Kii Tarah Phir Se Mohabbat Naap Lete Hain.
चले आओ कभी टूटी हुई चूड़ी के टुकड़े से .
वो बचपन की तरह फिर से मोहब्बत नाप लेते हैं .
چلے اؤ کبھی ٹوٹی ہوئی کھودی کے تکدے سے .
وو بچپن کی طرح پھر سے موحبّت ناپ لیتے ہیں .
---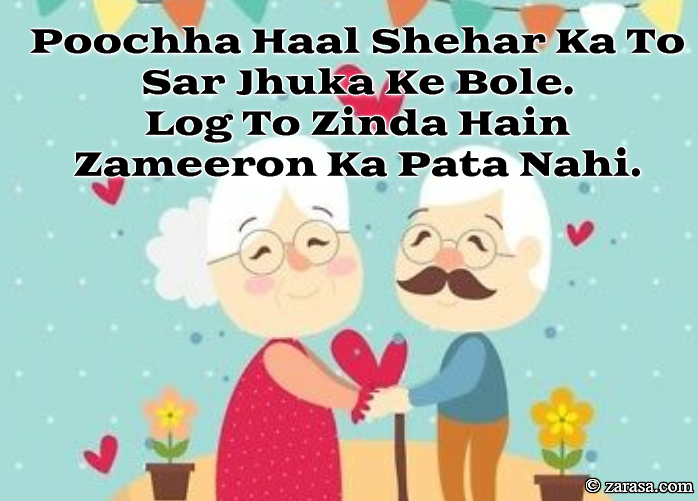 Poochha Haal Shehar Ka To Sar Jhuka Ke Bole.
Log To Zinda Hain Zameeron Ka Pata Nahi.
पूछा हाल शहर का तो सर झुका के बोले .
लोग तो ज़िंदा हैं ज़मीरों का पता नहीं .
پوچھ حال شہر کا تو سر جھکا کے بولے .
لوگ تو زندہ ہیں ضمیروں کا پتا نہیں .
---