Shayari for Old peoples "Aate Jaate Raha Kar Ae Dard"
|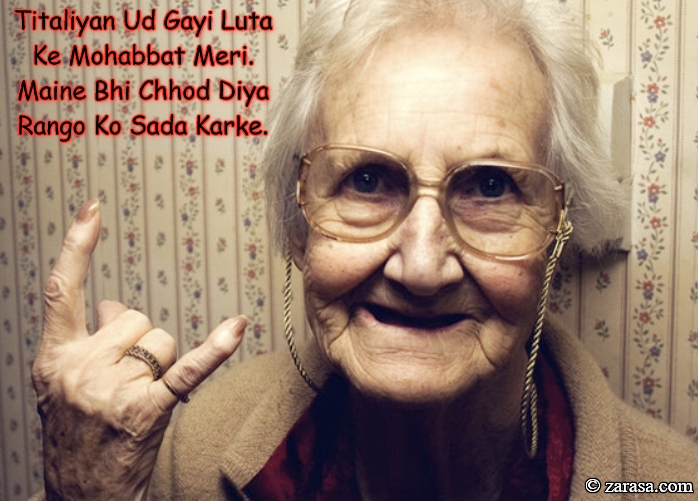 Titaliyan Ud Gayi Luta Ke Mohabbat Meri.
Maine Bhi Chhod Diya Rango Ko Sada Karke.
तितलियाँ उड़ गयी लुटा के मोहब्बत मेरी .
मैंने भी छोड़ दिया रंगो को सदा करके .
تتلیاں اد گی لوٹا کے موحبّت میری .
مہینے بھی چھوڈ دیا رنگو کو سادہ کرکے .
---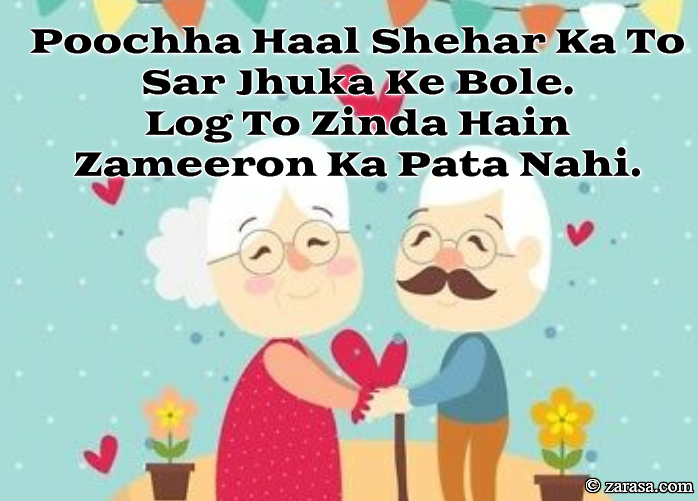 Poochha Haal Shehar Ka To Sar Jhuka Ke Bole.
Log To Zinda Hain Zameeron Ka Pata Nahi.
पूछा हाल शहर का तो सर झुका के बोले .
लोग तो ज़िंदा हैं ज़मीरों का पता नहीं .
پوچھ حال شہر کا تو سر جھکا کے بولے .
لوگ تو زندہ ہیں ضمیروں کا پتا نہیں .
---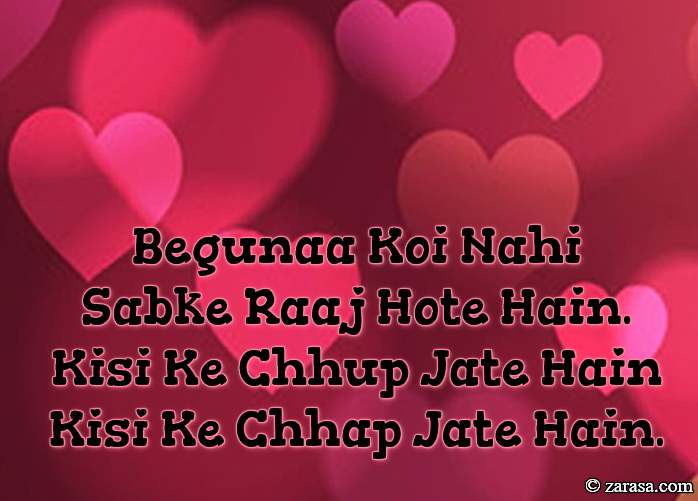 Begunaah Koi Nahi Sabke Raaj Hote Hain.
Kisi Ke Chhup Jate Hain Kisi Ke Chhap Jate Hain.
बेगुनाह कोई नहीं सबके राज़ होते हैं .
किसी के छुप जाते हैं किसी के छाप जाते हैं .

بیگناہ کوئی نہیں سبکے راز ہوتے ہیں .
کسی کے چھپ جاتے ہیں کسی کے چھپ جاتے ہیں .
---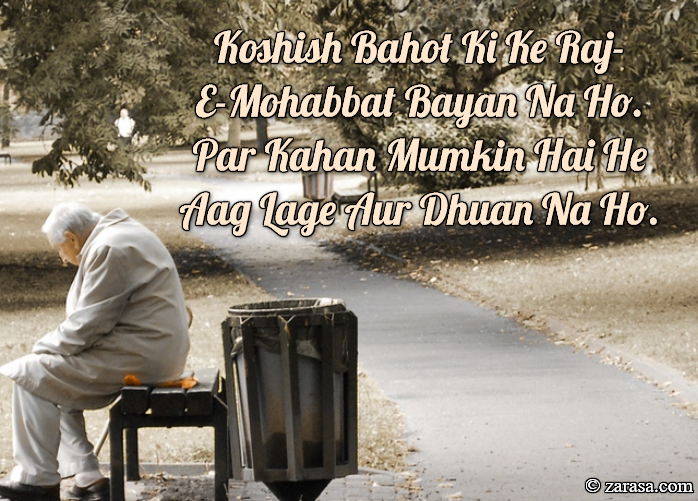 Koshish Bahot Ki Ke Raj-E-Mohabbat Bayan Na Ho.
Par Kahan Mumkin Hai He Aag Lage Aur Dhuan Na Ho.
कोशिश बहोत की के राज -इ -मोहब्बत बयां ना हो .
पर कहाँ मुमकिन है हे आग लगे और धुआं ना हो .

کوشش بھوت کی کے راج -ا -موحبّت بیان نہ ہو .
پر کہاں ممکن ہے ہے آگ لگے اور دھان نہ ہو .

---
Ajeeb Saudaagar Hai ye Waqt Bhii.
Jawaani Kaa Laalach De Ke Bachpan Le Gayaa.
अजीब सौदागर है ये वक़्त भी .
जवानी का लालच दे के बचपन ले गया .
عجیب سوداگر ہے یہ وقت بھی .
جوانی کا لالچ دے کے بچپن لے گیا .
---