Shayari for Promise Day "वादा किया है तो निभाएंगे"
|
Vada Kiya Hai Toh Nibhaenge,
Ban Ke Fiza Tera Jeevan Mehkaenge
Hum Hai Toh Judaai Ka Gum Kaisa,
Teri Har Subah Phoolon Se Sajayenge
Happy Promise Day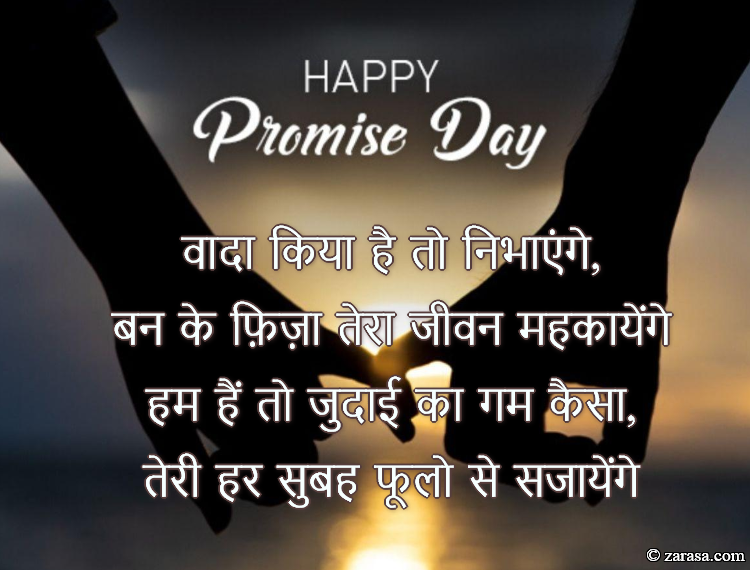 ---

वादा किया है तो निभाएंगे,
बन के फ़िज़ा तेरा जीवन महकायेंगे
हम हैं तो जुदाई का गम कैसा,
तेरी हर सुबह फूलो से सजायेंगे
हैप्पी प्रॉमिस डे


---

وادا کیا ہے تو نبھاینگے
بن کے فضا تیرا جیون محکینگے
ہم ہے توہ جدائی کا گم کیسا
تیری ہر صوبہ پھولوں سے ساجینگے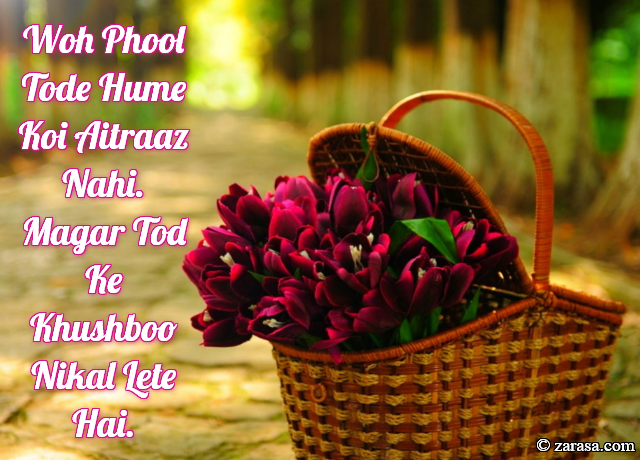 Woh Phool Tode Hume Koi Aitraaz Nahi.
Magar Tod Ke Khushboo Nikal Lete Hai.
वो फूल तोड़े हमे कोई ऐतराज़ नहीं .
मगर तोड़ के ख़ुश्बू निकाल लेते है .

وہ پھول تودے ہمے کوئی اعتراض نہیں .
مگر ٹاڈ کے خوشبو نکل لیتے ہے .

---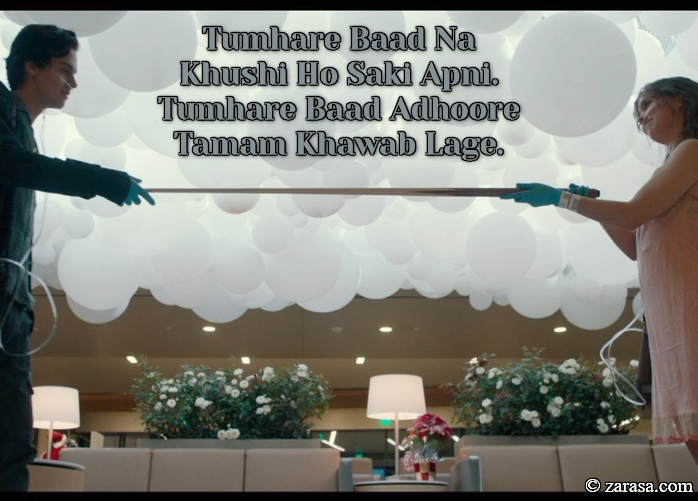 Tumhare Baad Na Khushi Ho Saki Apni.
Tumhare Baad Adhoore Tamam Khawab Lage.
तुम्हारे बाद ना ख़ुशी हो सकीय अपनी .
तुम्हारे बाद अधूरे तमाम खवाब लगे .
تمہارے بعد نہ خوشی ہو سکی اپنی .
تمہارے بعد ادھورے تمام خواب لگے .
---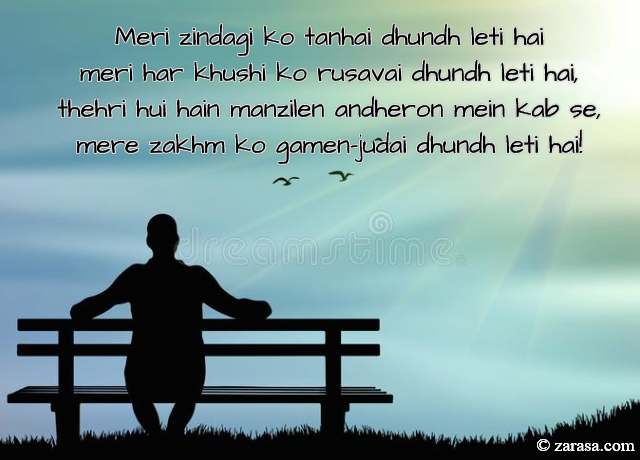 Meri zindagi ko tanhai dhundh leti hai
meri har khushi ko rusavai dhundh leti hai,
thehri hui hain manzilen andheron mein kab se,
mere zakhm ko gamen-judai dhundh leti hai!

मेरी ज़िन्दगी को तन्हाई ढूँढ लेती है,
मेरी हर खुशी को रुसवाई ढूँढ लेती है,
ठहरी हुई हैं मंजिलें अंधेरों में कबसे,
मेरे ज़ख्म को गमे-जुदाई ढूँढ लेती है!
میری زندگی کو تنہائی ڈھونڈ لیتی ہے
میری ہر خوشی کو رسوائی ڈھونڈ لیتی ہے
ٹھہری ہی ہیں منزلیں اندھیروں میں کب سے
میرے زخم کو گیم -جدائی ڈھونڈ لیتی ہے
---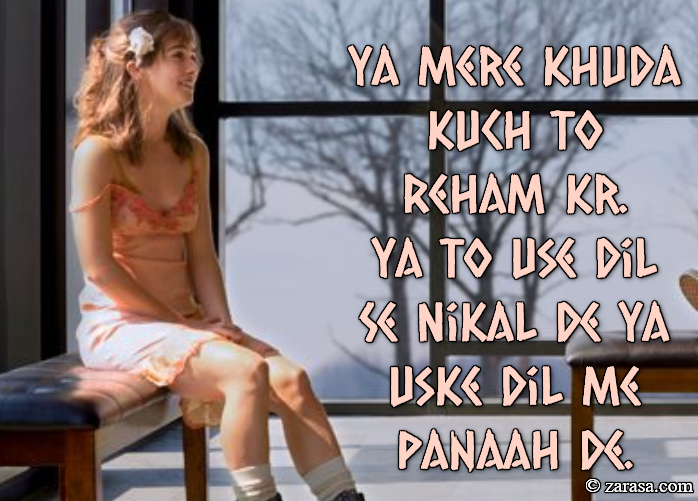 Ya Mere Khuda Kuch To Reham Kr.
Ya To Use Dil Se Nikal De Ya Uske Dil Me Panaah De.
या मेरे खुदा कुछ तो रेहम क्र .
या तो उसे दिल से निकल दे या उसके दिल में पनाह दे .
یا میرے خدا کچھ تو رحم کر .
یا تو اسے دل سے نکل دے یا اسکے دل مے پناہ دے .
---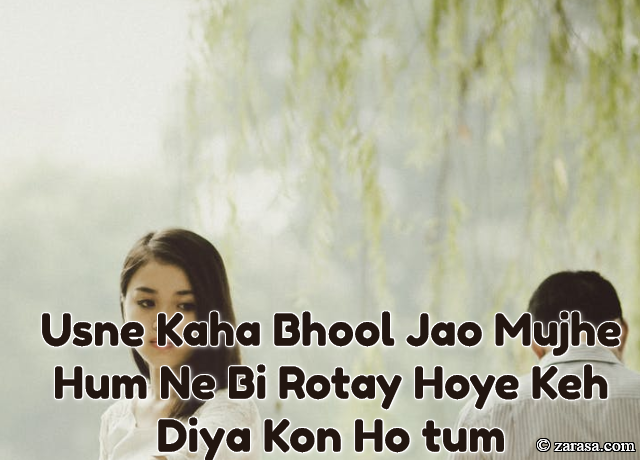 Usne Kaha Bhool Jao Mujhe
Hum Ne Bi Rotay Hoye Keh Diya Kon Ho tum
उसने कहा भूल जाओ मुझे
हम ने बी रोते होये कह दिया कोण हो तुम
اسنے کہا بھول جاؤ مجھے
ہم نے بھی روتے ہوے کہ دیا کون ہو تم
---