Shayari for Speeches "कोशिश करने वालों की कभी हार नहीं होती"
|
Safalta Ek Chunauti Hai Ese Sweekar Karo,
Kya kami Reh Gayi Dekho aur Sudhar Karo,
Kuch Kiye Bina Hi Jay Jaykar Nhi Hoti,
Koshish Karne Vaalo Ki Kabhi Haar Nhi Hoti.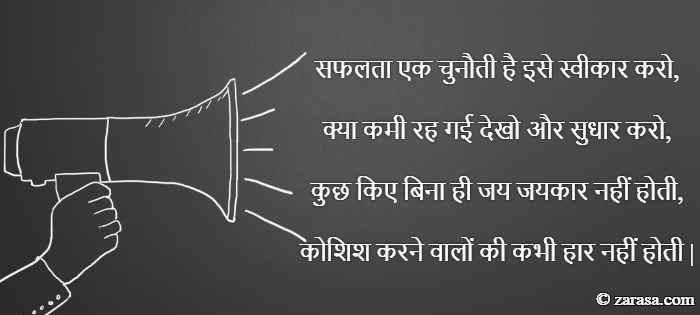 ---

सफलता एक चुनौती है इसे स्वीकार करो,
क्या कमी रह गई देखो और सुधार करो,
कुछ किए बिना ही जय जयकार नहीं होती,
कोशिश करने वालों की कभी हार नहीं होती |


---

سفلتا ایک چنوتی ہے اسے سوکار کرو
کیا کمی رہ گی دیکھو اور سدھار کرو
کچھ کے بنا ہی جے جیکر نہی ہوتی
کوشش کرنے والو کی کبھی ھار نہی ہوتی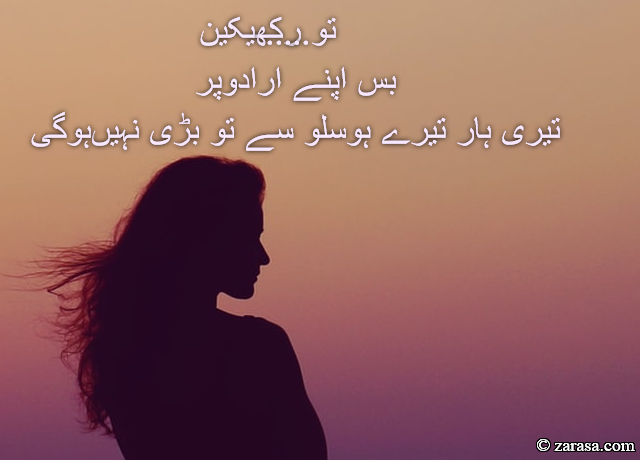 SHAAM SURAJ KO DHALNA SIKHATI HAI
SHAMA PERWANE KO JALNA SIKHATI HAI
GIRNE WALO KO HOTI TO HAI TAKLEEF PER,
THOKAR HI INSAN KO CHLNA SIKHATI HAI........
शाम सूरज को दहलना सिखाती है
शमा परवाने को जलना सिखाती है
गिरने वालो को होती तो है तकलीफ पर
ठोकर ही इंसान को चलना सिखाती है
شام سورج کو ڈھالنا سختی ہے
شمع پروانے کو جلنا سکھاتی ہے
گرنے والو کو ہوتی توہ ہے تکلیف پر
ٹھوکر ہی انسان کو چلنا سکھاتی ہے ......
---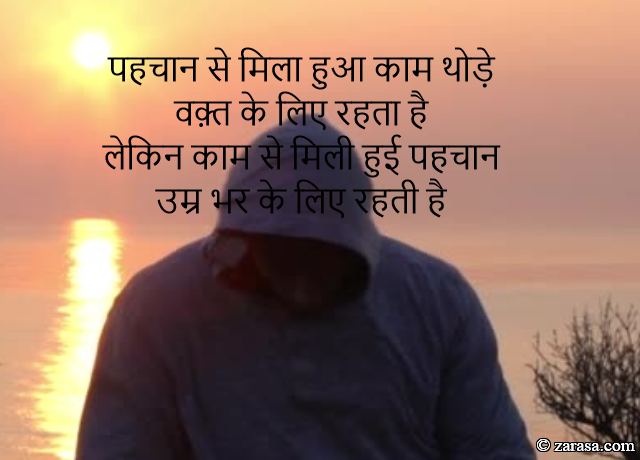 PEHCHAN SE MILA HUA KAAM THODE WAQT KE LIY REHTA HAI
LEKIN KAAM SE MILLI HUI PECHAN UMAR BHER KE LIY REHTI HAI
पहचान से मिला हुआ काम थोड़े वक़्त के लिए रहता है
लेकिन काम से मिली हुई पहचान उम्र भर के लिए रहती है
پہچان سے ملا ہوا کام تھودے وقت کے لی رہتا ہے
لیکن کام سے میللی ہی پہچان امر بھر کے لی رہتی ہے

---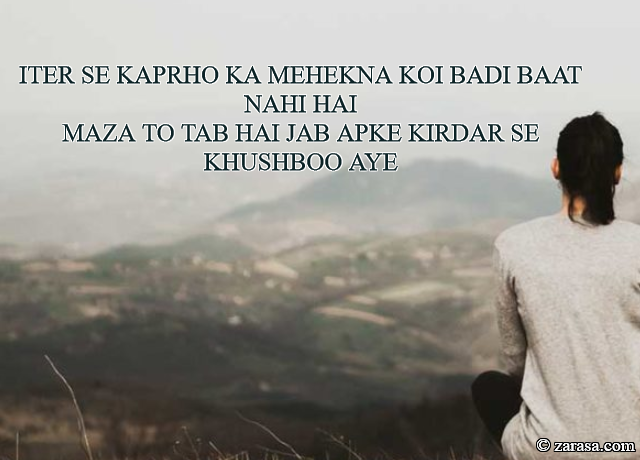 ITER SE KAPRHO KA MEHEKNA KOI BADI BAAT NAHI HAI
MAZA TO TAB HAI JAB APKE KIRDAR SE KHUSHBOO AYE
इतर से कपड़ो का मेहकना कोई बड़ी बात नहीं
मज़ा तो तब है जब आपके किरदार से खुशबू आए
اتر سے کپڑھو کا مہکنا کوئی باڈی بات نہیں ہے
مزہ تو تب ہے جب آپکے کردار سے خوشبو اے
---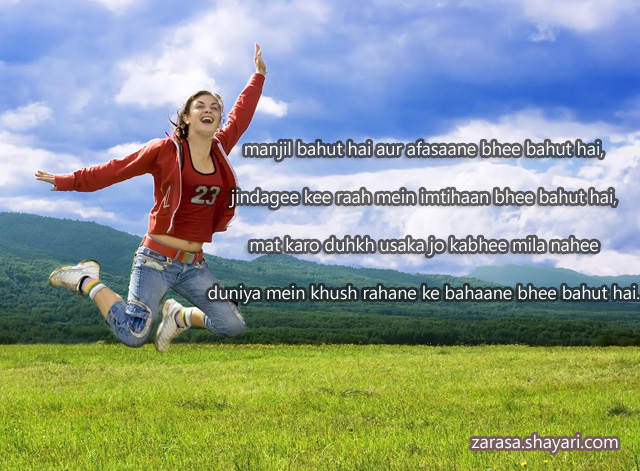 manjil bahut hai aur afasaane bhee bahut hai,
zindagee kee raah mein imtihaan bhee bahut hai,
mat karo duhkh usaka jo kabhee mila nahee
duniya mein khush rahane ke bahaane bhee bahut hai.

 

 

मंजिले बहुत है और अफ़साने भी बहुत है,
जिंदगी की राह में इम्तिहान भी बहुत है,
मत करो दुःख उसका जो कभी मिला नही
दुनिया में खुश रहने के बहाने भी बहुत है।
منجلیں  بہت  ہے  اور  افسانے  بھی  بہت ہے
زندگی کی  راہ  میں  امتحاں  بھی  بہت  ہے
مت  کرو  دھکہ  اسکا  جو  کبھی  ملا  نہی
دنیا  میں  خوش  رہنے  کے  بہانے  بھی  بہت  ہے
---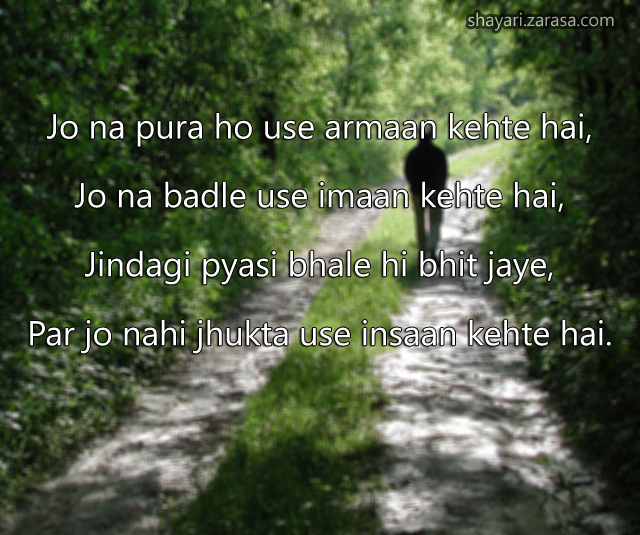 Jo na pura ho use armaan kehte hai,
Jo na badle use imaan kehte hai,
Zindagi pyasi bhale hi bhit jaye,
Par jo nahi jhukta use insaan kehte hai.






जो न पूरा हो उसे अरमाँ कहते है,
जो न बदले उसे ईमान कहते है,
जिंदगी प्यासी भले ही बीत जाये,
पर जो नहीं झुकता उसे इंसान कहते है.

جو  نہ  پورا  ہو اسے  ارمان  کہتے  ہے
جو  نہ  بدلے  اسے  امان کہتے  ہے
زندگی پیاسی  بھلے  ہی  بیت  جائے
پر  جو  نہیں  جھکتا  اسی  انسان  کہتے ہے
---