Shayari for Speeches "Hum Paron Se Nhi hooslon Se Udte Hain."
|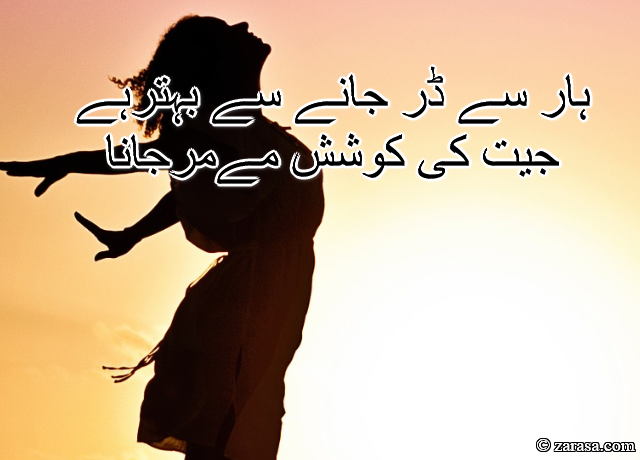 HAAR SE DER JANE SE BEHTER HAI ,
JEET KI KOSHISH ME MERJANA .
हार से डर जाने से बेहतर है
जीत की कोशिश में मरजाना
ہار سے ڈر جانے سے بہتر ہے
جیت کی کوشش مے مرجانا
---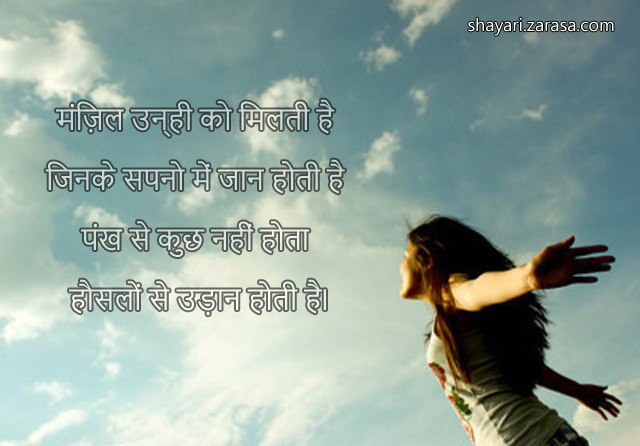 Manzil unhi ko milti hai
Jinke sapno me jaan hoti hai
Pankh se kuchh nahi hota
Hauslon se udaan hoti hai.







मंजिल उन्हीं को मिलती है
जिनके सपनो में जान होती है
पंख से कुछ नहीं होता
हौसलों से उड़ान होती है

منزل انہی کو ملتی ہے
جنکے سپنو مے جان ہوتی ہے
پنکھ سے کچھ نہیں ہوتا
حوصلوں سے ادان ہوتی ہے
---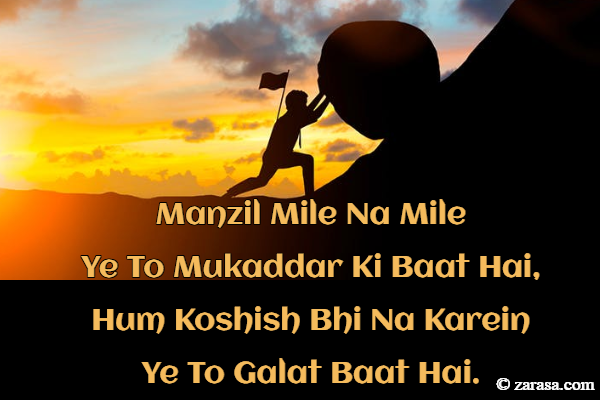 Manzil Mile Na Mile
Ye To Mukaddar Ki Baat Hai,
Hum Koshish Bhi Na Karein
Ye To Galat Baat Hai.

मंज़िल मिले न मिले
ये तो मुकद्दर की बात है,
हम कोशिश भी न करें
ये तो गलत बात है।
منزل میل نہ میل
یہ تو مقدار کی بات ہے
ہم کوشش بھی نہ کرے
یہ تو گلت بات ہے
---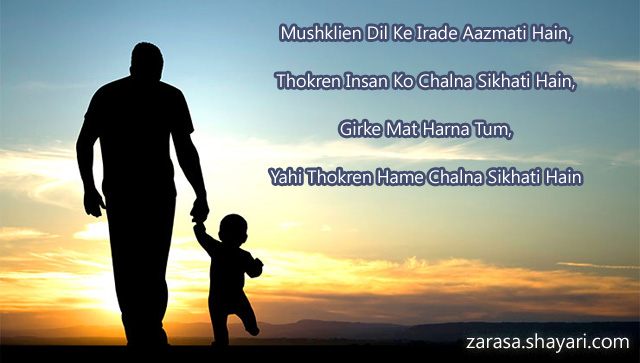 Mushklien Dil Ke Irade Aazmati Hain,
Thokren Insan Ko Chalna Sikhati Hain,
Girke Mat Harna Tum,
Yahi Thokren Hame Chalna Sikhati Hain





मुश्कलें दिल के इरादे आजमाती हैं,
ठोकरें इन्सान को चलना सिखाती हैं,
गिरके मत हारना तुम,
यही ठोकरें हमें चलना सिखाती है।
 مشکلیں دل کے ارادے آزماتی ہیں
ٹھوکریں انسان کو چلنا سختی ہیں
گرکے مت ہارنا تم
یہی ٹھوکریں ہمی چلنا سختی ہی
---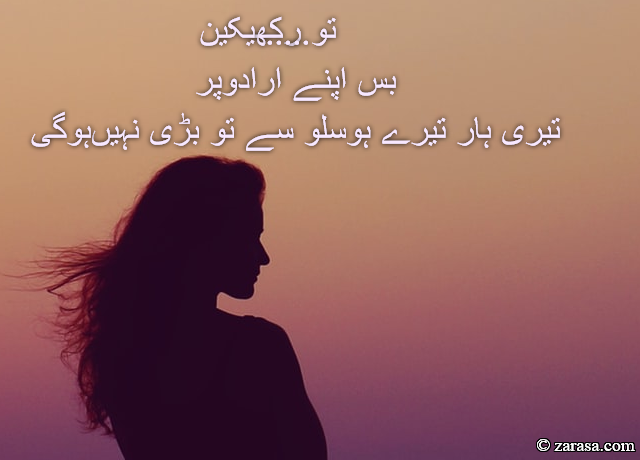 TU RAKH YAKEEN.........
BAS APNE IRADO PAR,
TERI HAR TERE HOSLE SE TO BADI NAHI HOGI
तू राख्न यकीन
बस अपने इरादों पर
तेरी हार तेरे हौसले से तो बड़ी नहीं होगी
تو رکھ یکین
بس اپنے ارادو پر ,
تیری ہر تیرے سے تو بدی نہیں ہوگی
---