Shayari for Speeches "Hum Paron Se Nhi hooslon Se Udte Hain."
|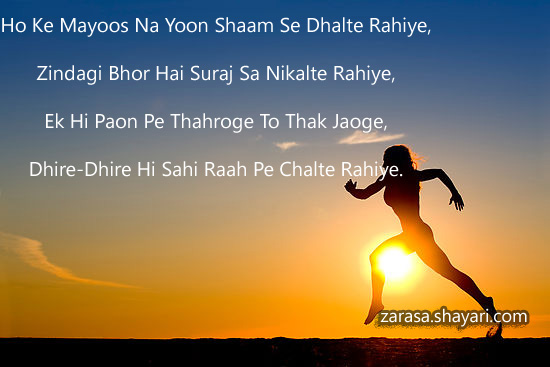 Ho Ke Mayoos Na Yoon Shaam Se Dhalte Rahiye,
Zindagi Bhor Hai Suraj Sa Nikalte Rahiye,
Ek Hi Paon Pe Thahroge To Thak Jaoge,
Dhire-Dhire Hi Sahi Raah Pe Chalte Rahiye.

 

 

हो  के  मायूस  न  यूं  शाम  से ढलते  रहिये ,
ज़िन्दगी  भोर  है  सूरज  सा  निकलते  रहिये ,
एक  ही पाऊँ  पे  ठहरोगे  तो थक  जाओगे,
धीरे -धीरे  ही  सही  राह  पे  चलते  रहिये ।
ہو کے مایوس نہ یوں شام سے ڈھلتے رہے
زندگی بھور ہے سورج سا نکلتے رہے
ایک ہی پاؤں پی ٹھہروگے تو تھک جاؤگے
دھرے -دھرے ہی سہی راہ پی چلتے رہے
---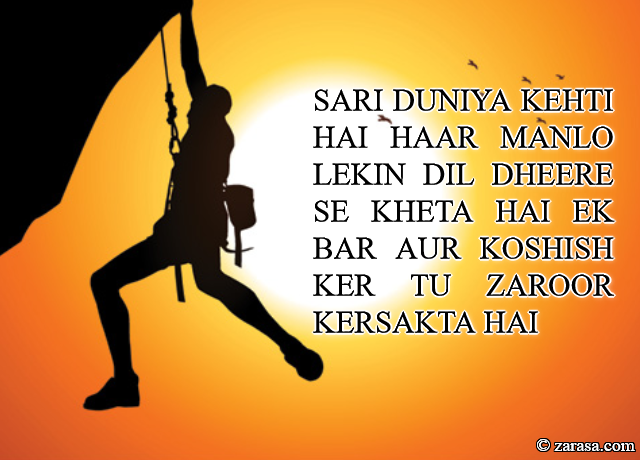 SARI DUNIYA KEHTI HAI HAAR MANLO
LEKIN DIL DHEERE SE KHETA HAI
EK BAR AUR KOSHISH KER
TU ZAROOR KERSAKTA HAI
साडी दुनिया खेती है हर मानलो
लेकिन दिल धीरे से कहता है
एक बार कोशिश कर
तू ज़रूर केर सकता है

سری دنیا کہتی ہے ہار مانلو
لیکن دل دھیرے سے کھتا ہے
ایک بار اور کوشش کر
تو ضرور کرسکتا ہے
---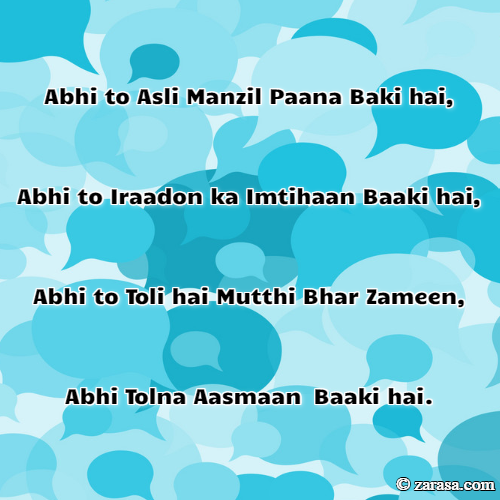 Abhi to Asli Manzil Paana Baki hai,
Abhi to Iraadon ka Imtihaan Baaki hai,
Abhi to Toli hai Mutthi Bhar Zameen,
Abhi Tolna Aasmaan  Baaki hai.
अभी तो असली मंजिल पाना बाकी है,
अभी तो इरादों का इम्तिहान बाकी है,
अभी तो तोली है मुट्ठी भर जमीन,
अभी तोलना आसमान बाकी है।
ابھی تو اصلی منزل پانا باکی ہے
ابھی تو ارادو کا امتحاں باکی ہے
ابھی تو ٹولی ہے مٹھی بھر زمین
ابھی تولنا آسمان باکی ہے
---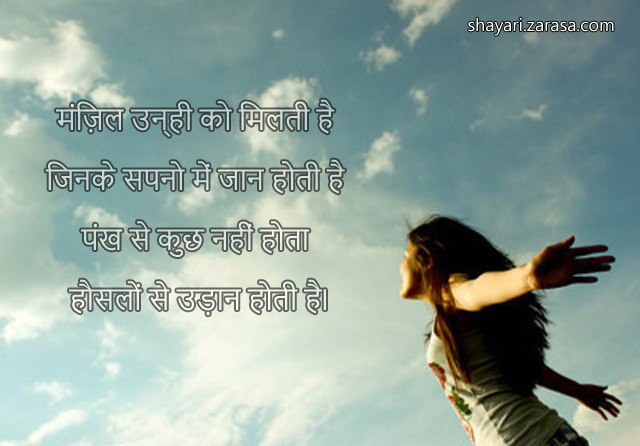 Manzil unhi ko milti hai
Jinke sapno me jaan hoti hai
Pankh se kuchh nahi hota
Hauslon se udaan hoti hai.







मंजिल उन्हीं को मिलती है
जिनके सपनो में जान होती है
पंख से कुछ नहीं होता
हौसलों से उड़ान होती है

منزل انہی کو ملتی ہے
جنکے سپنو مے جان ہوتی ہے
پنکھ سے کچھ نہیں ہوتا
حوصلوں سے ادان ہوتی ہے
---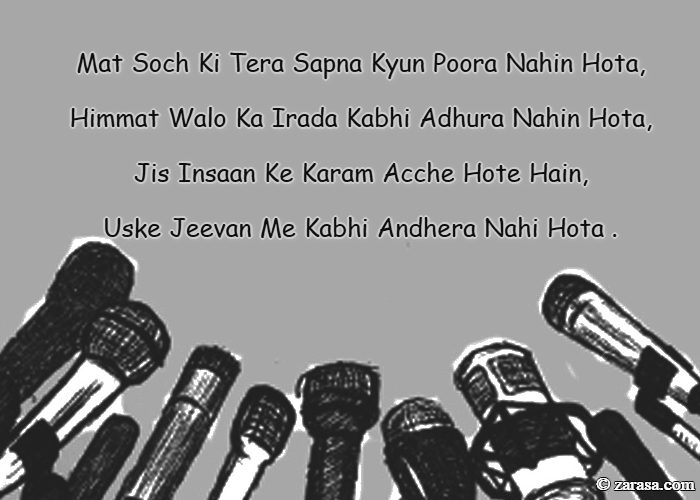 Mat Soch Ki Tera Sapna Kyun Poora Nahin Hota,
Himmat Walo Ka Irada Kabhi Adhura Nahin Hota,
Jis Insaan Ke Karam Acche Hote Hain,
Uske Jeevan Me Kabhi Andhera Nahi Hota .
मत सोच की तेरा सपना क्यों पूरा नहीं होता,
हिम्मत वालों का इरादा कभी अधूरा नहीं होता,
जिस इंसान के करम अच्छे होते है,
उसके जीवन में कभी अँधेरा नहीं होता।
مت سوچ کی تیرا سپنا کیو پورا نہی ہوتا
ہمّت والو کا اراد کبھی ادھورا نہی ہوتا
جس انسان کے کرم اچھے ہوتے ہے
اسکے جیون مے کبھی اندھیرا نہی ہوتا
---