Shayari for Teachers l "सिर्फ किताबी ज्ञान ही नहीं "
|
Jeevan Ke Har Andhere Mein,
Roshani Dikhatey Hain Aap,
Band Ho Jate Hai Jab Sare Darwaze
Naya Rasta Dikhate Hain Aap
Sirf Kitaabi Gyaan Hi Nahi
Jeevan Jeena Sikhate Hain Aap.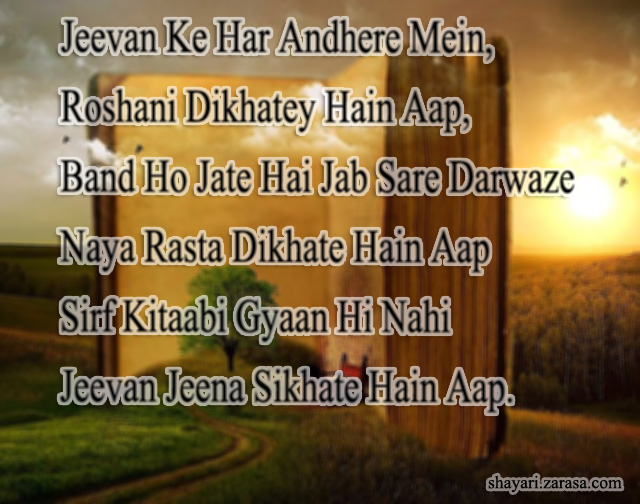 ---


जीवन के हर अँधेरे में,
रोशनी दिखते हैं आप,
बंद हो जाते है जब सारे दरवाज़े
नया रास्ता दिखवाते हैं आप
सिर्फ किताबी ज्ञान ही नहीं
जीवन जीना सिखाते हैं आप.


---

زندگی کے ہر اندھیرے میں
روشنی نظر آتے ہیں آپ
بند ہو جاتے ہیں جب سارے دروازے
نیا راستہ دكھواتے ہیں آپ
صرف کتابی علم ہی نہیں
زندگی جینا سکھاتے ہیں آپ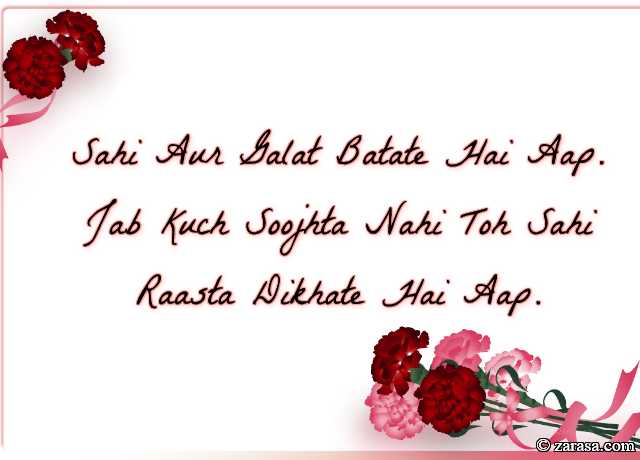 Sahi Aur Galat Batate Hai Aap.
Jab Kuch Soojhta Nahi Toh Sahi Raasta Dikhate Hai Aap.
सही और गलत बताते है आप .
जब कुछ सूझता नहीं तोह सही रास्ता दिखते है आप .
سہی اور گلت بتاتے ہے آپ .
جب کچھ سوجھتا نہیں تو سہی راستہ دکھاتے ہے آپ .
---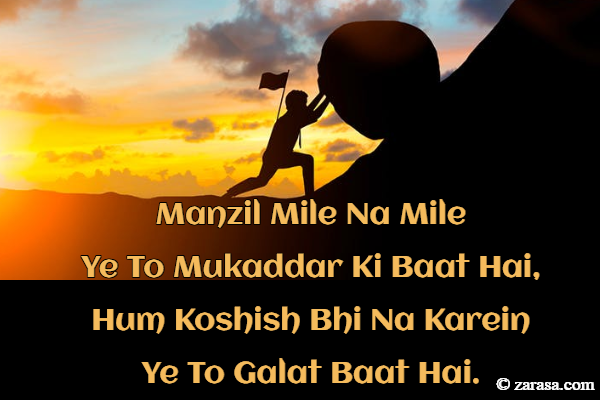 Manzil Mile Na Mile
Ye To Mukaddar Ki Baat Hai,
Hum Koshish Bhi Na Karein
Ye To Galat Baat Hai.

मंज़िल मिले न मिले
ये तो मुकद्दर की बात है,
हम कोशिश भी न करें
ये तो गलत बात है।
منزل میل نہ میل
یہ تو مقدار کی بات ہے
ہم کوشش بھی نہ کرے
یہ تو گلت بات ہے
---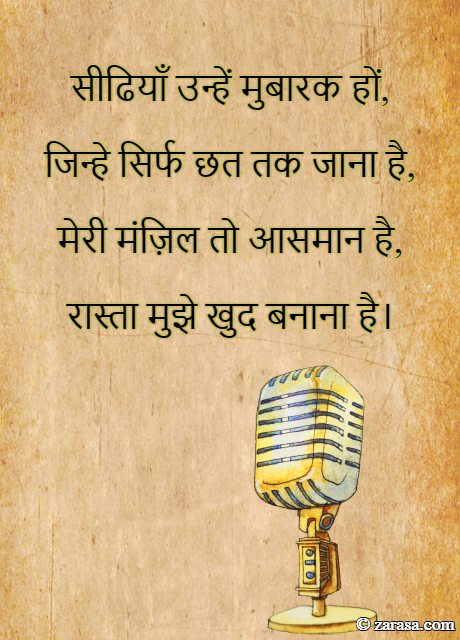 Sidiyan Unhe Mubarak Hon,
Jinhe Sirf Chhat Tak Jana Hai,
Meri Manzil To Aasmaan Hai,
Rasta Mujhe Khud Banana Hai.

सीढियाँ उन्हें मुबारक हों,
जिन्हे सिर्फ छत तक जाना है,
मेरी मंज़िल तो आसमान है,
रास्ता मुझे खुद बनाना है।
سیڈیاں انھ مبارک ہوں
جنھ صرف چھت تک جانا ہے
میری منزل تو آسمان ہے
راستا مجھے خود بنانا ہے
---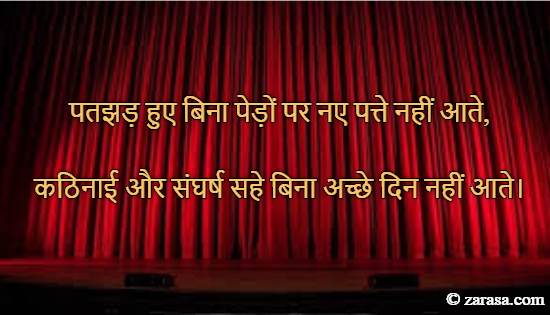 Patjhad Huye Bina Pedo Par Naye Patte Nahi Aate,
Kathinai Aur Sangharsh Sahe Bina Achhe Din Nahi Aate.

पतझड़ हुए बिना पेड़ों पर नए पत्ते नहीं आते,
कठिनाई और संघर्ष सहे बिना अच्छे दिन नहीं आते।
پتجہاڈ ہوئے بنا پیڈں پر نیے پتے نہی آتے
کٹھنائی اور سنگھرش سہی بنا اچھے دن نہیں آتے
---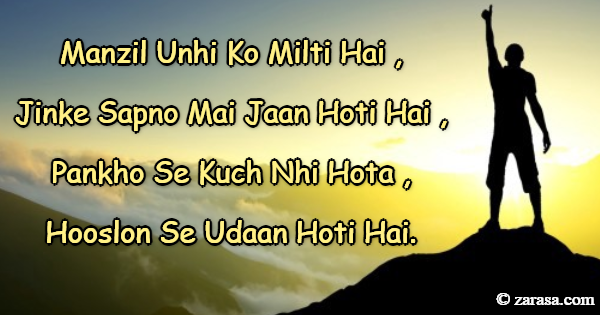 Manzil Unhi Ko Milti Hai ,
Jinke Sapno Mai Jaan Hoti Hai ,
Pankho Se Kuch Nhi Hota ,
Hooslon Se Udaan Hoti Hai.
मंजिल उन्हीं को मिलती है,
जिनके सपनों में जान होती है,
पंखों से कुछ नहीं होता,
हौसलों से उड़ान होती है |
منزل انہی کو ملتی ہے
جنکے سپنو می جان ہوتی ہے
پنکھو سے کچھ نہی ہوتا
حوصلوں سے وڈان ہوتی ہے
---