Shayari for Teachers l "सिर्फ किताबी ज्ञान ही नहीं "
|
Jeevan Ke Har Andhere Mein,
Roshani Dikhatey Hain Aap,
Band Ho Jate Hai Jab Sare Darwaze
Naya Rasta Dikhate Hain Aap
Sirf Kitaabi Gyaan Hi Nahi
Jeevan Jeena Sikhate Hain Aap.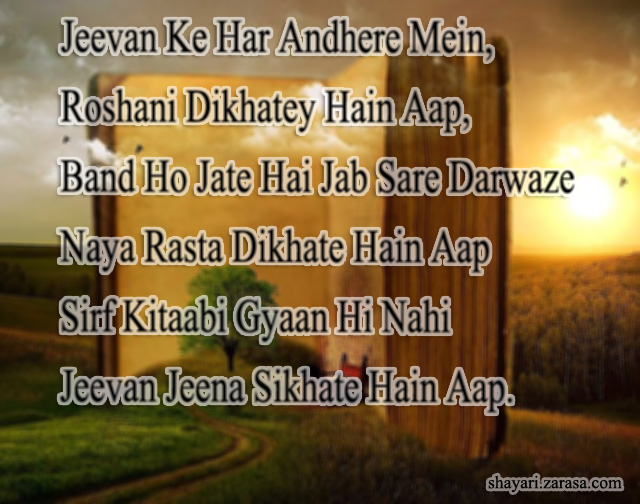 ---


जीवन के हर अँधेरे में,
रोशनी दिखते हैं आप,
बंद हो जाते है जब सारे दरवाज़े
नया रास्ता दिखवाते हैं आप
सिर्फ किताबी ज्ञान ही नहीं
जीवन जीना सिखाते हैं आप.


---

زندگی کے ہر اندھیرے میں
روشنی نظر آتے ہیں آپ
بند ہو جاتے ہیں جب سارے دروازے
نیا راستہ دكھواتے ہیں آپ
صرف کتابی علم ہی نہیں
زندگی جینا سکھاتے ہیں آپ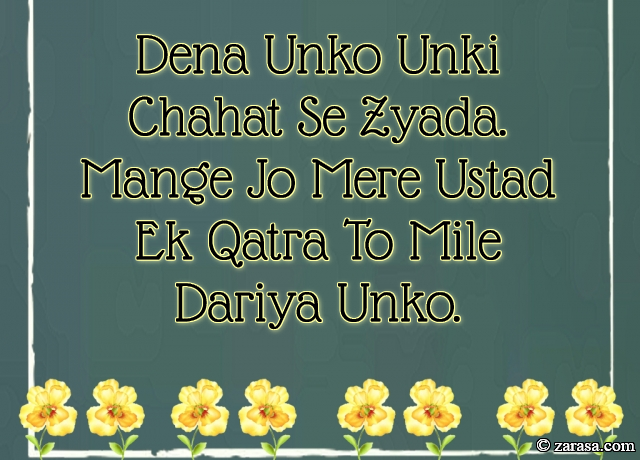 Dena Unko Unki Chahat Se Zyada.
Mange Jo Mere Ustad Ek Qatra To Mile Dariya Unko.
देना उनको उनकी चाहत से ज़्यादा .
मांगे जो मेरे उस्ताद एक क़तरा तो मिले दरिया उनको .
دینا انکو انکی چاہت سے زیادہ .
مانگے جو میرے استاد ایک قطرہ تو میل دریا انکو .
---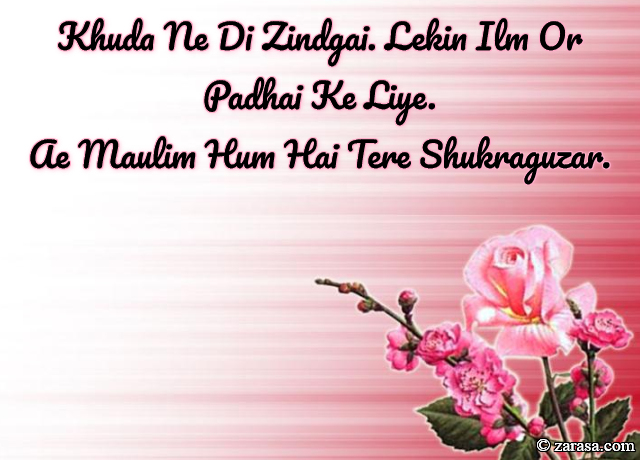 Khuda Ne Di Zindgai. Lekin Ilm Or Padhai Ke Liye.
Ae Maulim Hum Hai Tere Shukraguzar.
खुदा ने दी ज़िंदगी . लेकिन इल्म और पढाई के लिए .
ऐ मौलिम हम है तेरे मौलिम .
خدا نے دی زندگی . لیکن علم ور پڑھائی کے لئے .
اے معلم ہم ہے تیرے شکرگزار .
---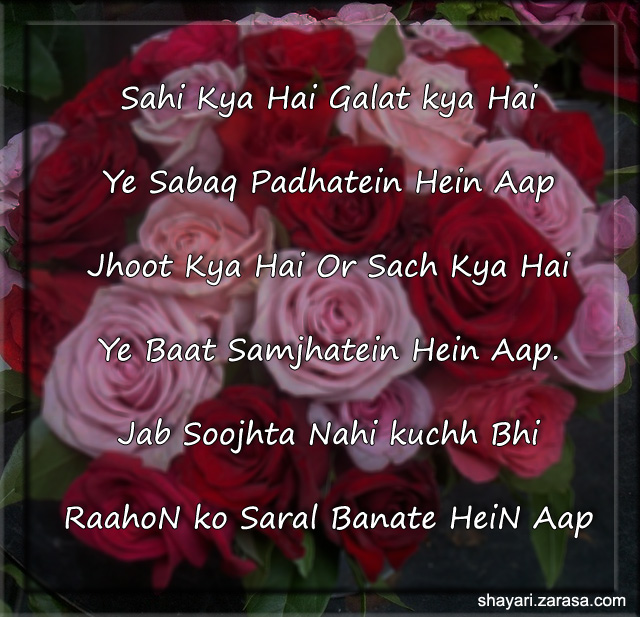 Sahi Kya Hai Galat kya Hai
Ye Sabaq Padhatein Hein Aap
Jhoot Kya Hai Or Sach Kya Hai
Ye Baat Samjhatein Hein Aap.
Jab Soojhta Nahi kuchh Bhi
RaahoN ko Saral Banate HeiN Aap

 

सही क्या है ग़लत क्या है
यह सबक़ पढतें हैं आप

झूट क्या है और सच क्या है
यह बात समझतें हैं आप

जब सूझता नहीं कुछ भी
राहों को सरल बनाते हैं आप
سہی کیا ہے غلط کیا ہے
یہ سبق پڑھاتے  ہیں آپ

جھوٹ کیا ہے اور سچ کیا ہے
یہ بات سمجھتیں ہیں آپ

جب سوجھتا  نہیں کچھ بھی
راہوں کو سرل بناتے ہیں آپ
---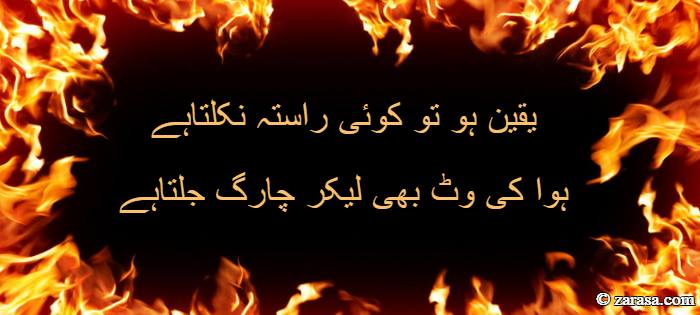 Yaqeen Ho To Koi Rasta Nikalta Hai,
Hawa Ki Ot Bhi Le Kar Charaag Jalta Hai.

यक़ीन हो तो कोई रास्ता निकलता है,
हवा की ओट भी ले कर चराग़ जलता है।
یقین ہو تو کوئی راستہ نکلتا ہے
ہوا کی وٹ بھی لیکر چارگ جلتا ہے
---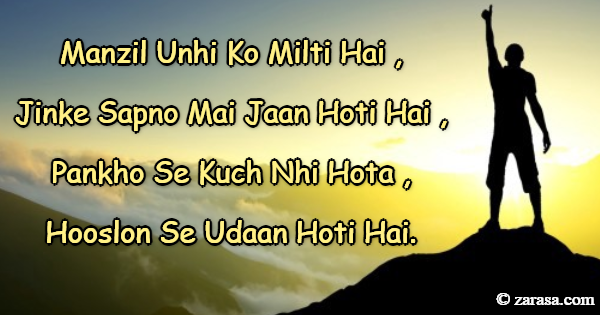 Manzil Unhi Ko Milti Hai ,
Jinke Sapno Mai Jaan Hoti Hai ,
Pankho Se Kuch Nhi Hota ,
Hooslon Se Udaan Hoti Hai.
मंजिल उन्हीं को मिलती है,
जिनके सपनों में जान होती है,
पंखों से कुछ नहीं होता,
हौसलों से उड़ान होती है |
منزل انہی کو ملتی ہے
جنکے سپنو می جان ہوتی ہے
پنکھو سے کچھ نہی ہوتا
حوصلوں سے وڈان ہوتی ہے
---