Shayari for Teachers l "सिर्फ किताबी ज्ञान ही नहीं "
|
Jeevan Ke Har Andhere Mein,
Roshani Dikhatey Hain Aap,
Band Ho Jate Hai Jab Sare Darwaze
Naya Rasta Dikhate Hain Aap
Sirf Kitaabi Gyaan Hi Nahi
Jeevan Jeena Sikhate Hain Aap.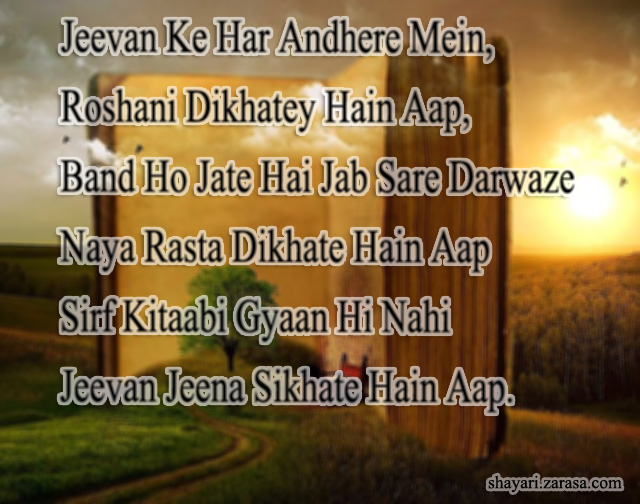 ---


जीवन के हर अँधेरे में,
रोशनी दिखते हैं आप,
बंद हो जाते है जब सारे दरवाज़े
नया रास्ता दिखवाते हैं आप
सिर्फ किताबी ज्ञान ही नहीं
जीवन जीना सिखाते हैं आप.


---

زندگی کے ہر اندھیرے میں
روشنی نظر آتے ہیں آپ
بند ہو جاتے ہیں جب سارے دروازے
نیا راستہ دكھواتے ہیں آپ
صرف کتابی علم ہی نہیں
زندگی جینا سکھاتے ہیں آپ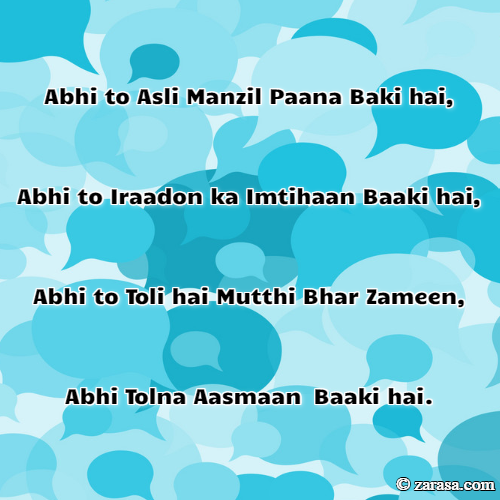 Abhi to Asli Manzil Paana Baki hai,
Abhi to Iraadon ka Imtihaan Baaki hai,
Abhi to Toli hai Mutthi Bhar Zameen,
Abhi Tolna Aasmaan  Baaki hai.
अभी तो असली मंजिल पाना बाकी है,
अभी तो इरादों का इम्तिहान बाकी है,
अभी तो तोली है मुट्ठी भर जमीन,
अभी तोलना आसमान बाकी है।
ابھی تو اصلی منزل پانا باکی ہے
ابھی تو ارادو کا امتحاں باکی ہے
ابھی تو ٹولی ہے مٹھی بھر زمین
ابھی تولنا آسمان باکی ہے
---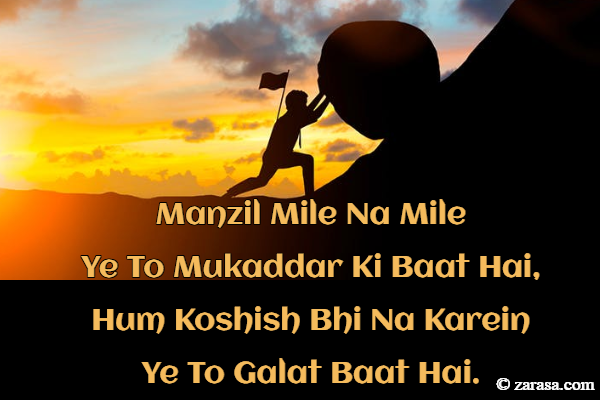 Manzil Mile Na Mile
Ye To Mukaddar Ki Baat Hai,
Hum Koshish Bhi Na Karein
Ye To Galat Baat Hai.

मंज़िल मिले न मिले
ये तो मुकद्दर की बात है,
हम कोशिश भी न करें
ये तो गलत बात है।
منزل میل نہ میل
یہ تو مقدار کی بات ہے
ہم کوشش بھی نہ کرے
یہ تو گلت بات ہے
---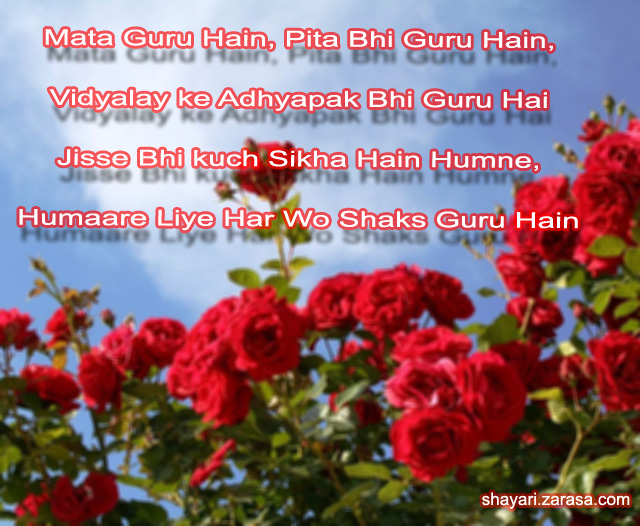 Mata Guru Hain, Pita Bhi Guru Hain,
Vidyalay ke Adhyapak Bhi Guru Hai
Jisse Bhi kuch Sikha Hain Humne,
Humaare Liye Har Wo Shaks Guru Hain

 
 

माता गुरु हैं, पिता भी गुरु हैं,
विद्यालय के अध्यापक भी गुरु है
जिससे भी कुछ सिखा हैं हमने,
हमारे लिए हर वो शख्स गुरु हैं
ماتا گرو ہیں, پتہ بھی گرو ہیں

ویدیلے کے ادھیپک بھی گرو ہے

جسسے بھی کچھ سکھ ہیں ہمنے

ہمارے لئے ہر وو شکس گرو ہیں
---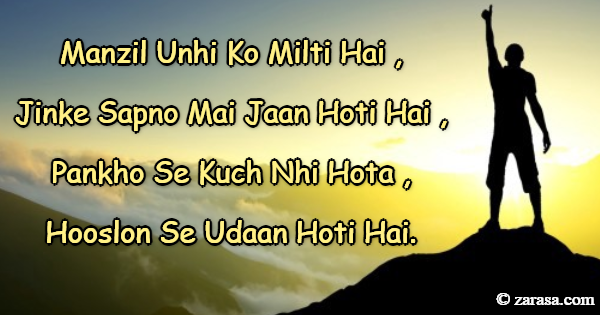 Manzil Unhi Ko Milti Hai ,
Jinke Sapno Mai Jaan Hoti Hai ,
Pankho Se Kuch Nhi Hota ,
Hooslon Se Udaan Hoti Hai.
मंजिल उन्हीं को मिलती है,
जिनके सपनों में जान होती है,
पंखों से कुछ नहीं होता,
हौसलों से उड़ान होती है |
منزل انہی کو ملتی ہے
جنکے سپنو می جان ہوتی ہے
پنکھو سے کچھ نہی ہوتا
حوصلوں سے وڈان ہوتی ہے
---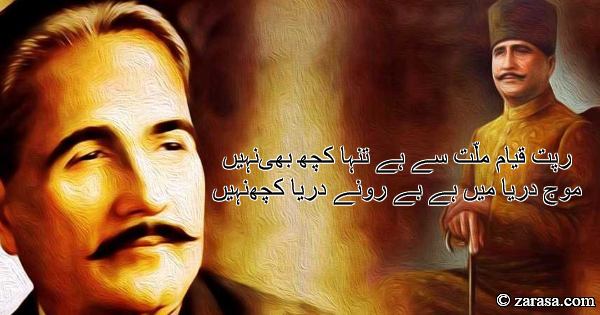 Rapt Qayam Millat se Hai, Tanha Kuchh Bhi Nahi
Moj Darya Mein Hai, Beroone Darya Kuchh Nahi.
रप्त क़ायम मिल्लत से है, तनहा कुछ भी नहीं
मौज दरया में है बेरूने दरया कुछ नहीं
رپت قیام ملّت سے ہے تنہا کچھ بھی نہیں
موج دریا میں ہے بے رونے دریا کچھ نہیں
---