Shayari for Wafa "Dekha Hoga"
|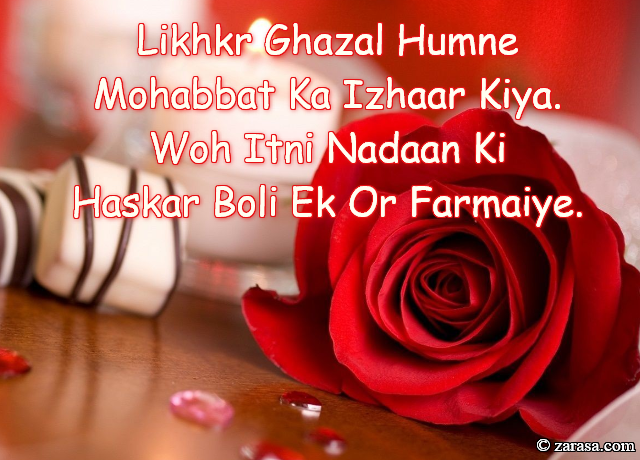 Likhkr Ghazal Humne Mohabbat Ka Izhaar Kiya.
Woh Itni Nadaan Ki Haskar Boli Ek Or Farmaiye.
लिखकर ग़ज़ल हमने मोहब्बत का इज़्हार किया .
वह इतनी नादान की हसकर बोली एक और फरमाइए .
لکھکر غزل ہمنے موحبّت کا اظہار کیا .
وہ اتنی ناداں کی حسکر بولی ایک اور فرمائے .
---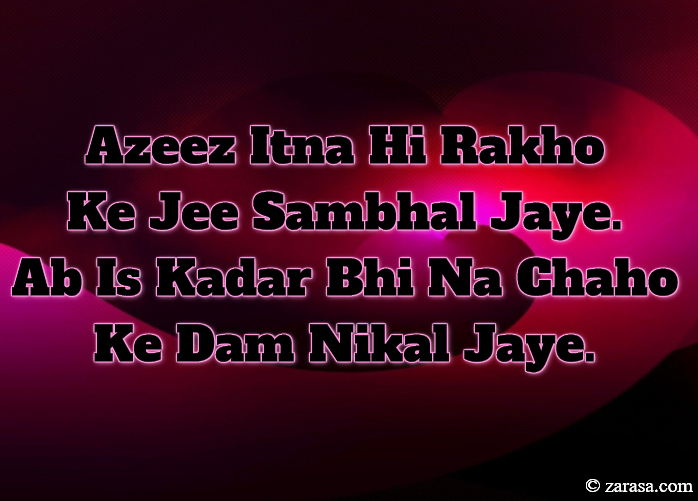 Azeez Itna Hi Rakho Ke Jee Sambhal Jaye.
Ab Is Kadar Bhi Na Chaho Ke Dam Nikal Jaye.
अज़ीज़ इतना ही रखो के जी संभल जाये .
अब इस कदर भी ना चाहो के डैम निकल जाये .
عزیز اتنا ہی رکھو کے جی سمبھال جائے .
اب اس کدر بھی نہ چاہو کے ڈیم نکل جائے .
---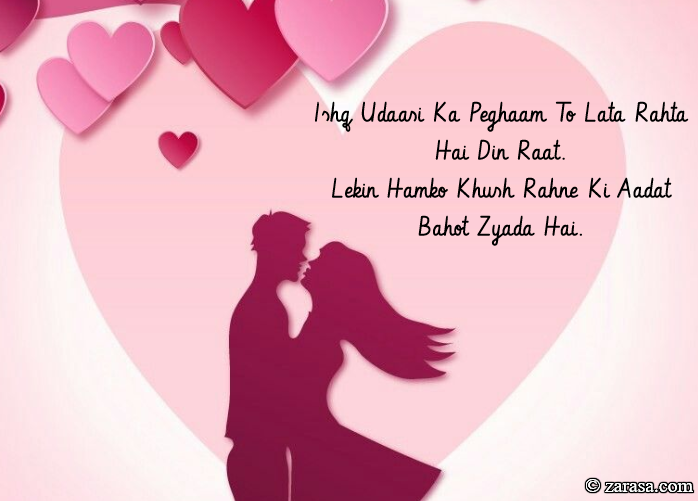 Ishq Udaasi Ka Peghaam To Lata Rahta Hai Din Raat.
Lekin Hamko Khush Rahne Ki Aadat Bahot Zyada Hai.
इश्क़ उदासी के पैगाम तो लता रहता है दिन रात .
लेकिन हमको खुश रहने की आदत बहोत ज़्यादा है .
عشق اداسی کے پیگام تو لاتا رہتا ہے دن رات .
لیکن ہمکو خوش رہنے کی عادت بھوت زیادہ ہے .
---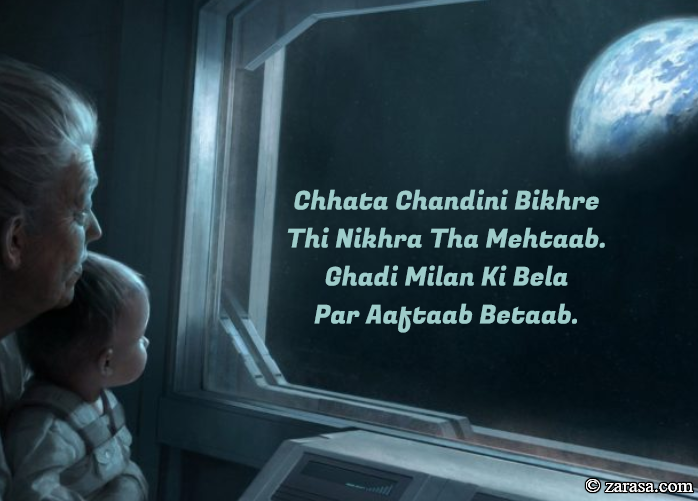 Chhata Chandini Bikhre Thi Nikhra Tha Mehtaab.
Ghadi Milan Ki Bela Par Aaftaab Betaab.
छटा चंदिनि बिखरे थी निखरा था महताब .
घडी मिलान की बेला पर आफताब बेताब .
چھٹا چاندنی بکھرے تھی نخرہ تھا مہتاب .
غدی ملن کی بلا پر آفتاب بیتاب .
---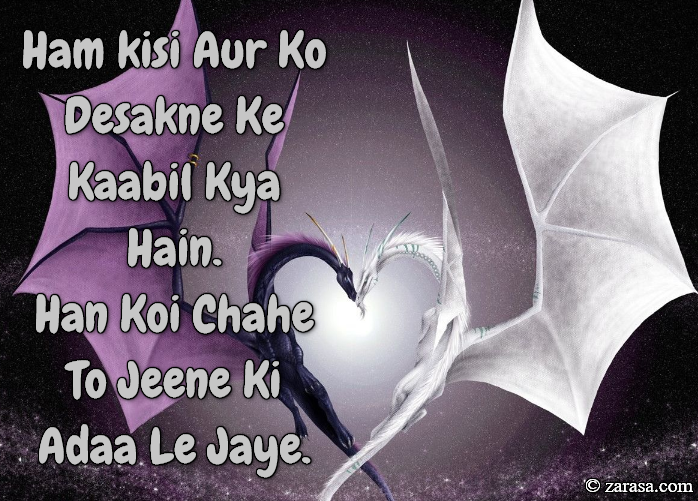 Ham kisi Aur Ko Desakne Ke Kaabil Kya Hain.
Han Koi Chahe To Jeene Ki Adaa Le Jaye.
हम किसी और को देसकने के खाबिल क्या हैं .
हाँ कोई चाहे तो जीने की अदा ले जाये .
ہم کسی اور کو دسکنے کے کابل کیا ہیں .
ہان کوئی چاہے تو جینے کی ادا لے جائے .
---