Shayari for Wafa " Ishq Udaasi Ka Peghaam"
|
Ishq Udaasi Ka Peghaam To Lata Rahta Hai Din Raat.
Lekin Hamko Khush Rahne Ki Aadat Bahot Zyada Hai.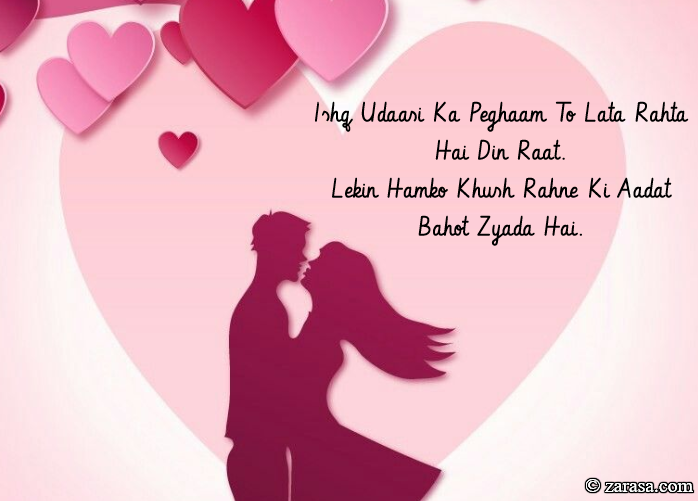 ---

इश्क़ उदासी के पैगाम तो लता रहता है दिन रात .
लेकिन हमको खुश रहने की आदत बहोत ज़्यादा है .


---

عشق اداسی کے پیگام تو لاتا رہتا ہے دن رات .
لیکن ہمکو خوش رہنے کی عادت بھوت زیادہ ہے .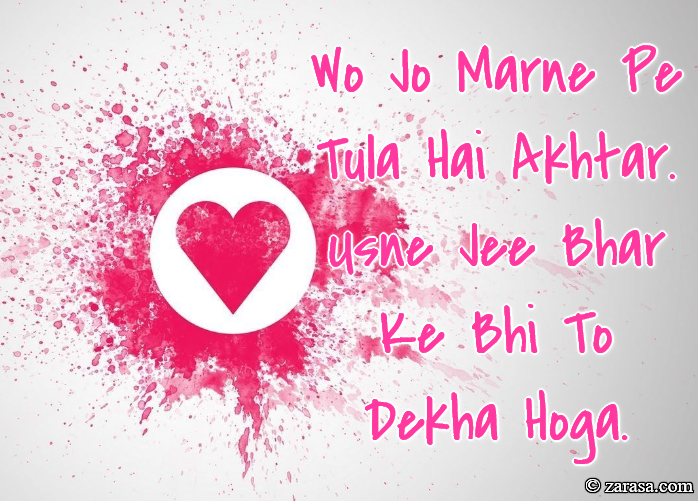 Wo Jo Marne Pe Tula Hai Akhtar.
Usne Jee Bhar Ke Bhi To Dekha Hoga.
वो जो मरने पे तुला है अख्तर .
उसने जी भर के भी तो देखा होगा .
وو جو مرنے پی تلا ہے اختر .
اسنے جی بھر کے بھی تو دیکھا ہوگا .
---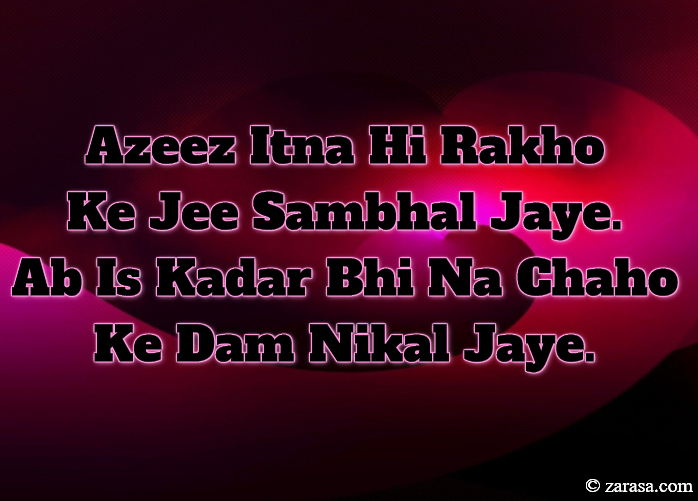 Azeez Itna Hi Rakho Ke Jee Sambhal Jaye.
Ab Is Kadar Bhi Na Chaho Ke Dam Nikal Jaye.
अज़ीज़ इतना ही रखो के जी संभल जाये .
अब इस कदर भी ना चाहो के डैम निकल जाये .
عزیز اتنا ہی رکھو کے جی سمبھال جائے .
اب اس کدر بھی نہ چاہو کے ڈیم نکل جائے .
---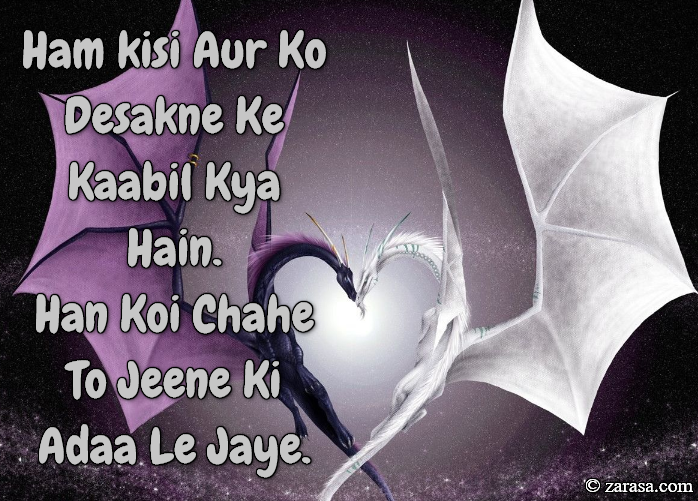 Ham kisi Aur Ko Desakne Ke Kaabil Kya Hain.
Han Koi Chahe To Jeene Ki Adaa Le Jaye.
हम किसी और को देसकने के खाबिल क्या हैं .
हाँ कोई चाहे तो जीने की अदा ले जाये .
ہم کسی اور کو دسکنے کے کابل کیا ہیں .
ہان کوئی چاہے تو جینے کی ادا لے جائے .
---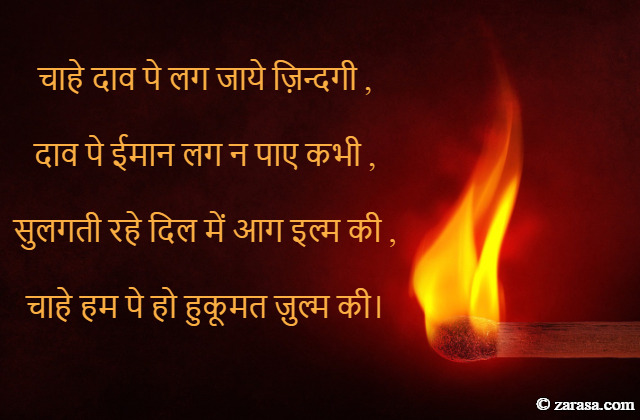 Chahe Dav pe Lag Jaye Zindagi,
Dav pe Imaan  Lag Na pae Kabhi,
Sulagti Rhe Dil Mai Aag Ilm Ki ,
Chahe Hum pe Ho Hukumat zulm Ki.

चाहे दाव पे लग जाये ज़िन्दगी ,
दाव पे ईमान लग न पाए कभी ,
सुलगती रहे दिल में आग इल्म की ,
चाहे हम पे हो हुकूमत ज़ुल्म की।
چاہے داو پی لگ جائے زندگی
داو پی امان لگ نہ پی کبھی
سلگتی رہی دل می آگ علم کی
چاہے ہم پی ہو حکومت ظلم کی
---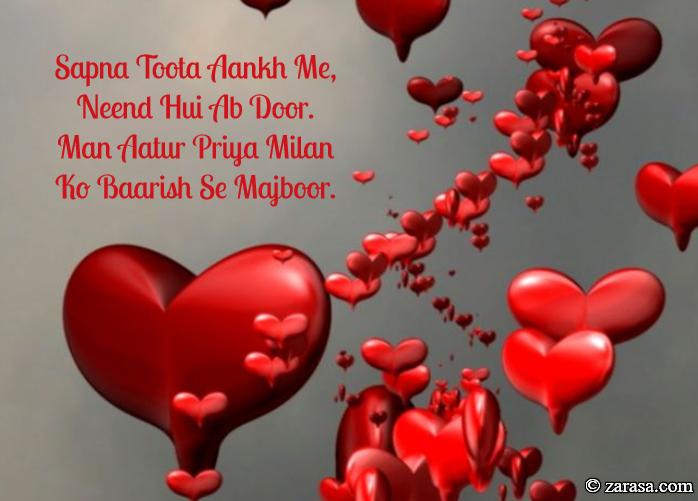 Sapna Toota Aankh Me, Neend Hui Ab Door.
Man Aatur Priya Milan Ko Baarish Se Majboor.
सपना टूटा आँख में नींद हुई अब दूर .
मन आतुर प्रिय मिलान को बारिश से मजबूर .
سپنا ٹوٹا آنکھ مے , نیند ہی اب دور .
من اتر پریہ ملن کو بارش سے مجبور .
---