Shayari for Wafa " Ishq Udaasi Ka Peghaam"
|
Ishq Udaasi Ka Peghaam To Lata Rahta Hai Din Raat.
Lekin Hamko Khush Rahne Ki Aadat Bahot Zyada Hai.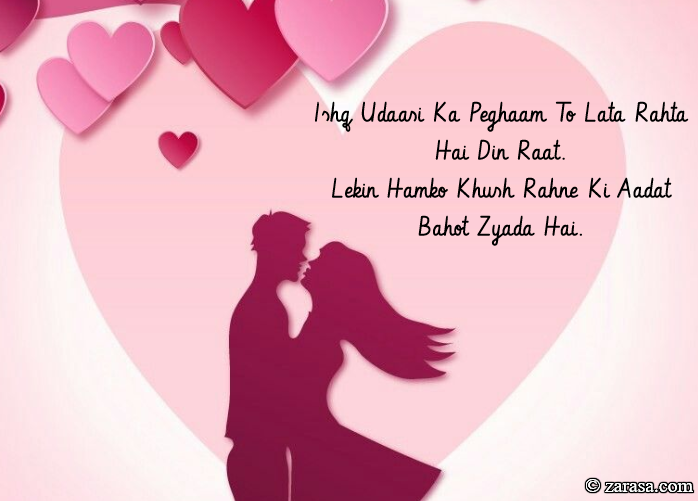 ---

इश्क़ उदासी के पैगाम तो लता रहता है दिन रात .
लेकिन हमको खुश रहने की आदत बहोत ज़्यादा है .


---

عشق اداسی کے پیگام تو لاتا رہتا ہے دن رات .
لیکن ہمکو خوش رہنے کی عادت بھوت زیادہ ہے .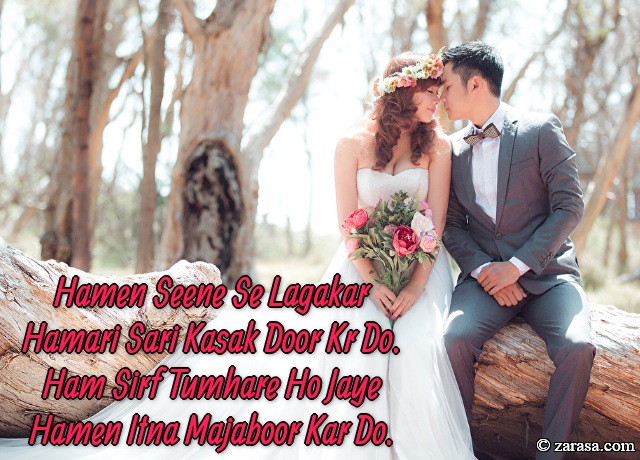 Hamen Seene Se Lagakar Hamari Sari Kasak Door Kr Do.
Ham Sirf Tumhare Ho Jaye Hamen Itna Majaboor Kar Do.
हमें सीने से लगाकर हमारी साडी कसक दूर कर दो .
हम सिर्फ तुम्हारे हो जाये हमें इतना मजबूर कर दो .
ہمیں سینے سے لگاکر ہماری سری کسک دور کر دو.
ہم صرف تمہارے ہو جائے ہمیں اتنا مجبور کر دو .
---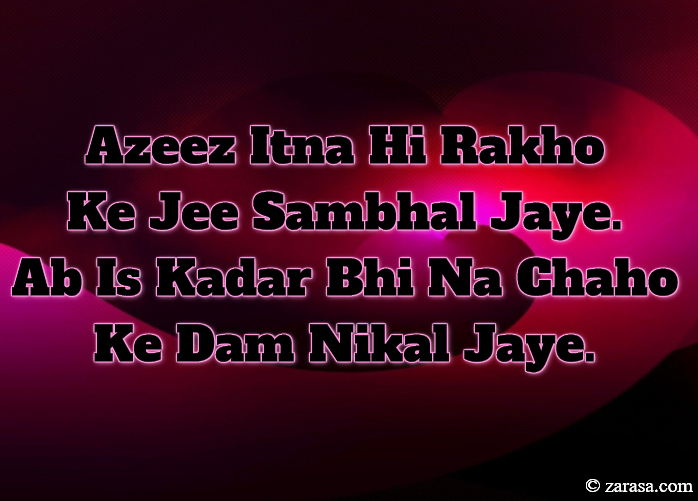 Azeez Itna Hi Rakho Ke Jee Sambhal Jaye.
Ab Is Kadar Bhi Na Chaho Ke Dam Nikal Jaye.
अज़ीज़ इतना ही रखो के जी संभल जाये .
अब इस कदर भी ना चाहो के डैम निकल जाये .
عزیز اتنا ہی رکھو کے جی سمبھال جائے .
اب اس کدر بھی نہ چاہو کے ڈیم نکل جائے .
---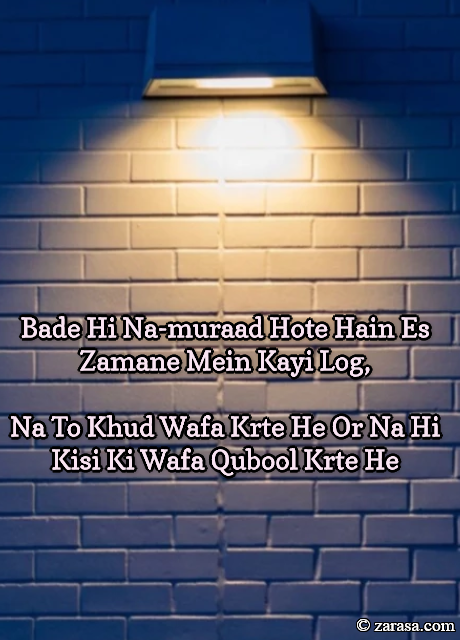 Bade Hi Na-muraad Hote Hain Es Zamane Mein Kayi Log,
Na To Khud Wafa Krte He Or Na Hi Kisi Ki Wafa Qubool Krte He
बड़े ही ना मुराद होते हैं इस ज़माने में कई लोग ,
न तो खुद वफ़ा करते हे और न ही किसी की वफ़ा क़ुबूल करते हे
بڑے ہی نا -مراد ہوتے ہیں اس زمانے میں کی لوگ ,
نہ تو خود وفا کرتے ہے ور نہ ہی کسی کی وفا قبول کرتے ہے
---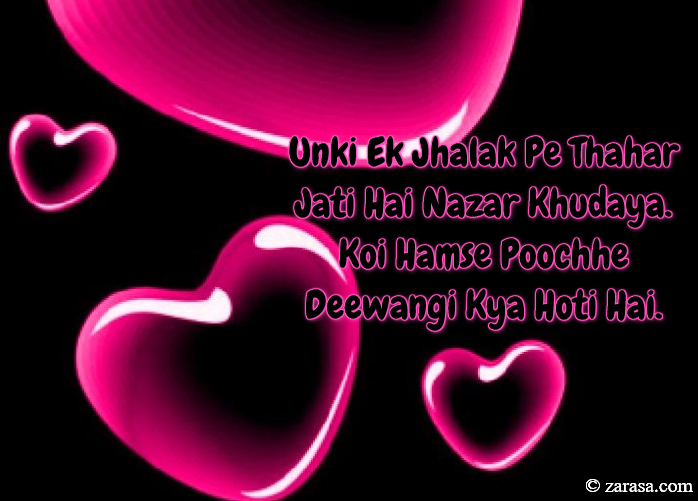 Unki Ek Jhalak Pe Thahar Jati Hai Nazar Khudaya.
Koi Hamse Poochhe Deewangi Kya Hoti Hai.
उनकी एक झलक पे ठहर जाती है नज़र खुदाया .
कोई हमसे पूछे दीवानगी क्या होती है .

انکی ایک جھلک پی ٹھہر جاتی ہے نظر خدایا .
کوئی ہمسے پوچھے دیوانگی کیا ہوت ہے .

---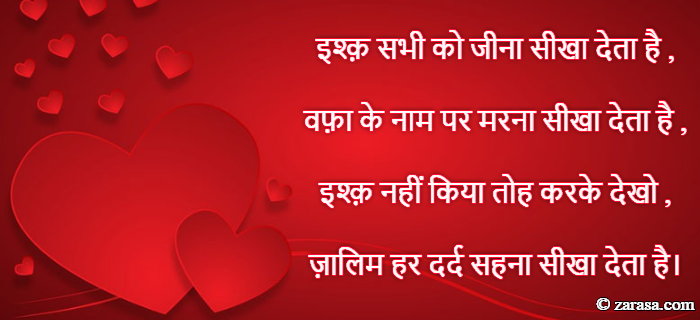 Ishq Sabhi Ko Jeena Sikha Deta Hai ,
Wafa Ke Naam Par Marna Sikha Deta Hai ,
Ishq Nhi Kiya Toh Karke Dekho,
Zalim Har Dard Sehna Sikha Deta Hai ,
इश्क़ सभी को जीना सीखा देता है ,
वफ़ा के नाम पर मरना सीखा देता है ,
इश्क़ नहीं किया तोह करके देखो ,
ज़ालिम हर दर्द सहना सीखा देता है।
عشق سبھی کو جینا سکھا دیتا ہے
وفا کے نام پر مرنا سکھا دیتا ہے
عشق نہی کیا تو کرکے دیکھو
ظالم ہر درد سہنا سکھا دیتا ہے
---