Shayari for Wafa "Jeene Ki Adaa Le Jaye"
|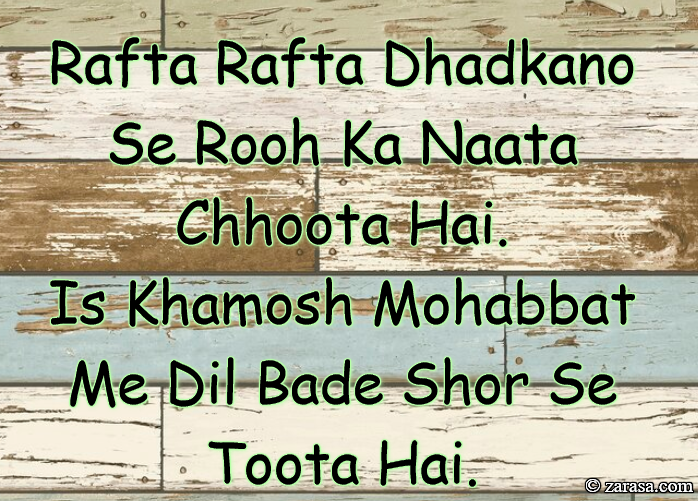 Rafta Rafta Dhadkano Se Rooh Ka Naata Chhoota Hai.
Is Khamosh Mohabbat Me Dil Bade Shor Se Toota Hai.
रफ्ता रफ्ता धड़कनो से रूह का नाता छूटा है .
इस खामोश मोहब्बत में दिल बड़े शोर से टूटा है .
رفتہ رفتہ ودھدکان سے روح کا ناتا چھوٹا ہے .
اس خاموش موحبّت مے دل بدی شور سے ٹوٹا ہے .
---
Ajeeb Saudaagar Hai ye Waqt Bhii.
Jawaani Kaa Laalach De Ke Bachpan Le Gayaa.
अजीब सौदागर है ये वक़्त भी .
जवानी का लालच दे के बचपन ले गया .
عجیب سوداگر ہے یہ وقت بھی .
جوانی کا لالچ دے کے بچپن لے گیا .
---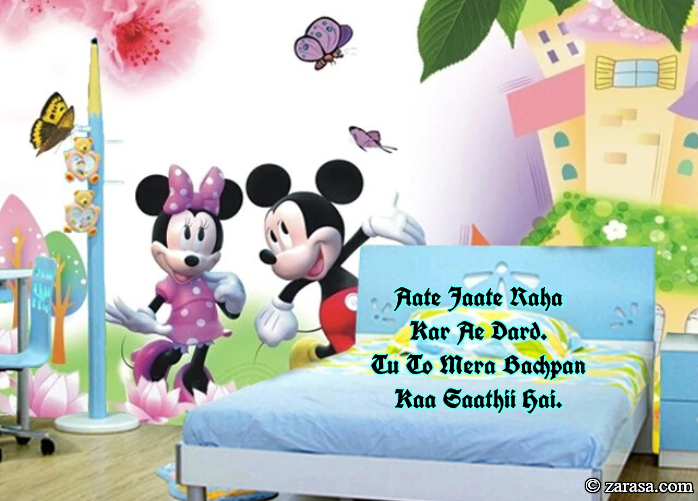 Aate Jaate Raha Kar Ae Dard.
Tu To Mera Bachpan Kaa Saathii Hai.
आते जाते रहा कर ऐ दर्द .
तू तो मेरा बचपन का साथी है .
آتے جاتے رہا کر اے درد .
تو تو میرا بچپن کا ساتھی ہے .
---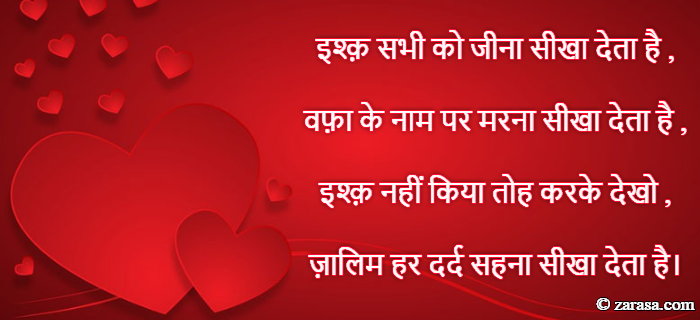 Ishq Sabhi Ko Jeena Sikha Deta Hai ,
Wafa Ke Naam Par Marna Sikha Deta Hai ,
Ishq Nhi Kiya Toh Karke Dekho,
Zalim Har Dard Sehna Sikha Deta Hai ,
इश्क़ सभी को जीना सीखा देता है ,
वफ़ा के नाम पर मरना सीखा देता है ,
इश्क़ नहीं किया तोह करके देखो ,
ज़ालिम हर दर्द सहना सीखा देता है।
عشق سبھی کو جینا سکھا دیتا ہے
وفا کے نام پر مرنا سکھا دیتا ہے
عشق نہی کیا تو کرکے دیکھو
ظالم ہر درد سہنا سکھا دیتا ہے
---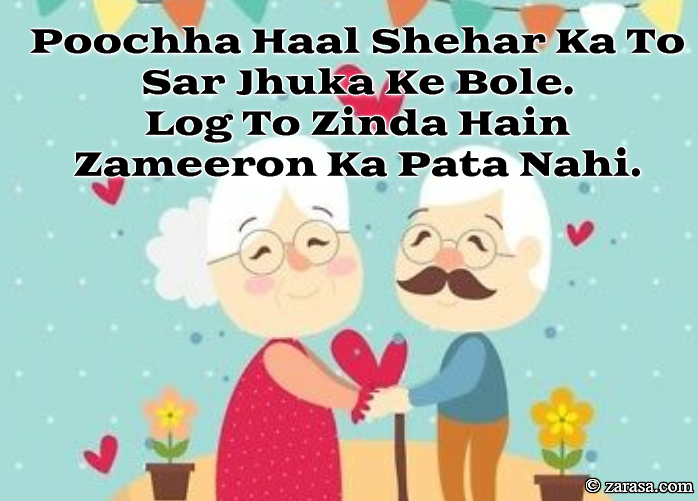 Poochha Haal Shehar Ka To Sar Jhuka Ke Bole.
Log To Zinda Hain Zameeron Ka Pata Nahi.
पूछा हाल शहर का तो सर झुका के बोले .
लोग तो ज़िंदा हैं ज़मीरों का पता नहीं .
پوچھ حال شہر کا تو سر جھکا کے بولے .
لوگ تو زندہ ہیں ضمیروں کا پتا نہیں .
---