Shayari for Wafa "Rukne Do Mujhko Thoda"
|
Rukne Do Mujhko Thoda Tum Kuchh Pal Rahe Takne Do.
In Galiyon Me Ab Tak Mera Chand Nikalna Baki Hai.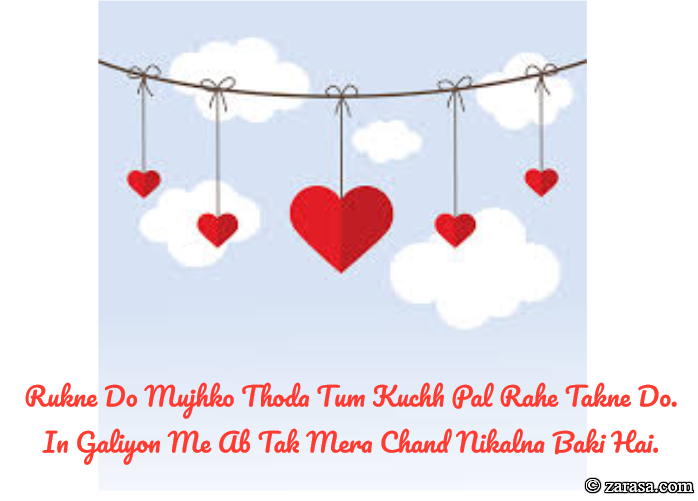 ---

रुकनेदो मुझको थोड़ा तुम कुछ पल रहे ताकने दो .
इन गलियों में अब तक मेरा चाँद निकलना बाकि है .



---

روکنے دو مجھکو تھودا تم کچھ پل رہے تکنے دو .
ان گلیوں مے اب تک میرا چند نکلنا باکی ہے .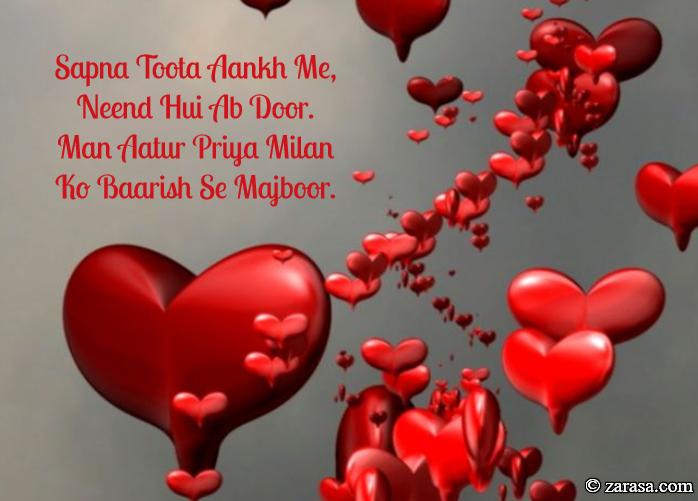 Sapna Toota Aankh Me, Neend Hui Ab Door.
Man Aatur Priya Milan Ko Baarish Se Majboor.
सपना टूटा आँख में नींद हुई अब दूर .
मन आतुर प्रिय मिलान को बारिश से मजबूर .
سپنا ٹوٹا آنکھ مے , نیند ہی اب دور .
من اتر پریہ ملن کو بارش سے مجبور .
---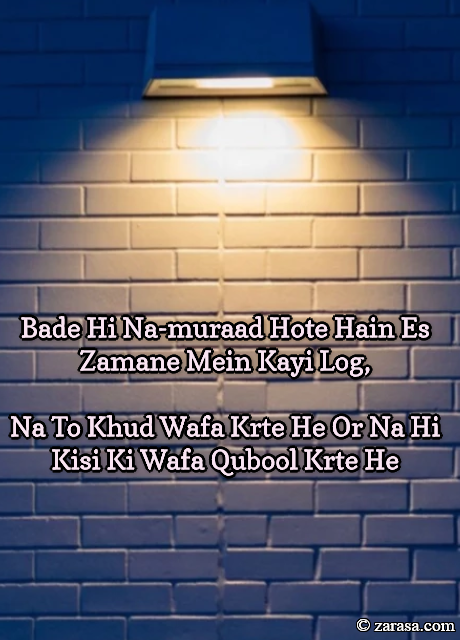 Bade Hi Na-muraad Hote Hain Es Zamane Mein Kayi Log,
Na To Khud Wafa Krte He Or Na Hi Kisi Ki Wafa Qubool Krte He
बड़े ही ना मुराद होते हैं इस ज़माने में कई लोग ,
न तो खुद वफ़ा करते हे और न ही किसी की वफ़ा क़ुबूल करते हे
بڑے ہی نا -مراد ہوتے ہیں اس زمانے میں کی لوگ ,
نہ تو خود وفا کرتے ہے ور نہ ہی کسی کی وفا قبول کرتے ہے
---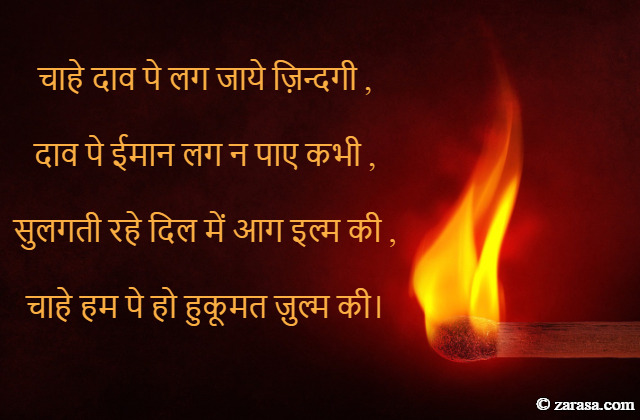 Chahe Dav pe Lag Jaye Zindagi,
Dav pe Imaan  Lag Na pae Kabhi,
Sulagti Rhe Dil Mai Aag Ilm Ki ,
Chahe Hum pe Ho Hukumat zulm Ki.

चाहे दाव पे लग जाये ज़िन्दगी ,
दाव पे ईमान लग न पाए कभी ,
सुलगती रहे दिल में आग इल्म की ,
चाहे हम पे हो हुकूमत ज़ुल्म की।
چاہے داو پی لگ جائے زندگی
داو پی امان لگ نہ پی کبھی
سلگتی رہی دل می آگ علم کی
چاہے ہم پی ہو حکومت ظلم کی
---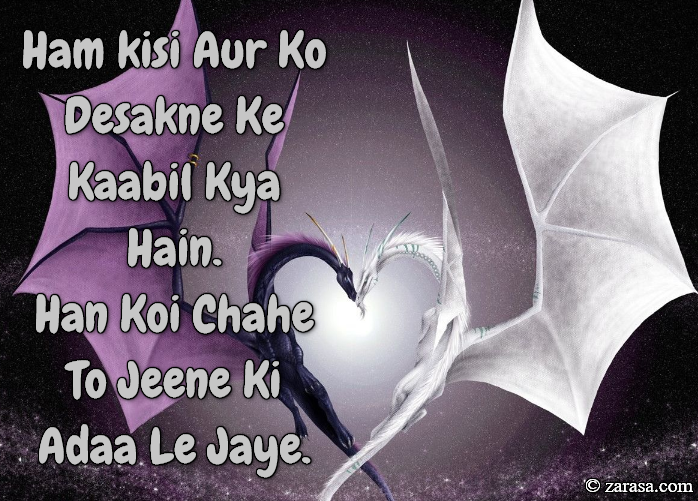 Ham kisi Aur Ko Desakne Ke Kaabil Kya Hain.
Han Koi Chahe To Jeene Ki Adaa Le Jaye.
हम किसी और को देसकने के खाबिल क्या हैं .
हाँ कोई चाहे तो जीने की अदा ले जाये .
ہم کسی اور کو دسکنے کے کابل کیا ہیں .
ہان کوئی چاہے تو جینے کی ادا لے جائے .
---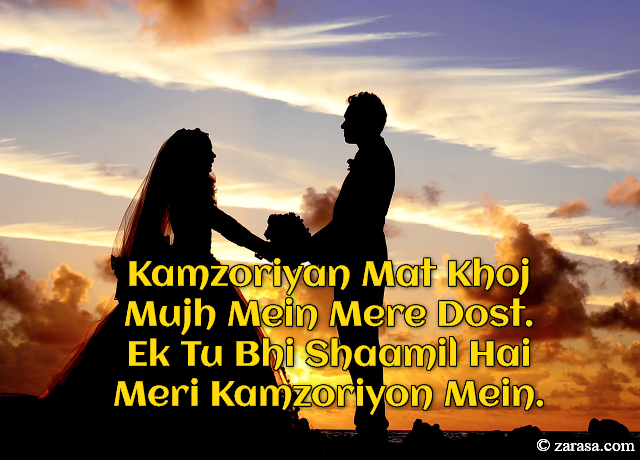 Kamzoriyan Mat Khoj Mujh Mein Mere Dost.
Ek Tu Bhi Shaamil Hai Meri Kamzoriyon Mein.
कमज़ोरियाँ मत खोज मुझ में मेरे दोस्त .
एक तू भी शामिल है मेरी कमज़ोरियों में .
کمزوریاں مت کھوج مجھ میں میرے دوست .
ایک تو بھی شامل ہے میری کمزوریوں میں .
---