Sitare Shayari "Ek Sitare Sa Tootkar Girunga Kahi"
|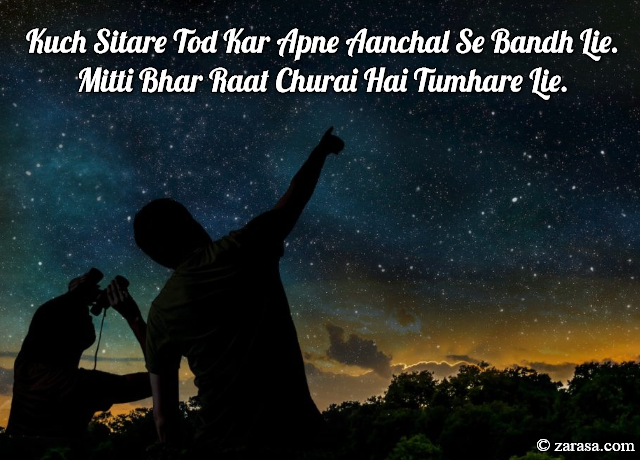 Kuch Sitare Tod Kar Apne Aanchal Se Bandh Lie.
Mitti Bhar Raat Churai Hai Tumhare Lie.

कुछ सितारे तोड़ कर अपने आँचल से बांध लिए .
मिटटी भर रात चुराई है तुम्हारे लिए .

کچھ ستارے توڈ کر اپنے آنچل سے بندہ لئے .
متی بھر رات چوری ہے تمہارے لئے .
---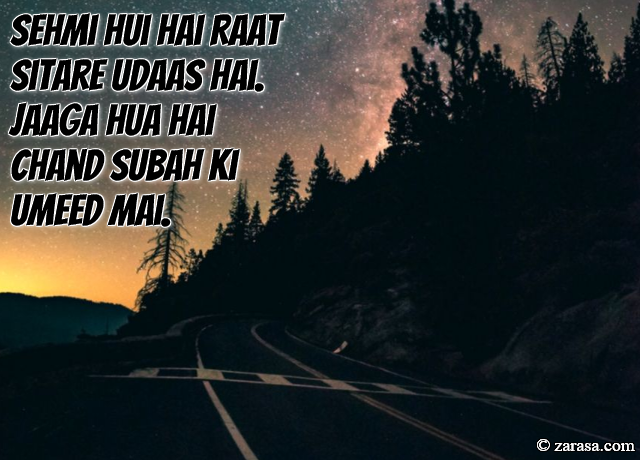 Sehmi Hui Hai Raat Sitare Udaas Hai.
Jaaga Hua Hai Chand Subah Ki Umeed Mai.
सेहमी हुई है रात सितारे उदास है .
जाएगा हुआ है चाँद सुबह की उम्मीद मै .
سہمی ہی ہے رات ستارے اداس ہے .
جاگا ہوا ہے چند صوبہ کی امید می .
---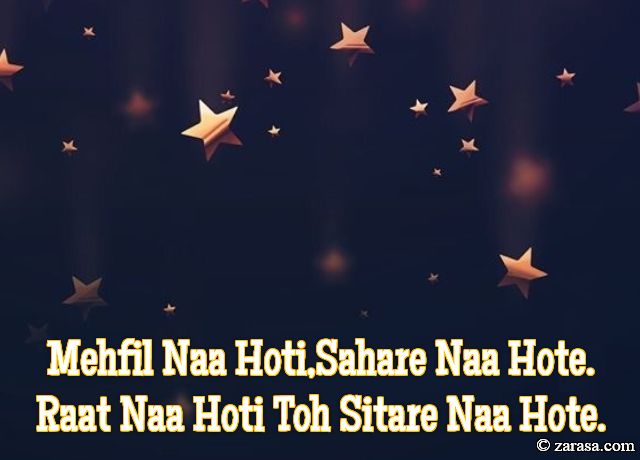 Mehfil Naa Hoti,Sahare Naa Hote.
Raat Naa Hoti Toh Sitare Naa Hote.
महफ़िल ना होती ,सहारे ना होते .
रात ना होती तो सितारे ना होते .
محفل نا ہوتی ,سہارے نا ہوتے .
رات نا ہوتی تو ستارے نا ہوتے .
---
Har Cheez Apni Apni Jagah Pe Hai Kamyaab.
Zarre Bhi Bemisaal Sitaare Bhi Lajawab.
हर चीज़ अपनी अपनी जगह पे है कामयाब .
ज़र्रे भी बेमिसाल सितारे भी लाजवाब .
ہر چیز اپنی اپنی جگہ پی ہے کامیاب .
زررے بھی بمسال ستارے بھی لاجواب .

---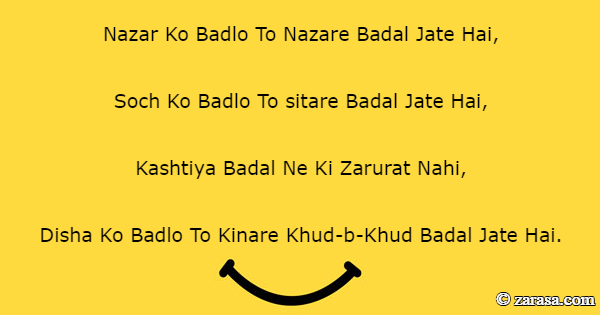 Nazar Ko Badlo To Nazare Badal Jate Hai,
Soch Ko Badlo To sitare Badal Jate Hai,
Kashtiya Badal Ne Ki Zarurat Nahi,
Disha Ko Badlo To Kinare Khud-b-Khud Badal Jate Hai.
नज़र को बदलो तो नज़ारे बदल जाते है,
सोच को बदलो तो सितारे बदल जाते है,
कश्तिया बदल ने की ज़रूरत नहीं ,
दिशा को बदलो तो किनारे खुद बा खुद बदल जाते है।
نظر کو بفلو تو نظارے بدل جاتے ہے
سوچ کو بدلو تو ستارے بدل جاتے ہے
کشتیا بدل نے کی ضرورت نہیں
دشا کو بدلو تو کنارے خود با خود بدل جاتے ہے
---