Sitare Shayari "Ek Sitare Sa Tootkar Girunga Kahi"
|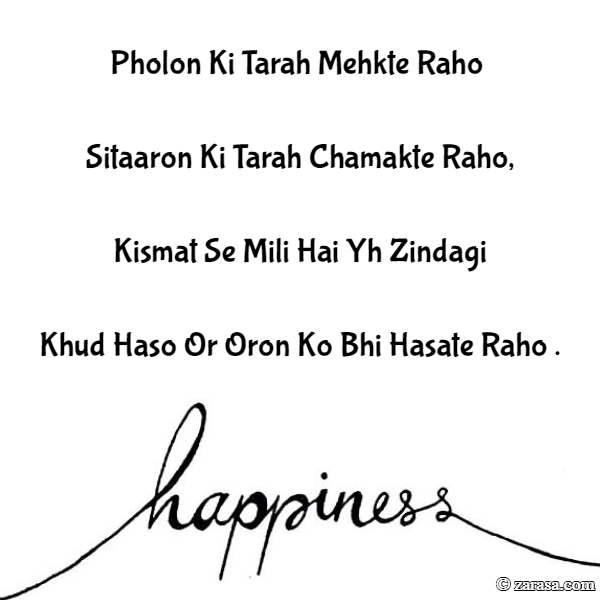 Pholon Ki Tarah Mehkte Raho
Sitaaron Ki Tarah Chamakte Raho,
Kismat Se Mili Hai Yh Zindagi
Khud Haso Or Oron Ko Bhi Hasate Raho .
फूलों की तरह महकते रहो
सितारों की तरह चमकते रहो,
किस्मत से मिली है ये ज़िन्दगी
ख़ुद हँसो और औरों को भी हंसाते रहो।
پھولوں کی طرح مہکتے رہو
ستاروں کی طرح چمکتے رہو
کسمت سے ملی ہے یہ زندگی
خود حصوں اور اروں کو بھی ہستے رہو
---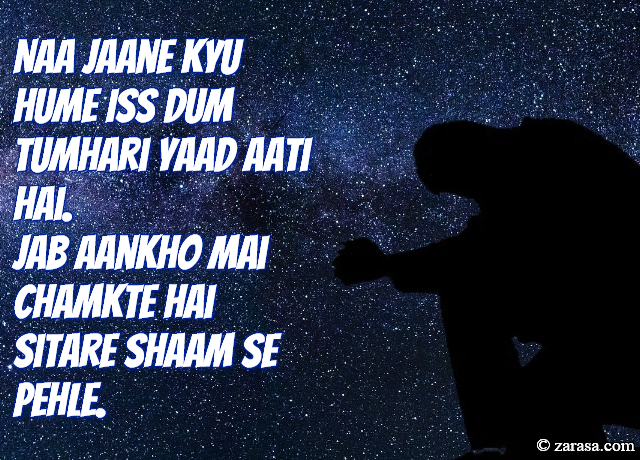 Naa Jaane Kyu Hume Iss Dum Tumhari Yaad Aati Hai.
Jab Aankho Mai Chamkte Hai Sitare Shaam Se Pehle.
ना जाने क्यों हमे इस दम तुम्हारी याद आती है .
जब आँखों मई चमकते है सितारे शाम से पहले .
نا جانے کیو ہمے اسس دم تمہاری یاد آتی ہے .
جب آنکھو می چمکتے ہے ستارے شام سے پہلے .
---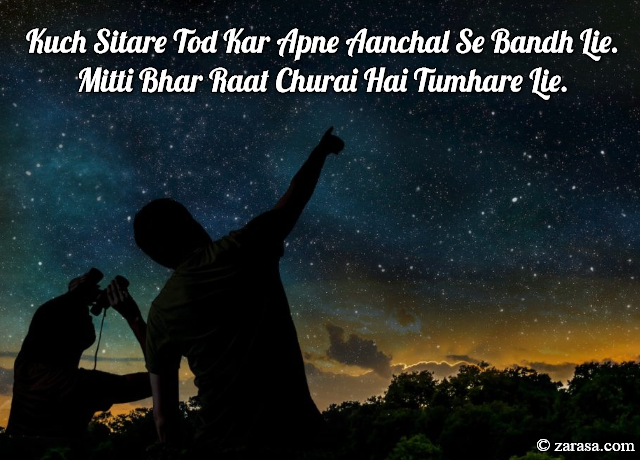 Kuch Sitare Tod Kar Apne Aanchal Se Bandh Lie.
Mitti Bhar Raat Churai Hai Tumhare Lie.

कुछ सितारे तोड़ कर अपने आँचल से बांध लिए .
मिटटी भर रात चुराई है तुम्हारे लिए .

کچھ ستارے توڈ کر اپنے آنچل سے بندہ لئے .
متی بھر رات چوری ہے تمہارے لئے .
---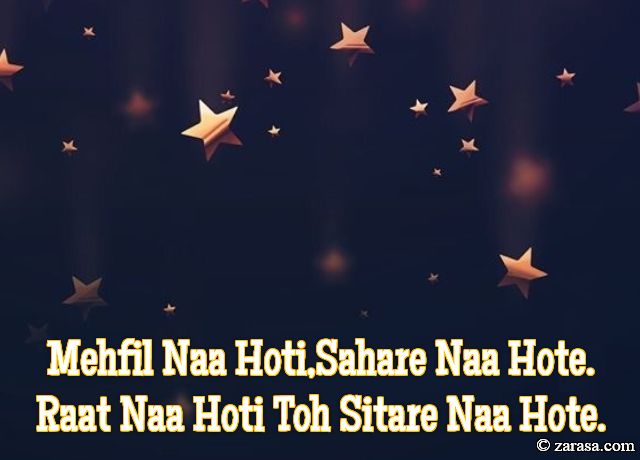 Mehfil Naa Hoti,Sahare Naa Hote.
Raat Naa Hoti Toh Sitare Naa Hote.
महफ़िल ना होती ,सहारे ना होते .
रात ना होती तो सितारे ना होते .
محفل نا ہوتی ,سہارے نا ہوتے .
رات نا ہوتی تو ستارے نا ہوتے .
---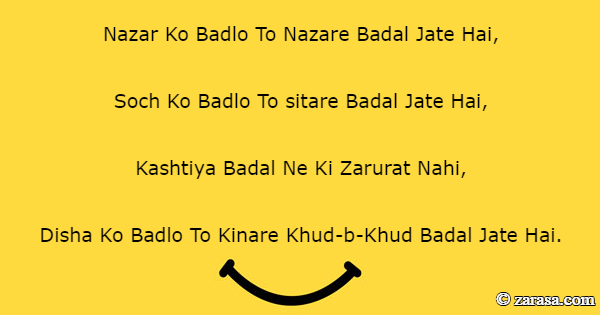 Nazar Ko Badlo To Nazare Badal Jate Hai,
Soch Ko Badlo To sitare Badal Jate Hai,
Kashtiya Badal Ne Ki Zarurat Nahi,
Disha Ko Badlo To Kinare Khud-b-Khud Badal Jate Hai.
नज़र को बदलो तो नज़ारे बदल जाते है,
सोच को बदलो तो सितारे बदल जाते है,
कश्तिया बदल ने की ज़रूरत नहीं ,
दिशा को बदलो तो किनारे खुद बा खुद बदल जाते है।
نظر کو بفلو تو نظارے بدل جاتے ہے
سوچ کو بدلو تو ستارے بدل جاتے ہے
کشتیا بدل نے کی ضرورت نہیں
دشا کو بدلو تو کنارے خود با خود بدل جاتے ہے
---