Sitare Shayari "Toot Te Hue Sitare"
|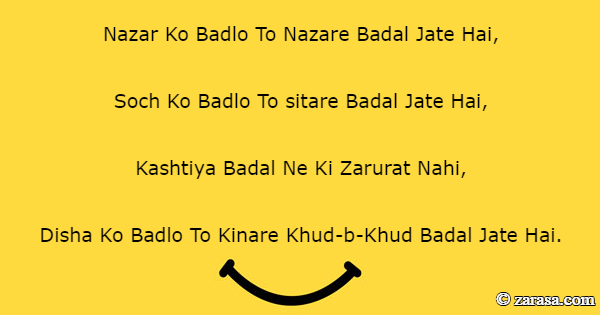 Nazar Ko Badlo To Nazare Badal Jate Hai,
Soch Ko Badlo To sitare Badal Jate Hai,
Kashtiya Badal Ne Ki Zarurat Nahi,
Disha Ko Badlo To Kinare Khud-b-Khud Badal Jate Hai.
नज़र को बदलो तो नज़ारे बदल जाते है,
सोच को बदलो तो सितारे बदल जाते है,
कश्तिया बदल ने की ज़रूरत नहीं ,
दिशा को बदलो तो किनारे खुद बा खुद बदल जाते है।
نظر کو بفلو تو نظارے بدل جاتے ہے
سوچ کو بدلو تو ستارے بدل جاتے ہے
کشتیا بدل نے کی ضرورت نہیں
دشا کو بدلو تو کنارے خود با خود بدل جاتے ہے
---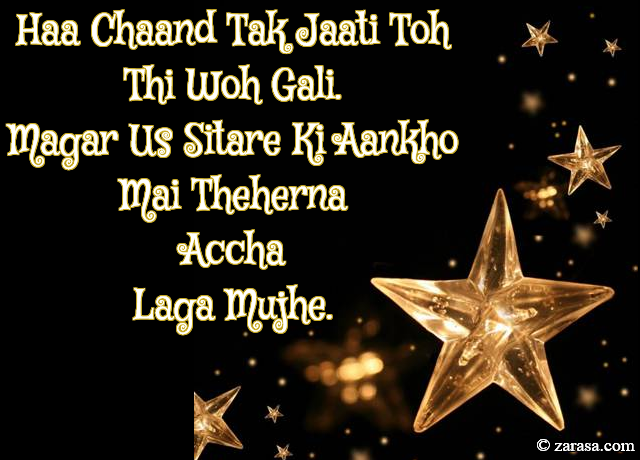 Haa Chaand Tak Jaati Toh Thi Woh Gali.
Magar Us Sitare Ki Aankho Mai Theherna Accha Laga Mujhe.
हां चाँद तक जाती तो थी वह गली .
मगर उस सितारे की आँखों मै ठहरना अच्छा लगा मुझे .
ہا چاند تک جاتی ٹوہ تھی وہ گلی .
مگر اس ستارے کی آنکھو می ٹھہرنا اکچھا لگا مجھے .
---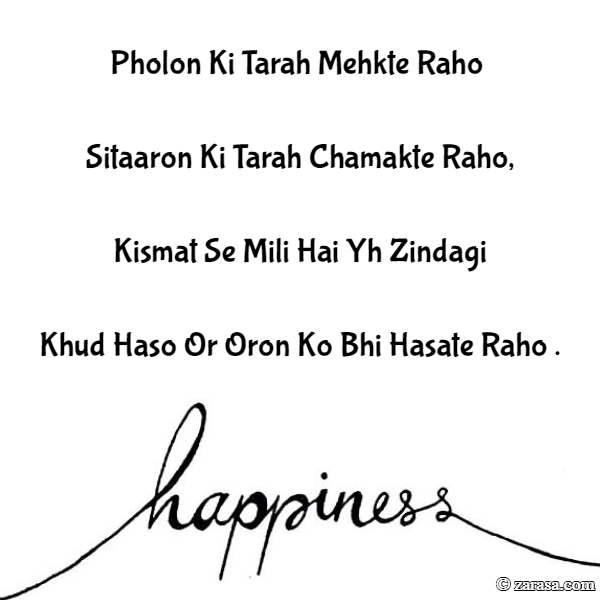 Pholon Ki Tarah Mehkte Raho
Sitaaron Ki Tarah Chamakte Raho,
Kismat Se Mili Hai Yh Zindagi
Khud Haso Or Oron Ko Bhi Hasate Raho .
फूलों की तरह महकते रहो
सितारों की तरह चमकते रहो,
किस्मत से मिली है ये ज़िन्दगी
ख़ुद हँसो और औरों को भी हंसाते रहो।
پھولوں کی طرح مہکتے رہو
ستاروں کی طرح چمکتے رہو
کسمت سے ملی ہے یہ زندگی
خود حصوں اور اروں کو بھی ہستے رہو
---
Har Cheez Apni Apni Jagah Pe Hai Kamyaab.
Zarre Bhi Bemisaal Sitaare Bhi Lajawab.
हर चीज़ अपनी अपनी जगह पे है कामयाब .
ज़र्रे भी बेमिसाल सितारे भी लाजवाब .
ہر چیز اپنی اپنی جگہ پی ہے کامیاب .
زررے بھی بمسال ستارے بھی لاجواب .

---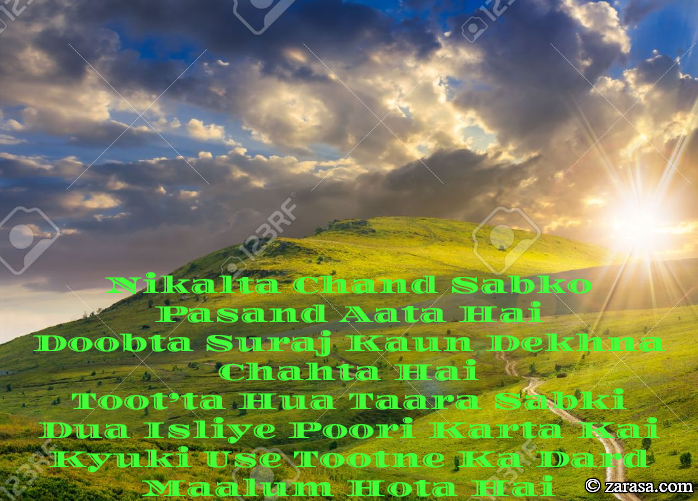 Nikalta Chand Sabko Pasand Aata Hai
Doobta Suraj Kaun Dekhna Chahta Hai
Toot'ta Hua Taara Sabki Dua Isliye Poori Karta Kai
Kyuki Use Tootne Ka Dard Maalum Hota Hai
निकलता चाँद सबको पसंद आता है
डूबता सूरज कौन देखना चाहता है
टूट 'ता हुआ तारा सबकी दुआ इसलिए पूरी करता है
क्युकी उसे टूटने का दर्द मालुम होता है
نکلتا چاند سبکو پسند آتا ہے
ڈوبتا سورج کون دیکھنا چاہتا ہے
ٹوٹ 'تا ہوا تارا سبکی دوا اسلئے پوری کرتا ہے
کیونکی اسے ٹوٹنے درد معلوم ہوتا ہے
---