Sitare Shayari "Chamkte Hai Sitare"
|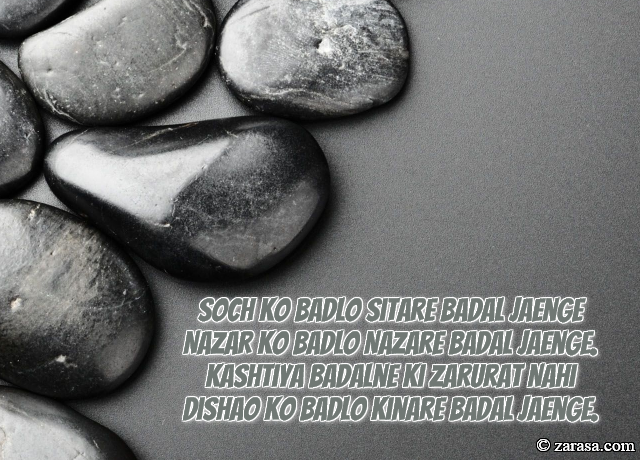 Soch Ko Badlo Sitare Badal Jaenge Nazar Ko Badlo Nazare Badal Jaenge.
Kashtiya Badalne Ki Zarurat Nahi Dishao Ko Badlo Kinare Badal Jaenge.

सोच को बदलो सितारे बदल जाएंगे नज़र को बदलो नज़ारे बदल जाएंगे .
कश्तिया बदलने की ज़रूरत नहीं दिशाओ को बदलो किनारे बदल जाएंगे .


سوچ کو بدلو ستارے بدل جاینگے نظر کو بدلو نظارے بدل جاینگے .
کشتیا بدلنے کی ضرورت نہیں دشو کو بدلو کنارے بدل جاینگے .

---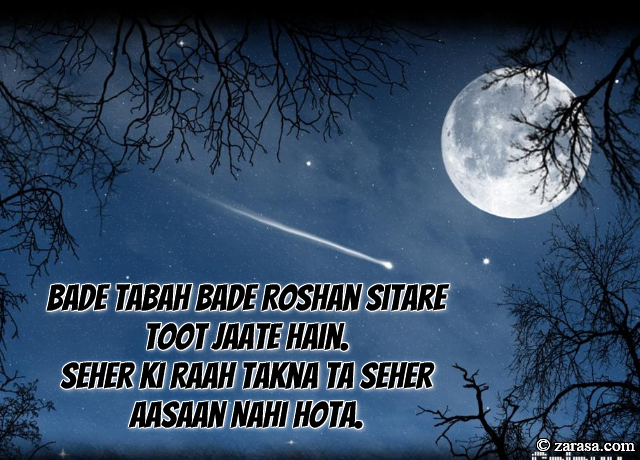 Bade Tabah Bade Roshan Sitare Toot Jaate Hain.
Seher Ki Raah Takna Ta Seher Aasaan Nahi Hota.
बड़े तबाह बड़े रोशन सितारे तूट जाते हैं .
सेहर की राह ताकना ता सेहर आसान नहीं होता .

بدی تباہ بدی روشن ستارے ٹوٹ جاتے ہیں .
سہر کی راہ تکنا تا سہر آسان نہیں ہوتا .

---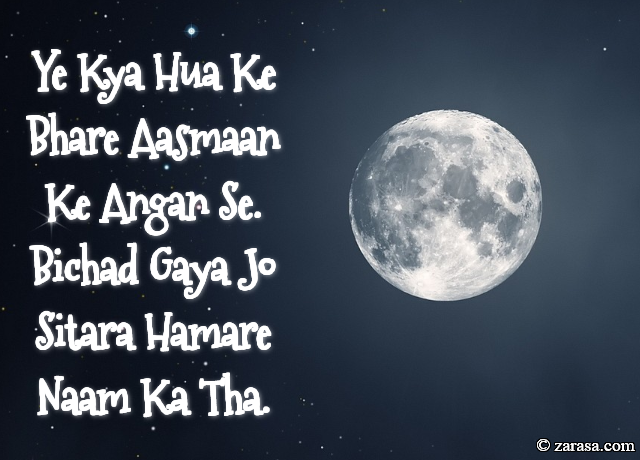 Ye Kya Hua Ke Bhare Aasmaan Ke Angan Se.
Bichad Gaya Jo Sitara Hamare Naam Ka Tha.

ये क्या हुआ के भरे आसमान के आंगन से .
बिछड़ गया जो सितारा हमारे नाम का था .

یہ کیا ہوا کے بھرے آسمان کے آنگن سے .
بچھاد گیا جو ستارہ ہمارے نام کا تھا .
---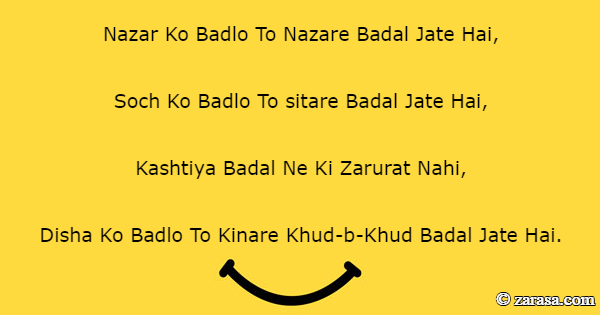 Nazar Ko Badlo To Nazare Badal Jate Hai,
Soch Ko Badlo To sitare Badal Jate Hai,
Kashtiya Badal Ne Ki Zarurat Nahi,
Disha Ko Badlo To Kinare Khud-b-Khud Badal Jate Hai.
नज़र को बदलो तो नज़ारे बदल जाते है,
सोच को बदलो तो सितारे बदल जाते है,
कश्तिया बदल ने की ज़रूरत नहीं ,
दिशा को बदलो तो किनारे खुद बा खुद बदल जाते है।
نظر کو بفلو تو نظارے بدل جاتے ہے
سوچ کو بدلو تو ستارے بدل جاتے ہے
کشتیا بدل نے کی ضرورت نہیں
دشا کو بدلو تو کنارے خود با خود بدل جاتے ہے
---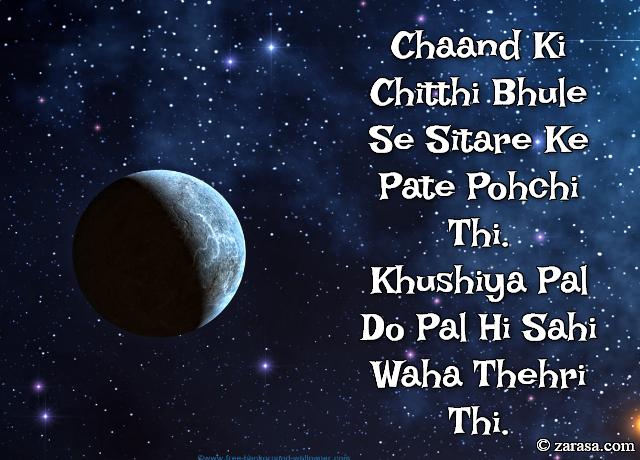 Chaand Ki Chitthi Bhule Se Sitare Ke Pate Pohchi Thi.
Khushiya Pal Do Pal Hi Sahi Waha Thehri Thi.
चाँद की चिट्ठी भूले से सितारे के पते पोह्ची थी .
खुशियाँ पल दो पल ही सही वह ठहरी थी .
چاند کی چٹھی بھلے سے ستارے کے پتے پوھچی تھی .
خوشیا پل دو پل ہی سہی وہا ٹھہری تھی .
---