Sitare Shayari "Main Sitara Hoon Jal Kar Bhi Roshan Rahunga"
|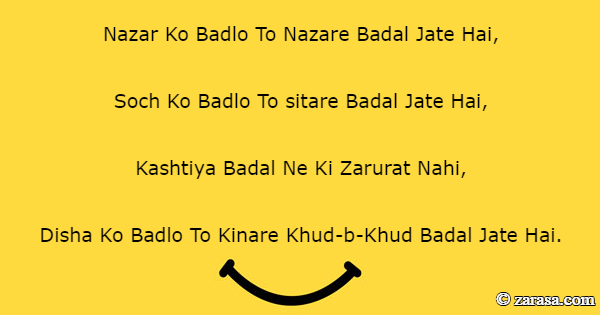 Nazar Ko Badlo To Nazare Badal Jate Hai,
Soch Ko Badlo To sitare Badal Jate Hai,
Kashtiya Badal Ne Ki Zarurat Nahi,
Disha Ko Badlo To Kinare Khud-b-Khud Badal Jate Hai.
नज़र को बदलो तो नज़ारे बदल जाते है,
सोच को बदलो तो सितारे बदल जाते है,
कश्तिया बदल ने की ज़रूरत नहीं ,
दिशा को बदलो तो किनारे खुद बा खुद बदल जाते है।
نظر کو بفلو تو نظارے بدل جاتے ہے
سوچ کو بدلو تو ستارے بدل جاتے ہے
کشتیا بدل نے کی ضرورت نہیں
دشا کو بدلو تو کنارے خود با خود بدل جاتے ہے
---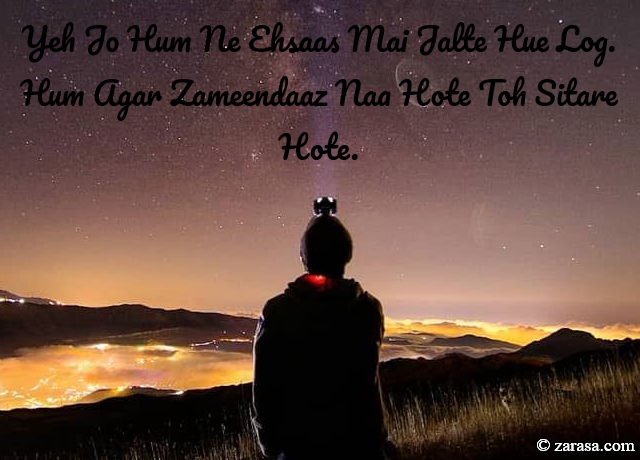 Yeh Jo Hum Ne Ehsaas Mai Jalte Hue Log.
Hum Agar Zameendaaz Naa Hote Toh Sitare Hote.
यह जो हम ने एहसास मई जलते हुए लोग .
हम अगर ज़मींदाज ना होते तोह सितारे होते .

یہ جو ہم نے احساس می جلتے ہوئے لوگ .
ہم اگر زمینداز نا ہوتے تو ستارے ہوتے .

---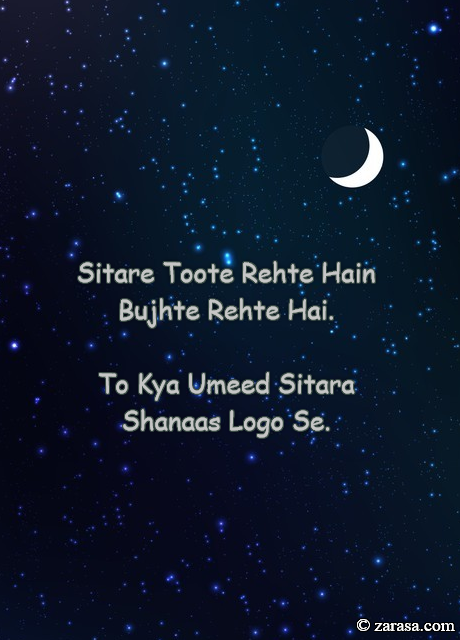 Sitare Toote Rehte Hain Bujhte Rehte Hai.
To Kya Umeed Sitara Shanaas Logo Se.
सितारे टूटे रहते हैं बुझते रहते है .
तो क्या उम्मीद सितारा शनास लोगो से .
ستارے ٹوٹے رہتے ہیں بجھتے رہتے ہے .
تو کیا امید سترہ شناس لوگو سے .
---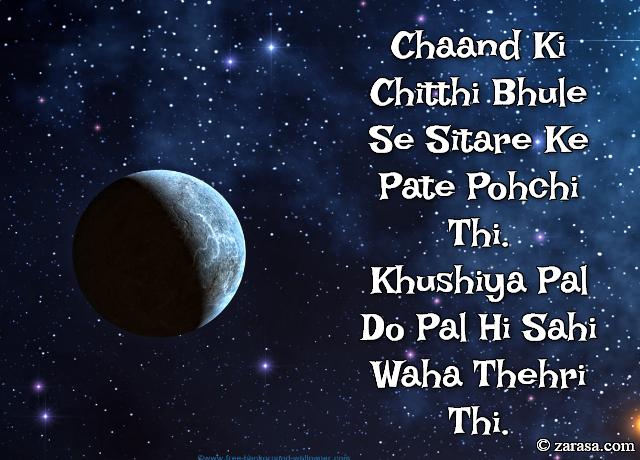 Chaand Ki Chitthi Bhule Se Sitare Ke Pate Pohchi Thi.
Khushiya Pal Do Pal Hi Sahi Waha Thehri Thi.
चाँद की चिट्ठी भूले से सितारे के पते पोह्ची थी .
खुशियाँ पल दो पल ही सही वह ठहरी थी .
چاند کی چٹھی بھلے سے ستارے کے پتے پوھچی تھی .
خوشیا پل دو پل ہی سہی وہا ٹھہری تھی .
---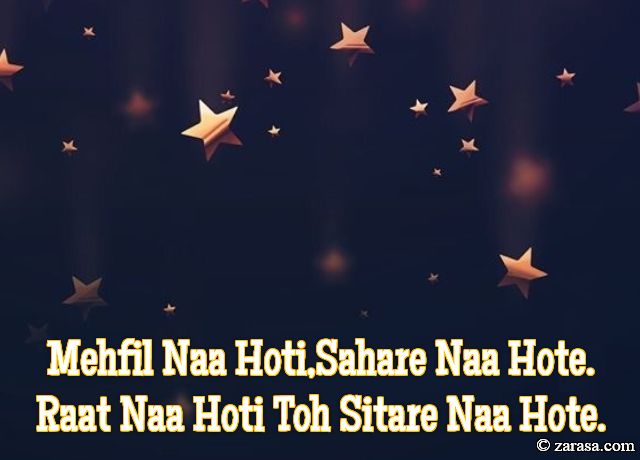 Mehfil Naa Hoti,Sahare Naa Hote.
Raat Naa Hoti Toh Sitare Naa Hote.
महफ़िल ना होती ,सहारे ना होते .
रात ना होती तो सितारे ना होते .
محفل نا ہوتی ,سہارے نا ہوتے .
رات نا ہوتی تو ستارے نا ہوتے .
---