Sitare Shayari "Kya Sitaron Se Dosti Na Rahi"
|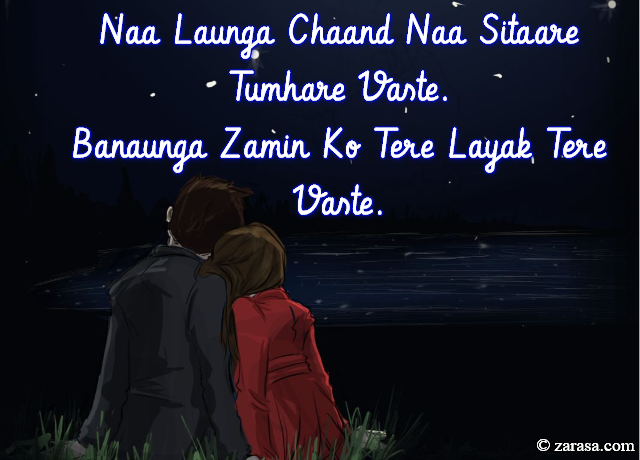 Naa Launga Chaand Naa Sitaare Tumhare Vaste.
Banaunga Zamin Ko Tere Layak Tere Vaste.
ना लाऊंगा चाँद ना सितारे तुम्हारे वास्ते .
बनाऊंगा ज़मीन को तेरे लायक तेरे वास्ते .
نا لونگا چاند نا ستارے تمہارے واسطے .
بناؤنگا زمیں کو تیرے لیک تیرے واسطے .
---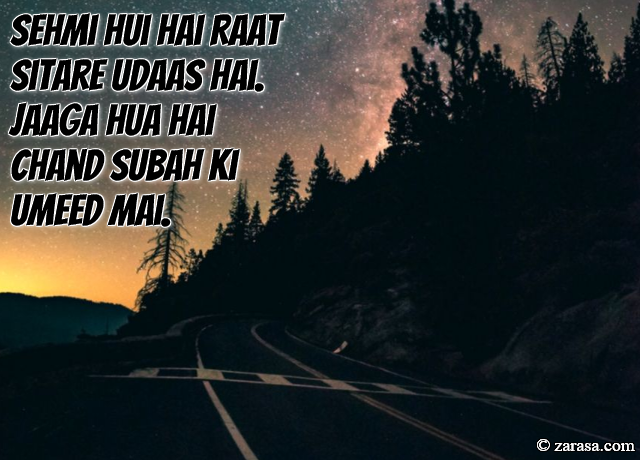 Sehmi Hui Hai Raat Sitare Udaas Hai.
Jaaga Hua Hai Chand Subah Ki Umeed Mai.
सेहमी हुई है रात सितारे उदास है .
जाएगा हुआ है चाँद सुबह की उम्मीद मै .
سہمی ہی ہے رات ستارے اداس ہے .
جاگا ہوا ہے چند صوبہ کی امید می .
---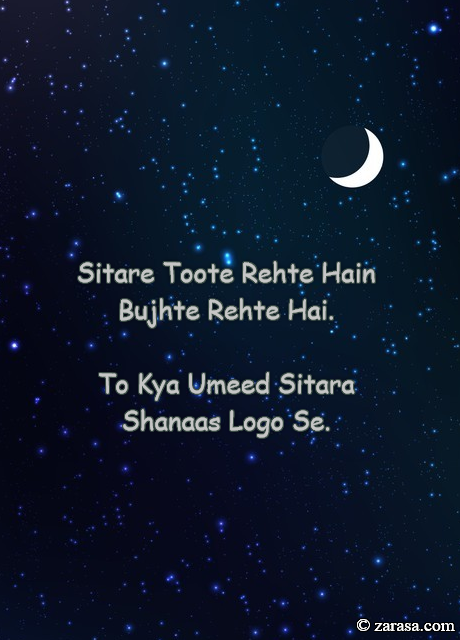 Sitare Toote Rehte Hain Bujhte Rehte Hai.
To Kya Umeed Sitara Shanaas Logo Se.
सितारे टूटे रहते हैं बुझते रहते है .
तो क्या उम्मीद सितारा शनास लोगो से .
ستارے ٹوٹے رہتے ہیں بجھتے رہتے ہے .
تو کیا امید سترہ شناس لوگو سے .
---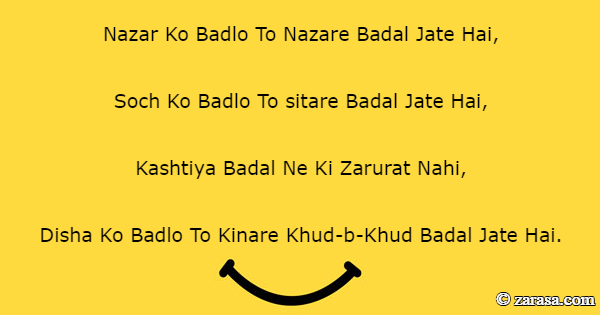 Nazar Ko Badlo To Nazare Badal Jate Hai,
Soch Ko Badlo To sitare Badal Jate Hai,
Kashtiya Badal Ne Ki Zarurat Nahi,
Disha Ko Badlo To Kinare Khud-b-Khud Badal Jate Hai.
नज़र को बदलो तो नज़ारे बदल जाते है,
सोच को बदलो तो सितारे बदल जाते है,
कश्तिया बदल ने की ज़रूरत नहीं ,
दिशा को बदलो तो किनारे खुद बा खुद बदल जाते है।
نظر کو بفلو تو نظارے بدل جاتے ہے
سوچ کو بدلو تو ستارے بدل جاتے ہے
کشتیا بدل نے کی ضرورت نہیں
دشا کو بدلو تو کنارے خود با خود بدل جاتے ہے
---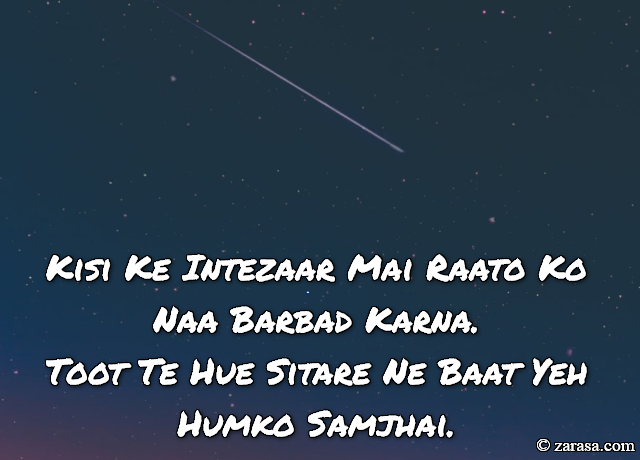 Kisi Ke Intezaar Mai Raato Ko Naa Barbad Karna.
Toot Te Hue Sitare Ne Baat Yeh Humko Samjhai.

किसी के इंतज़ार मई रातो को ना बर्बाद करना .
टूटते हुए सितारे ने बात यह हमको समझे .



کسی کے انتیزار می رہاتو کو نا برباد کرنا .
ٹوٹ تے ہوئے ستارے نے بات یہ ہمکو سمجھی .


---