Sitare Shayari "Kya Sitaron Se Dosti Na Rahi"
|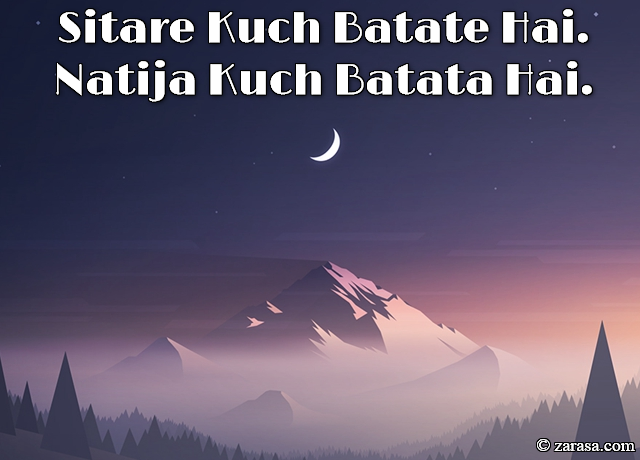 Sitare Kuch Batate Hai.
Natija Kuch Batata Hai.
सितारे कुछ बताते है .
नतीजा कुछ बताता है .
ستارے کچھ بتات ہے .
نتیجہ کچھ بتاتا ہے .
---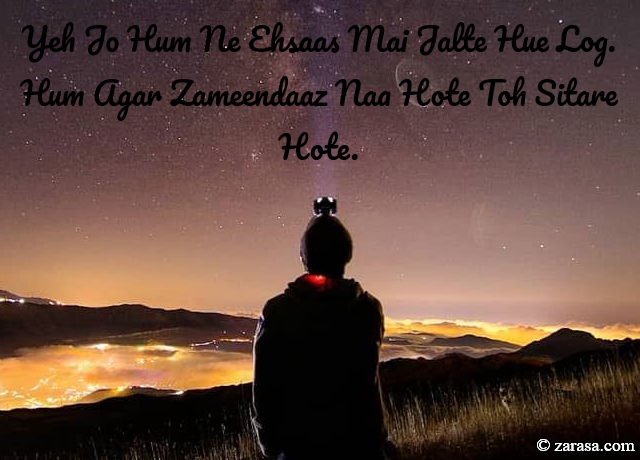 Yeh Jo Hum Ne Ehsaas Mai Jalte Hue Log.
Hum Agar Zameendaaz Naa Hote Toh Sitare Hote.
यह जो हम ने एहसास मई जलते हुए लोग .
हम अगर ज़मींदाज ना होते तोह सितारे होते .

یہ جو ہم نے احساس می جلتے ہوئے لوگ .
ہم اگر زمینداز نا ہوتے تو ستارے ہوتے .

---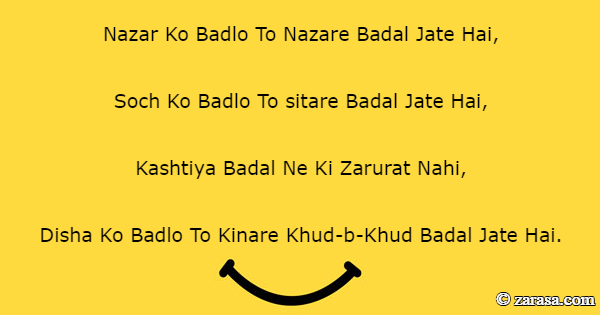 Nazar Ko Badlo To Nazare Badal Jate Hai,
Soch Ko Badlo To sitare Badal Jate Hai,
Kashtiya Badal Ne Ki Zarurat Nahi,
Disha Ko Badlo To Kinare Khud-b-Khud Badal Jate Hai.
नज़र को बदलो तो नज़ारे बदल जाते है,
सोच को बदलो तो सितारे बदल जाते है,
कश्तिया बदल ने की ज़रूरत नहीं ,
दिशा को बदलो तो किनारे खुद बा खुद बदल जाते है।
نظر کو بفلو تو نظارے بدل جاتے ہے
سوچ کو بدلو تو ستارے بدل جاتے ہے
کشتیا بدل نے کی ضرورت نہیں
دشا کو بدلو تو کنارے خود با خود بدل جاتے ہے
---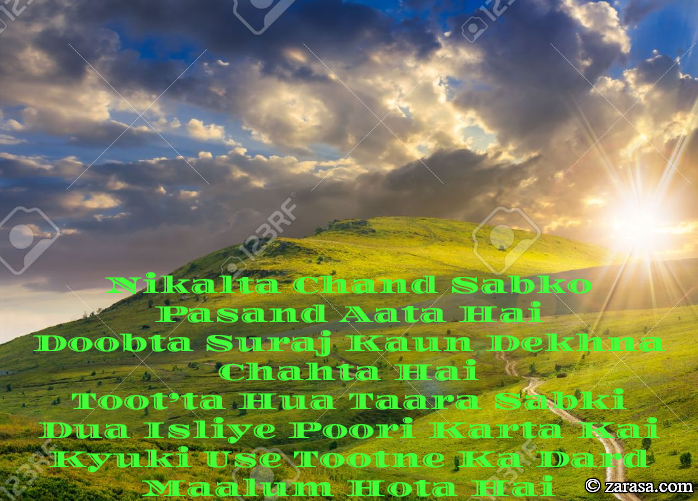 Nikalta Chand Sabko Pasand Aata Hai
Doobta Suraj Kaun Dekhna Chahta Hai
Toot'ta Hua Taara Sabki Dua Isliye Poori Karta Kai
Kyuki Use Tootne Ka Dard Maalum Hota Hai
निकलता चाँद सबको पसंद आता है
डूबता सूरज कौन देखना चाहता है
टूट 'ता हुआ तारा सबकी दुआ इसलिए पूरी करता है
क्युकी उसे टूटने का दर्द मालुम होता है
نکلتا چاند سبکو پسند آتا ہے
ڈوبتا سورج کون دیکھنا چاہتا ہے
ٹوٹ 'تا ہوا تارا سبکی دوا اسلئے پوری کرتا ہے
کیونکی اسے ٹوٹنے درد معلوم ہوتا ہے
---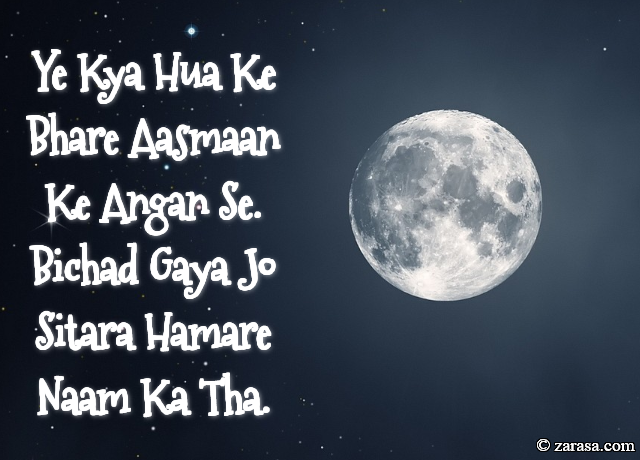 Ye Kya Hua Ke Bhare Aasmaan Ke Angan Se.
Bichad Gaya Jo Sitara Hamare Naam Ka Tha.

ये क्या हुआ के भरे आसमान के आंगन से .
बिछड़ गया जो सितारा हमारे नाम का था .

یہ کیا ہوا کے بھرے آسمان کے آنگن سے .
بچھاد گیا جو ستارہ ہمارے نام کا تھا .
---