Sitare Shayari "Kya Sitaron Se Dosti Na Rahi"
|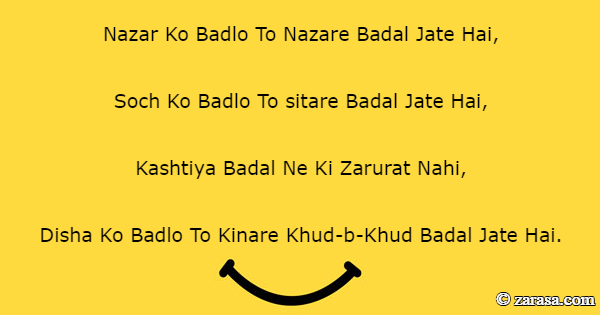 Nazar Ko Badlo To Nazare Badal Jate Hai,
Soch Ko Badlo To sitare Badal Jate Hai,
Kashtiya Badal Ne Ki Zarurat Nahi,
Disha Ko Badlo To Kinare Khud-b-Khud Badal Jate Hai.
नज़र को बदलो तो नज़ारे बदल जाते है,
सोच को बदलो तो सितारे बदल जाते है,
कश्तिया बदल ने की ज़रूरत नहीं ,
दिशा को बदलो तो किनारे खुद बा खुद बदल जाते है।
نظر کو بفلو تو نظارے بدل جاتے ہے
سوچ کو بدلو تو ستارے بدل جاتے ہے
کشتیا بدل نے کی ضرورت نہیں
دشا کو بدلو تو کنارے خود با خود بدل جاتے ہے
---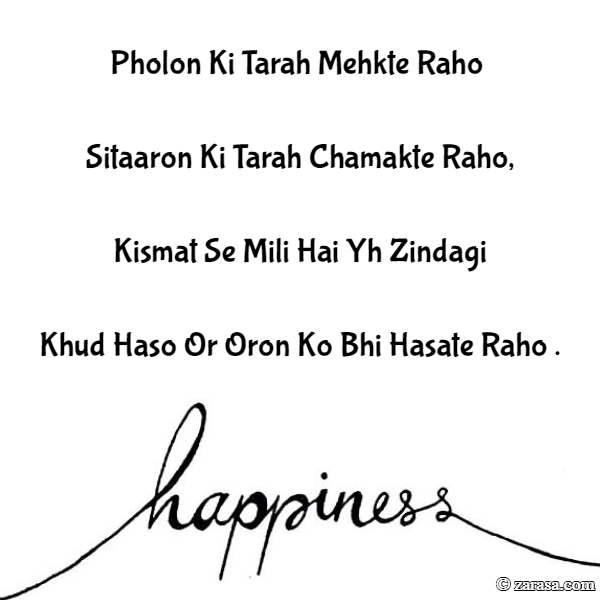 Pholon Ki Tarah Mehkte Raho
Sitaaron Ki Tarah Chamakte Raho,
Kismat Se Mili Hai Yh Zindagi
Khud Haso Or Oron Ko Bhi Hasate Raho .
फूलों की तरह महकते रहो
सितारों की तरह चमकते रहो,
किस्मत से मिली है ये ज़िन्दगी
ख़ुद हँसो और औरों को भी हंसाते रहो।
پھولوں کی طرح مہکتے رہو
ستاروں کی طرح چمکتے رہو
کسمت سے ملی ہے یہ زندگی
خود حصوں اور اروں کو بھی ہستے رہو
---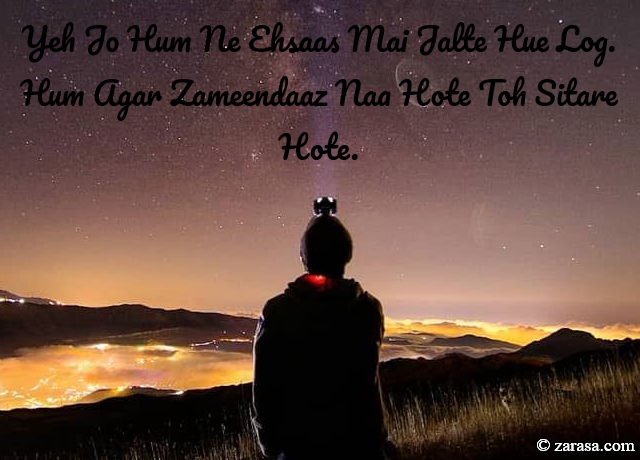 Yeh Jo Hum Ne Ehsaas Mai Jalte Hue Log.
Hum Agar Zameendaaz Naa Hote Toh Sitare Hote.
यह जो हम ने एहसास मई जलते हुए लोग .
हम अगर ज़मींदाज ना होते तोह सितारे होते .

یہ جو ہم نے احساس می جلتے ہوئے لوگ .
ہم اگر زمینداز نا ہوتے تو ستارے ہوتے .

---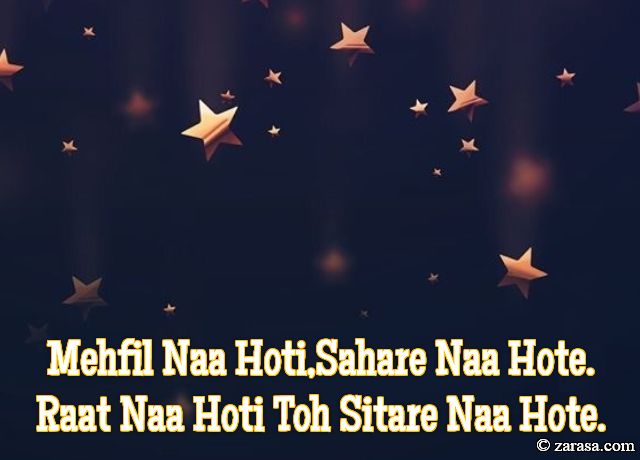 Mehfil Naa Hoti,Sahare Naa Hote.
Raat Naa Hoti Toh Sitare Naa Hote.
महफ़िल ना होती ,सहारे ना होते .
रात ना होती तो सितारे ना होते .
محفل نا ہوتی ,سہارے نا ہوتے .
رات نا ہوتی تو ستارے نا ہوتے .
---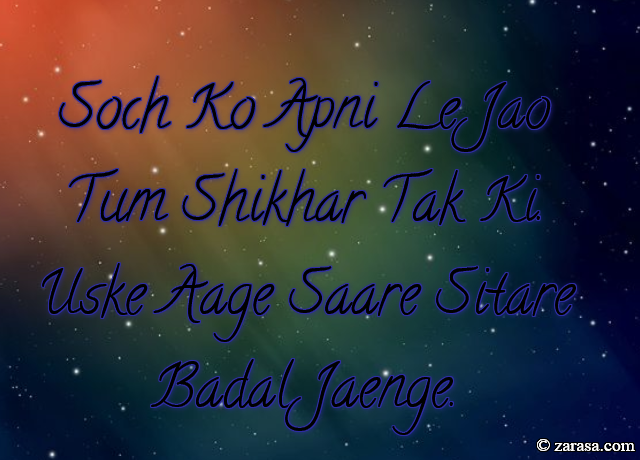 Soch Ko Apni Le Jao Tum Shikhar Tak Ki.
Uske Aage Saare Sitare Badal Jaenge.
सोच को अपनी ले जाओ तुम शिखर तक की .
उसके आगे सारे सितारे बदल जाएंगे .
سوچ کو اپنی لے جو تم شیکھر تک کی .
اسکے آگے سارے ستارے بدل جاینگے .
---