Sitare Shayari "Roshan Sitare Toot Jaate Hain"
|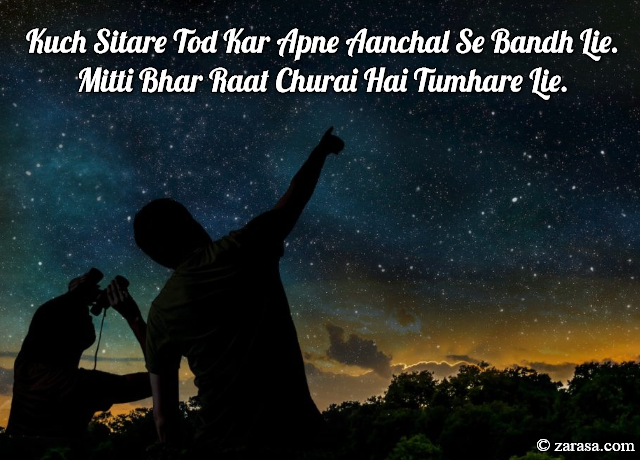 Kuch Sitare Tod Kar Apne Aanchal Se Bandh Lie.
Mitti Bhar Raat Churai Hai Tumhare Lie.

कुछ सितारे तोड़ कर अपने आँचल से बांध लिए .
मिटटी भर रात चुराई है तुम्हारे लिए .

کچھ ستارے توڈ کر اپنے آنچل سے بندہ لئے .
متی بھر رات چوری ہے تمہارے لئے .
---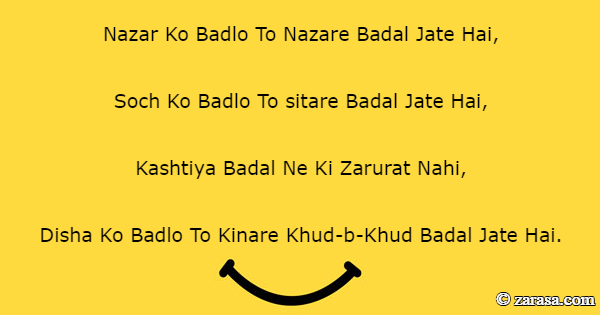 Nazar Ko Badlo To Nazare Badal Jate Hai,
Soch Ko Badlo To sitare Badal Jate Hai,
Kashtiya Badal Ne Ki Zarurat Nahi,
Disha Ko Badlo To Kinare Khud-b-Khud Badal Jate Hai.
नज़र को बदलो तो नज़ारे बदल जाते है,
सोच को बदलो तो सितारे बदल जाते है,
कश्तिया बदल ने की ज़रूरत नहीं ,
दिशा को बदलो तो किनारे खुद बा खुद बदल जाते है।
نظر کو بفلو تو نظارے بدل جاتے ہے
سوچ کو بدلو تو ستارے بدل جاتے ہے
کشتیا بدل نے کی ضرورت نہیں
دشا کو بدلو تو کنارے خود با خود بدل جاتے ہے
---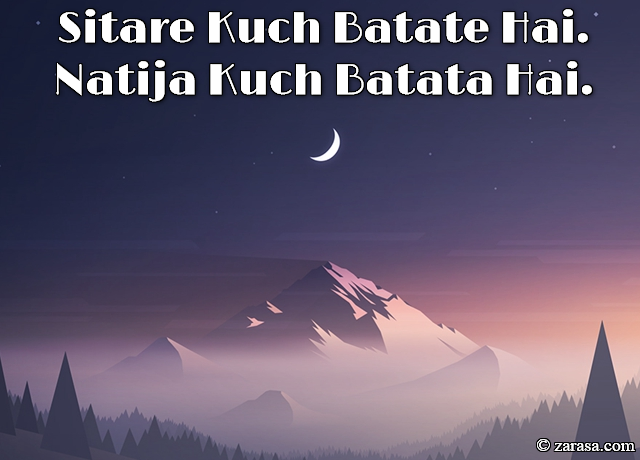 Sitare Kuch Batate Hai.
Natija Kuch Batata Hai.
सितारे कुछ बताते है .
नतीजा कुछ बताता है .
ستارے کچھ بتات ہے .
نتیجہ کچھ بتاتا ہے .
---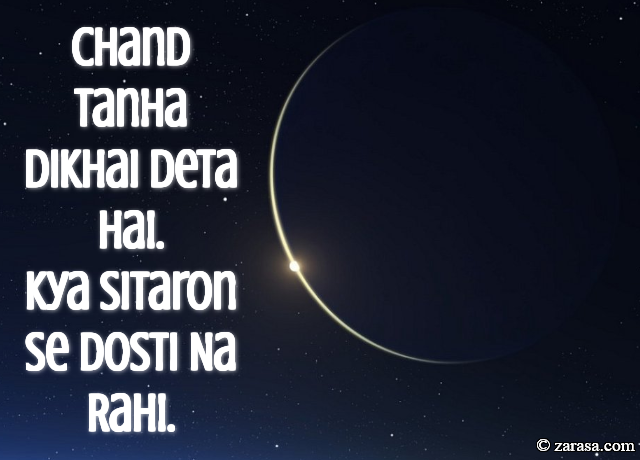 Chand Tanha Dikhai Deta Hai.
Kya Sitaron Se Dosti Na Rahi.

चाँद तनहा दिखाई देता है .
क्या सितारों से दोस्ती न रही .

چند تنہا دکھائی دیتا ہے .
کیا ستاروں سے دوستی نہ رہی .
---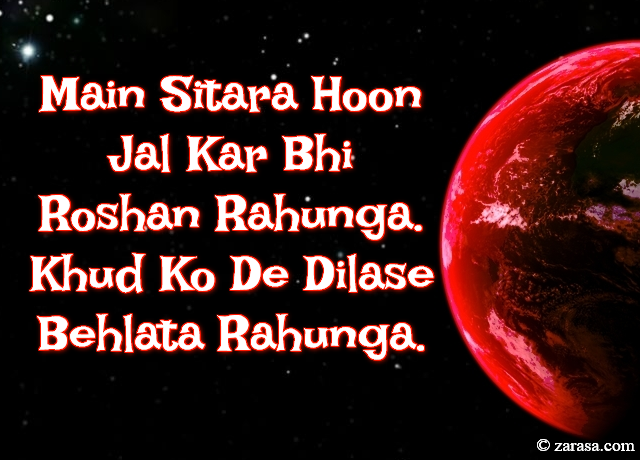 Main Sitara Hoon Jal Kar Bhi Roshan Rahunga.
Khud Ko De Dilase Behlata Rahunga.


मैं सितारा हूँ जल कर भी रोशन रहूँगा .
खुद को दे दिलसे बहलाता रहूँगा .



میں سترہ ہوں جل کر بھی روشن رہونگا .
خود کو دے دلاسے بہلاتا رہونگا .

---