Sitare Shayari "Roshan Sitare Toot Jaate Hain"
|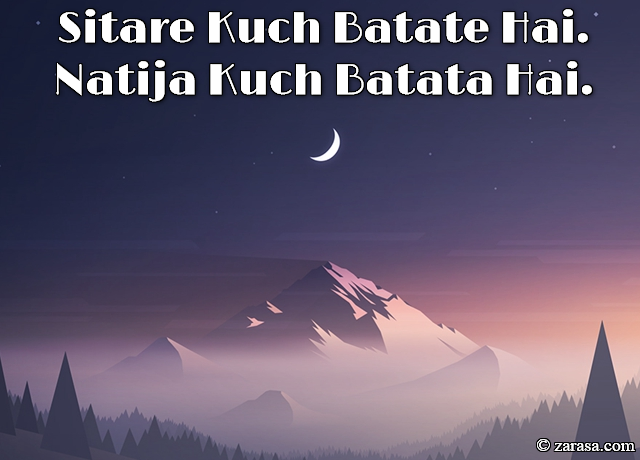 Sitare Kuch Batate Hai.
Natija Kuch Batata Hai.
सितारे कुछ बताते है .
नतीजा कुछ बताता है .
ستارے کچھ بتات ہے .
نتیجہ کچھ بتاتا ہے .
---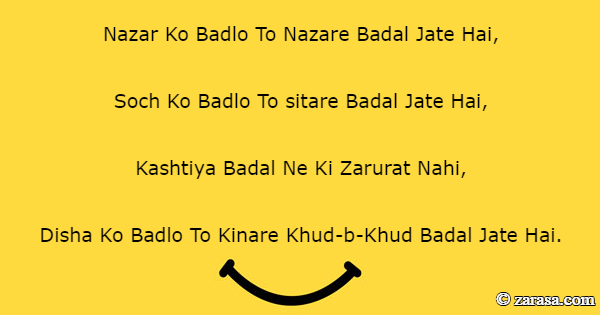 Nazar Ko Badlo To Nazare Badal Jate Hai,
Soch Ko Badlo To sitare Badal Jate Hai,
Kashtiya Badal Ne Ki Zarurat Nahi,
Disha Ko Badlo To Kinare Khud-b-Khud Badal Jate Hai.
नज़र को बदलो तो नज़ारे बदल जाते है,
सोच को बदलो तो सितारे बदल जाते है,
कश्तिया बदल ने की ज़रूरत नहीं ,
दिशा को बदलो तो किनारे खुद बा खुद बदल जाते है।
نظر کو بفلو تو نظارے بدل جاتے ہے
سوچ کو بدلو تو ستارے بدل جاتے ہے
کشتیا بدل نے کی ضرورت نہیں
دشا کو بدلو تو کنارے خود با خود بدل جاتے ہے
---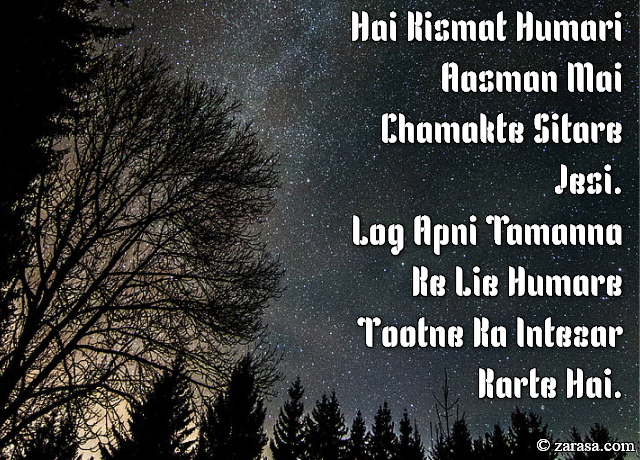 Hai Kismat Humari Aasman Mai Chamakte Sitare Jesi.
Log Apni Tamanna Ke Lie Humare Tootne Ka Intezar Karte Hai.

है किस्मत हमारी आसमान मै चमकते सितारे जैसी .
लोग अपनी तमन्ना के लिए हमारे टूटने का इंतज़ार करते है .



ہے کسمت ہماری آسمان می چمکتے ستارے جیسی .
لوگ اپنی تمنّ کےلئے ہمارے ٹوٹنے کا انتظر کرتے ہے .


---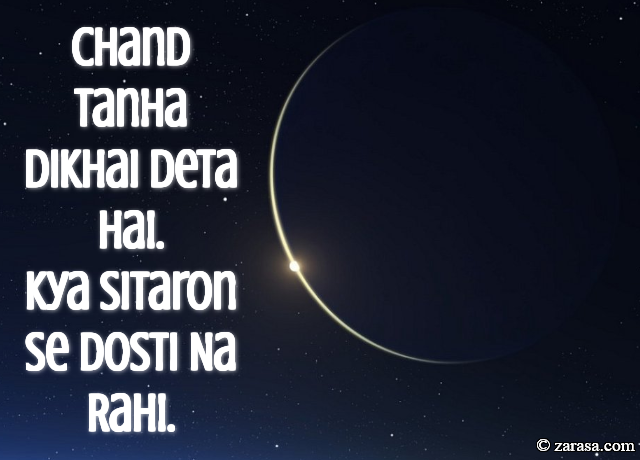 Chand Tanha Dikhai Deta Hai.
Kya Sitaron Se Dosti Na Rahi.

चाँद तनहा दिखाई देता है .
क्या सितारों से दोस्ती न रही .

چند تنہا دکھائی دیتا ہے .
کیا ستاروں سے دوستی نہ رہی .
---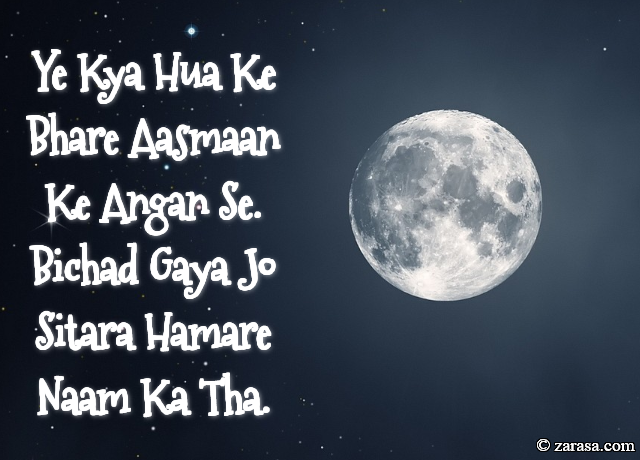 Ye Kya Hua Ke Bhare Aasmaan Ke Angan Se.
Bichad Gaya Jo Sitara Hamare Naam Ka Tha.

ये क्या हुआ के भरे आसमान के आंगन से .
बिछड़ गया जो सितारा हमारे नाम का था .

یہ کیا ہوا کے بھرے آسمان کے آنگن سے .
بچھاد گیا جو ستارہ ہمارے نام کا تھا .
---