Sitare Shayari "Sitare Tod Kar"
|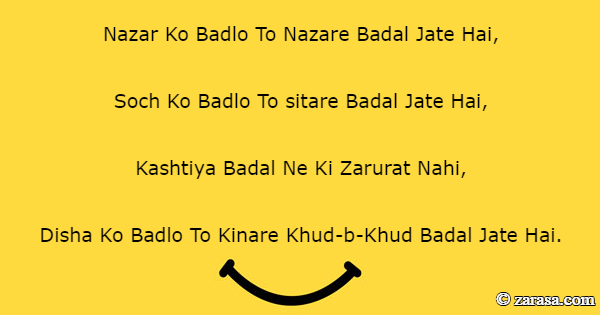 Nazar Ko Badlo To Nazare Badal Jate Hai,
Soch Ko Badlo To sitare Badal Jate Hai,
Kashtiya Badal Ne Ki Zarurat Nahi,
Disha Ko Badlo To Kinare Khud-b-Khud Badal Jate Hai.
नज़र को बदलो तो नज़ारे बदल जाते है,
सोच को बदलो तो सितारे बदल जाते है,
कश्तिया बदल ने की ज़रूरत नहीं ,
दिशा को बदलो तो किनारे खुद बा खुद बदल जाते है।
نظر کو بفلو تو نظارے بدل جاتے ہے
سوچ کو بدلو تو ستارے بدل جاتے ہے
کشتیا بدل نے کی ضرورت نہیں
دشا کو بدلو تو کنارے خود با خود بدل جاتے ہے
---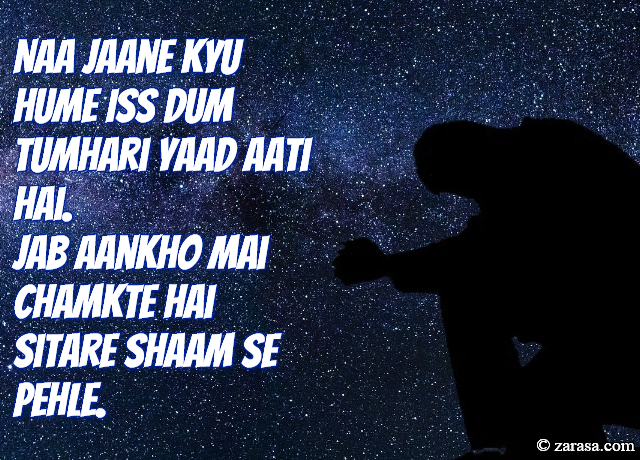 Naa Jaane Kyu Hume Iss Dum Tumhari Yaad Aati Hai.
Jab Aankho Mai Chamkte Hai Sitare Shaam Se Pehle.
ना जाने क्यों हमे इस दम तुम्हारी याद आती है .
जब आँखों मई चमकते है सितारे शाम से पहले .
نا جانے کیو ہمے اسس دم تمہاری یاد آتی ہے .
جب آنکھو می چمکتے ہے ستارے شام سے پہلے .
---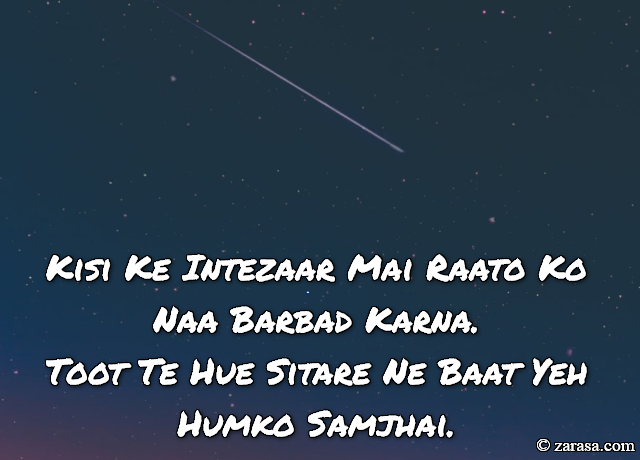 Kisi Ke Intezaar Mai Raato Ko Naa Barbad Karna.
Toot Te Hue Sitare Ne Baat Yeh Humko Samjhai.

किसी के इंतज़ार मई रातो को ना बर्बाद करना .
टूटते हुए सितारे ने बात यह हमको समझे .



کسی کے انتیزار می رہاتو کو نا برباد کرنا .
ٹوٹ تے ہوئے ستارے نے بات یہ ہمکو سمجھی .


---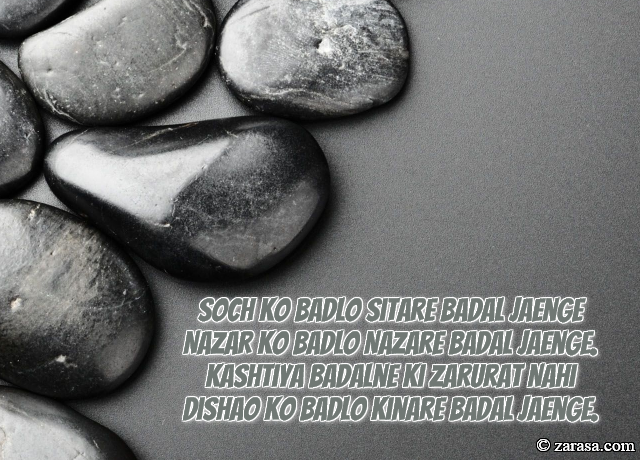 Soch Ko Badlo Sitare Badal Jaenge Nazar Ko Badlo Nazare Badal Jaenge.
Kashtiya Badalne Ki Zarurat Nahi Dishao Ko Badlo Kinare Badal Jaenge.

सोच को बदलो सितारे बदल जाएंगे नज़र को बदलो नज़ारे बदल जाएंगे .
कश्तिया बदलने की ज़रूरत नहीं दिशाओ को बदलो किनारे बदल जाएंगे .


سوچ کو بدلو ستارے بدل جاینگے نظر کو بدلو نظارے بدل جاینگے .
کشتیا بدلنے کی ضرورت نہیں دشو کو بدلو کنارے بدل جاینگے .

---
Har Cheez Apni Apni Jagah Pe Hai Kamyaab.
Zarre Bhi Bemisaal Sitaare Bhi Lajawab.
हर चीज़ अपनी अपनी जगह पे है कामयाब .
ज़र्रे भी बेमिसाल सितारे भी लाजवाब .
ہر چیز اپنی اپنی جگہ پی ہے کامیاب .
زررے بھی بمسال ستارے بھی لاجواب .

---