Tanhai Shayari "Ab Soch Kr"
|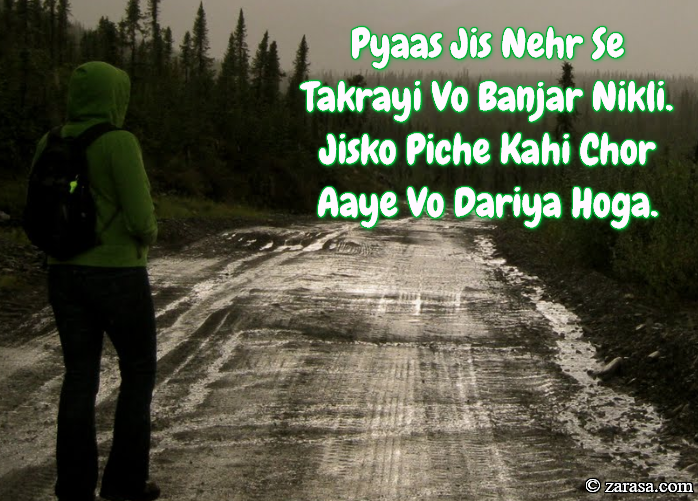 Pyaas Jis Nehr Se Takrayi Vo Banjar Nikli.
Jisko Piche Kahi Chor Aaye Vo Dariya Hoga.
प्यास जिस नहर से टकराई वो बंजार निकली .
जिसको पीछे कही चोर आये वो दरिया होगा .
پیاس جس نہر سے تکری وو بنجر نکلی .
جسکو پیچھے کہی چھوڑ اے وو دریا ہوگا .
---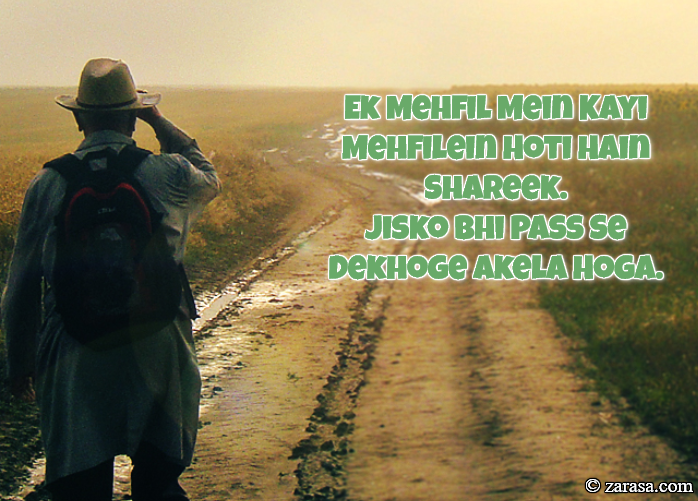 Ek Mehfil Mein Kayi Mehfilein Hoti Hain Shareek.
Jisko Bhi Pass Se Dekhoge Akela Hoga.
एक महफ़िल में कई महफ़िलें होती हैं शरीक .
जिसको भी पास से देखोगे अकेला होगा .
ایک محفل میں کی محفلیں ہوتی ہیں شریک .
جسکو بھی پاسس سے دیکھوگے اکیلا ہوگا .
---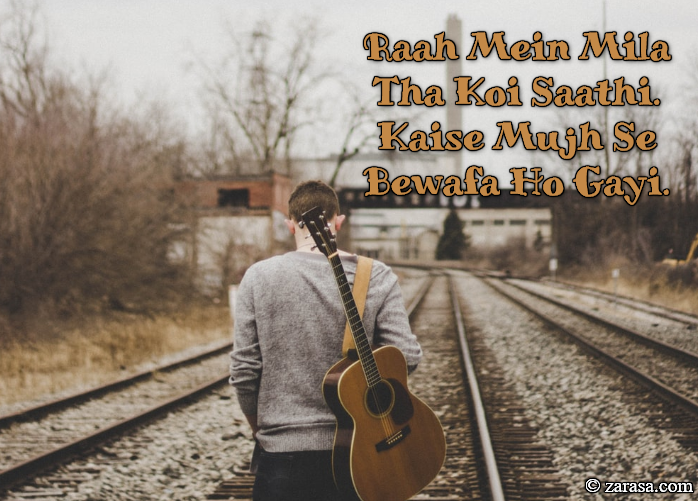 Raah Mein Mila Tha Koi Saathi.
Kaise Mujh Se Bewafa Ho Gayi.
राह में मिला था कोई साथी .
कैसे मुझ से बेवफा हो गयी .
راہ میں ملا تھا کوئی ساتھ .
کیسے مجھ سے بیوفا ہو گی .
---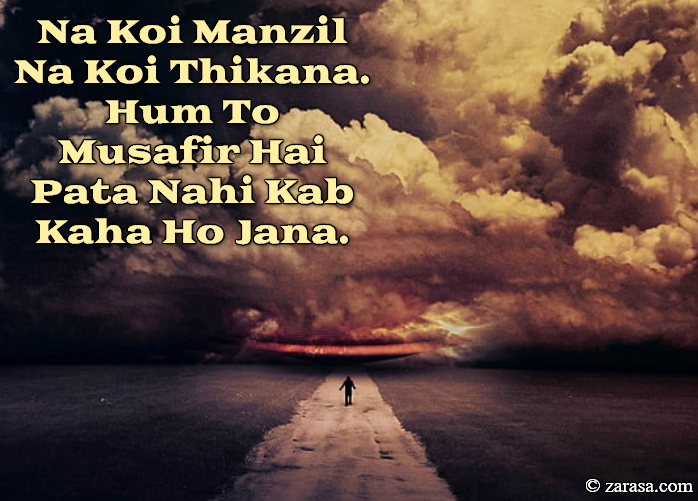 Na Koi Manzil Na Koi Thikana.
Hum To Musafir Hai Pata Nahi Kab Kaha Ho Jana.
ना कोई मंज़िल ना कोई ठिकाना .
हम तो मुसाफिर है पता नहीं कब कहा हो जाना .
نہ کوئی منزل نہ کوئی ٹھکانہ .
ہم تو مسافر ہے پتا نہیں کب کہا ہو جانا .
---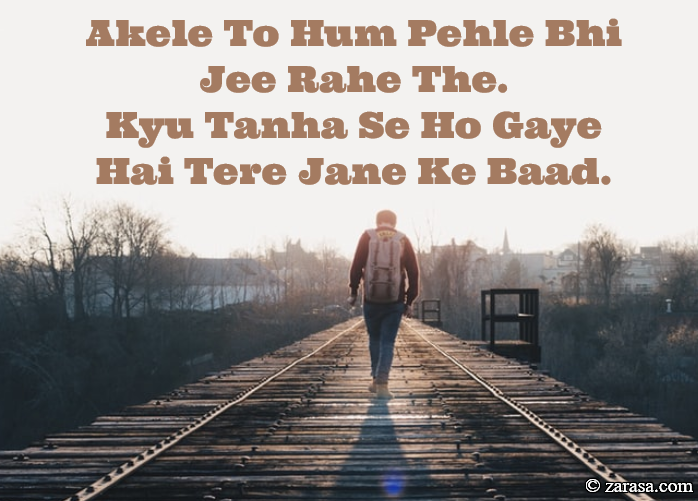 Akele To Hum Pehle Bhi Jee Rahe The.
Kyu Tanha Se Ho Gaye Hai Tere Jane Ke Baad.
अकेले तो हम पहले भी जी रहे थे .
क्यों तनहा से हो गए है तेरे जाने के बाद .
اکیلے تو ہم پہلے بھی جی رہے تھے .
کیو تنہا سے ہو گئے ہے تیرے جانے کے بعد .
---