Tanhai Shayari "Ab Soch Kr"
|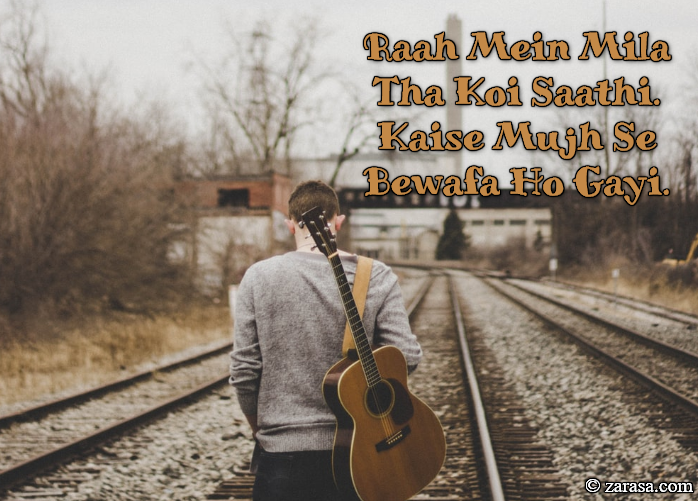 Raah Mein Mila Tha Koi Saathi.
Kaise Mujh Se Bewafa Ho Gayi.
राह में मिला था कोई साथी .
कैसे मुझ से बेवफा हो गयी .
راہ میں ملا تھا کوئی ساتھ .
کیسے مجھ سے بیوفا ہو گی .
---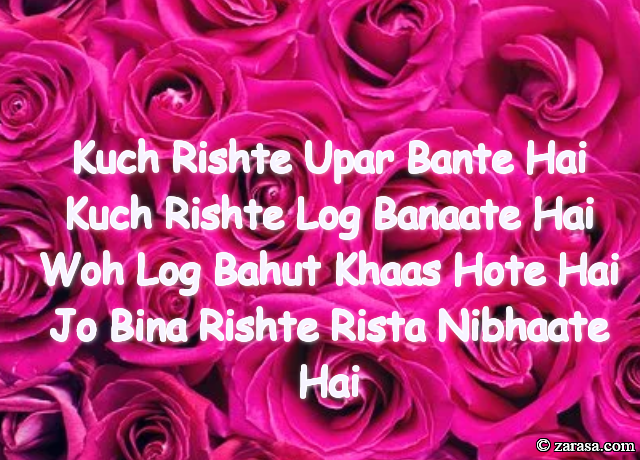 Kuch Rishte Upar Bante Hai
Kuch Rishte Log Banaate Hai
Woh Log Bahut Khaas Hote Hai
Jo Bina Rishte Rishta Nibhaate Hai
कुछ रिश्ते ऊपर बनते है
कुछ रिश्ते लोग बनाते है
वह लोग बहुत ख़ास होते है
जो बिना रिश्ते रिस्ता निभाते है
کچھ رشتے اپر بنتے ہے
کچھ رشتے لوگ بناتے ہے
وہ لوگ بہت خاص ہوتے ہے
جو بنا رشتے رستہ نبھاتے ہے
---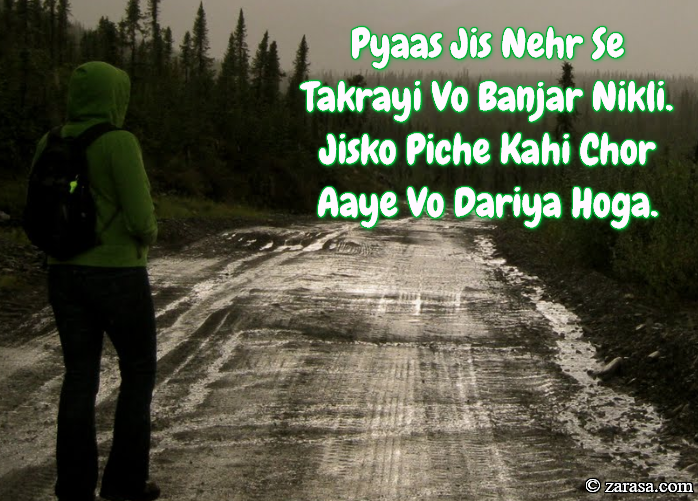 Pyaas Jis Nehr Se Takrayi Vo Banjar Nikli.
Jisko Piche Kahi Chor Aaye Vo Dariya Hoga.
प्यास जिस नहर से टकराई वो बंजार निकली .
जिसको पीछे कही चोर आये वो दरिया होगा .
پیاس جس نہر سے تکری وو بنجر نکلی .
جسکو پیچھے کہی چھوڑ اے وو دریا ہوگا .
---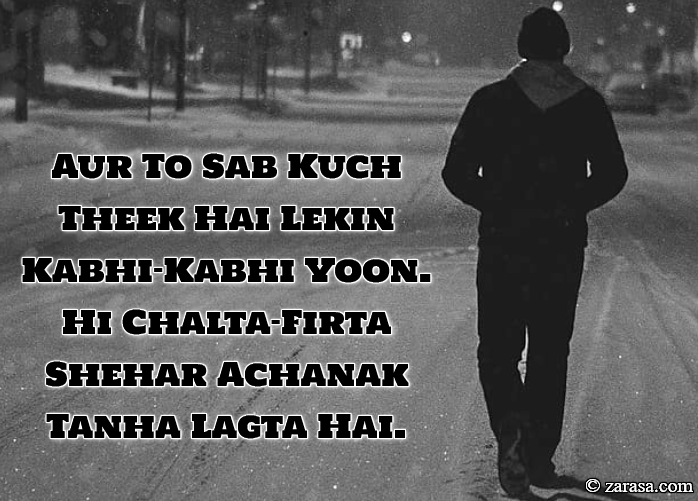 Aur To Sab Kuch Theek Hai Lekin Kabhi-Kabhi Yoon.
Hi Chalta-Firta Shehar Achanak Tanha Lagta Hai.
और तो सब कुछ ठीक है लेकिन कभी -कभी यूं .
ही चलता -फिरता शहर अचानक तनहा लगता है .
اور تو سب کچھ ٹھیک ہے لیکن کبھی - کبھی یوں .
ہی چلتا -فرتا شہر اچانک تنہا لگتا ہے .
---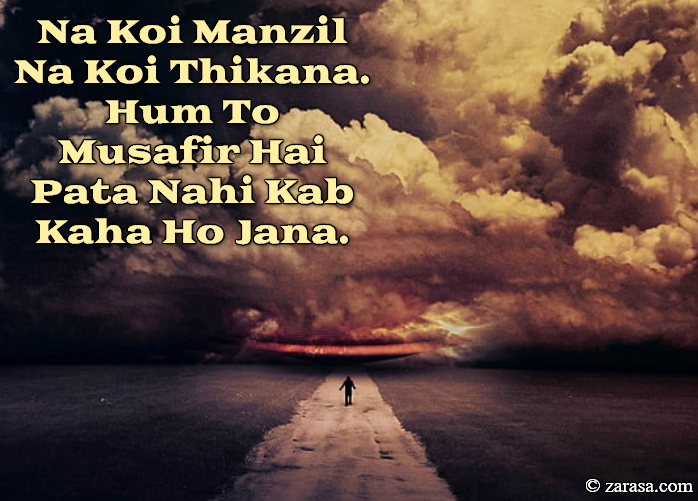 Na Koi Manzil Na Koi Thikana.
Hum To Musafir Hai Pata Nahi Kab Kaha Ho Jana.
ना कोई मंज़िल ना कोई ठिकाना .
हम तो मुसाफिर है पता नहीं कब कहा हो जाना .
نہ کوئی منزل نہ کوئی ٹھکانہ .
ہم تو مسافر ہے پتا نہیں کب کہا ہو جانا .
---