Tanhai Shayari "Ab Soch Kr"
|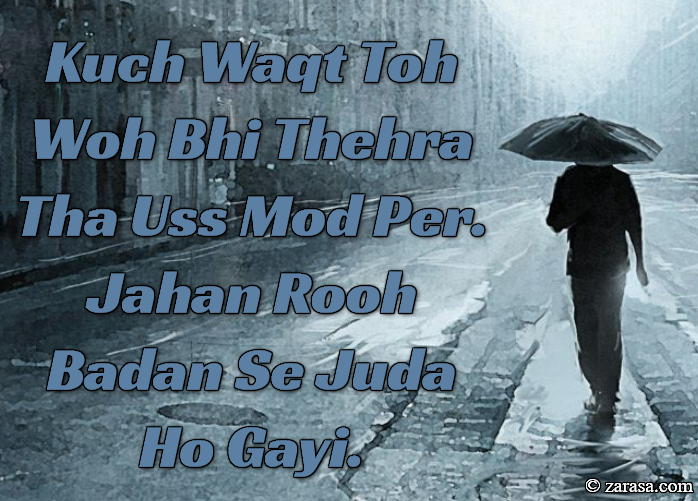 Kuch Waqt Toh Woh Bhi Thehra Tha Uss Mod Per.
Jahan Rooh Badan Se Juda Ho Gayi.
कुछ वक़्त तोह वह भी ठहरा था उस मोड़ पैर .
जहाँ रूह बदन से जुड़ा हो गयी .
کچھ وقت توہ وہ بھی ٹھہرا تھا اس موڈ پر .
جہاں روح بدن سے جدا ہو گی .
---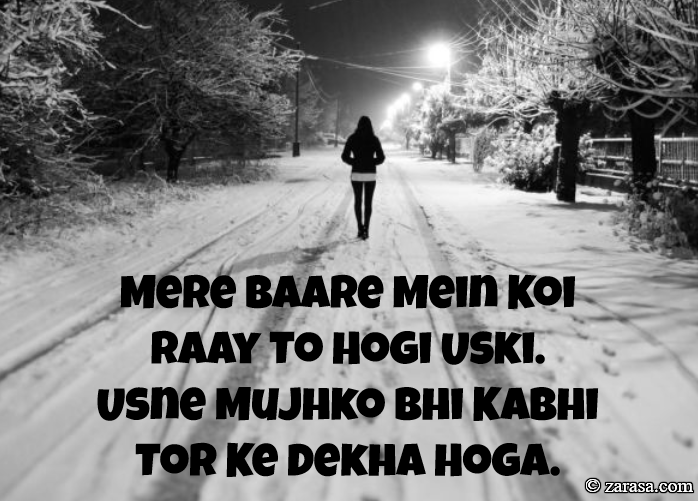 Mere Baare Mein Koi Raay To Hogi Uski.
Usne Mujhko Bhi Kabhi Tor Ke Dekha Hoga.
मेरे बारे में कोई राय तो होगी उसकी .
उसने मुझको भी कभी तोर के देखा होगा .
میرے بارے میں کوئی رہے تو ہوگی اسکی .
اسنے مجھکو بھی کبھی طور کے دیکھا ہوگا .
---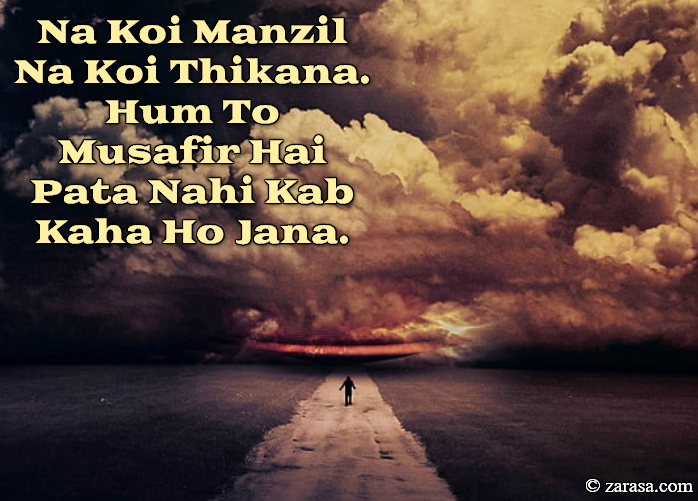 Na Koi Manzil Na Koi Thikana.
Hum To Musafir Hai Pata Nahi Kab Kaha Ho Jana.
ना कोई मंज़िल ना कोई ठिकाना .
हम तो मुसाफिर है पता नहीं कब कहा हो जाना .
نہ کوئی منزل نہ کوئی ٹھکانہ .
ہم تو مسافر ہے پتا نہیں کب کہا ہو جانا .
---
Jaa Chuke Hain Sab Aur Wahi Khamoshi Chaayi Hai.
Pass Hain Har Oar Sannata Tanhai Muskurai Hai.
जा चुके हैं सब और वही ख़ामोशी छायी है .
पास हैं हर और सन्नाटा तन्हाई मुस्कुराई है .
جا چکے ہیں سب اور وہی خاموشی چایی ہے .
پاسس ہیں ہر ور سنناتا تنہائی مسکرائی ہے .
---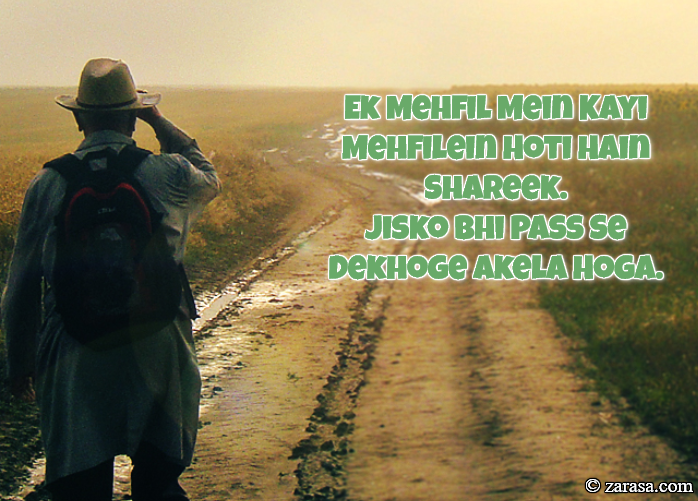 Ek Mehfil Mein Kayi Mehfilein Hoti Hain Shareek.
Jisko Bhi Pass Se Dekhoge Akela Hoga.
एक महफ़िल में कई महफ़िलें होती हैं शरीक .
जिसको भी पास से देखोगे अकेला होगा .
ایک محفل میں کی محفلیں ہوتی ہیں شریک .
جسکو بھی پاسس سے دیکھوگے اکیلا ہوگا .
---