Tanhai Shayari "Fursat Ki Shaam"
|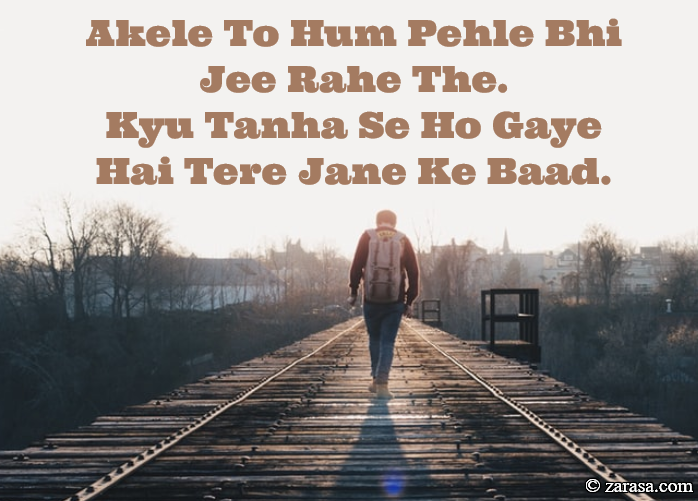 Akele To Hum Pehle Bhi Jee Rahe The.
Kyu Tanha Se Ho Gaye Hai Tere Jane Ke Baad.
अकेले तो हम पहले भी जी रहे थे .
क्यों तनहा से हो गए है तेरे जाने के बाद .
اکیلے تو ہم پہلے بھی جی رہے تھے .
کیو تنہا سے ہو گئے ہے تیرے جانے کے بعد .
---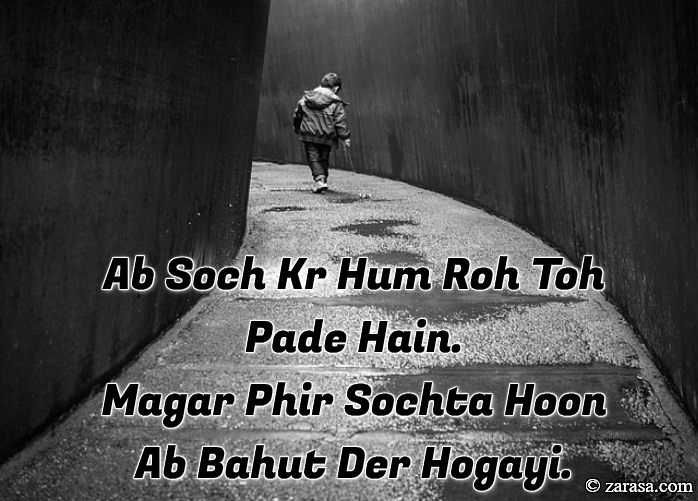 Ab Soch Kr Hum Roh Toh Pade Hain.
Magar Phir Sochta Hoon Ab Bahut Der Hogayi.a
अब सोच कर हम रोह तोह पड़े हैं .
मगर फिर सोचता हूँ अब बहुत देर होगयी .
اب سوچ کر ہم روه توہ پڑے ہیں .
مگر پھر سوچتا ہوں اب بہت در ہوگیی .
---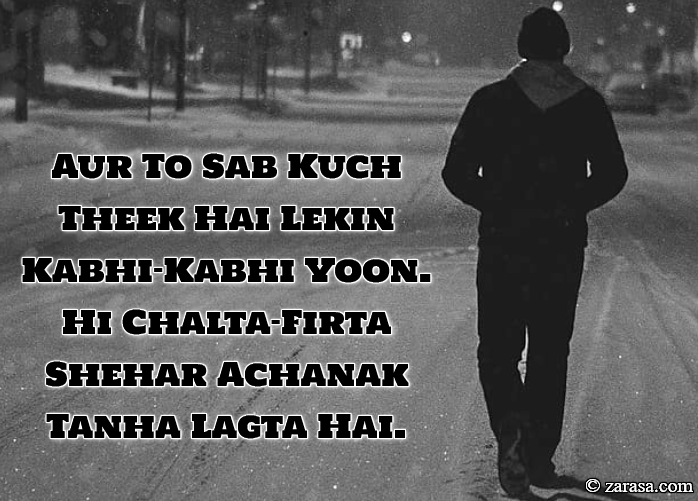 Aur To Sab Kuch Theek Hai Lekin Kabhi-Kabhi Yoon.
Hi Chalta-Firta Shehar Achanak Tanha Lagta Hai.
और तो सब कुछ ठीक है लेकिन कभी -कभी यूं .
ही चलता -फिरता शहर अचानक तनहा लगता है .
اور تو سب کچھ ٹھیک ہے لیکن کبھی - کبھی یوں .
ہی چلتا -فرتا شہر اچانک تنہا لگتا ہے .
---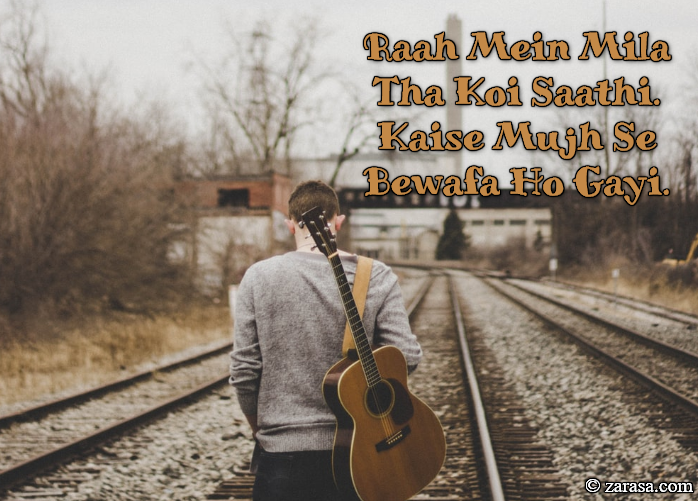 Raah Mein Mila Tha Koi Saathi.
Kaise Mujh Se Bewafa Ho Gayi.
राह में मिला था कोई साथी .
कैसे मुझ से बेवफा हो गयी .
راہ میں ملا تھا کوئی ساتھ .
کیسے مجھ سے بیوفا ہو گی .
---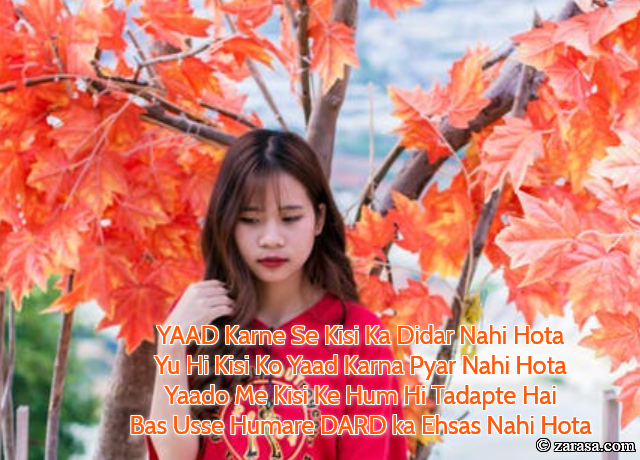 Yaad Karne Se Kisi Ka Didar Nahi Hota
Yu Hi Kisi Ko Yaad Karna Pyar Nahi Hota
Yaado Me Kisi Ke Hum Hi Tadapte Hai
Bas Usse Humare DARD ka Ehsas Nahi Hota
याद करने से किसी का दीदार नहीं होता
यु ही किसी को याद करना प्यार नहीं होता
यादो में किसी के हम ही तड़पते है
बस उससे हमारे दर्द का एहसास नहीं होता
یاد کرنے سے کسی کا دیدار ہوتا
یو ہی کسی کو یاد کرنا پیار نہیں ہوتا
یادو می کسی کے ہم ہی تداپتے ہے
بس اسے ہمارے درد کا احساس نہیں ہوتا
---