Tanhai Shayari "Dekha Nahi Jata"
|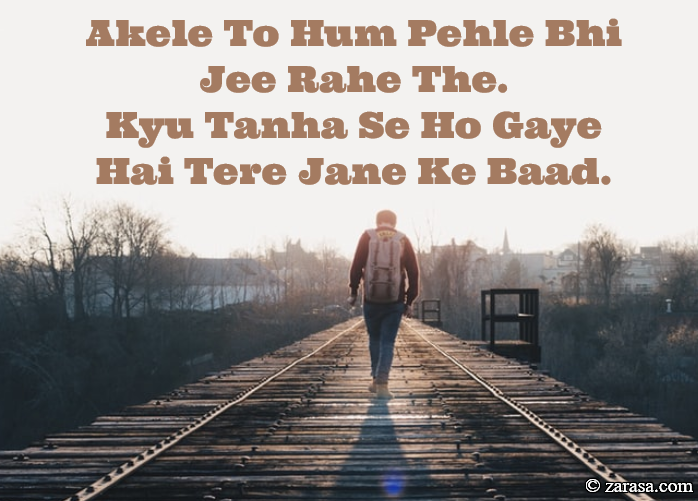 Akele To Hum Pehle Bhi Jee Rahe The.
Kyu Tanha Se Ho Gaye Hai Tere Jane Ke Baad.
अकेले तो हम पहले भी जी रहे थे .
क्यों तनहा से हो गए है तेरे जाने के बाद .
اکیلے تو ہم پہلے بھی جی رہے تھے .
کیو تنہا سے ہو گئے ہے تیرے جانے کے بعد .
---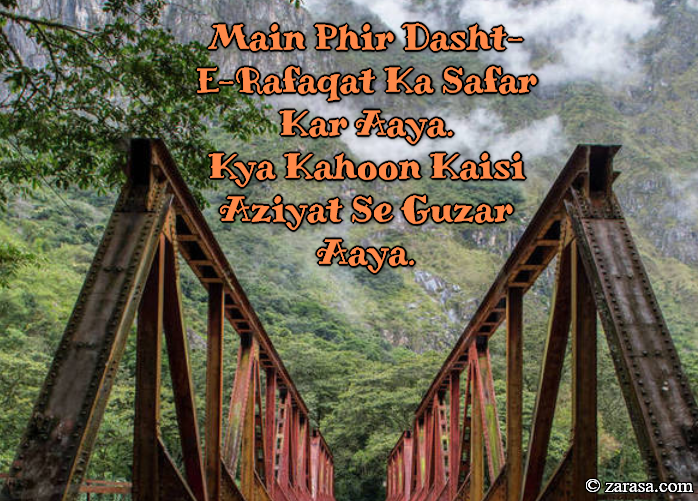 Main Phir Dasht-E-Rafaqat Ka Safar Kar Aaya.
Kya Kahoon Kaisi Aziyat Se Guzar Aaya.
मैं फिर दश्त -इ -रफक़त का सफर कर आया .
क्या कहूँ कैसी अज़ीयत से गुज़र आया .
میں پھر داشت -ا -رفاقت کا سفر کر آیا .
کیا کہوں کیسی اذیت سے گزر آیا .
---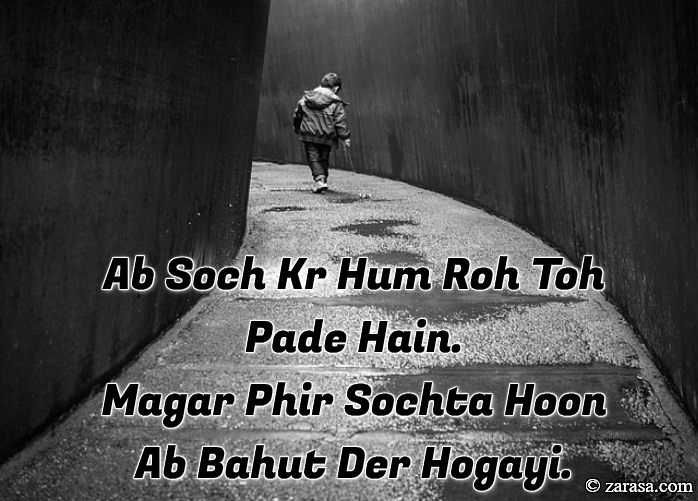 Ab Soch Kr Hum Roh Toh Pade Hain.
Magar Phir Sochta Hoon Ab Bahut Der Hogayi.a
अब सोच कर हम रोह तोह पड़े हैं .
मगर फिर सोचता हूँ अब बहुत देर होगयी .
اب سوچ کر ہم روه توہ پڑے ہیں .
مگر پھر سوچتا ہوں اب بہت در ہوگیی .
---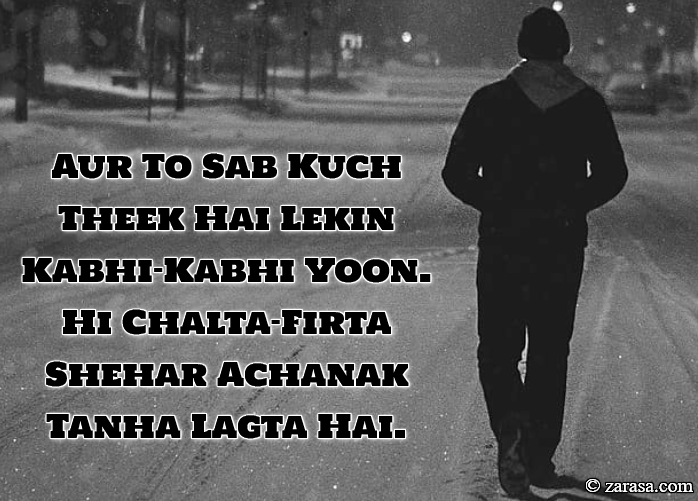 Aur To Sab Kuch Theek Hai Lekin Kabhi-Kabhi Yoon.
Hi Chalta-Firta Shehar Achanak Tanha Lagta Hai.
और तो सब कुछ ठीक है लेकिन कभी -कभी यूं .
ही चलता -फिरता शहर अचानक तनहा लगता है .
اور تو سب کچھ ٹھیک ہے لیکن کبھی - کبھی یوں .
ہی چلتا -فرتا شہر اچانک تنہا لگتا ہے .
---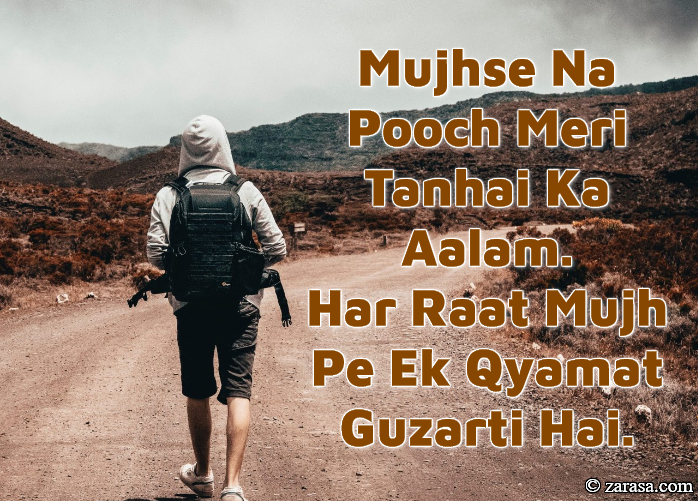 Mujhse Na Pooch Meri Tanhai Ka Aalam.
Har Raat Mujh Pe Ek Qyamat Guzarti Hai.
मुझसे ना पूछ मेरी तन्हाई का आलम .
हर रात मुझ पे एक क़यामत गुज़रती है .
مجھسے نہ پوچھ میری تنہائی کا عالم .
ہر رات مجھ پی ایک قیمت گزرتی ہے .
---