Tanhai Shayari "Kyu Tanha Se Ho Gaye"
|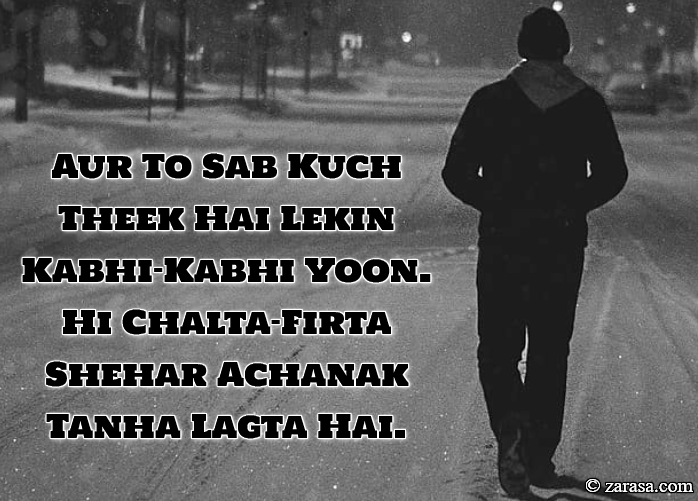 Aur To Sab Kuch Theek Hai Lekin Kabhi-Kabhi Yoon.
Hi Chalta-Firta Shehar Achanak Tanha Lagta Hai.
और तो सब कुछ ठीक है लेकिन कभी -कभी यूं .
ही चलता -फिरता शहर अचानक तनहा लगता है .
اور تو سب کچھ ٹھیک ہے لیکن کبھی - کبھی یوں .
ہی چلتا -فرتا شہر اچانک تنہا لگتا ہے .
---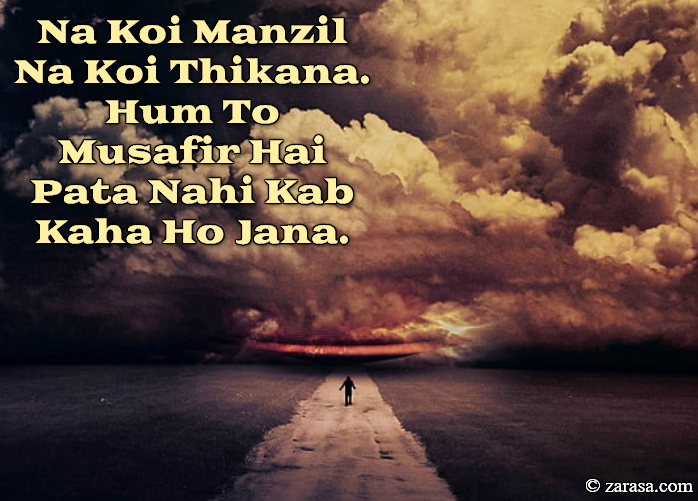 Na Koi Manzil Na Koi Thikana.
Hum To Musafir Hai Pata Nahi Kab Kaha Ho Jana.
ना कोई मंज़िल ना कोई ठिकाना .
हम तो मुसाफिर है पता नहीं कब कहा हो जाना .
نہ کوئی منزل نہ کوئی ٹھکانہ .
ہم تو مسافر ہے پتا نہیں کب کہا ہو جانا .
---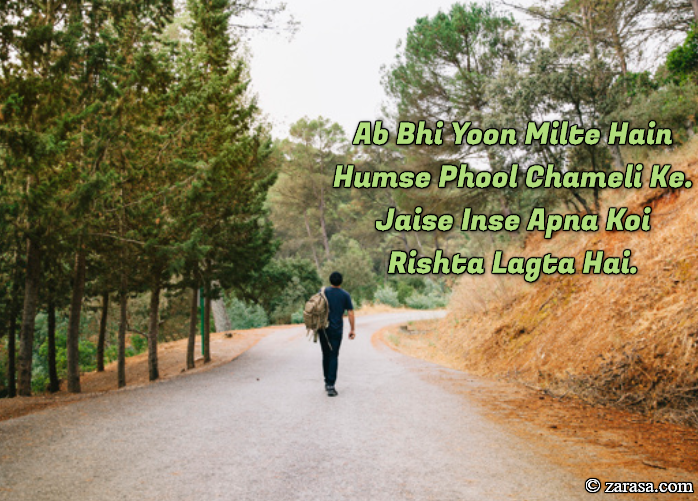 aAb Bhi Yoon Milte Hain Humse Phool Chameli Ke.
Jaise Inse Apna Koi Rishta Lagta Hai.
अब भी यूं मिलते हैं हमसे फूल चमेली के .
जैसे इनसे अपना कोई रिश्ता लगता है .
اب بھی یوں ملتے ہیں ہمسے پھول چمیلی کے .
جیسے انسے اپنا کوئی رشتہ لگتا ہے .
---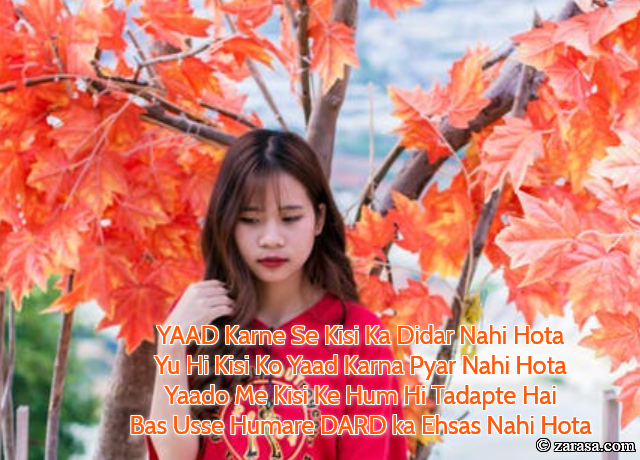 Yaad Karne Se Kisi Ka Didar Nahi Hota
Yu Hi Kisi Ko Yaad Karna Pyar Nahi Hota
Yaado Me Kisi Ke Hum Hi Tadapte Hai
Bas Usse Humare DARD ka Ehsas Nahi Hota
याद करने से किसी का दीदार नहीं होता
यु ही किसी को याद करना प्यार नहीं होता
यादो में किसी के हम ही तड़पते है
बस उससे हमारे दर्द का एहसास नहीं होता
یاد کرنے سے کسی کا دیدار ہوتا
یو ہی کسی کو یاد کرنا پیار نہیں ہوتا
یادو می کسی کے ہم ہی تداپتے ہے
بس اسے ہمارے درد کا احساس نہیں ہوتا
---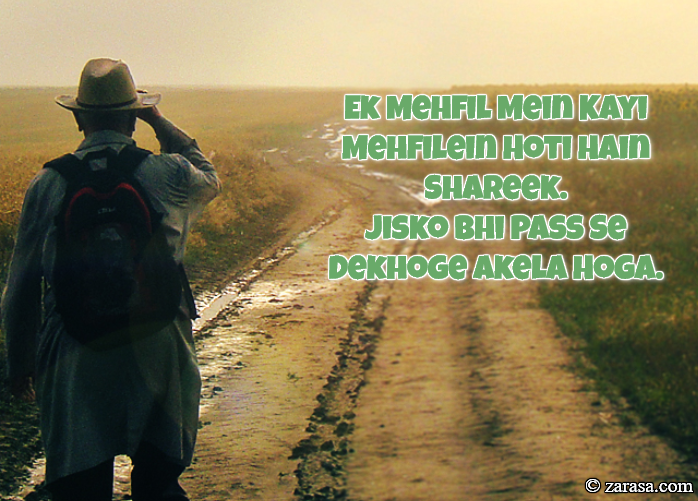 Ek Mehfil Mein Kayi Mehfilein Hoti Hain Shareek.
Jisko Bhi Pass Se Dekhoge Akela Hoga.
एक महफ़िल में कई महफ़िलें होती हैं शरीक .
जिसको भी पास से देखोगे अकेला होगा .
ایک محفل میں کی محفلیں ہوتی ہیں شریک .
جسکو بھی پاسس سے دیکھوگے اکیلا ہوگا .
---