Shayari for Dard "Yaado Me Kisi Ke Hum Hi Tadapte Hai"
|
Yaad Karne Se Kisi Ka Didar Nahi Hota
Yu Hi Kisi Ko Yaad Karna Pyar Nahi Hota
Yaado Me Kisi Ke Hum Hi Tadapte Hai
Bas Usse Humare DARD ka Ehsas Nahi Hota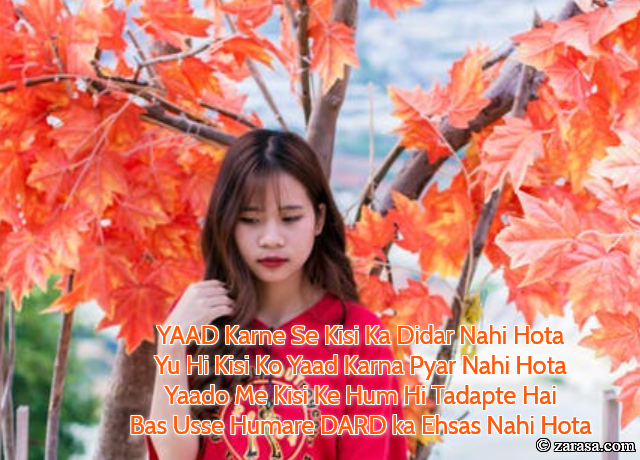 ---

याद करने से किसी का दीदार नहीं होता
यु ही किसी को याद करना प्यार नहीं होता
यादो में किसी के हम ही तड़पते है
बस उससे हमारे दर्द का एहसास नहीं होता


---

یاد کرنے سے کسی کا دیدار ہوتا
یو ہی کسی کو یاد کرنا پیار نہیں ہوتا
یادو می کسی کے ہم ہی تداپتے ہے
بس اسے ہمارے درد کا احساس نہیں ہوتا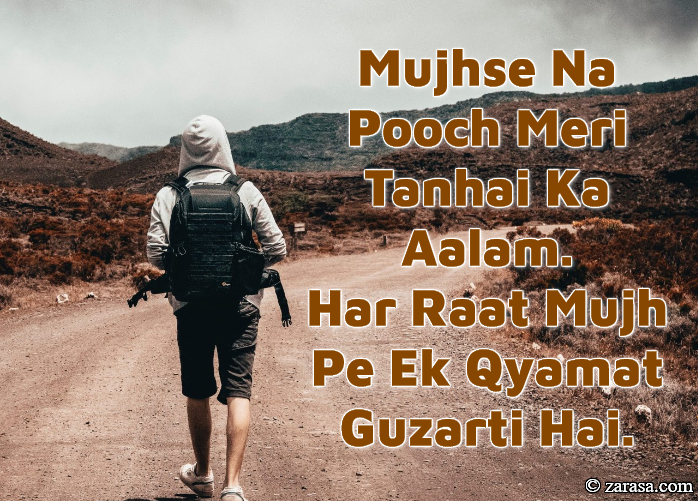 Mujhse Na Pooch Meri Tanhai Ka Aalam.
Har Raat Mujh Pe Ek Qyamat Guzarti Hai.
मुझसे ना पूछ मेरी तन्हाई का आलम .
हर रात मुझ पे एक क़यामत गुज़रती है .
مجھسے نہ پوچھ میری تنہائی کا عالم .
ہر رات مجھ پی ایک قیمت گزرتی ہے .
---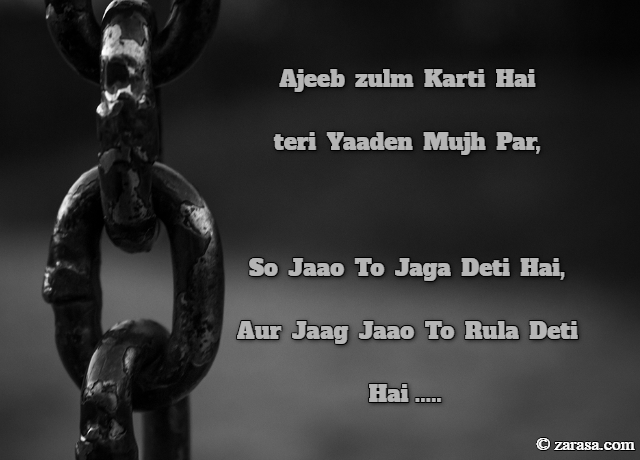 Ajeeb zulm Karti Hai teri Yaaden Mujh Par,
So Jaao To Jaga Deti Hai,Aur Jaag Jaao To Rula Deti Hai .....
अजीब जुल्म करती है तेरी यादें मुझ पर,
सो जाऊ तो जगा देती है, और जाग जाऊ तो रुला देती है…
عجیب ظلم کرتی ہے تیری یادیں مجھ پر
سو جاؤ تو جگا دیتی ہے ، اور جاگ جاؤ تو رولا دیتی ہے
---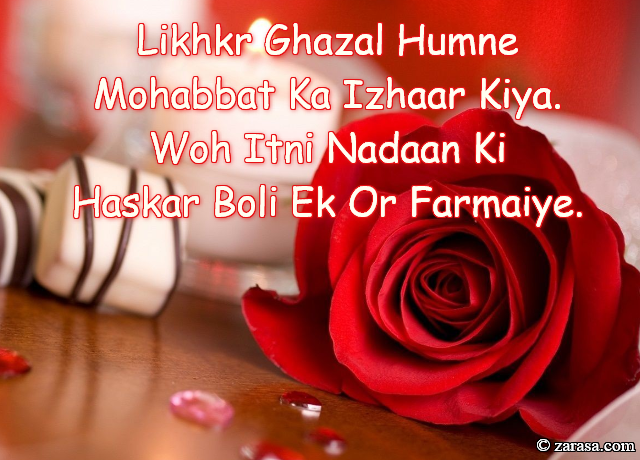 Likhkr Ghazal Humne Mohabbat Ka Izhaar Kiya.
Woh Itni Nadaan Ki Haskar Boli Ek Or Farmaiye.
लिखकर ग़ज़ल हमने मोहब्बत का इज़्हार किया .
वह इतनी नादान की हसकर बोली एक और फरमाइए .
لکھکر غزل ہمنے موحبّت کا اظہار کیا .
وہ اتنی ناداں کی حسکر بولی ایک اور فرمائے .
---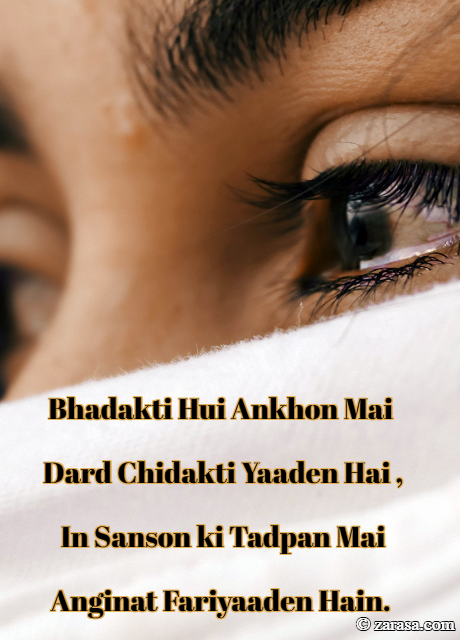 Bhadakti Hui Ankhon Mai
Dard Chidakti Yaaden Hai ,
In Sanson ki Tadpan Mai
Anginat Fariyaaden Hain.
भड़कती हुई आंखों में
दर्द छिड़कती यादें है ,
इन सांसों की तड़पन में
अनगिनत फरियादें हैं।
بھڈاکتی ہی آنکھوں می
درد چڈاکتی یادیں ہے
ان سانسوں کی تڑپن می
انگنت فریادیں ہیں
---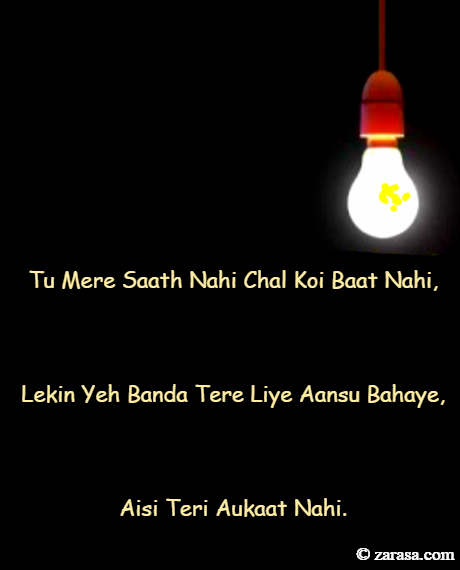 Tu Mere Saath Nahi Chal Koi Baat Nahi,
Lekin Yeh Banda Tere Liye Aansu Bahaye,
Aisi Teri Aukaat Nahi.
तू मेरे साथ नही चल कोई बात नही,
लेकिन यह बंदा तेरे लिये आँसू बहाए ,
ऐसी तेरी औकात नही।
تو میرے ساتھ نہی چل کوئی بات نہیں
لیکن یہ بندا تیرے لئے آنسو بہے
ایسی تیری اوکات نہیں
---