Tanhai Shayari "Jaa Chuke Hain"
|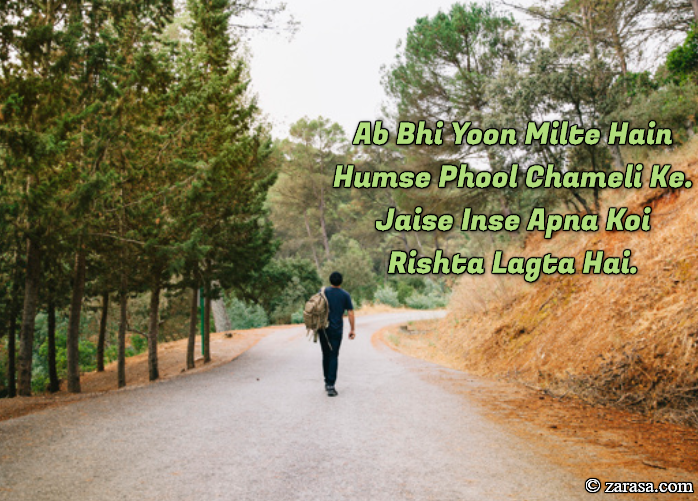 aAb Bhi Yoon Milte Hain Humse Phool Chameli Ke.
Jaise Inse Apna Koi Rishta Lagta Hai.
अब भी यूं मिलते हैं हमसे फूल चमेली के .
जैसे इनसे अपना कोई रिश्ता लगता है .
اب بھی یوں ملتے ہیں ہمسے پھول چمیلی کے .
جیسے انسے اپنا کوئی رشتہ لگتا ہے .
---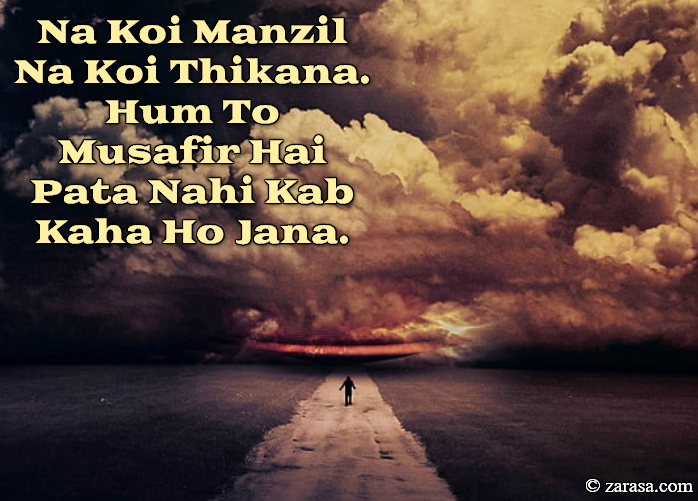 Na Koi Manzil Na Koi Thikana.
Hum To Musafir Hai Pata Nahi Kab Kaha Ho Jana.
ना कोई मंज़िल ना कोई ठिकाना .
हम तो मुसाफिर है पता नहीं कब कहा हो जाना .
نہ کوئی منزل نہ کوئی ٹھکانہ .
ہم تو مسافر ہے پتا نہیں کب کہا ہو جانا .
---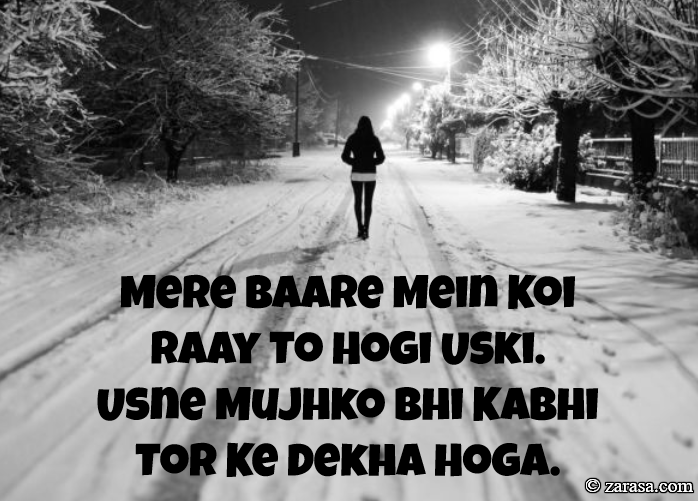 Mere Baare Mein Koi Raay To Hogi Uski.
Usne Mujhko Bhi Kabhi Tor Ke Dekha Hoga.
मेरे बारे में कोई राय तो होगी उसकी .
उसने मुझको भी कभी तोर के देखा होगा .
میرے بارے میں کوئی رہے تو ہوگی اسکی .
اسنے مجھکو بھی کبھی طور کے دیکھا ہوگا .
---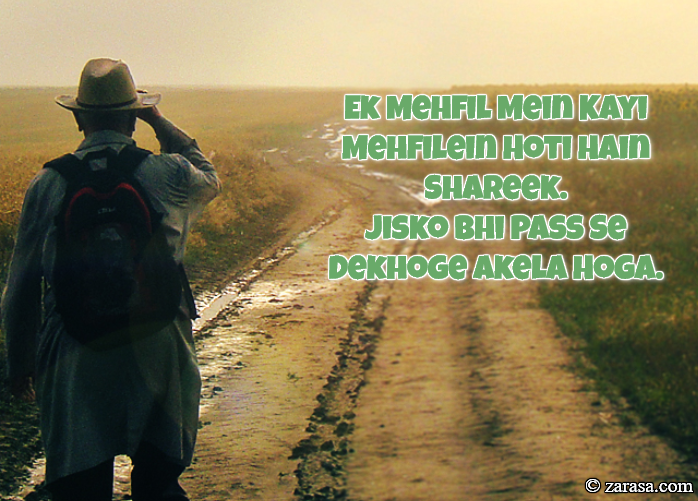 Ek Mehfil Mein Kayi Mehfilein Hoti Hain Shareek.
Jisko Bhi Pass Se Dekhoge Akela Hoga.
एक महफ़िल में कई महफ़िलें होती हैं शरीक .
जिसको भी पास से देखोगे अकेला होगा .
ایک محفل میں کی محفلیں ہوتی ہیں شریک .
جسکو بھی پاسس سے دیکھوگے اکیلا ہوگا .
---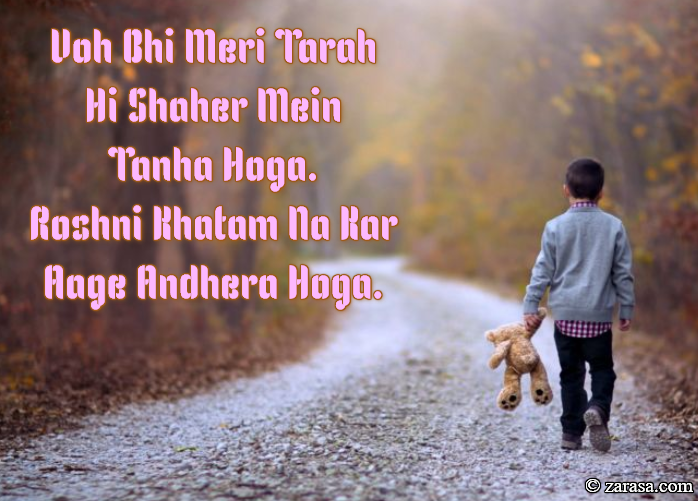 Voh Bhi Meri Tarah Hi Shaher Mein Tanha Hoga.
Roshni Khatam Na Kar Aage Andhera Hoga.
वोह भी मेरी तरह ही शहर में तनहा होगा .
रौशनी ख़तम ना कर आगे अँधेरा होगा .
وہ بھی میری طرح ہی شہر میں تنہا ہوگا .
روشنی ختم نہ کر آگے اندھیرا ہوگا .
---