Tanhai Shayari "Jaa Chuke Hain"
|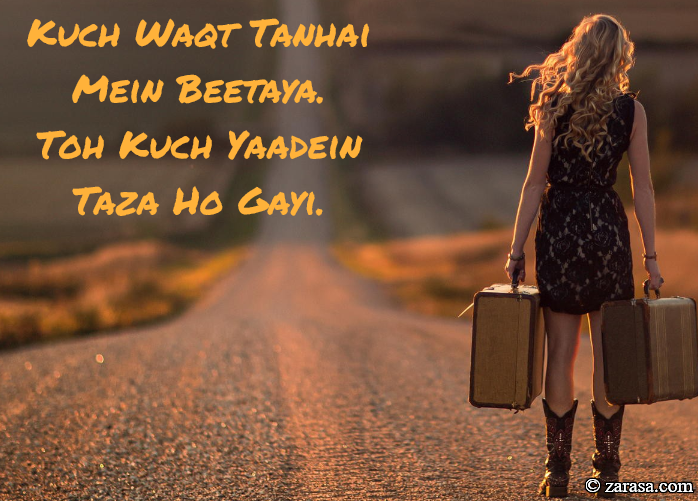 eKuch Waqt Tanhai Mein Beetaya.
Toh Kuch Yaadein Taza Ho Gayi.
कुछ वक़्त तन्हाई में बिताया .
तोह कुछ यादें ताज़ा हो गयी .
کچھ وقت تنہائی میں بیتیا .
ٹوہ کچھ یادیں تازہ ہو گی .
---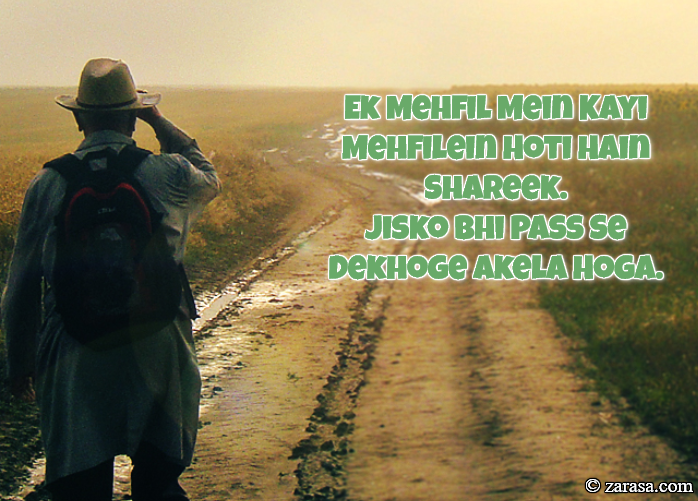 Ek Mehfil Mein Kayi Mehfilein Hoti Hain Shareek.
Jisko Bhi Pass Se Dekhoge Akela Hoga.
एक महफ़िल में कई महफ़िलें होती हैं शरीक .
जिसको भी पास से देखोगे अकेला होगा .
ایک محفل میں کی محفلیں ہوتی ہیں شریک .
جسکو بھی پاسس سے دیکھوگے اکیلا ہوگا .
---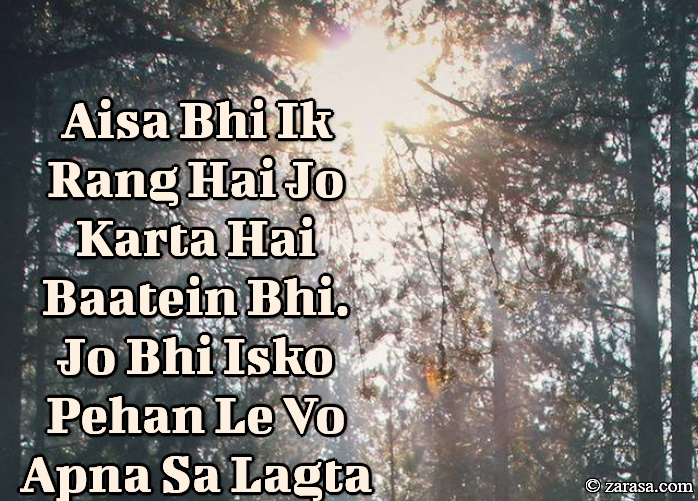 Aisa Bhi Ik Rang Hai Jo Karta Hai Baatein Bhi.
Jo Bhi Isko Pehan Le Vo Apna Sa Lagta Hai.
ऐसा भी इक रंग है जो करता है बातें भी .
जो भी इसको पहन ले वो अपना सा लगता है .
ایسا بھی اک رنگ ہے جو کرتا ہے باتیں بھی .
جو بھی اسکو پہن لے وو اپنا سا لگتا ہے .
---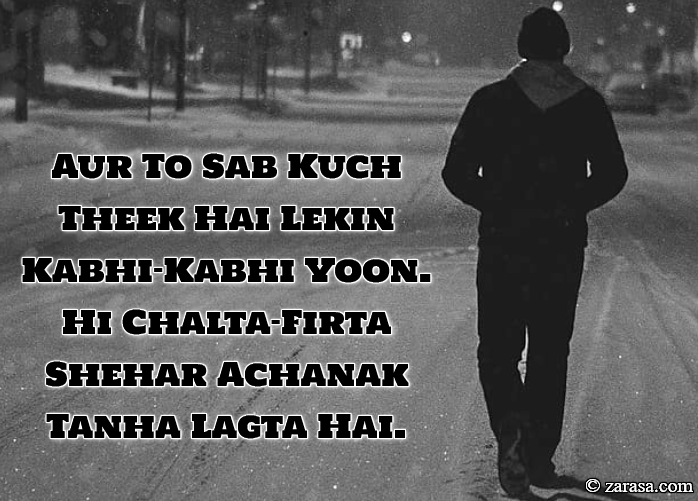 Aur To Sab Kuch Theek Hai Lekin Kabhi-Kabhi Yoon.
Hi Chalta-Firta Shehar Achanak Tanha Lagta Hai.
और तो सब कुछ ठीक है लेकिन कभी -कभी यूं .
ही चलता -फिरता शहर अचानक तनहा लगता है .
اور تو سب کچھ ٹھیک ہے لیکن کبھی - کبھی یوں .
ہی چلتا -فرتا شہر اچانک تنہا لگتا ہے .
---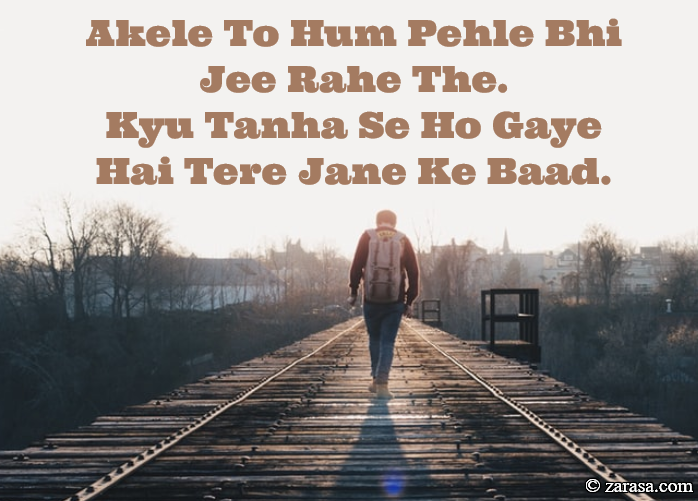 Akele To Hum Pehle Bhi Jee Rahe The.
Kyu Tanha Se Ho Gaye Hai Tere Jane Ke Baad.
अकेले तो हम पहले भी जी रहे थे .
क्यों तनहा से हो गए है तेरे जाने के बाद .
اکیلے تو ہم پہلے بھی جی رہے تھے .
کیو تنہا سے ہو گئے ہے تیرے جانے کے بعد .
---