Tanhai Shayari "Kuch Waqt"
|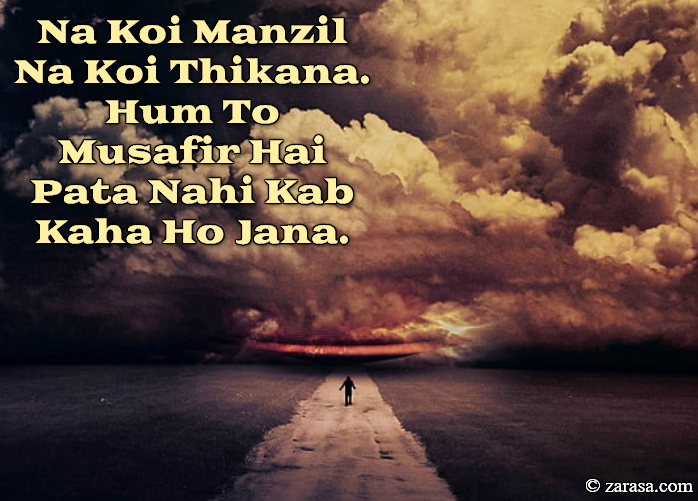 Na Koi Manzil Na Koi Thikana.
Hum To Musafir Hai Pata Nahi Kab Kaha Ho Jana.
ना कोई मंज़िल ना कोई ठिकाना .
हम तो मुसाफिर है पता नहीं कब कहा हो जाना .
نہ کوئی منزل نہ کوئی ٹھکانہ .
ہم تو مسافر ہے پتا نہیں کب کہا ہو جانا .
---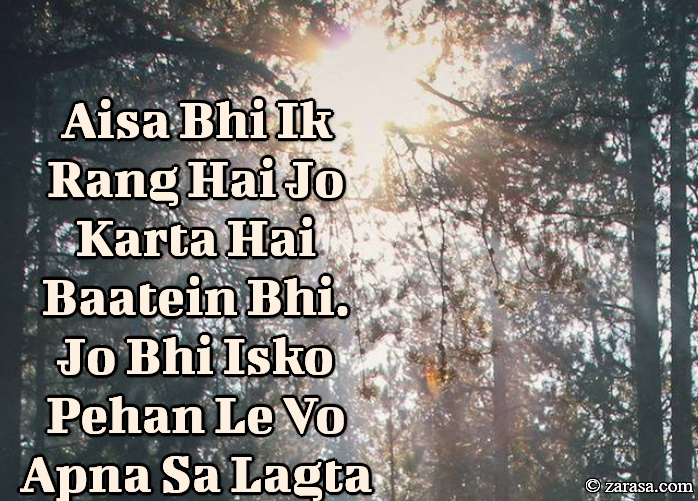 Aisa Bhi Ik Rang Hai Jo Karta Hai Baatein Bhi.
Jo Bhi Isko Pehan Le Vo Apna Sa Lagta Hai.
ऐसा भी इक रंग है जो करता है बातें भी .
जो भी इसको पहन ले वो अपना सा लगता है .
ایسا بھی اک رنگ ہے جو کرتا ہے باتیں بھی .
جو بھی اسکو پہن لے وو اپنا سا لگتا ہے .
---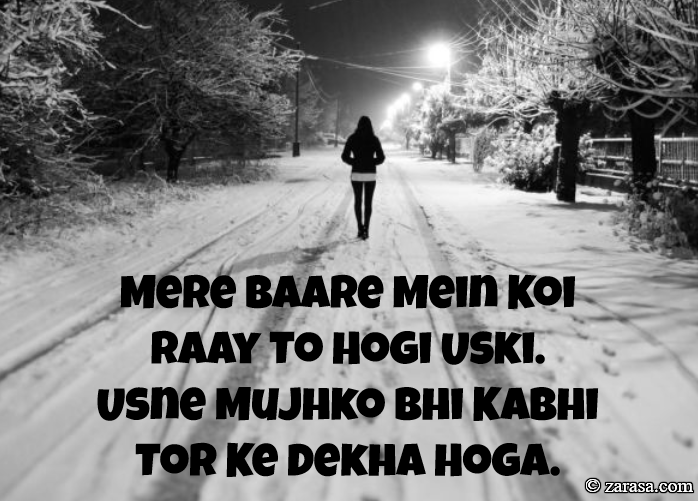 Mere Baare Mein Koi Raay To Hogi Uski.
Usne Mujhko Bhi Kabhi Tor Ke Dekha Hoga.
मेरे बारे में कोई राय तो होगी उसकी .
उसने मुझको भी कभी तोर के देखा होगा .
میرے بارے میں کوئی رہے تو ہوگی اسکی .
اسنے مجھکو بھی کبھی طور کے دیکھا ہوگا .
---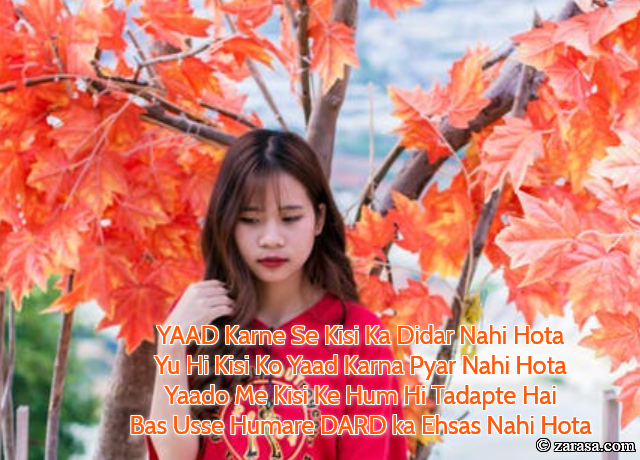 Yaad Karne Se Kisi Ka Didar Nahi Hota
Yu Hi Kisi Ko Yaad Karna Pyar Nahi Hota
Yaado Me Kisi Ke Hum Hi Tadapte Hai
Bas Usse Humare DARD ka Ehsas Nahi Hota
याद करने से किसी का दीदार नहीं होता
यु ही किसी को याद करना प्यार नहीं होता
यादो में किसी के हम ही तड़पते है
बस उससे हमारे दर्द का एहसास नहीं होता
یاد کرنے سے کسی کا دیدار ہوتا
یو ہی کسی کو یاد کرنا پیار نہیں ہوتا
یادو می کسی کے ہم ہی تداپتے ہے
بس اسے ہمارے درد کا احساس نہیں ہوتا
---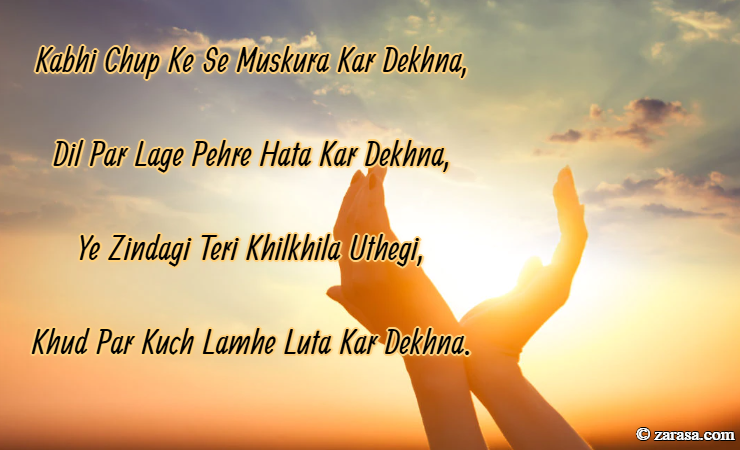 Kabhi Chup Ke Se Muskura Kar Dekhna,
Dil Par Lage Pehre Hata Kar Dekhna,
Ye Zindagi Teri Khilkhila Uthegi,
Khud Par Kuch Lamhe Luta Kar Dekhna.
क़भी चुपके से मुस्कुरा कर देखना,
दिल पर लगे पहरे हटा कर देख़ना,
ये ज़िन्दग़ी तेरी खिलखिला उठेगी,
ख़ुद पर कुछ लम्हें लुटा कर देखना|
کبھی چپکے سے مسکرا کر دیکھنا
دل پر لگے پھرے ہٹا کر دیکھنا
یہ زندگی تیری کھلکھلا اٹھےگی
خود پر کچھ لمحے لوٹا کر دیکھنا
---