Tanhai Shayari "Kuch Waqt"
|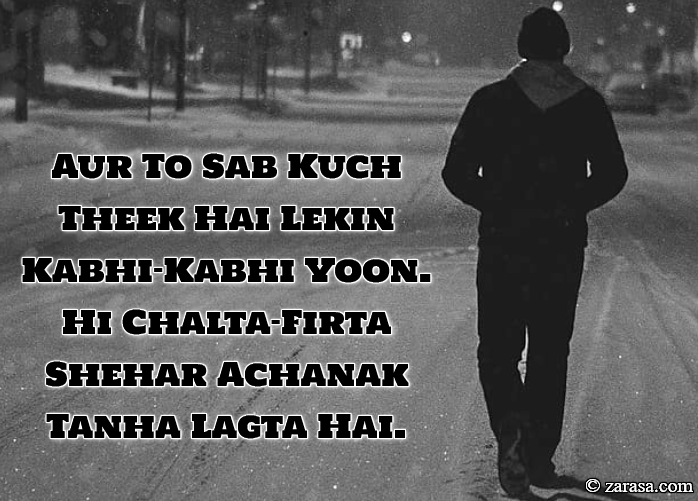 Aur To Sab Kuch Theek Hai Lekin Kabhi-Kabhi Yoon.
Hi Chalta-Firta Shehar Achanak Tanha Lagta Hai.
और तो सब कुछ ठीक है लेकिन कभी -कभी यूं .
ही चलता -फिरता शहर अचानक तनहा लगता है .
اور تو سب کچھ ٹھیک ہے لیکن کبھی - کبھی یوں .
ہی چلتا -فرتا شہر اچانک تنہا لگتا ہے .
---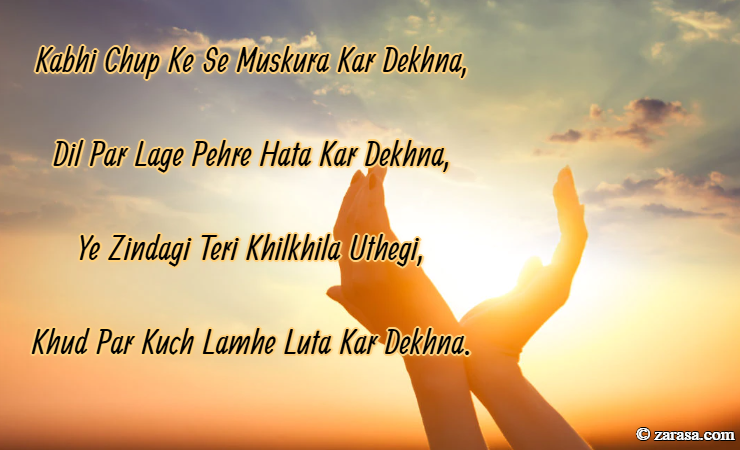 Kabhi Chup Ke Se Muskura Kar Dekhna,
Dil Par Lage Pehre Hata Kar Dekhna,
Ye Zindagi Teri Khilkhila Uthegi,
Khud Par Kuch Lamhe Luta Kar Dekhna.
क़भी चुपके से मुस्कुरा कर देखना,
दिल पर लगे पहरे हटा कर देख़ना,
ये ज़िन्दग़ी तेरी खिलखिला उठेगी,
ख़ुद पर कुछ लम्हें लुटा कर देखना|
کبھی چپکے سے مسکرا کر دیکھنا
دل پر لگے پھرے ہٹا کر دیکھنا
یہ زندگی تیری کھلکھلا اٹھےگی
خود پر کچھ لمحے لوٹا کر دیکھنا
---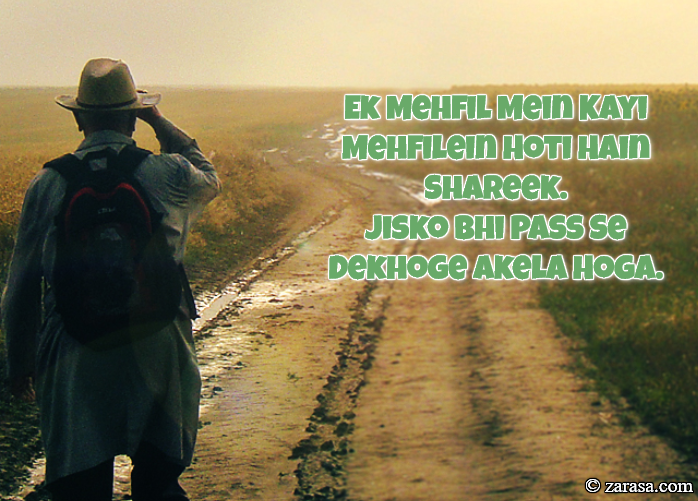 Ek Mehfil Mein Kayi Mehfilein Hoti Hain Shareek.
Jisko Bhi Pass Se Dekhoge Akela Hoga.
एक महफ़िल में कई महफ़िलें होती हैं शरीक .
जिसको भी पास से देखोगे अकेला होगा .
ایک محفل میں کی محفلیں ہوتی ہیں شریک .
جسکو بھی پاسس سے دیکھوگے اکیلا ہوگا .
---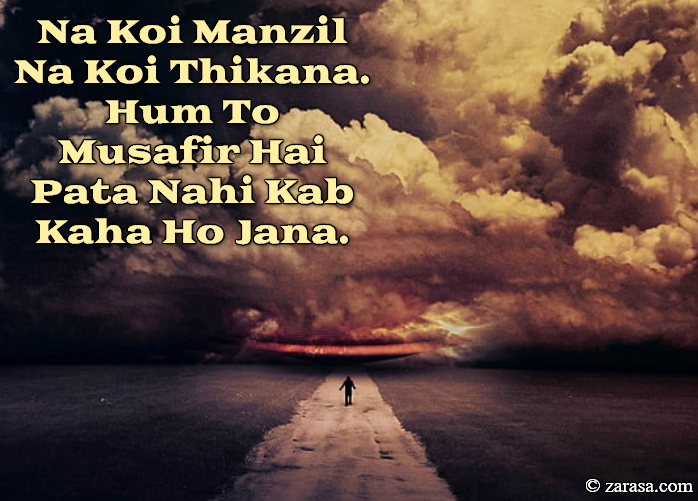 Na Koi Manzil Na Koi Thikana.
Hum To Musafir Hai Pata Nahi Kab Kaha Ho Jana.
ना कोई मंज़िल ना कोई ठिकाना .
हम तो मुसाफिर है पता नहीं कब कहा हो जाना .
نہ کوئی منزل نہ کوئی ٹھکانہ .
ہم تو مسافر ہے پتا نہیں کب کہا ہو جانا .
---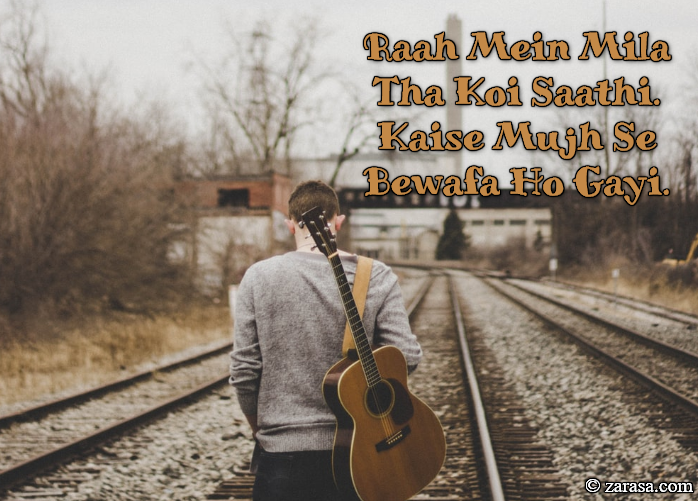 Raah Mein Mila Tha Koi Saathi.
Kaise Mujh Se Bewafa Ho Gayi.
राह में मिला था कोई साथी .
कैसे मुझ से बेवफा हो गयी .
راہ میں ملا تھا کوئی ساتھ .
کیسے مجھ سے بیوفا ہو گی .
---