Tanhai Shayari "Kaisi Aziyat Se Guzar Aaya"
|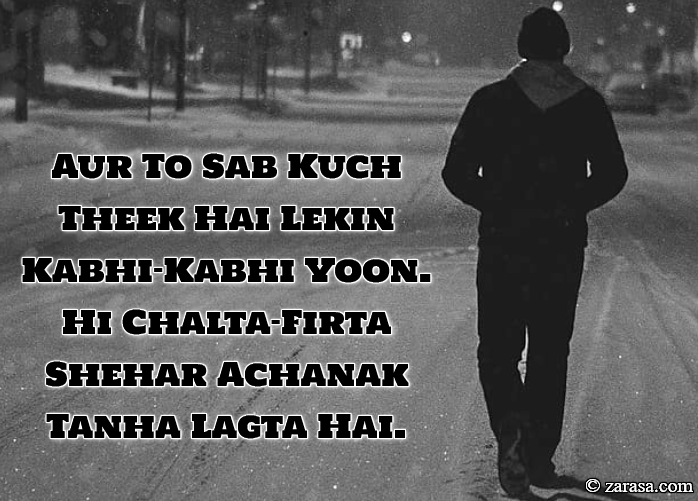 Aur To Sab Kuch Theek Hai Lekin Kabhi-Kabhi Yoon.
Hi Chalta-Firta Shehar Achanak Tanha Lagta Hai.
और तो सब कुछ ठीक है लेकिन कभी -कभी यूं .
ही चलता -फिरता शहर अचानक तनहा लगता है .
اور تو سب کچھ ٹھیک ہے لیکن کبھی - کبھی یوں .
ہی چلتا -فرتا شہر اچانک تنہا لگتا ہے .
---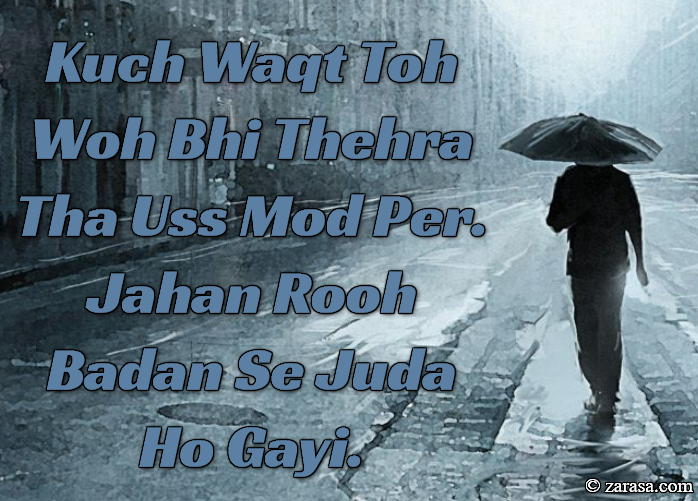 Kuch Waqt Toh Woh Bhi Thehra Tha Uss Mod Per.
Jahan Rooh Badan Se Juda Ho Gayi.
कुछ वक़्त तोह वह भी ठहरा था उस मोड़ पैर .
जहाँ रूह बदन से जुड़ा हो गयी .
کچھ وقت توہ وہ بھی ٹھہرا تھا اس موڈ پر .
جہاں روح بدن سے جدا ہو گی .
---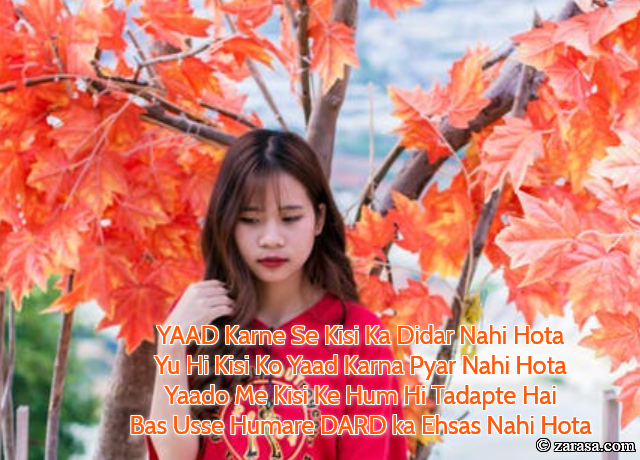 Yaad Karne Se Kisi Ka Didar Nahi Hota
Yu Hi Kisi Ko Yaad Karna Pyar Nahi Hota
Yaado Me Kisi Ke Hum Hi Tadapte Hai
Bas Usse Humare DARD ka Ehsas Nahi Hota
याद करने से किसी का दीदार नहीं होता
यु ही किसी को याद करना प्यार नहीं होता
यादो में किसी के हम ही तड़पते है
बस उससे हमारे दर्द का एहसास नहीं होता
یاد کرنے سے کسی کا دیدار ہوتا
یو ہی کسی کو یاد کرنا پیار نہیں ہوتا
یادو می کسی کے ہم ہی تداپتے ہے
بس اسے ہمارے درد کا احساس نہیں ہوتا
---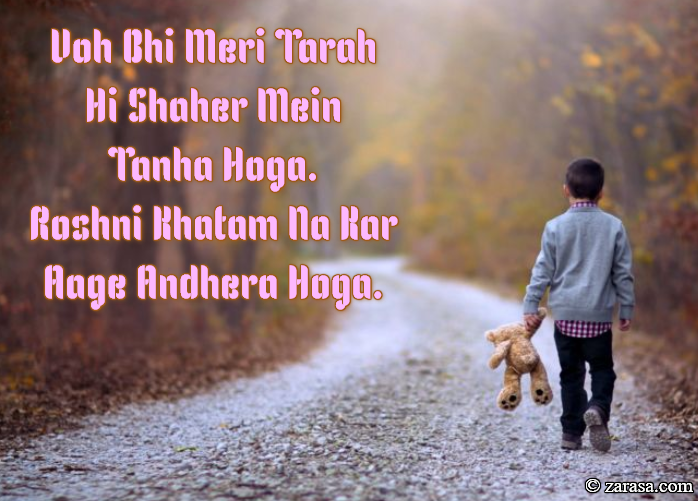 Voh Bhi Meri Tarah Hi Shaher Mein Tanha Hoga.
Roshni Khatam Na Kar Aage Andhera Hoga.
वोह भी मेरी तरह ही शहर में तनहा होगा .
रौशनी ख़तम ना कर आगे अँधेरा होगा .
وہ بھی میری طرح ہی شہر میں تنہا ہوگا .
روشنی ختم نہ کر آگے اندھیرا ہوگا .
---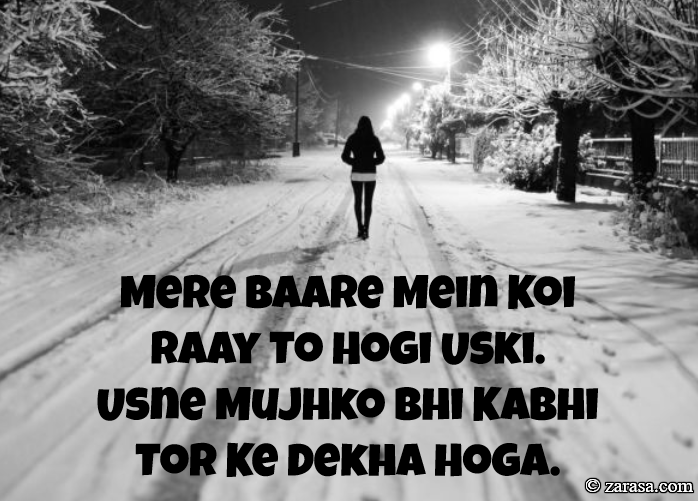 Mere Baare Mein Koi Raay To Hogi Uski.
Usne Mujhko Bhi Kabhi Tor Ke Dekha Hoga.
मेरे बारे में कोई राय तो होगी उसकी .
उसने मुझको भी कभी तोर के देखा होगा .
میرے بارے میں کوئی رہے تو ہوگی اسکی .
اسنے مجھکو بھی کبھی طور کے دیکھا ہوگا .
---