Tanziya Shayari "Fakhat Ke Is Khatir"
|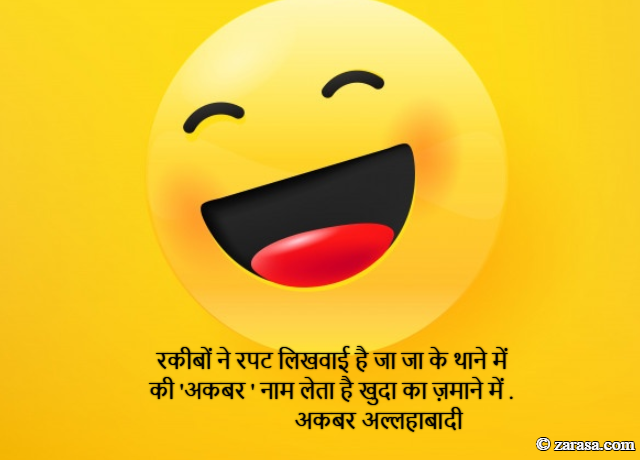 Raqueebon Ne Rapat Likhwai Hai Jaa Jaa Ke Thane Men
Ki 'Akbar' Naam Leta Hai Khuda Ka Zamane Men.
Akbar Allahabadi


रकीबों ने रपट लिखवाई है जा जा के थाने में
की 'अकबर ' नाम लेता है खुदा का ज़माने में .
                 अकबर अल्लहाबादी
رقیبوں نے رپٹ لکھوی ہے جا جا کے تانی میں
کی 'اکبر ' نام لیتا ہے خدا کا زمانے میں .
                 اکبر اللہآبادی
---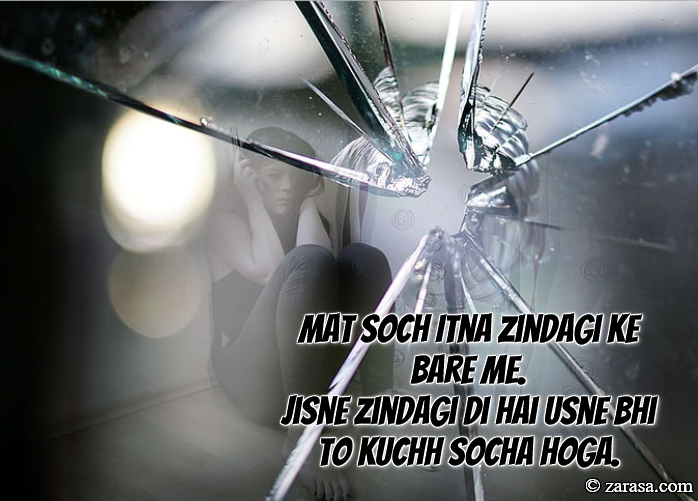 Mat Soch Itna Zindagi Ke Bare Me.
Jisne Zindagi Di Hai Usne Bhi To Kuchh Socha Hoga.
मत सोच इतना ज़िन्दगी के बारे में .
जिसने ज़िन्दगी दी है उसने भी तो कुछ सोचा होगा .
مت سوچ اتنا زندگی کے بارے مے .
جسنے زندگی دی ہے اسنے بھی تو کچھ سوچا ہوگا .
---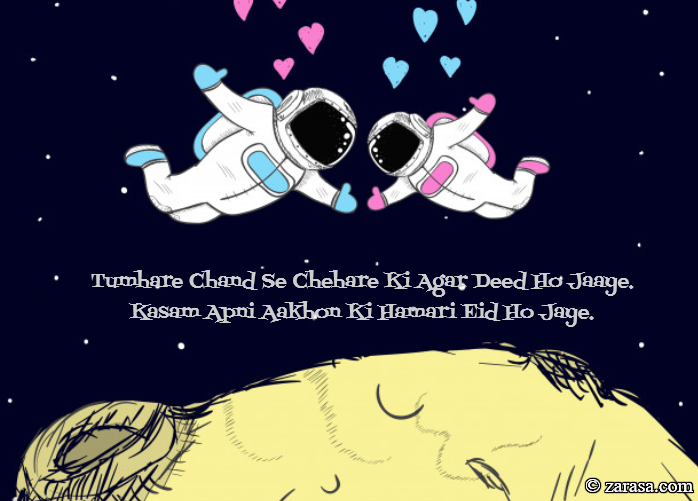 Tumhare Chand Se Chehare Ki Agar Deed Ho Jaaye.
Kasam Apni Aakhon Ki Hamari Eid Ho Jaye.
तुम्हारे चाँद से चहरे की अगर दीड हो जाए .
कसम अपनी आखों की हमारी ईद हो जाये .
تمہارے چند سے چہرے کی اگر دید ہو جائے .
کسم اپنی اخون کی ہماری عید ہو جائے .
---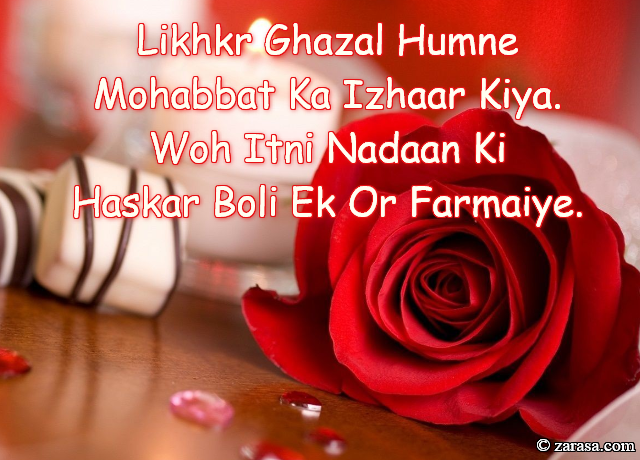 Likhkr Ghazal Humne Mohabbat Ka Izhaar Kiya.
Woh Itni Nadaan Ki Haskar Boli Ek Or Farmaiye.
लिखकर ग़ज़ल हमने मोहब्बत का इज़्हार किया .
वह इतनी नादान की हसकर बोली एक और फरमाइए .
لکھکر غزل ہمنے موحبّت کا اظہار کیا .
وہ اتنی ناداں کی حسکر بولی ایک اور فرمائے .
---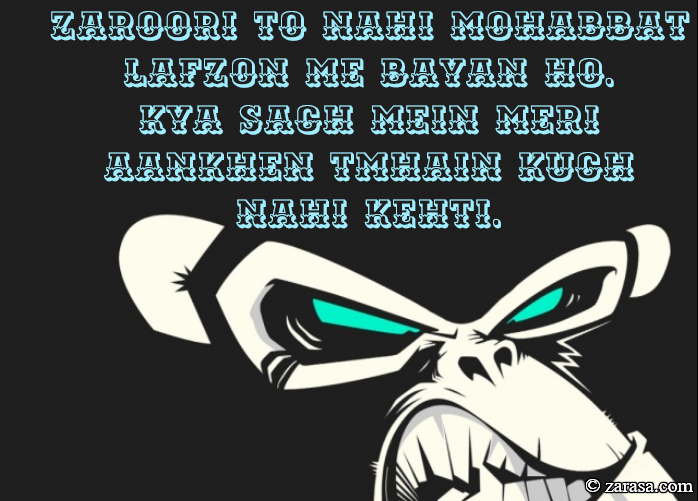 Zaroori To Nahi Mohabbat Lafzon Me Bayan Ho.
Kya Sach Mein Meri Aankhen Tmhain Kuch Nahi Kehti.
ज़रूरी तो नहीं मोहब्बत लफ़्ज़ों में बयां हो .
क्या सच में मेरी आँखें तम्हें कुछ नहीं कहती .

ضروری تو نہیں موحبّت لفظوں مے بیان ہو .
کیا سچ میں میری آنکھیں تمہیں کچھ نہیں کہتی .

---