Tanziya Shayari "Main Apni Mohabbat Me"
|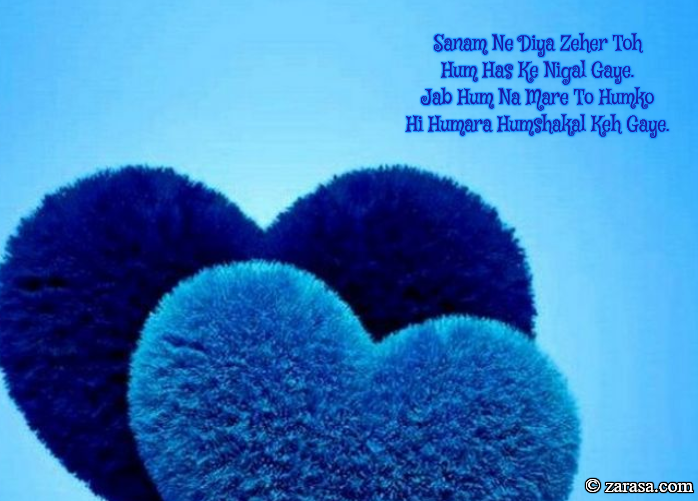 Sanam Ne Diya Zeher Toh Hum Has Ke Nigal Gaye.
Jab Hum Na Mare To Humko Hi Humara Humshakal Keh Gaye.
सनम ने दिया ज़हर तोह हम है के निगल गए .
जब हम ना मारे तो हमको ही हमारा हमशकल कह गए .
صنم نے دیا زہر ٹوہ ہم حس کے نگل گئے .
جب ہم نہ مارے تو ہمکو ہی ہمارا ہمشکل کہ گئے .
---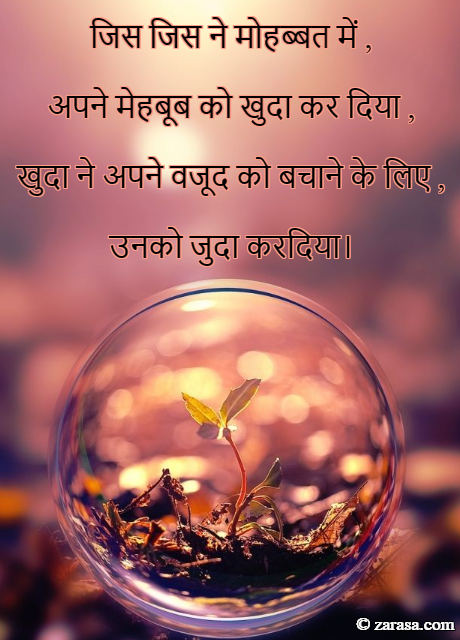 Jis Jis Ne Mohabbat Mai,
Apne Mehboob Ko Khuda Kar Diya ,
Khuda Ne Apne Wajud Ko Bachane Ke Liye ,
Unko Juda Kr Diya.
जिस जिस ने मोहब्बत में ,
अपने मेहबूब को खुदा कर दिया ,
खुदा ने अपने वजूद को बचाने के लिए ,
उनको जुदा करदिया।
جس جس نے موحبّت می
اپنے محبوب کو خدا کر دیا
خدا نے اپنے وجود کو بچانے کے لئے
انکو جودا کر دیا
---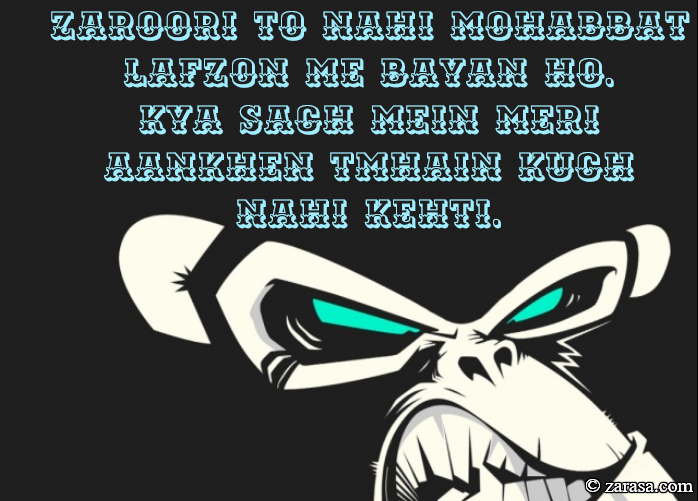 Zaroori To Nahi Mohabbat Lafzon Me Bayan Ho.
Kya Sach Mein Meri Aankhen Tmhain Kuch Nahi Kehti.
ज़रूरी तो नहीं मोहब्बत लफ़्ज़ों में बयां हो .
क्या सच में मेरी आँखें तम्हें कुछ नहीं कहती .

ضروری تو نہیں موحبّت لفظوں مے بیان ہو .
کیا سچ میں میری آنکھیں تمہیں کچھ نہیں کہتی .

---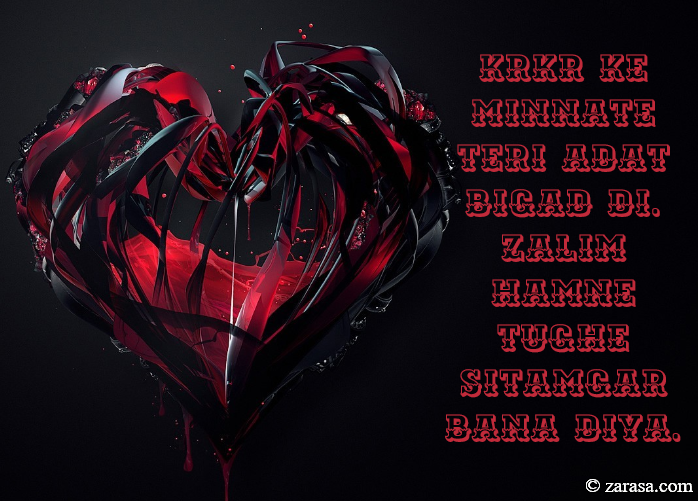 Krkr Ke Minnate Teri Adat Bigad Di.
Zalim Hamne Tughe Sitamgar Bana Diya.
करकर के मिन्नतें तेरी आदत बिगड़ दी .
ज़ालिम हमने तुझे सितमगर बना दिया .
کرکر کے منناتے تیری عادت بگد دی .
ظالم ہمنے تجھے ستمگر بنا دیا .
---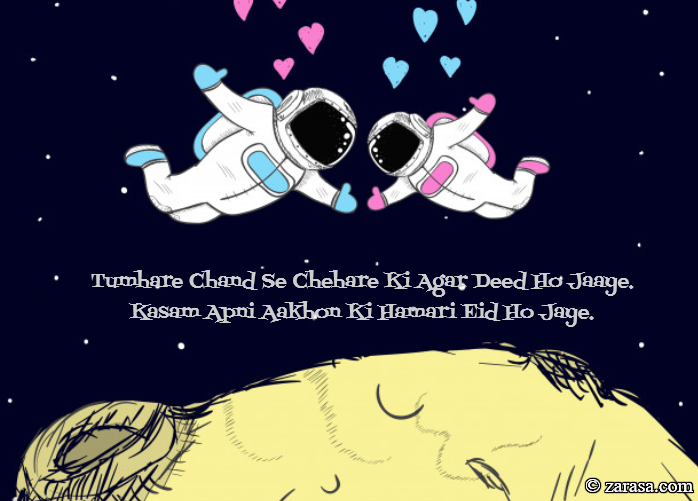 Tumhare Chand Se Chehare Ki Agar Deed Ho Jaaye.
Kasam Apni Aakhon Ki Hamari Eid Ho Jaye.
तुम्हारे चाँद से चहरे की अगर दीड हो जाए .
कसम अपनी आखों की हमारी ईद हो जाये .
تمہارے چند سے چہرے کی اگر دید ہو جائے .
کسم اپنی اخون کی ہماری عید ہو جائے .
---