Tanziya Shayari "Main Apni Mohabbat Me"
|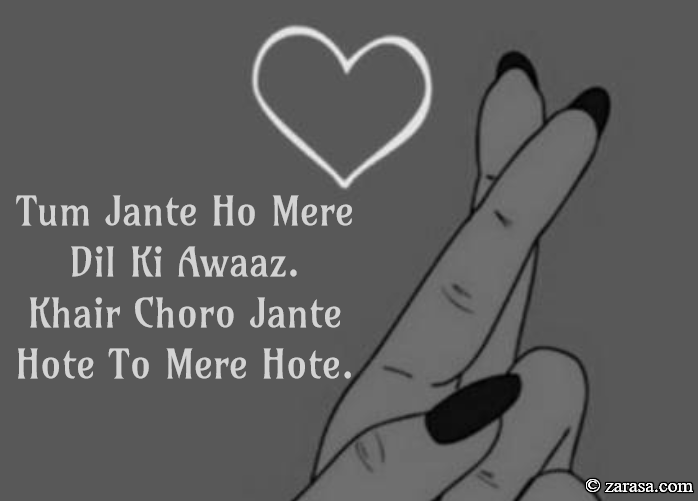 Tum Jante Ho Mere Dil Ki Awaaz.
Khair Choro Jante Hote To Mere Hote.
तुम जानते हो मेरे दिल की आवाज़ .
खैर चोरो जानते होते तो मेरे होते .
تم جانتے ہو میرے دل کی آواز .
خیر چھوڑو جانتے ہوتے تو میرے ہوتے .
---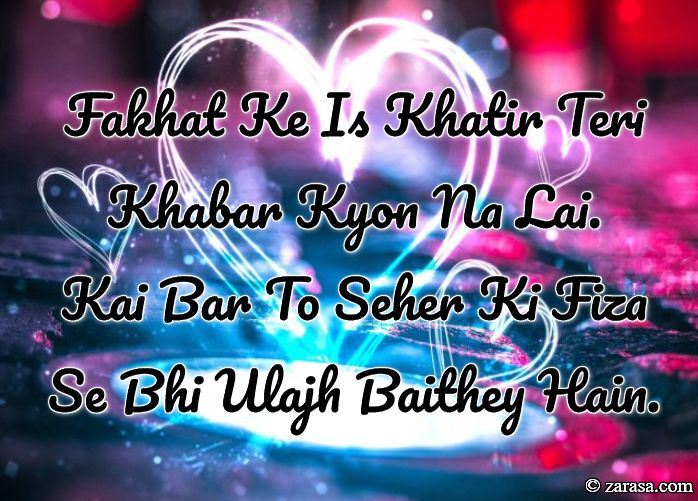 Fakhat Ke Is Khatir Teri Khabar Kyon Na Lai.
Kai Bar To Seher Ki Fiza Se Bhi Ulajh Baithey Hain.
फखत के इस खातिर तेरी खबर क्यों ना ले .
कई बार तो सेहर की फ़िज़ा से भी उलझ बैठे हैं .
فاخت کے اس خاطر تیری خبر کیوں نہ لی .
کی بار تو سہر کی فضا سے بھی الجھ بیٹھے ہیں .
---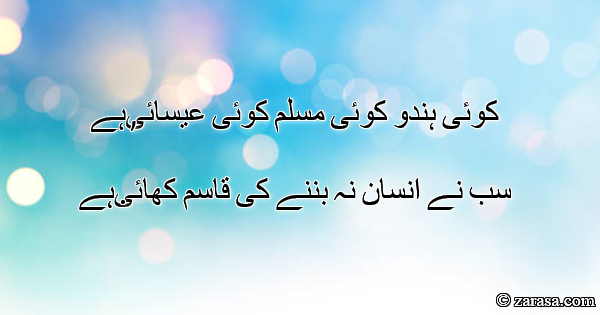 Koi Hindu Koi Muslim Koi Isai Hai,
Sab Ne Insan Na Banne Ki Quasam Khaai Hai.


कोई हिन्दू कोई मुस्लिम कोई ईसाई है,
सब ने इंसान न बनने की कसम खाई है.
کوئی ہندو کوئی مسلم کوئی عیسائی ہے ,
سب نے انسان نہ بننے کی قاسم کھائی ہے .
---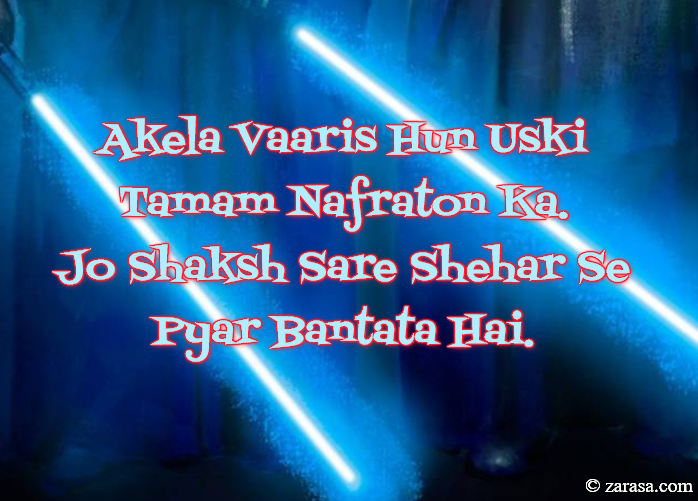 Akela Vaaris Hun Uski Tamam Nafraton Ka.
Jo Shaksh Sare Shehar Se Pyar Bantata Hai.
अकेला वारिस हूँ उसकी तमाम नफरतों का .
जो शक्श सरे शहर से प्यार बांटता है .
اکیلا وارث ہوں اسکی تمام نفرتوں کا .
جو شکش سارے شہر سے پیار بانٹتا ہے .
---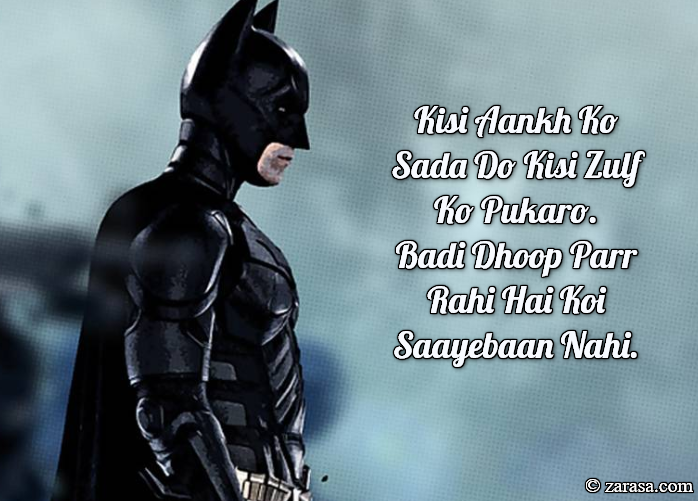 Kisi Aankh Ko Sada Do Kisi Zulf Ko Pukaro.
Badi Dhoop Parr Rahi Hai Koi Saayebaan Nahi.
किसी आँख को सदा दो किसी ज़ुल्फ़ को पुकारो .
बड़ी धुप पर रही है कोई सायबान नाही .
کسی آنکھ کو سادہ دو کسی زلف کو پکارو .
بدی دھوپ پرر رہی ہے کوئی ساےبان نہیں .
---