Tanziya Shayari "Main Apni Mohabbat Me"
|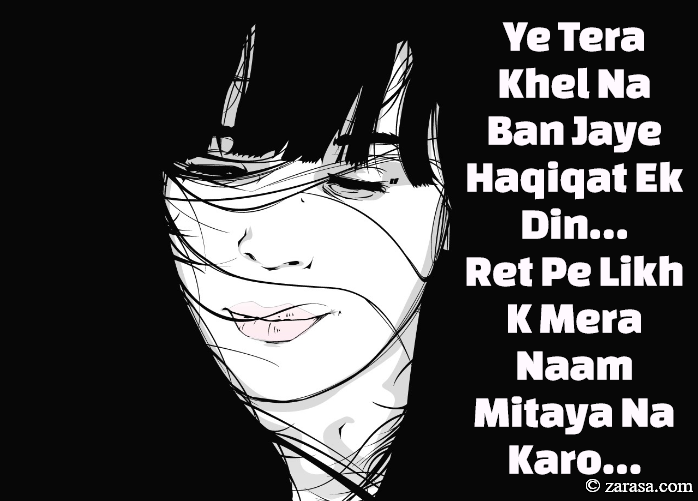 Ye Tera Khel Na Ban Jaye Haqiqat Ek Din…
Ret Pe Likh K Mera Naam Mitaya Na Karo…
ये तेरा खेल न बन जाये हक़ीक़त एक दिन …
रेट पे लिख क मेरा नाम मिटाया ना करो …
یہ تیرا کھل نہ بن جائے حقیقت ایک دن …
ریت پی لکھ کے میرا نام مٹایا نہ کرو …
---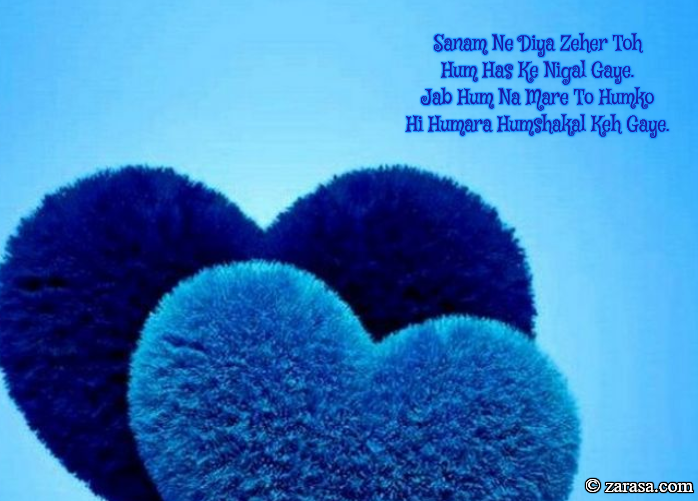 Sanam Ne Diya Zeher Toh Hum Has Ke Nigal Gaye.
Jab Hum Na Mare To Humko Hi Humara Humshakal Keh Gaye.
सनम ने दिया ज़हर तोह हम है के निगल गए .
जब हम ना मारे तो हमको ही हमारा हमशकल कह गए .
صنم نے دیا زہر ٹوہ ہم حس کے نگل گئے .
جب ہم نہ مارے تو ہمکو ہی ہمارا ہمشکل کہ گئے .
---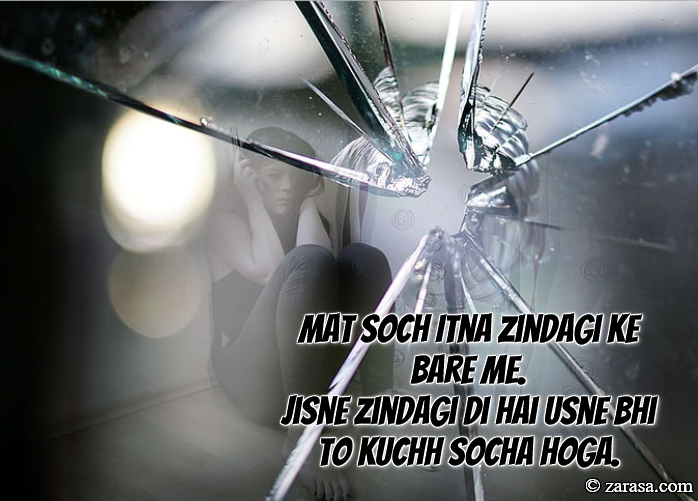 Mat Soch Itna Zindagi Ke Bare Me.
Jisne Zindagi Di Hai Usne Bhi To Kuchh Socha Hoga.
मत सोच इतना ज़िन्दगी के बारे में .
जिसने ज़िन्दगी दी है उसने भी तो कुछ सोचा होगा .
مت سوچ اتنا زندگی کے بارے مے .
جسنے زندگی دی ہے اسنے بھی تو کچھ سوچا ہوگا .
---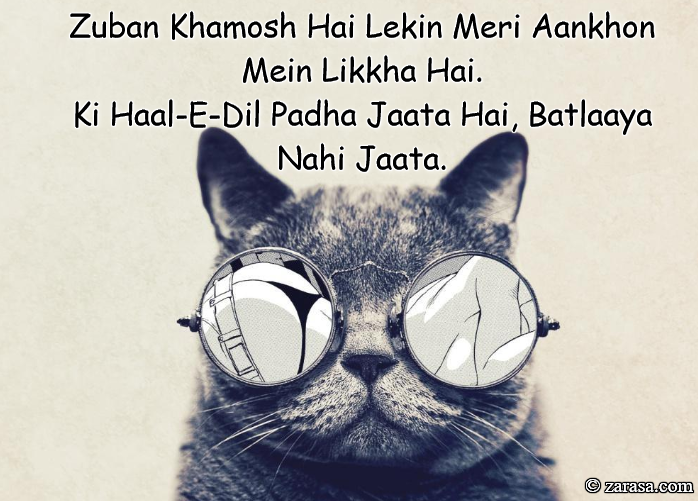 Zuban Khamosh Hai Lekin Meri Aankhon Mein Likkha Hai.
Ki Haal-E-Dil Padha Jaata Hai, Batlaaya Nahi Jaata.
ज़ुबान खामोश है लेकिन मेरी आँखों में लिखा है .
की हाल -इ -दिल पढ़ा जाता है , बतलाया नहीं जाता .
زبان خاموش ہے لیکن میری آنکھوں میں لکّھا ہے .
کی حال -ا -دل پڑھا جاتا ہے , بتلایا نہیں جاتا .
---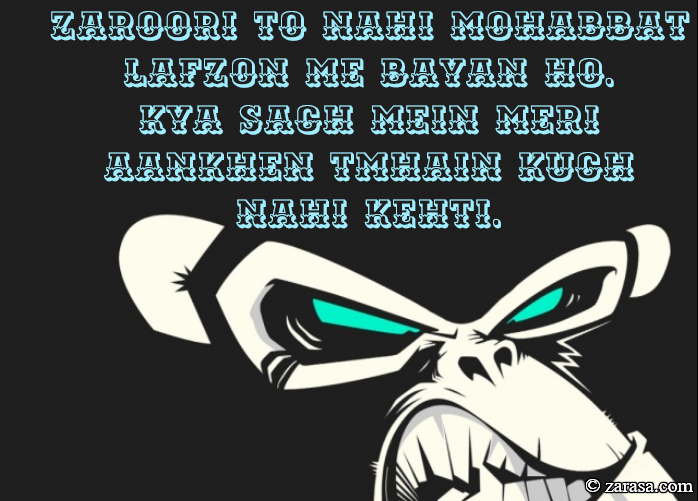 Zaroori To Nahi Mohabbat Lafzon Me Bayan Ho.
Kya Sach Mein Meri Aankhen Tmhain Kuch Nahi Kehti.
ज़रूरी तो नहीं मोहब्बत लफ़्ज़ों में बयां हो .
क्या सच में मेरी आँखें तम्हें कुछ नहीं कहती .

ضروری تو نہیں موحبّت لفظوں مے بیان ہو .
کیا سچ میں میری آنکھیں تمہیں کچھ نہیں کہتی .

---