Tanziya Shayari "Main Apni Mohabbat Me"
|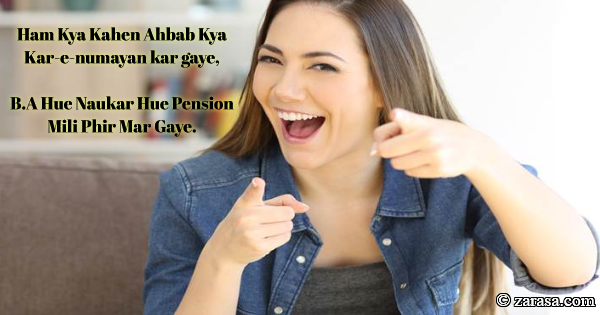 Ham Kya Kahen Ahbab Kya Kar-e-numayan kar gaye,
B.A Hue Naukar Hue Pension Mili Phir Mar Gaye.

           











हम क्या कहें अहबाब क्या कर -ए -नुमायां कर गए ,
B.A हुए नौकर हुए पेंशन मिली फिर मर गए .



ہم کیا کہیں احباب کیا کر-ے- نمایاں کر گئے ,
بی .اے ہوئے نوکر ہوئے پنشن ملی پھر مر گئے .


           
---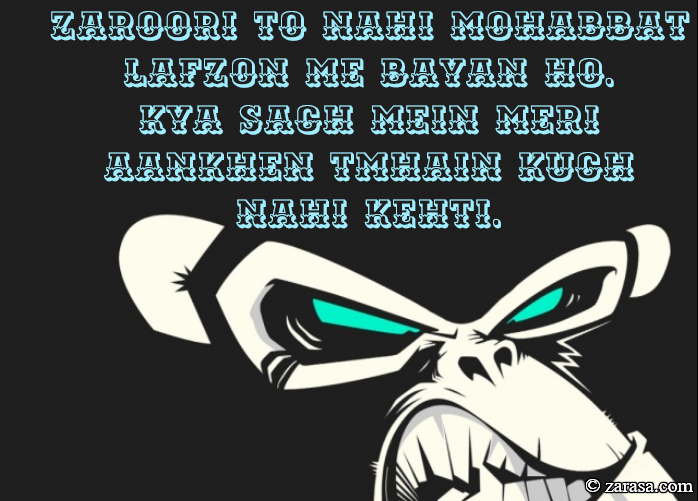 Zaroori To Nahi Mohabbat Lafzon Me Bayan Ho.
Kya Sach Mein Meri Aankhen Tmhain Kuch Nahi Kehti.
ज़रूरी तो नहीं मोहब्बत लफ़्ज़ों में बयां हो .
क्या सच में मेरी आँखें तम्हें कुछ नहीं कहती .

ضروری تو نہیں موحبّت لفظوں مے بیان ہو .
کیا سچ میں میری آنکھیں تمہیں کچھ نہیں کہتی .

---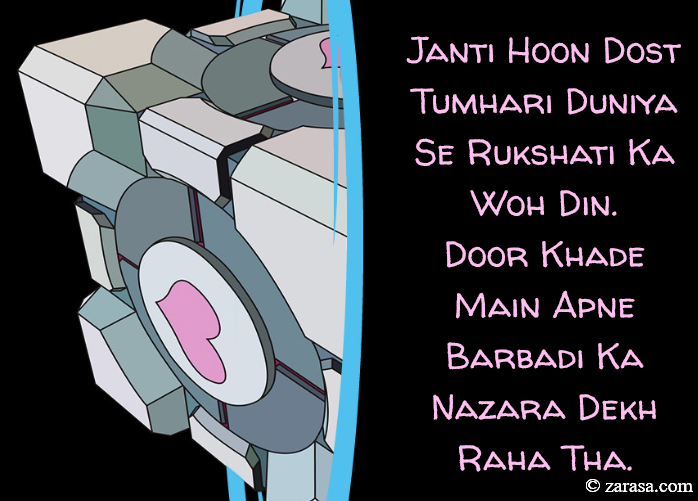 Janti Hoon Dost Tumhari Duniya Se Rukshati Ka Woh Din.
Door Khade Main Apne Barbadi Ka Nazara Dekh Raha Tha.
जानती हूँ दोस्त तुम्हारी दुनिया से रुक्षती का वह दिन .
दूर खड़े मैं अपने बर्बादी का नज़ारा देख रहा था .
جانتی ہوں دوست تمہاری دنیا سے رکشاتی کا وہ دن .
دور کھڈے میں اپنے بربادی کا نظارہ دیکھ رہا تھا .
---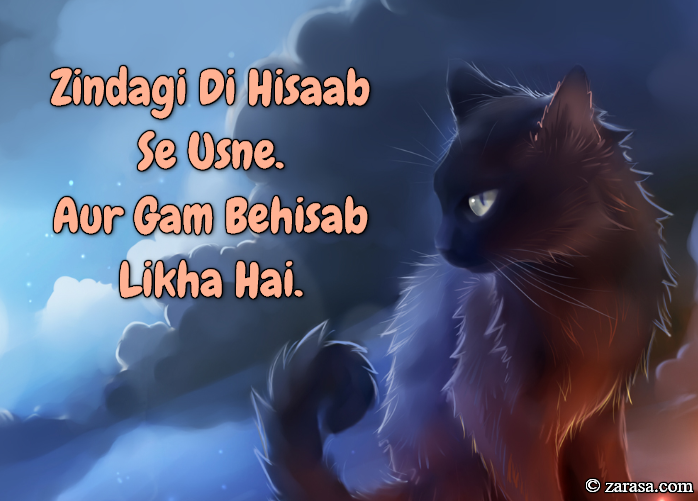 Zindagi Di Hisaab Se Usne.
Aur Gam Behisab Likha Hai.
ज़िन्दगी दी हिसाब से उसने .
और गम बेहिसाब लिखा है .


زندگی دی حساب سے اسنے .
اور گم بحسب لکھا ہے .


---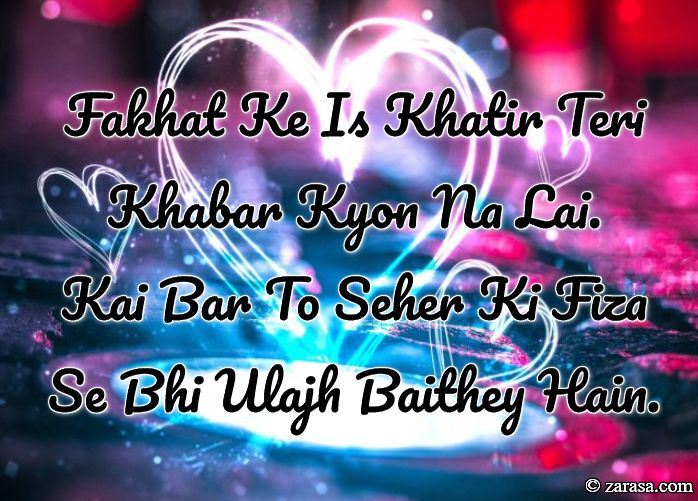 Fakhat Ke Is Khatir Teri Khabar Kyon Na Lai.
Kai Bar To Seher Ki Fiza Se Bhi Ulajh Baithey Hain.
फखत के इस खातिर तेरी खबर क्यों ना ले .
कई बार तो सेहर की फ़िज़ा से भी उलझ बैठे हैं .
فاخت کے اس خاطر تیری خبر کیوں نہ لی .
کی بار تو سہر کی فضا سے بھی الجھ بیٹھے ہیں .
---