Tanziya Shayari "Krkr Ke Minnate"
|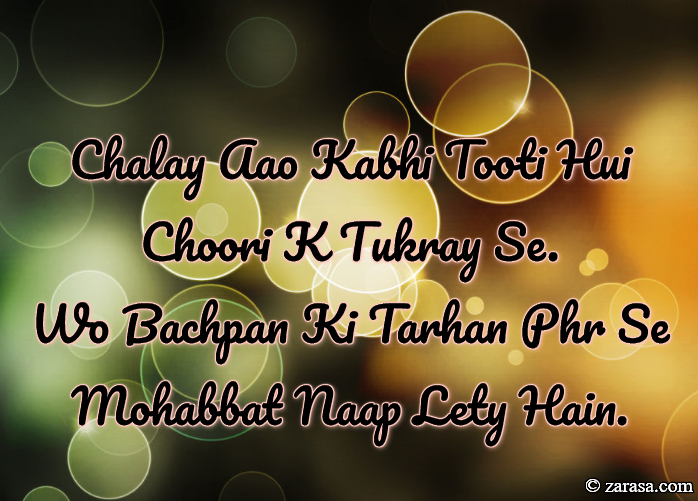 Chalay Aao Kabhi Tooti Hui Choori K Tukray Se.
Wo Bachpan Ki Tarhan Phr Se Mohabbat Naap Lety Hain.
चले आओ कभी टूटी हुई चोरी के टुकड़े से .
वो बचपन की तर्हां पहर से मोहब्बत नाप लेती हैं .
چلے او کبھی ٹوٹی ہی چوری ک ٹکڑے سے .
وو بچپن کی ترہان پھر سے موہبت ناپ لٹے ہیں .
---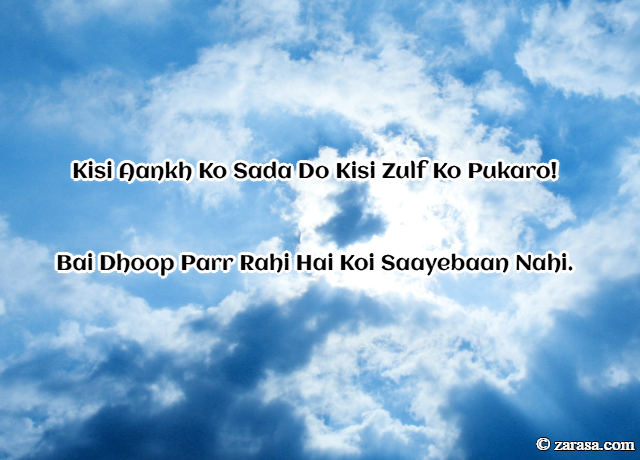 Kisi Aankh Ko Sada Do Kisi Zulf Ko Pukaro!
Bai Dhoop Parr Rahi Hai Koi Saayebaan Nahi.
किसी आँख को सदा दो किसी ज़ुल्फ़ को पुकारो !
बर्री धुप पढ़ रही है कोई सायबान नहीं .
کسی آنکھ کو سادہ دو کسی زلف کو پکارو !
برری دھوپ پڑھ رہی ہے کوئی ساےبان نہیں.
---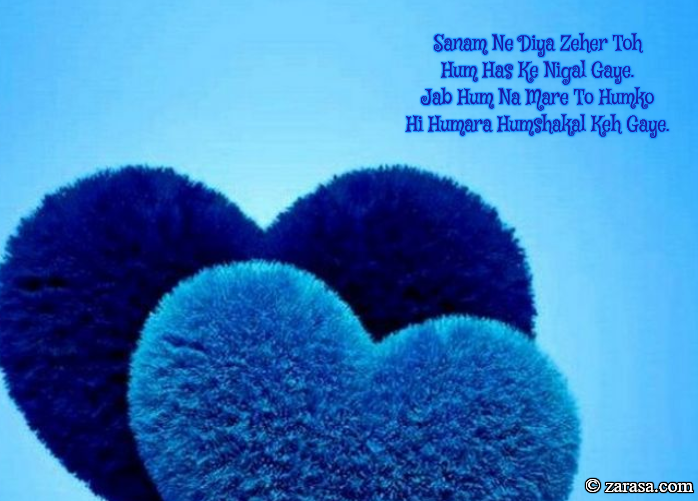 Sanam Ne Diya Zeher Toh Hum Has Ke Nigal Gaye.
Jab Hum Na Mare To Humko Hi Humara Humshakal Keh Gaye.
सनम ने दिया ज़हर तोह हम है के निगल गए .
जब हम ना मारे तो हमको ही हमारा हमशकल कह गए .
صنم نے دیا زہر ٹوہ ہم حس کے نگل گئے .
جب ہم نہ مارے تو ہمکو ہی ہمارا ہمشکل کہ گئے .
---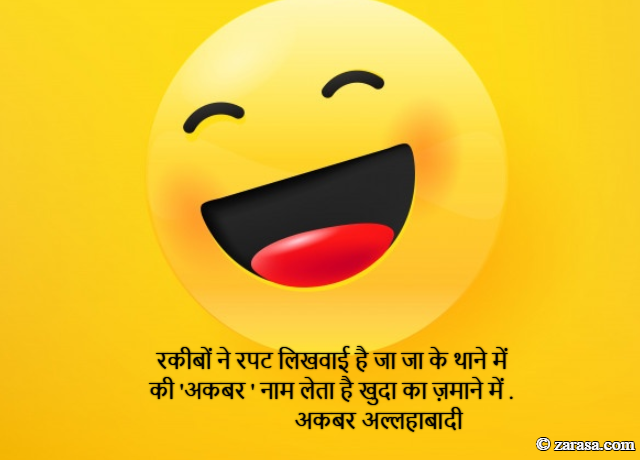 Raqueebon Ne Rapat Likhwai Hai Jaa Jaa Ke Thane Men
Ki 'Akbar' Naam Leta Hai Khuda Ka Zamane Men.
Akbar Allahabadi


रकीबों ने रपट लिखवाई है जा जा के थाने में
की 'अकबर ' नाम लेता है खुदा का ज़माने में .
                 अकबर अल्लहाबादी
رقیبوں نے رپٹ لکھوی ہے جا جا کے تانی میں
کی 'اکبر ' نام لیتا ہے خدا کا زمانے میں .
                 اکبر اللہآبادی
---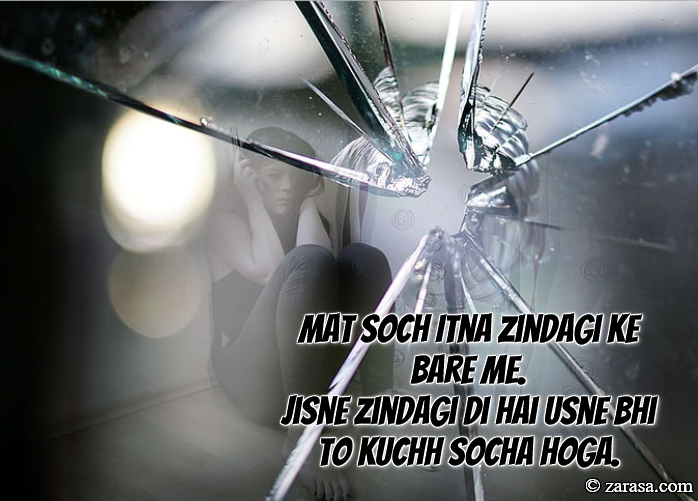 Mat Soch Itna Zindagi Ke Bare Me.
Jisne Zindagi Di Hai Usne Bhi To Kuchh Socha Hoga.
मत सोच इतना ज़िन्दगी के बारे में .
जिसने ज़िन्दगी दी है उसने भी तो कुछ सोचा होगा .
مت سوچ اتنا زندگی کے بارے مے .
جسنے زندگی دی ہے اسنے بھی تو کچھ سوچا ہوگا .
---