Tanziya Shayari "Krkr Ke Minnate"
|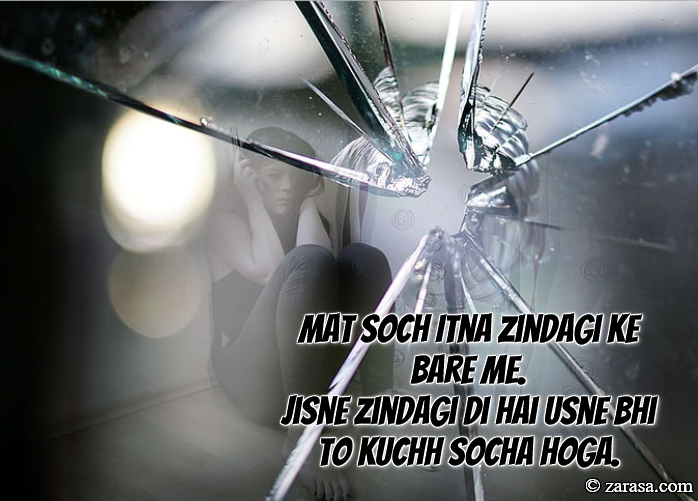 Mat Soch Itna Zindagi Ke Bare Me.
Jisne Zindagi Di Hai Usne Bhi To Kuchh Socha Hoga.
मत सोच इतना ज़िन्दगी के बारे में .
जिसने ज़िन्दगी दी है उसने भी तो कुछ सोचा होगा .
مت سوچ اتنا زندگی کے بارے مے .
جسنے زندگی دی ہے اسنے بھی تو کچھ سوچا ہوگا .
---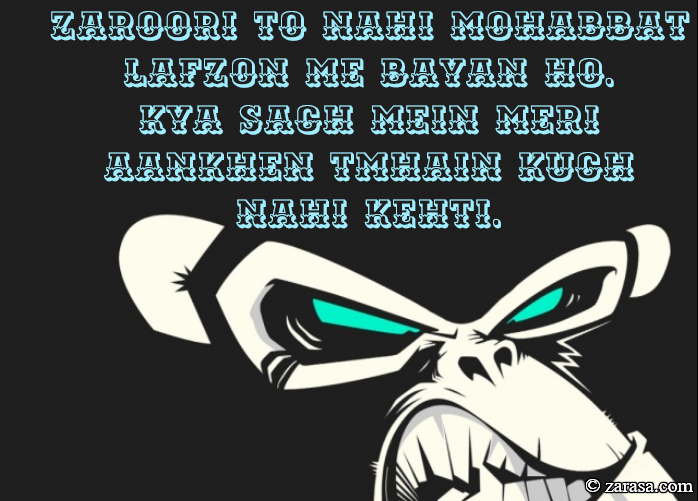 Zaroori To Nahi Mohabbat Lafzon Me Bayan Ho.
Kya Sach Mein Meri Aankhen Tmhain Kuch Nahi Kehti.
ज़रूरी तो नहीं मोहब्बत लफ़्ज़ों में बयां हो .
क्या सच में मेरी आँखें तम्हें कुछ नहीं कहती .

ضروری تو نہیں موحبّت لفظوں مے بیان ہو .
کیا سچ میں میری آنکھیں تمہیں کچھ نہیں کہتی .

---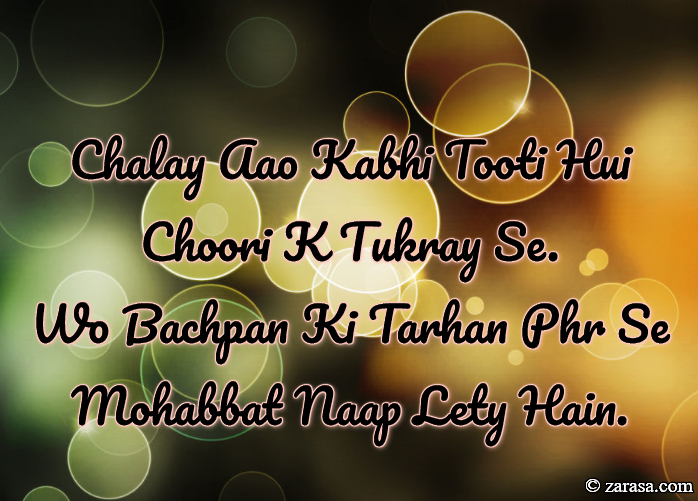 Chalay Aao Kabhi Tooti Hui Choori K Tukray Se.
Wo Bachpan Ki Tarhan Phr Se Mohabbat Naap Lety Hain.
चले आओ कभी टूटी हुई चोरी के टुकड़े से .
वो बचपन की तर्हां पहर से मोहब्बत नाप लेती हैं .
چلے او کبھی ٹوٹی ہی چوری ک ٹکڑے سے .
وو بچپن کی ترہان پھر سے موہبت ناپ لٹے ہیں .
---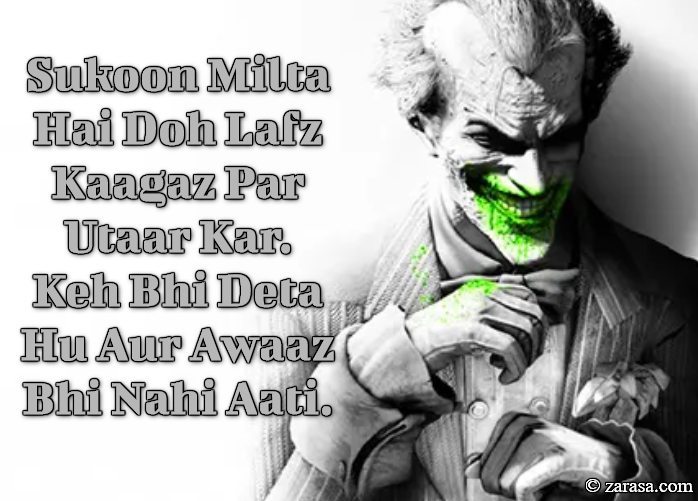 Sukoon Milta Hai Doh Lafz Kaagaz Par Utaar Kar.
Keh Bhi Deta Hu Aur Awaaz Bhi Nahi Aati.
सुकून मिलता है दो लफ्ज़ कागज़ पर उतार कर .
कह भी देता हु और आवाज़ भी नहीं आती .
سکون ملتا ہے دوہ لفظ کاگز پر اتار کر .
کہ بھی دیتا ہو اور آواز بھی نہیں آتی .
---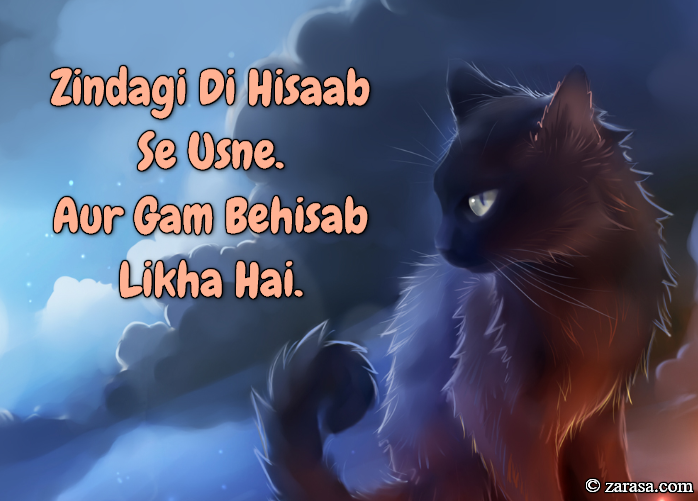 Zindagi Di Hisaab Se Usne.
Aur Gam Behisab Likha Hai.
ज़िन्दगी दी हिसाब से उसने .
और गम बेहिसाब लिखा है .


زندگی دی حساب سے اسنے .
اور گم بحسب لکھا ہے .


---