Shayari for Country "Hum Sirf Hindustani Hain"
|
Naa Poochho Zamaney Ko Kya Hamari Kahani Hain.
Hamari Pehchaan To Sirf Ye Hai Ki Hum Sirf Hindustani Hain.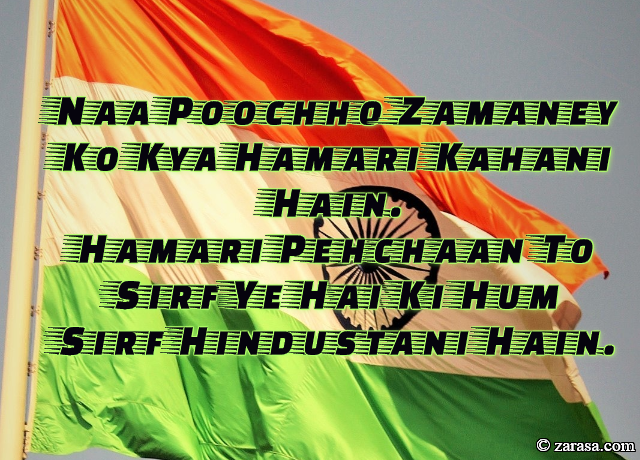 ---

ना पूछो ज़माने को क्या हमारी कहानी हैं .
हमारी पहचान तो सिर्फ ये है की हम सिर्फ हिंदुस्तानी हैं .


---

نا پوچھو زمانے کو کیا ہماری کہانی ہیں .
ہماری پہچان تو صرف یہ ہے کی ہم صرف ہندوستانی ہیں .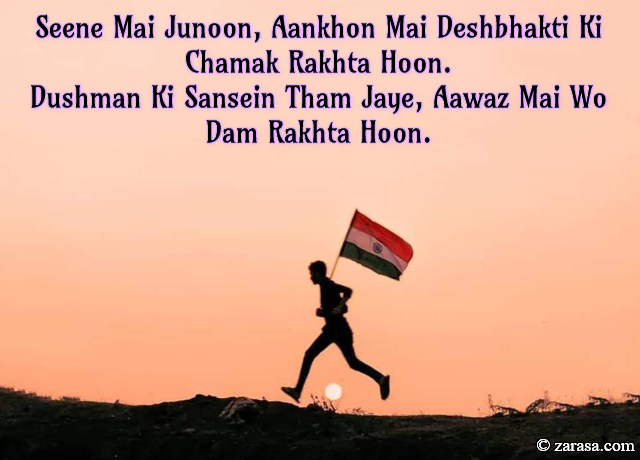 Seene Mai Junoon, Aankhon Mai Deshbhakti Ki Chamak Rakhta Hoon.
Dushman Ki Sansein Tham Jaye, Aawaz Mai Wo Dam Rakhta Hoon.
सीने मैं जूनून , आँखों मैं देशभक्ति की चमक रखता हूँ .
दुश्मन की सांसें थम जाये , आवाज़ मैं वो दम रखता हूँ .
سینے می جنوں , آنکھوں می دشبھکتی کی چمک رکھتا ہوں .
دشمن کی سانسیں تھام جائے , آواز می وو ڈیم رکھتا ہوں .
---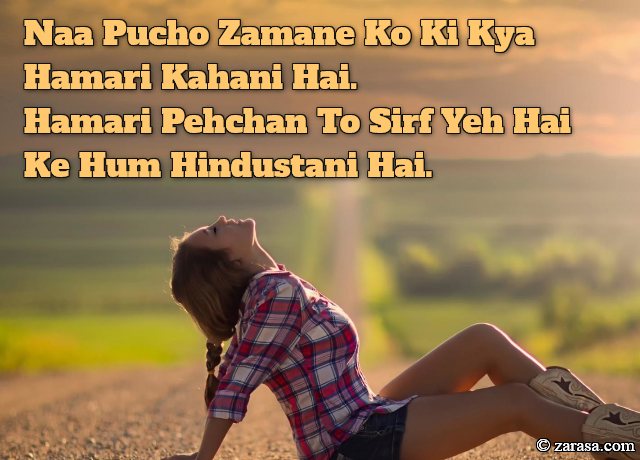 Naa Pucho Zamane Ko Ki Kya Hamari Kahani Hai.
Hamari Pehchan To Sirf Yeh Hai Ke Hum Hindustani Hai.
ना पूछो ज़माने को की क्या हमारी कहानी है .
हमारी पहचान तो सिर्फ यह है के हम हिंदुस्तानी है .
نا پوچھو زمانے کو کی کیا ہماری کہانی ہے .
ہماری پہچان تو صرف یہ ہے کے ہم ہندوستانی ہے .
---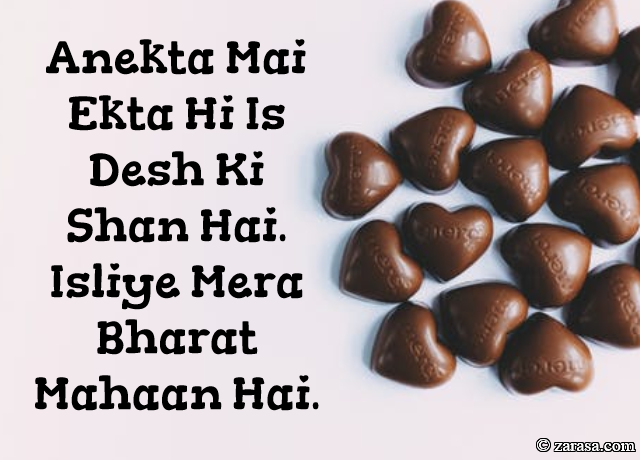 Anekta Mai Ekta Hi Is Desh Ki Shan Hai.
Isliye Mera Bharat Mahaan Hai.
अनेकता मैं एकता ही इस देश की शान है .
इसलिए मेरा भारत महान है .
انیکتا می ایکتا ہی اس دیش کی شان ہے .
اسلئے میرا بھارت مہان ہے .
---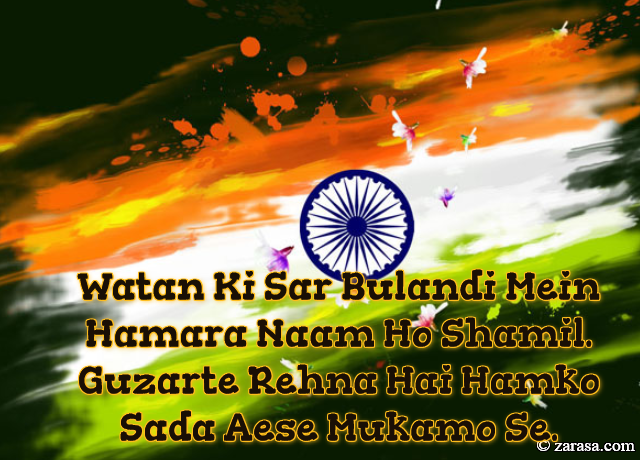 Watan Ki Sar Bulandi Mein Hamara Naam Ho Shamil.
Guzarte Rehna Hai Hamko Sada Aese Mukamo Se.
वतन की सर बुलंदी में हमारा नाम हो शामिल .
गुज़रते रहना है हमको सदा ऐसे मुकामो से .
وطن کی سر بلندی میں ہمارا نام ہو شامل .
گزرتے رہنا ہے ہمکو سدہ ایسے مکمو سے .
---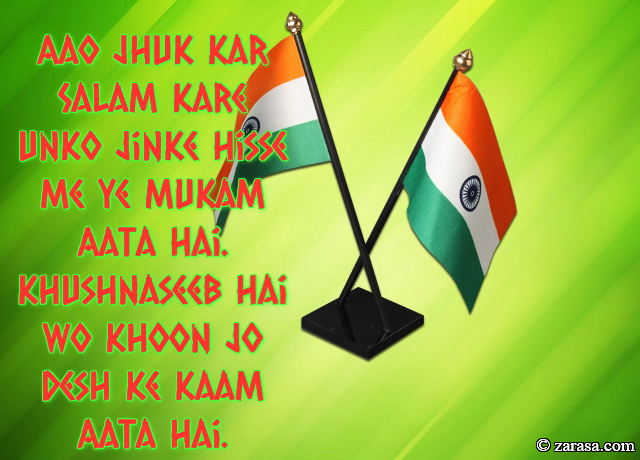 Aao Jhuk Kar Salam Kare Unko Jinke Hisse Me Ye Mukam Aata Hai.
Khushnaseeb Hai Wo Khoon Jo Desh Ke Kaam Aata Hai.
आओ झुक कर सलाम करे उनको जिनके हिस्से में ये मुकाम आता है .
खुशनसीब है वो खून जो देश के काम आता है .
او جھک کر سلام کرے انکو جنکے حصّے مے یہ مکم آتا ہے .
خوشنصیب ہے وو خون جو دیش کے کام آتا ہے .
---