Fariyaad Shayari "खुदा ने अपने वजूद को बचाने के लिए"
|
Jis Jis Ne Mohabbat Mai,
Apne Mehboob Ko Khuda Kar Diya ,
Khuda Ne Apne Wajud Ko Bachane Ke Liye ,
Unko Juda Kr Diya.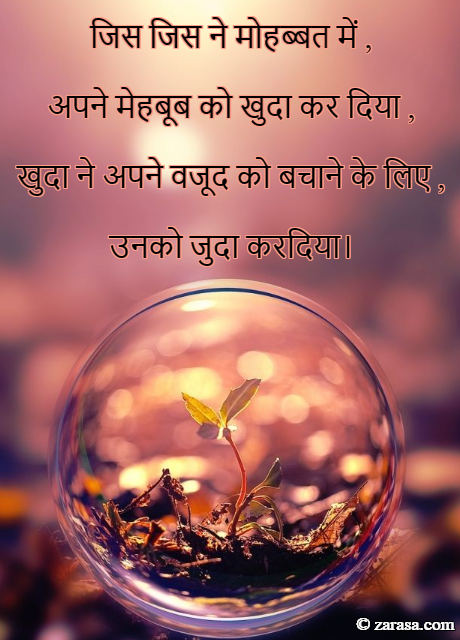 ---

जिस जिस ने मोहब्बत में ,
अपने मेहबूब को खुदा कर दिया ,
खुदा ने अपने वजूद को बचाने के लिए ,
उनको जुदा करदिया।


---

جس جس نے موحبّت می
اپنے محبوب کو خدا کر دیا
خدا نے اپنے وجود کو بچانے کے لئے
انکو جودا کر دیا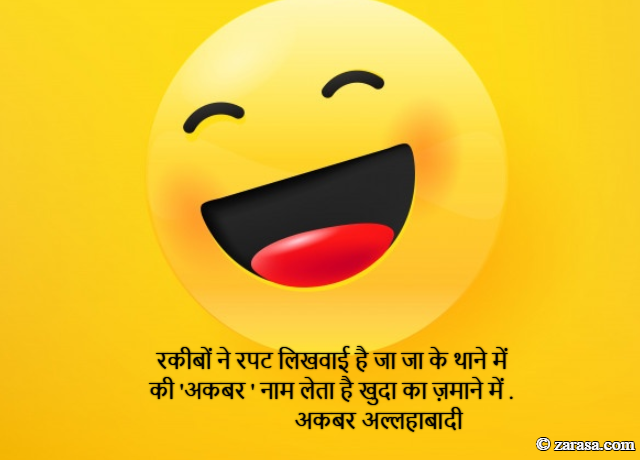 Raqueebon Ne Rapat Likhwai Hai Jaa Jaa Ke Thane Men
Ki 'Akbar' Naam Leta Hai Khuda Ka Zamane Men.
Akbar Allahabadi


रकीबों ने रपट लिखवाई है जा जा के थाने में
की 'अकबर ' नाम लेता है खुदा का ज़माने में .
                 अकबर अल्लहाबादी
رقیبوں نے رپٹ لکھوی ہے جا جا کے تانی میں
کی 'اکبر ' نام لیتا ہے خدا کا زمانے میں .
                 اکبر اللہآبادی
---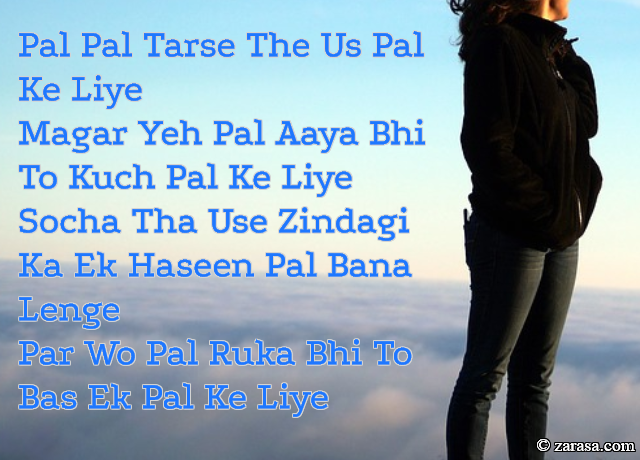 Pal Pal Tarse The Us Pal Ke Liye
Magar Yeh Pal Aaya Bhi To Kuch Pal Ke Liye
Socha Tha Use Zindagi Ka Ek Haseen Pal Bana Lenge
Par Wo Pal Ruka Bhi To Bas Ek Pal Ke Liye
पल पल तरसे थे उस पल के लिए
मगर यह पल आया भी तो कुछ पल के लिए
सोचा था उसे ज़िन्दगी का एक हसीं पल बना लेंगे
पर वो पल रुका भी तो बस एक पल के लिए
پل پل ترسے تھے اس پل کے لئے
مگر یہ پل آیا بھی تو کچھ پل کے لئے
سوچا تھا اسے زندگی کا ایک حسین پل بنا لینگے
پر وو پل روکا بھی تو بس ایک پل کے لئے
---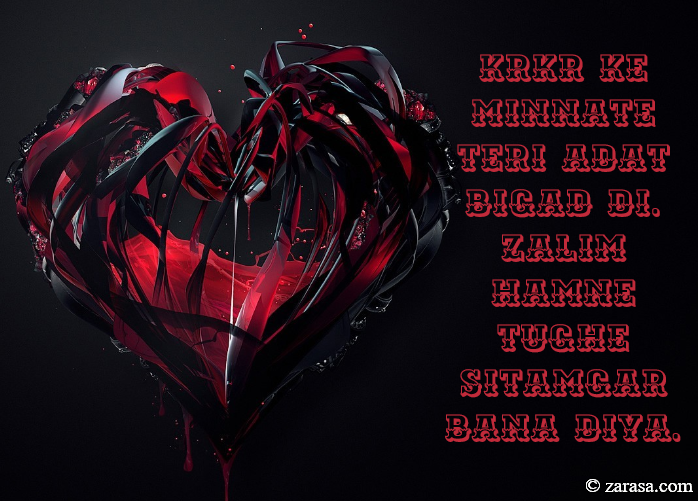 Krkr Ke Minnate Teri Adat Bigad Di.
Zalim Hamne Tughe Sitamgar Bana Diya.
करकर के मिन्नतें तेरी आदत बिगड़ दी .
ज़ालिम हमने तुझे सितमगर बना दिया .
کرکر کے منناتے تیری عادت بگد دی .
ظالم ہمنے تجھے ستمگر بنا دیا .
---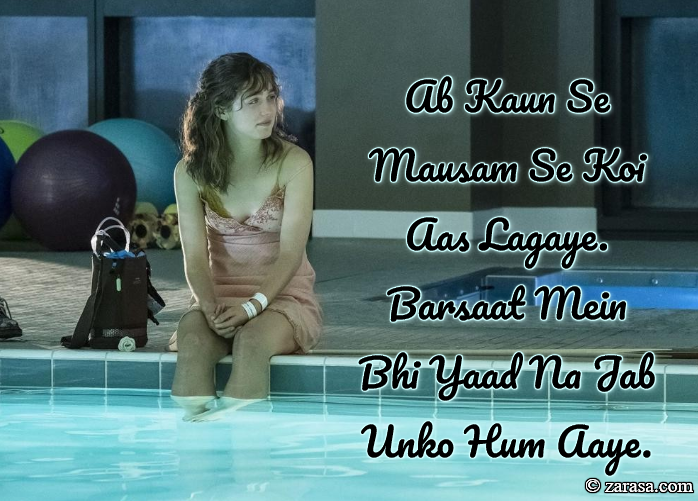 Ab Kaun Se Mausam Se Koi Aas Lagaye.
Barsaat Mein Bhi Yaad Na Jab Unko Hum Aaye.
अब कौन से मौसम से कोई आस लगाए .
बरसात में भी याद ना जब उनको हम आये .
اب کون سے موسم سے کوئی آس لگے .
برسات میں بھی یاد نہ جب انکو ہم اے .
---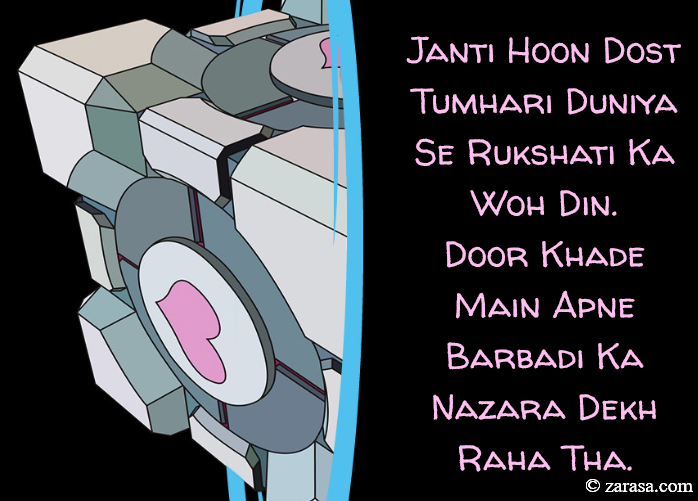 Janti Hoon Dost Tumhari Duniya Se Rukshati Ka Woh Din.
Door Khade Main Apne Barbadi Ka Nazara Dekh Raha Tha.
जानती हूँ दोस्त तुम्हारी दुनिया से रुक्षती का वह दिन .
दूर खड़े मैं अपने बर्बादी का नज़ारा देख रहा था .
جانتی ہوں دوست تمہاری دنیا سے رکشاتی کا وہ دن .
دور کھڈے میں اپنے بربادی کا نظارہ دیکھ رہا تھا .
---