Funny Shayari "Dil Main Basa Lena"
|
Meethi Meethi Yaadon Ko Palkon Pe Saja Lena.
Saath Guzre Lamhon Ko Dil Main Basa Lena.
Main To Barson Ka Pyasa Hoon.
Bijli Aa Jaaye To Yaad Se Motor Chala Dena.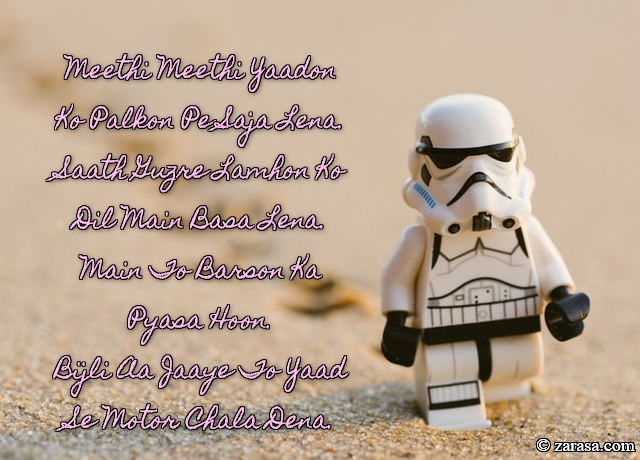 ---

मीठी मीठी यादों को पलकों पे सजा लेना .
साथ गुज़रे लम्हों को दिल मैं बसा लेना .
मैं तो बरसों का प्यासा हूँ .
बिजली आ जाए तो याद से मोटर चला देना .


---

میٹھی میٹھی یادوں کو پلکوں پی سجا لینا .
ساتھ گزرے لمحوں کو دل میں بسا لیںا .
میں تو برسوں کا پیاسا ہوں .
بجلی آ جائے تو یاد سے موٹر چلا دینا .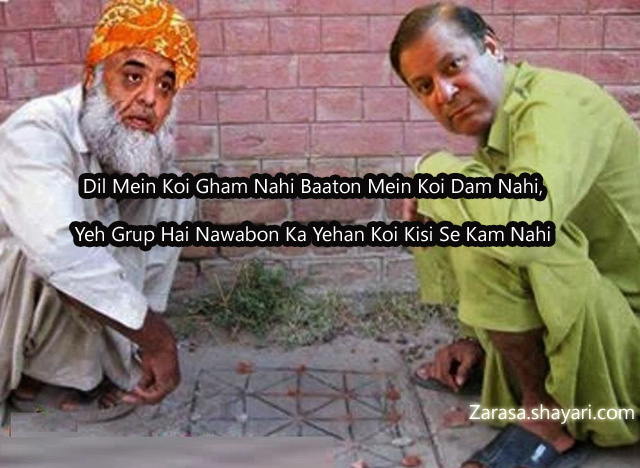 Dil Mein Koi Gham Nahi Baaton Mein Koi Dam Nahi,
Yeh Grup Hai Nawabon Ka Yehan Koi Kisi Se Kam Nahi

 


दिल में कोई गम नहीं बातों में कोई दम नहीं,
ये ग्रुप है नवाबो का यहाँ कोई किसीसे कम नहीं।
دل میں کوئی غم نہیں باتوں میں کوئی دم نہیں
یہ گروپ ہے نوابوں کا یہاں کوئی کسی سے کم نہیں
---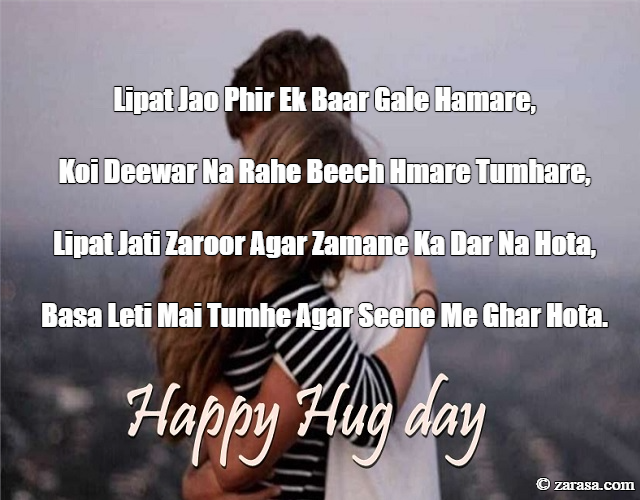 Koi Kahe Ise Jadu Ki Jhappi,
Koi Kahe Ise Pyaar...
Moka Hai Khubsurat,
Aa Gale Lag Ja Mere Yaar.
Wishing you Hug day…
कोई कहे इसे जादू की झप्पी,
कोई कहे इसे प्यार…
मौका है खूबसूरत,
आ गले लग जा मेरे यार।

Wishing you Hug day…
کوئی کہے اسے جادو کی جھپپی
کوئی کھے اسے پیار
موکا ہے خوبصورت
آ گلے لگ جا میرے یار
---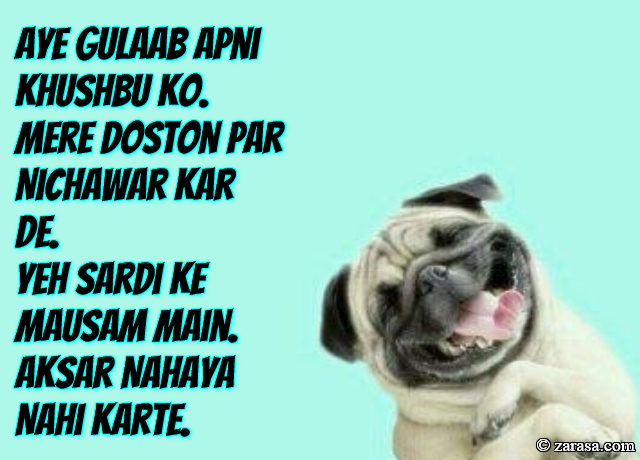 Aye Gulaab Apni Khushbu Ko.
Mere Doston Par Nichawar Kar De.
Yeh Sardi Ke Mausam Main.
Aksar Nahaya Nahi Karte.
ए गुलाब अपनी खुशबू को
मेरे दोस्तों पर न्योछावर कर दे,
यह सर्दी के मौसम में
अक्सर नहाया नहीं करते।

ہے گلاب اپنی خوشبو کو .
میرے دوستوں پر نچھاور کر دے .
یہ سردی کے موسم میں .
اکثر نہایا نہیں کرتے .

---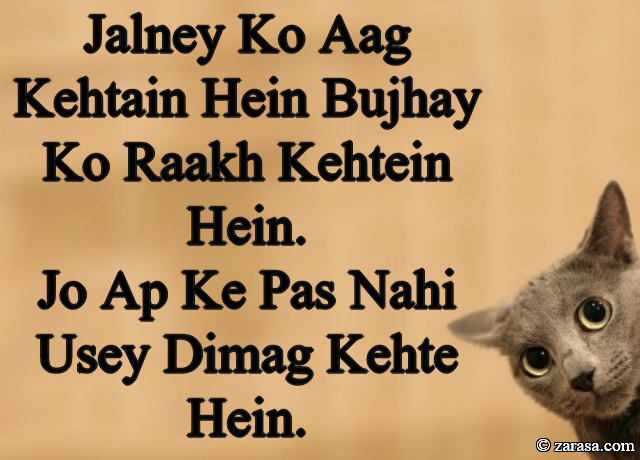 Jalney Ko Aag Kehtain Hein Bujhay Ko Raakh Kehtein Hein.
Jo Ap Ke Pas Nahi Usey Dimag Kehte Hein.
जलने को आग कहतें हैं बुझाय को राख कहतें हैं .
जो आप के पास नहीं उसे दिमाग कहते हैं .
جلنے کو آگ کہتیں ہیں بجھے کو راکھ کہتیں ہیں .
جو اپ کے پاس نہیں اسے دماگ کہتے ہیں .
---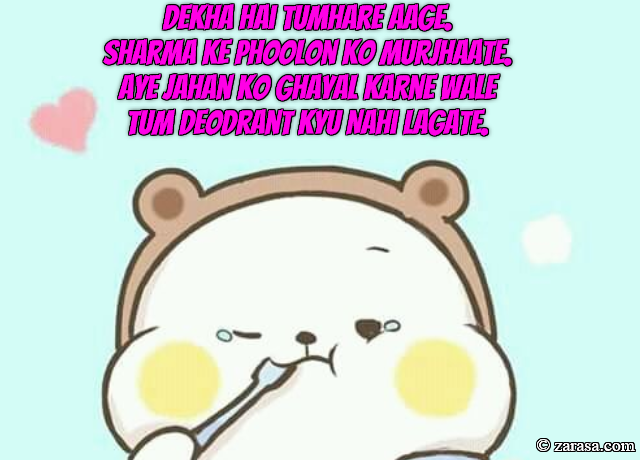 Dekha Hai Tumhare Aage.
Sharma Ke Phoolon Ko Murjhaate.
Aye Jahan Ko Ghayal Karne Wale
Tum Deodrant Kyu Nahi Lagate.
देखा है तुम्हारे आगे,
शर्मा के फूलों को मुरझाते,
ए जहाँ को घायल करने वाले
तुम डिओडोरेंट क्यों नहीं लगाते।
دیکھا ہے تمہارے آگے .
شرما کے پھولوں کو مرجھاتے .
ہے جہاں کو غیل کرنے والے .
تم دیودرانٹ کیو نہیں لگاتے .
---