Funny Shayari "Dil Main Basa Lena"
|
Meethi Meethi Yaadon Ko Palkon Pe Saja Lena.
Saath Guzre Lamhon Ko Dil Main Basa Lena.
Main To Barson Ka Pyasa Hoon.
Bijli Aa Jaaye To Yaad Se Motor Chala Dena.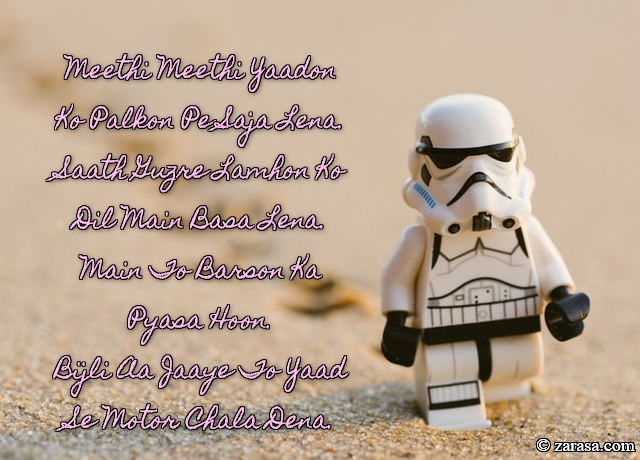 ---

मीठी मीठी यादों को पलकों पे सजा लेना .
साथ गुज़रे लम्हों को दिल मैं बसा लेना .
मैं तो बरसों का प्यासा हूँ .
बिजली आ जाए तो याद से मोटर चला देना .


---

میٹھی میٹھی یادوں کو پلکوں پی سجا لینا .
ساتھ گزرے لمحوں کو دل میں بسا لیںا .
میں تو برسوں کا پیاسا ہوں .
بجلی آ جائے تو یاد سے موٹر چلا دینا .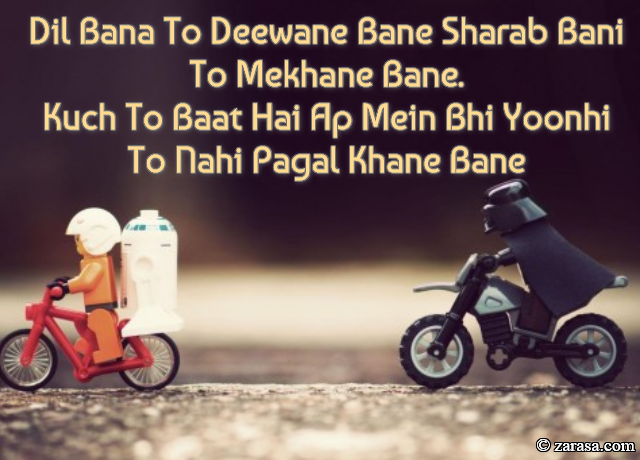 Dil Bana To Deewane Bane Sharab Bani To Mekhane Bane.
Kuch To Baat Hai Ap Mein Bhi Yoonhi To Nahi Pagal Khane Bane.

दिल बना तो दीवाने बने शराब बानी तो मखाने बने .
कुछ तो बात है आप में भी यूँही तो नहीं पागल खाने बने .

دل بنا تو دیوانے بنے شراب بنی تو میخانے بنے .
کچھ تو بات ہے اپ میں بھی یونہی تو نہیں پاگل خانے بنے .

[ssba-buttons]
---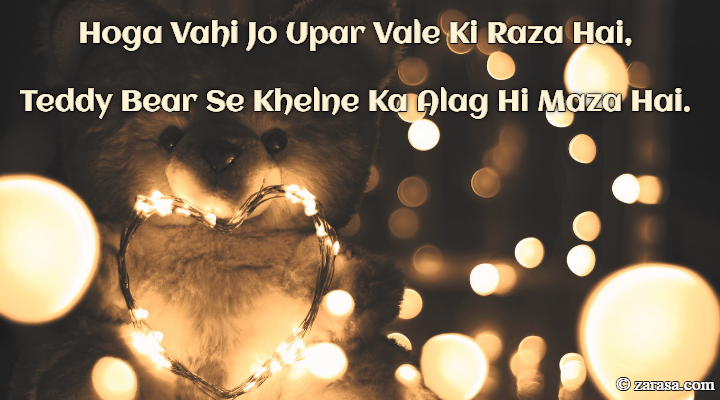 Hoga Vahi Jo Upar Vale Ki Raza Hai,
Teddy Bear Se Khelne Ka Alag Hi Maza Hai.

होगा वही जो ऊपर वाले की रज़ा है,

टेडी बियर से खेलने का अलग ही मज़ा है।

ہوگا وہی جو اپپر والے کے رزا ہے
تادی بیر سے کھیلنے کا الگ ہی مزا ہے

[ssba-buttons]
---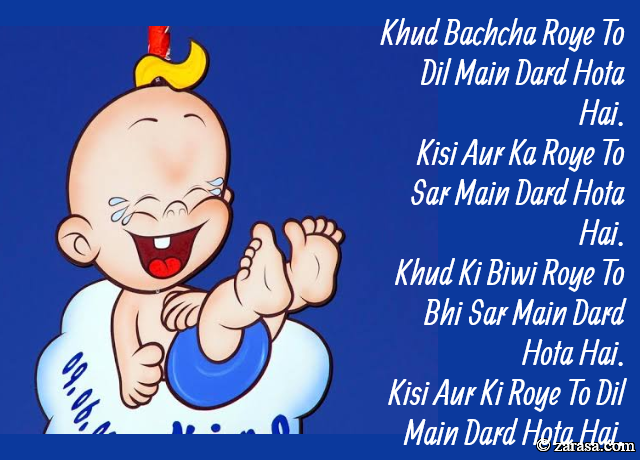 Khud Bachcha Roye To Dil Main Dard Hota Hai.
Kisi Aur Ka Roye To Sar Main Dard Hota Hai.
Khud Ki Biwi Roye To Bhi Sar Main Dard Hota Hai.
Kisi Aur Ki Roye To Dil Main Dard Hota Hai.

खुद बच्चा रोए तो दिल मैं दर्द होता है .
किसी और का रोए तो सर मैं दर्द होता है .
खुद की बीवी रोए तो भी सर मैं दर्द होता है .
किसी और की रोए तो दिल मैं दर्द होता है .


خود بچچا روے تو دل میں درد ہوتا ہے .
کسی اور کا رویے تو سر میں درد ہوتا ہے .
خود کی بیوی رویے تو بھی سر میں درد ہوتا ہے .
کسی اور کی رویے تو دل میں درد ہوتا ہے .


[ssba-buttons]
---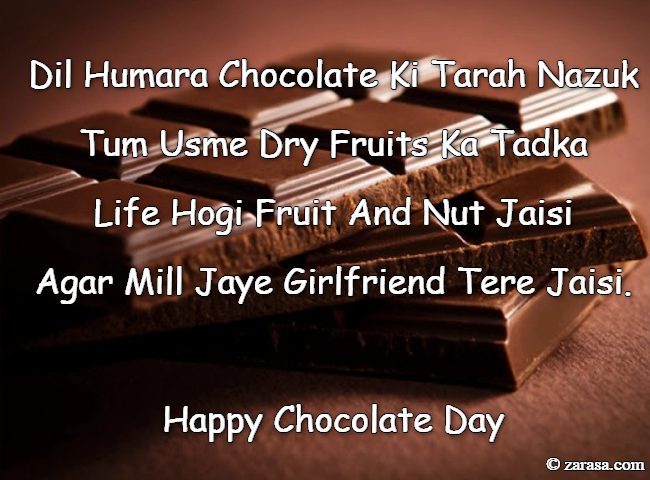 Dil Humara Chocolate Ki Tarah Nazuk
Tum Usme Dry Fruits Ka Tadka
Life Hogi Fruit And Nut Jaisi
Agar Mill Jaye Girlfriend Tere Jaisi.
Happy Chocolate Day

दिल हमारा चॉक्लेट की तरह नाज़ुक
तम उसमें ड्राई फ्रूट्स का तड़का
लाइफ होगी फ्रूट एंड नट जैसी
अगर मिल जाए गर्लफ्रेंड तेरी जैसी।

دل ہمارا چوکلاتے کی طرح نازک
تم اسمے درے فروٹس کا تڑکا
لائف ہوگی فروٹ اینڈ نٹ جیسی
اگر مل جائے گرل فرینڈ تیرے جیسی

[ssba-buttons]
---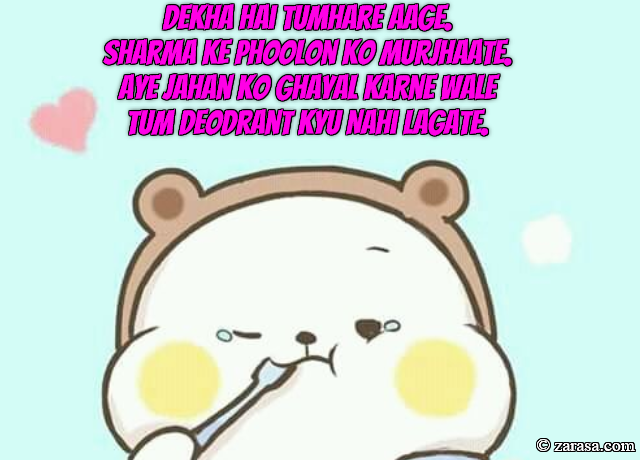 Dekha Hai Tumhare Aage.
Sharma Ke Phoolon Ko Murjhaate.
Aye Jahan Ko Ghayal Karne Wale
Tum Deodrant Kyu Nahi Lagate.

देखा है तुम्हारे आगे,
शर्मा के फूलों को मुरझाते,
ए जहाँ को घायल करने वाले
तुम डिओडोरेंट क्यों नहीं लगाते।

دیکھا ہے تمہارے آگے .
شرما کے پھولوں کو مرجھاتے .
ہے جہاں کو غیل کرنے والے .
تم دیودرانٹ کیو نہیں لگاتے .

[ssba-buttons]
---