MOTIVATION SHAYARI FOR STUDENT"ZINDAGI BHOT HASEEN HAI`"
|
ZINDAGI BHOT HASEEN HAI,
HABHI HASTI HAI ,TO KABHI RULATI HAI,
LEKIN JO ZINDAGI KI BHEED MEIN KHUSH REHTA HAI ,
ZINDAGI USSI KE AGE SIR JHUKATI HAI.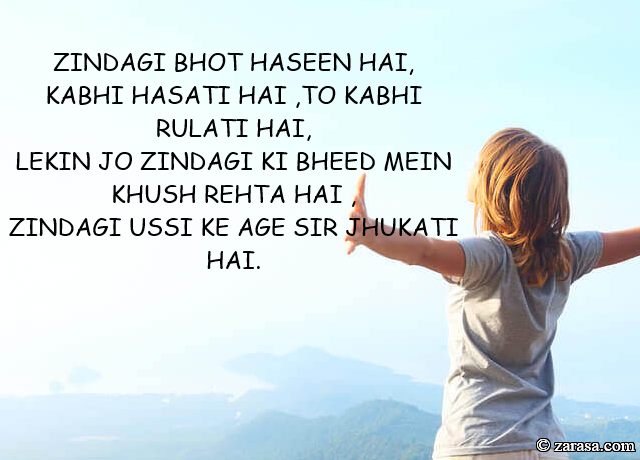 ---

ज़िन्दगी बोहोत हसींन है
कभी हसती है ,तोह कभी रुलाती है
लेकिन जो ज़िन्दगी की भीड़ में खुश रहता है
ज़िन्दगी उसी के आगे सर झुकाती है


---

زندگی بھوت حسین ہے -
کبھی ہستی ہے ,توہ کبھی رلاتی ہے -
لیکن جو زندگی کی بھیڈ میں خوش رہتاہ-
زندگی اسی کے اگے سر جھکاتی ہے -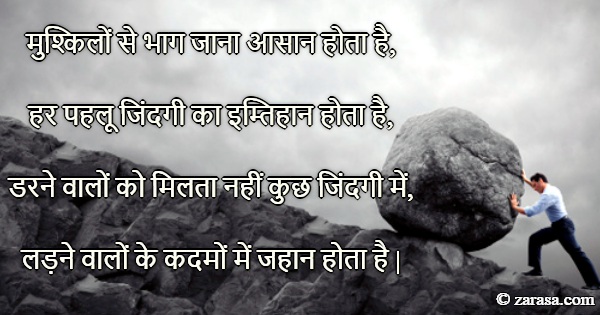 Mushkilon se Bhaag Jaana Aasan Hota Hai,
Har Pehlo Zindagi Ka Imtihaan Hota hai ,
Darne vaalon Ko Milta Nhi Kuch Zindagi Mai,
Ladne Vaalon Ke Kadmo Mai Jhan Hota Hai.
मुश्किलों से भाग जाना आसान होता है,
हर पहलू जिंदगी का इम्तिहान होता है,
डरने वालों को मिलता नहीं कुछ जिंदगी में,
लड़ने वालों के कदमों में जहान होता है |
مشکلوں سے بھاگ جانا آسان ہوتا ہے
ہر پہلو زندگی کا امتحاں ہوتا ہے
دارنے والو کو ملتا نہی کچھ زندگی می
لڑنے والو کے کدمو می جہاں ہوتا ہے
---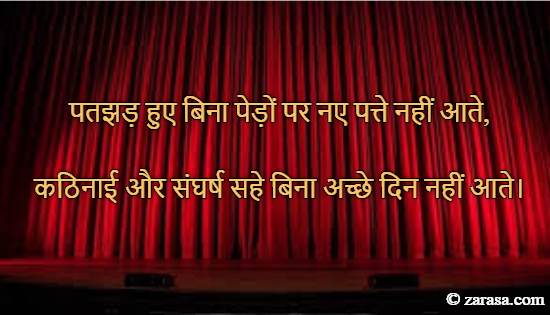 Patjhad Huye Bina Pedo Par Naye Patte Nahi Aate,
Kathinai Aur Sangharsh Sahe Bina Achhe Din Nahi Aate.

पतझड़ हुए बिना पेड़ों पर नए पत्ते नहीं आते,
कठिनाई और संघर्ष सहे बिना अच्छे दिन नहीं आते।
پتجہاڈ ہوئے بنا پیڈں پر نیے پتے نہی آتے
کٹھنائی اور سنگھرش سہی بنا اچھے دن نہیں آتے
---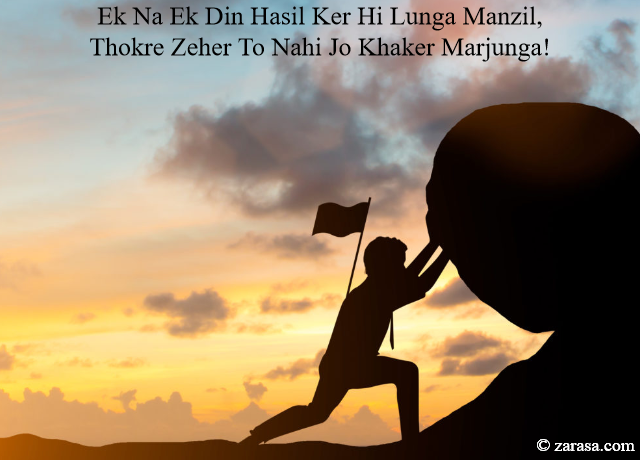 Ek Na Ek Din Hasil Ker Hi Lunga Manzil,
Thokre Zeher To Nahi Jo Khaker Marjunga!
एक न एक दिन हासिल कर ही लूंगा मंज़िल ,
ठोकरे ज़हर तो नहीं जो खाकर मेरजाऊँगा !
ایک نہ ایک دن حاصل کر ہی لونگا منزل ,
تھوکرے زہر تو نہیں جو کھاکر مرجاؤنگا !
---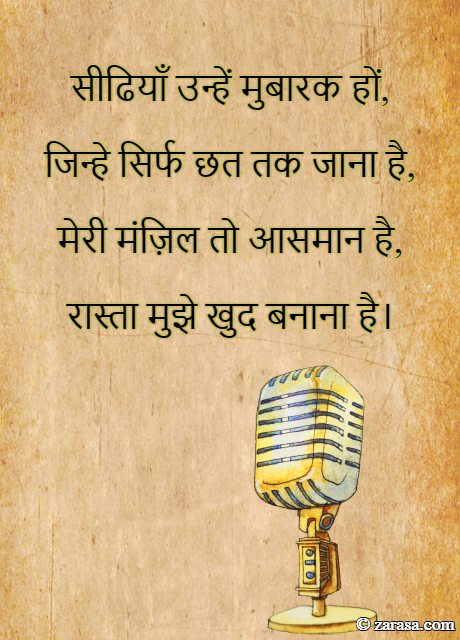 Sidiyan Unhe Mubarak Hon,
Jinhe Sirf Chhat Tak Jana Hai,
Meri Manzil To Aasmaan Hai,
Rasta Mujhe Khud Banana Hai.

सीढियाँ उन्हें मुबारक हों,
जिन्हे सिर्फ छत तक जाना है,
मेरी मंज़िल तो आसमान है,
रास्ता मुझे खुद बनाना है।
سیڈیاں انھ مبارک ہوں
جنھ صرف چھت تک جانا ہے
میری منزل تو آسمان ہے
راستا مجھے خود بنانا ہے
---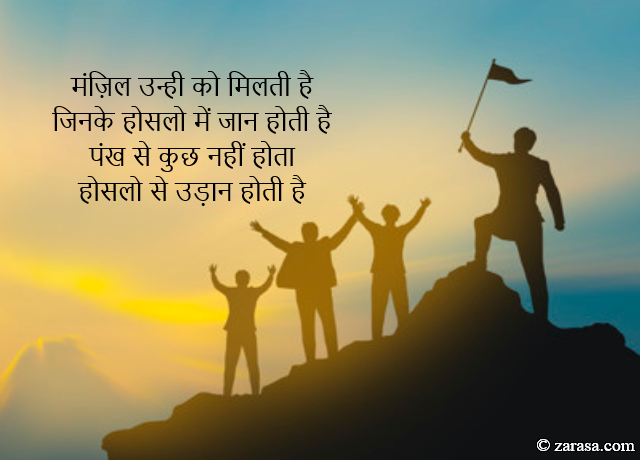 JITNA BADA SAPNA HOGA,
UTNI BADI TAKLEEFE HOGI,
AUR JITNI BADI TAKLEEFE HOGI,
UTNI BADI KAMIYABI HOGI..........
जितना बड़ा सपना होगा
उतनी बड़ी तकलीफे होगी
और जितनी बड़ी तकलीफे होगी
उतनी बड़ी कामियाबी होगी

جتنا بڑا سپنا ہوگا
اتنی بدی تکلیفے ہوگی
اور جتنی بدی تکلیفے ہوگی
اتنی بدی کامیابی ہوگی
---