MOTIVATION SHAYARI FOR STUDENT"ZINDAGI BHOT HASEEN HAI`"
|
ZINDAGI BHOT HASEEN HAI,
HABHI HASTI HAI ,TO KABHI RULATI HAI,
LEKIN JO ZINDAGI KI BHEED MEIN KHUSH REHTA HAI ,
ZINDAGI USSI KE AGE SIR JHUKATI HAI.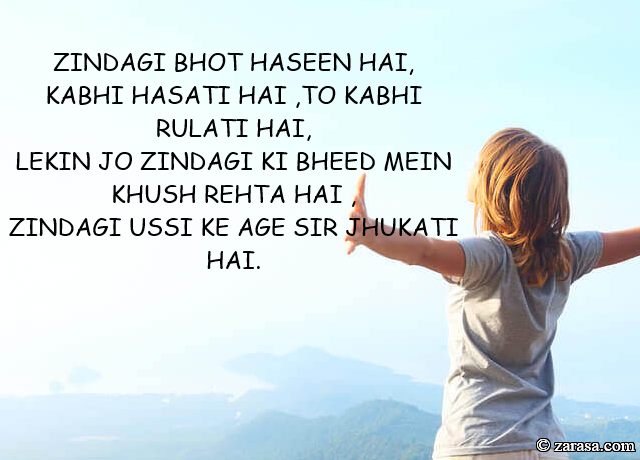 ---

ज़िन्दगी बोहोत हसींन है
कभी हसती है ,तोह कभी रुलाती है
लेकिन जो ज़िन्दगी की भीड़ में खुश रहता है
ज़िन्दगी उसी के आगे सर झुकाती है


---

زندگی بھوت حسین ہے -
کبھی ہستی ہے ,توہ کبھی رلاتی ہے -
لیکن جو زندگی کی بھیڈ میں خوش رہتاہ-
زندگی اسی کے اگے سر جھکاتی ہے -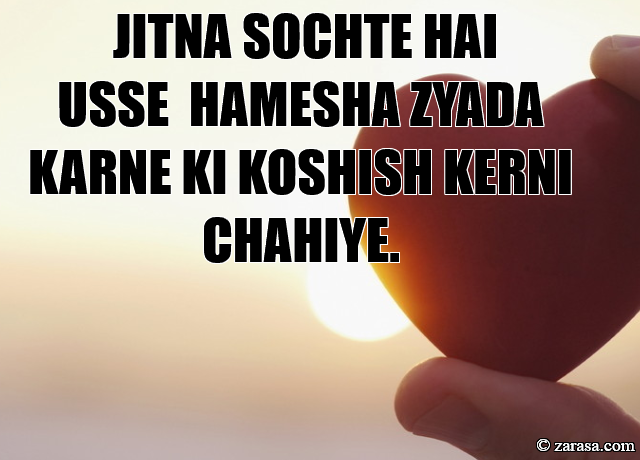 JITNA SOCHTE HAI
USSE  HAMESHA ZYADA KARNE KI KOSHISH KERNI CHAHIYE.
जितना सोचते है
उससे हमेशा ज़्यादा करने की कोशिश करनी चाहिए
جتنا سوچتے ہے
اسے ہمیشہ زیادہ کرنے کی کوشش کرنی چاہیے
---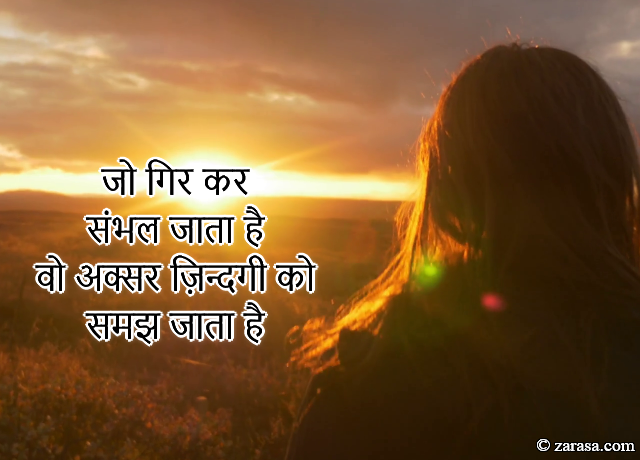 JO GIR KAR
SAMBHAL JATA HAI ,
WO AQSAR ZINDAGI KO
SAMAJH JATA HAI
जो गिर कर
संभल जाता है
वो अक्सर ज़िन्दगी को
समझ जाता है

جو گر کر
سمبھال جاتا ہے ,
وو اکثر زندگی کو
سمجھ جاتا ہے
---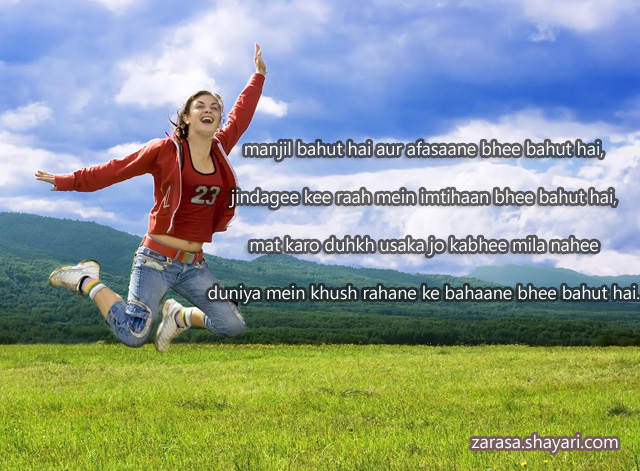 manjil bahut hai aur afasaane bhee bahut hai,
zindagee kee raah mein imtihaan bhee bahut hai,
mat karo duhkh usaka jo kabhee mila nahee
duniya mein khush rahane ke bahaane bhee bahut hai.

 

 

मंजिले बहुत है और अफ़साने भी बहुत है,
जिंदगी की राह में इम्तिहान भी बहुत है,
मत करो दुःख उसका जो कभी मिला नही
दुनिया में खुश रहने के बहाने भी बहुत है।
منجلیں  بہت  ہے  اور  افسانے  بھی  بہت ہے
زندگی کی  راہ  میں  امتحاں  بھی  بہت  ہے
مت  کرو  دھکہ  اسکا  جو  کبھی  ملا  نہی
دنیا  میں  خوش  رہنے  کے  بہانے  بھی  بہت  ہے
---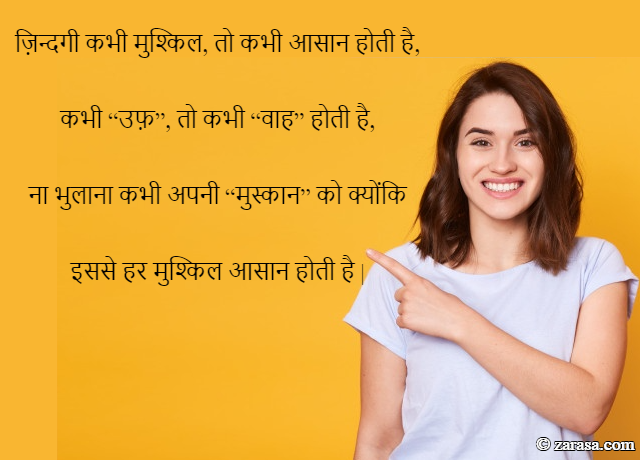 Zindagi Kabhi Mushkil, To Kabhi Aasaan Hoti Hai,
Kabhi "Uf", To Kabhi "Vaah" Hoti Hai,
Na Bhulaana Kabhi Apni "Muskaan" Ko Kyonki
Isse Har Mushkil Aasaan Hoti Hai .
ज़िन्दगी कभी मुश्किल, तो कभी आसान होती है,
कभी "उफ़", तो कभी "वाह" होती है,
ना भुलाना कभी अपनी "मुस्कान" को क्योंकि
इससे हर मुश्किल आसान होती है |
زندگی کبھی مشکل تو کبھی آسان ہوتی ہے
کبھی اف تو کبھی واہ ہوتی ہے
نہ بھلانا کبھی اپنی مسکان کو کیونکی
اسے ہر مشکل آسان ہوتی ہے
---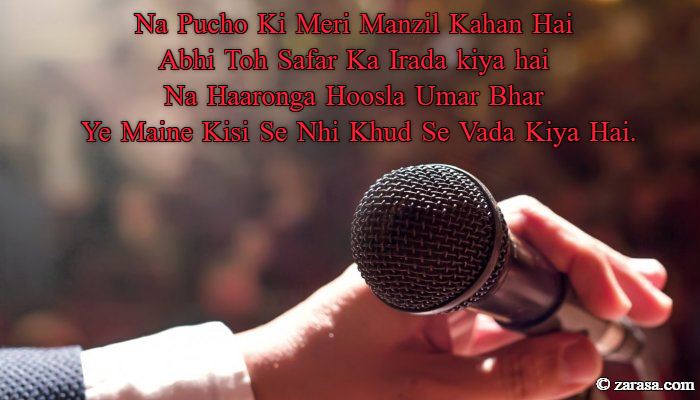 Na Pucho Ki Meri Manzil Kahan Hai
Abhi Toh Safar Ka Irada kiya hai
Na Haaronga Hoosla Umar Bhar
Ye Maine Kisi Se Nhi Khud Se Vada Kiya Hai.
ना पूछो कि मेरी मंजिल कहाँ है
अभी तो सफर का इरादा किया है
ना हारूंगा हौंसला उम्र भर
ये मैंने किसी से नहीं खुद से वादा किया है |
نہ پچو کی میری منزل کہاں ہے
ابھی تو سفر کا ارادہ کیا ہے
نہ ہارونگا حوصلہ امر بھر
یہ مہینے کسی سے نہی خود سے وادا کیا ہے
---