Shayari for Speeches "Na Haaronga Hoosla Umar Bhar "
|
Na Pucho Ki Meri Manzil Kahan Hai
Abhi Toh Safar Ka Irada kiya hai
Na Haaronga Hoosla Umar Bhar
Ye Maine Kisi Se Nhi Khud Se Vada Kiya Hai.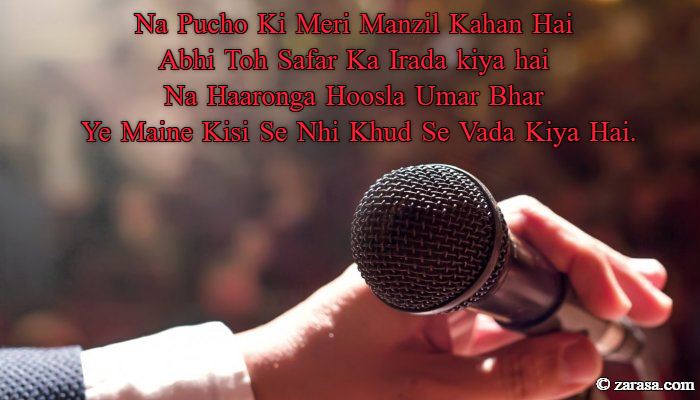 ---

ना पूछो कि मेरी मंजिल कहाँ है
अभी तो सफर का इरादा किया है
ना हारूंगा हौंसला उम्र भर
ये मैंने किसी से नहीं खुद से वादा किया है |


---

نہ پچو کی میری منزل کہاں ہے
ابھی تو سفر کا ارادہ کیا ہے
نہ ہارونگا حوصلہ امر بھر
یہ مہینے کسی سے نہی خود سے وادا کیا ہے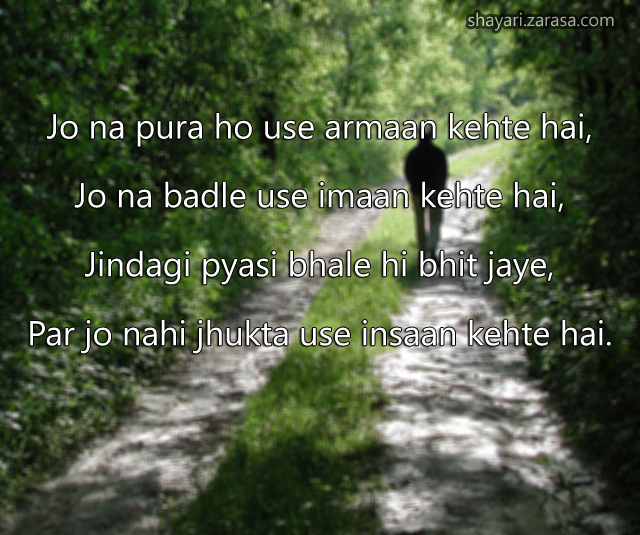 Jo na pura ho use armaan kehte hai,
Jo na badle use imaan kehte hai,
Zindagi pyasi bhale hi bhit jaye,
Par jo nahi jhukta use insaan kehte hai.






जो न पूरा हो उसे अरमाँ कहते है,
जो न बदले उसे ईमान कहते है,
जिंदगी प्यासी भले ही बीत जाये,
पर जो नहीं झुकता उसे इंसान कहते है.

جو  نہ  پورا  ہو اسے  ارمان  کہتے  ہے
جو  نہ  بدلے  اسے  امان کہتے  ہے
زندگی پیاسی  بھلے  ہی  بیت  جائے
پر  جو  نہیں  جھکتا  اسی  انسان  کہتے ہے
---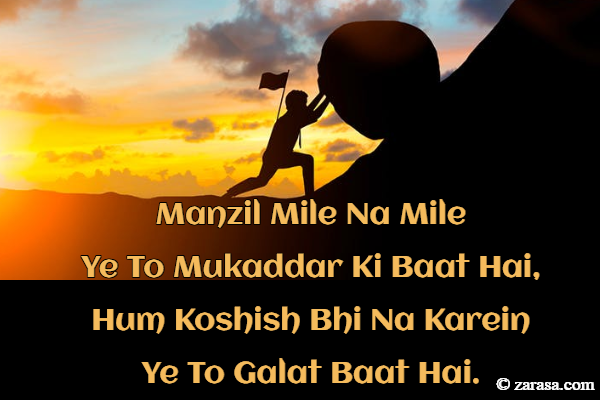 Manzil Mile Na Mile
Ye To Mukaddar Ki Baat Hai,
Hum Koshish Bhi Na Karein
Ye To Galat Baat Hai.

मंज़िल मिले न मिले
ये तो मुकद्दर की बात है,
हम कोशिश भी न करें
ये तो गलत बात है।
منزل میل نہ میل
یہ تو مقدار کی بات ہے
ہم کوشش بھی نہ کرے
یہ تو گلت بات ہے
---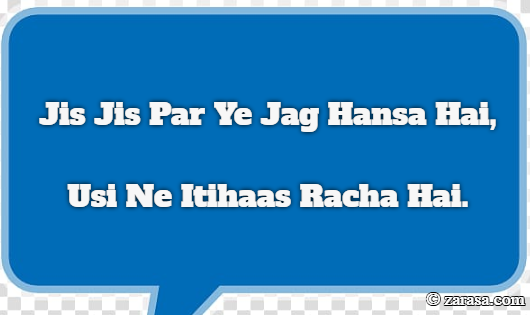 Jis Jis Par Ye Jag Hansa Hai,
Usi Ne Itihaas Racha Hai.

जिस-जिस पर ये जग हँसा है,

उसी ने इतिहास रचा है।
جس جس پر یہ جگ حسا ہے
اسی نے اتہاس رچا ہے
---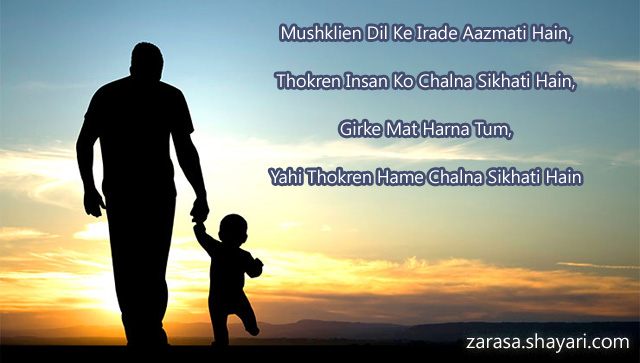 Mushklien Dil Ke Irade Aazmati Hain,
Thokren Insan Ko Chalna Sikhati Hain,
Girke Mat Harna Tum,
Yahi Thokren Hame Chalna Sikhati Hain





मुश्कलें दिल के इरादे आजमाती हैं,
ठोकरें इन्सान को चलना सिखाती हैं,
गिरके मत हारना तुम,
यही ठोकरें हमें चलना सिखाती है।
 مشکلیں دل کے ارادے آزماتی ہیں
ٹھوکریں انسان کو چلنا سختی ہیں
گرکے مت ہارنا تم
یہی ٹھوکریں ہمی چلنا سختی ہی
---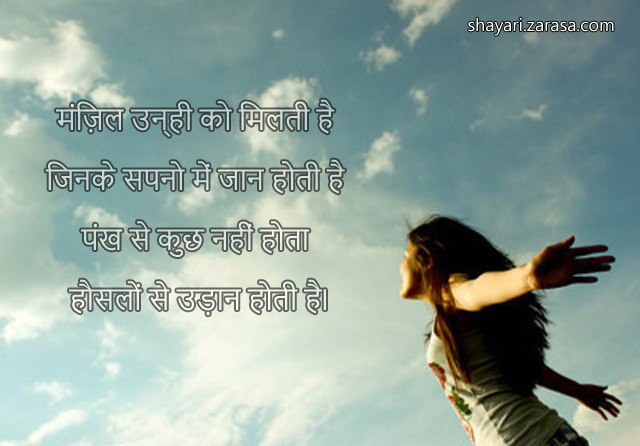 Manzil unhi ko milti hai
Jinke sapno me jaan hoti hai
Pankh se kuchh nahi hota
Hauslon se udaan hoti hai.







मंजिल उन्हीं को मिलती है
जिनके सपनो में जान होती है
पंख से कुछ नहीं होता
हौसलों से उड़ान होती है

منزل انہی کو ملتی ہے
جنکے سپنو مے جان ہوتی ہے
پنکھ سے کچھ نہیں ہوتا
حوصلوں سے ادان ہوتی ہے
---