Motivational Shayari for Students l "हो के मायूस न यूं शाम से ढलते रहिये "
|
Ho Ke Mayoos Na Yoon Shaam Se Dhalte Rahiye,
Zindagi Bhor Hai Suraj Sa Nikalte Rahiye,
Ek Hi Paon Pe Thahroge To Thak Jaoge,
Dhire-Dhire Hi Sahi Raah Pe Chalte Rahiye.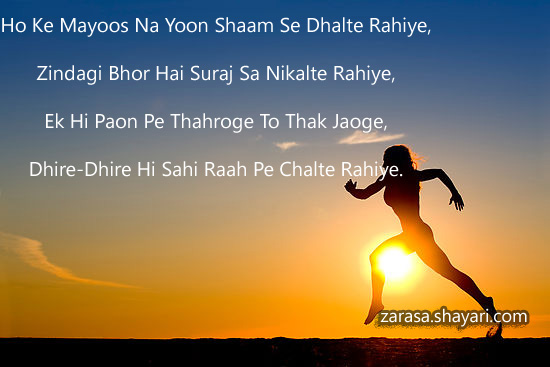 ---

हो  के  मायूस  न  यूं  शाम  से ढलते  रहिये ,
ज़िन्दगी  भोर  है  सूरज  सा  निकलते  रहिये ,
एक  ही पाऊँ  पे  ठहरोगे  तो थक  जाओगे,
धीरे -धीरे  ही  सही  राह  पे  चलते  रहिये ।


---

ہو کے مایوس نہ یوں شام سے ڈھلتے رہے
زندگی بھور ہے سورج سا نکلتے رہے
ایک ہی پاؤں پی ٹھہروگے تو تھک جاؤگے
دھرے -دھرے ہی سہی راہ پی چلتے رہے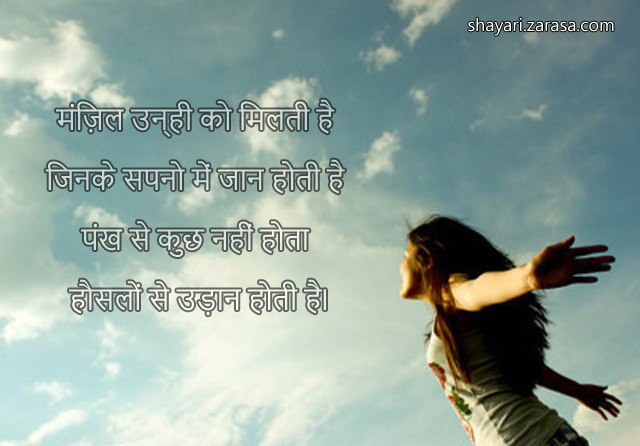 Manzil unhi ko milti hai
Jinke sapno me jaan hoti hai
Pankh se kuchh nahi hota
Hauslon se udaan hoti hai.







मंजिल उन्हीं को मिलती है
जिनके सपनो में जान होती है
पंख से कुछ नहीं होता
हौसलों से उड़ान होती है

منزل انہی کو ملتی ہے
جنکے سپنو مے جان ہوتی ہے
پنکھ سے کچھ نہیں ہوتا
حوصلوں سے ادان ہوتی ہے
---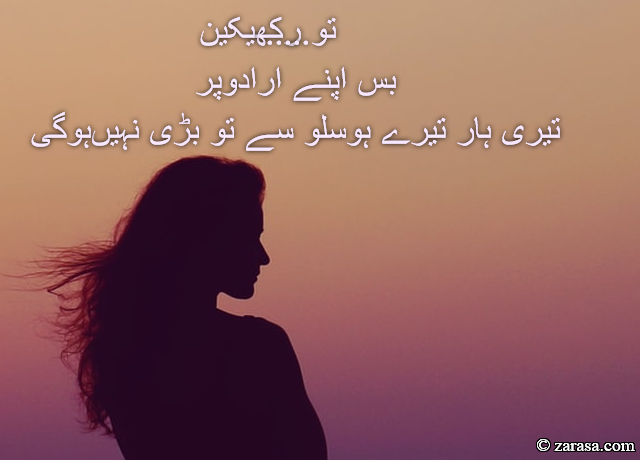 SHAAM SURAJ KO DHALNA SIKHATI HAI
SHAMA PERWANE KO JALNA SIKHATI HAI
GIRNE WALO KO HOTI TO HAI TAKLEEF PER,
THOKAR HI INSAN KO CHLNA SIKHATI HAI........
शाम सूरज को दहलना सिखाती है
शमा परवाने को जलना सिखाती है
गिरने वालो को होती तो है तकलीफ पर
ठोकर ही इंसान को चलना सिखाती है
شام سورج کو ڈھالنا سختی ہے
شمع پروانے کو جلنا سکھاتی ہے
گرنے والو کو ہوتی توہ ہے تکلیف پر
ٹھوکر ہی انسان کو چلنا سکھاتی ہے ......
---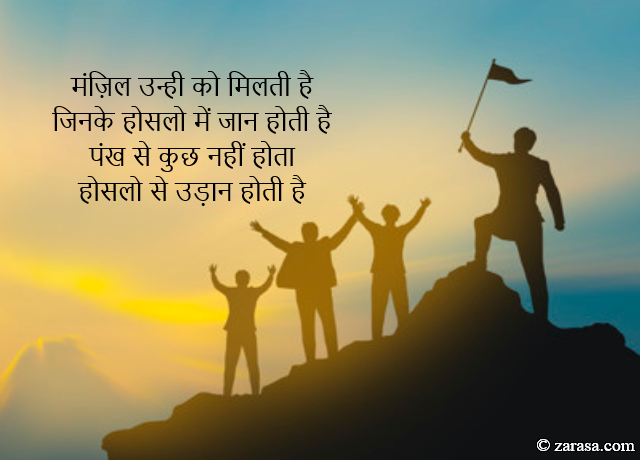 JITNA BADA SAPNA HOGA,
UTNI BADI TAKLEEFE HOGI,
AUR JITNI BADI TAKLEEFE HOGI,
UTNI BADI KAMIYABI HOGI..........
जितना बड़ा सपना होगा
उतनी बड़ी तकलीफे होगी
और जितनी बड़ी तकलीफे होगी
उतनी बड़ी कामियाबी होगी

جتنا بڑا سپنا ہوگا
اتنی بدی تکلیفے ہوگی
اور جتنی بدی تکلیفے ہوگی
اتنی بدی کامیابی ہوگی
---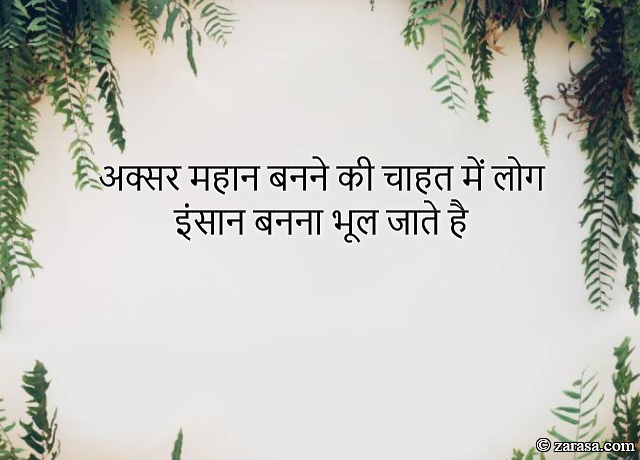 AKSER MAHAAN BANNNE KI CHAHAT
MEIN LOG INSAN BANNA BHUL JATE HAI
अक्सर महान बनने की चाहत में लोग
इंसान बनना भूल जाते है
اکثر مہان بننے کی چاہت میں لوگ
انسان بننا بھول جاتے ہے
---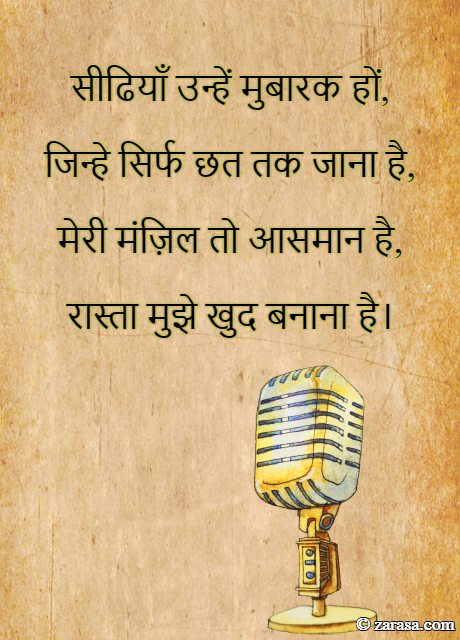 Sidiyan Unhe Mubarak Hon,
Jinhe Sirf Chhat Tak Jana Hai,
Meri Manzil To Aasmaan Hai,
Rasta Mujhe Khud Banana Hai.

सीढियाँ उन्हें मुबारक हों,
जिन्हे सिर्फ छत तक जाना है,
मेरी मंज़िल तो आसमान है,
रास्ता मुझे खुद बनाना है।
سیڈیاں انھ مبارک ہوں
جنھ صرف چھت تک جانا ہے
میری منزل تو آسمان ہے
راستا مجھے خود بنانا ہے
---