Patthar Shayari "Ek Patthar Hu"
|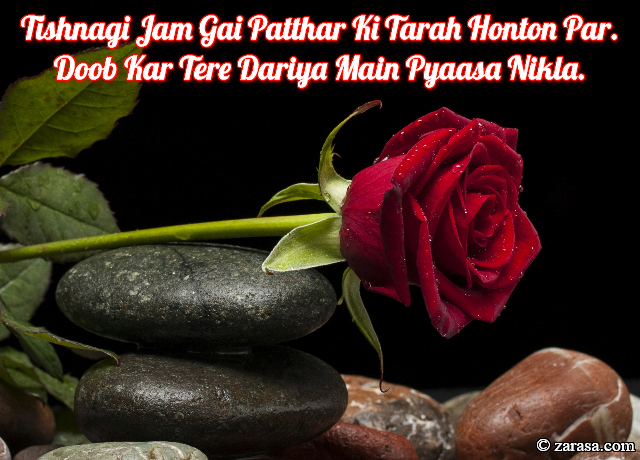 Tishnagi Jam Gai Patthar Ki Tarah Honton Par.
Doob Kar Tere Dariya Main Pyaasa Nikla.

तिश्नगी जम गई पत्थर की तरह होंठों पर .
डूब कर तेरे दरिया मैं प्यासा निकला .


تشنگی جام گئی پتھر کی طرح ہونٹوں پر .
ڈوب کر تیرے دریا میں پیاسا نکلا .

---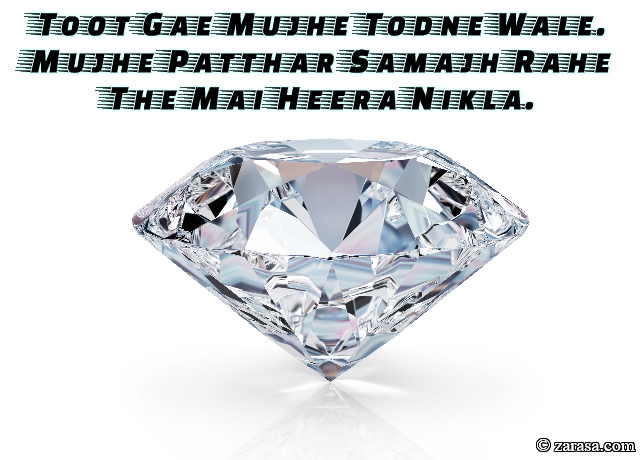 Toot Gae Mujhe Todne Wale.
Mujhe Patthar Samajh Rahe The Mai Heera Nikla.
टूट गए मुझे तोड़ने वाले .
मुझे पत्थर समझ रहे थे मै हीरा निकला .
ٹوٹ گے مجھے توڑنے والے .
مجھے پتھر سمجھ رہے تھے می ہیرا نکلا .
---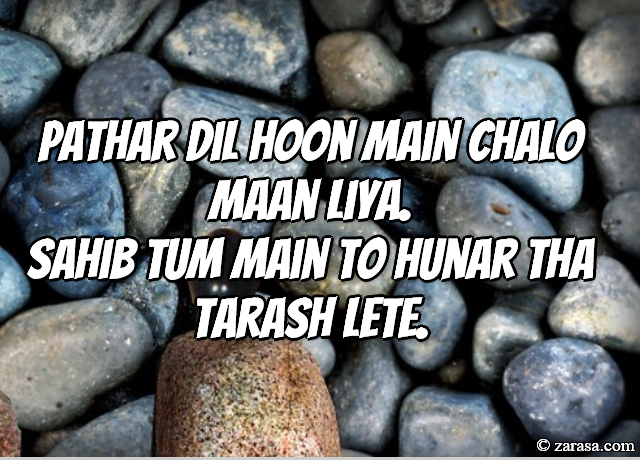 Pathar Dil Hoon Main Chalo Maan Liya.
Sahib Tum Main To Hunar Tha Tarash Lete.
पत्थर दिल हूँ मैं चलो मान लिया .
साहिब तुम मैं तो हुनर था तराश लेते .

پتّھر دل ہوں میں چلو ماں لیا .
صاحب تم میں تو ہنر تھا تراش لیتے .

---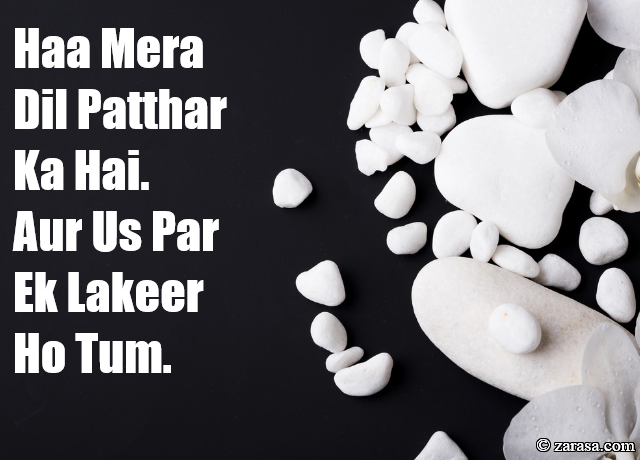 Haa Mera Dil Patthar Ka Hai.
Aur Us Par Ek Lakeer Ho Tum.
हां मेरा दिल पत्थर का है .
और उस पर एक लकीर हो तुम .

ہا میرا دل پتّھر کا ہے .
اور اس پر ایک لکیر ہو تم .

---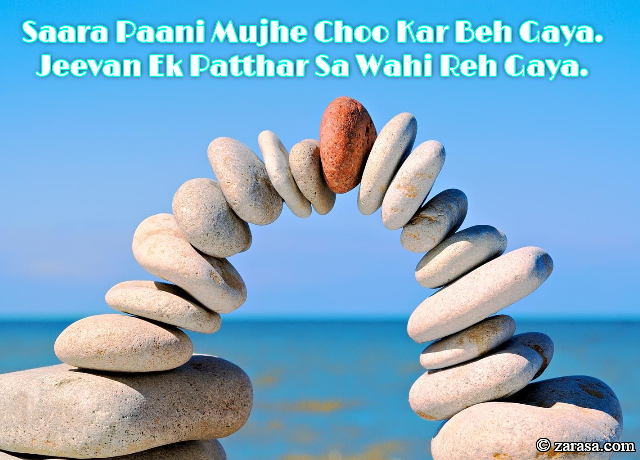 Saara Paani Mujhe Choo Kar Beh Gaya.
Jeevan Ek Patthar Sa Wahi Reh Gaya.

सारा पानी मुझे छु कर बह गया .
जीवन एक पत्थर सा वही रह गया .

سارا پانی مجھے چو کر بہ گیا .
جیون ایک پتّھر سا وہی رہ گیا .
---