Patthar Shayari "Pattharo Ki Nigrani Main Patthar Dil Insaan"
|
Pattharo Ki Nigrani Main Patthar Dil Insaan Se Kab Dil Laga Bethi Pata Na Chala.
Jab Dard Hua Mujhe Or Woh Muskura Diye Unke Patthar Dil Hone Ka Tab Pata Chala.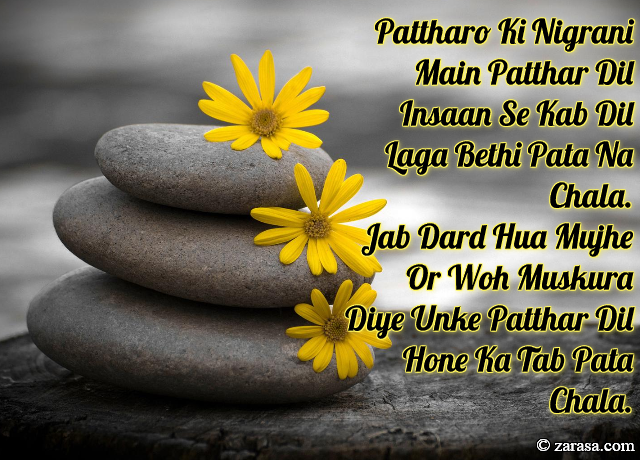 ---


पत्थरो की निगरानी मैं पत्थर दिल इंसान से कब दिल लगा बैठी पता ना चला .
जब दर्द हुआ मुझे और वह मुस्कुरा दिए उनके पत्थर दिल होने का तब पता चला .



---


پتھرو کی نگرانی میں پتھر دل انسان سے کب دل لگا بیٹھی پتا نہ چلا .
جب درد ہوا مجھے ور وہ مسکرا دے انکے پتھر دل ہونے کا ٹیب پتا چلا .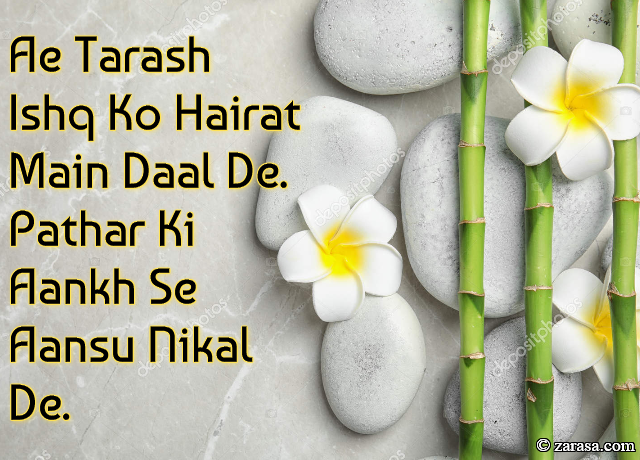 Ae Tarash Ishq Ko Hairat Main Daal De.
Pathar Ki Aankh Se Aansu Nikal De.


ऐ तराश इश्क़ को हैरत मैं दाल दे .
पत्थर की आँख से आंसू निकाल दे .



اے تراش عشق کو حیرت میں ڈال دے .
پتھر کی آنکھ سے آنسو نکال دے .

---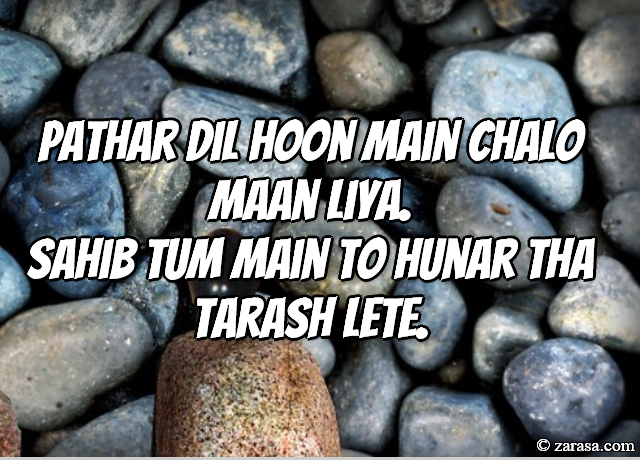 Pathar Dil Hoon Main Chalo Maan Liya.
Sahib Tum Main To Hunar Tha Tarash Lete.
पत्थर दिल हूँ मैं चलो मान लिया .
साहिब तुम मैं तो हुनर था तराश लेते .

پتّھر دل ہوں میں چلو ماں لیا .
صاحب تم میں تو ہنر تھا تراش لیتے .

---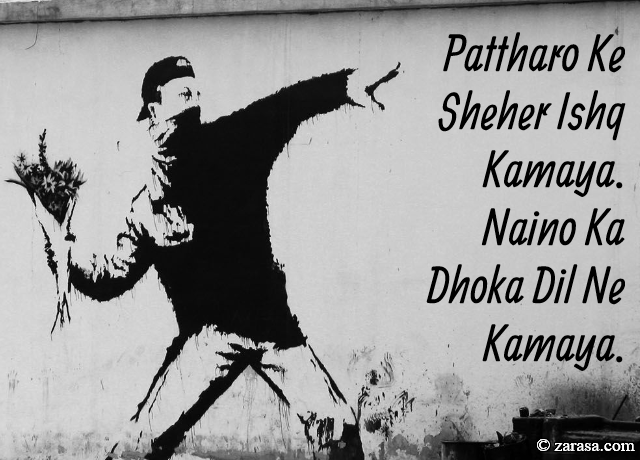 Pattharo Ke Sheher Ishq Kamaya.
Naino Ka Dhoka Dil Ne Kamaya.
पत्थरो के शहर इश्क़ कमाया .
नैनो का धोका दिल ने कमाया .

پتھرو کے شہر عشق کمایا .
نینو کا دھوکا دل نے کمایا .

---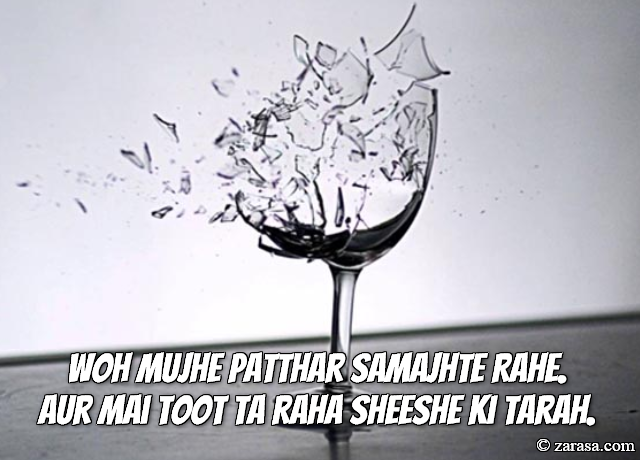 Woh Mujhe Patthar Samajhte Rahe.
Aur Mai Toot Ta Raha Sheeshe Ki Tarah.
वह मुझे पत्थर समझते रहे .
और मै टूटता रहा शीशे की तरह .
وہ مجھے پتھر سمجھتے رہے .
اور می ٹوٹ تا رہا شیشے کی طرح .
---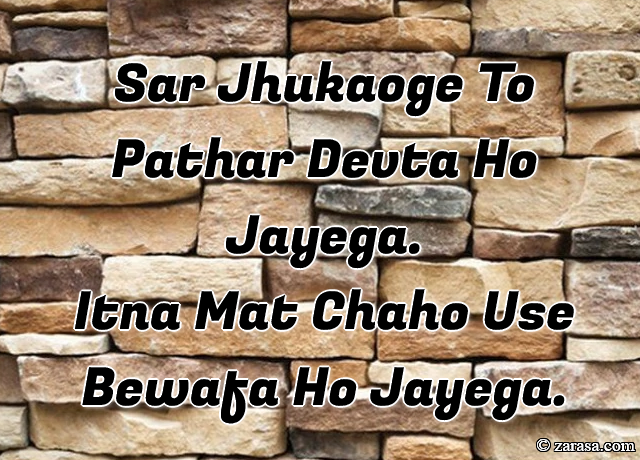 Sar Jhukaoge To Pathar Devta Ho Jayega.
Itna Mat Chaho Use Bewafa Ho Jayega.
सर झुकाओगे तो पत्थर देवता हो जायेगा .
इतना मत चाहो उसे बेवफा हो जायेगा .

سر جھکاؤگے تو پتھر دیوتا ہو جاےگا .
اتنا مت چاہو اسے بیوفا ہو جاےگا .

---