Patthar Shayari "Tishnagi Jam Gai Patthar Ki Tarah"
|
Ishq Toh Hai Magar Pita Kabhi Jatata Nahi.
Patthar Ke Butt Mai Mom Hai Koi Batata Nahi.
इश्क़ तोह है मगर पिता कभी जताता नहीं .
पत्थर के बट मई माँ है कोई बताता नहीं .

عشق ٹوہ ہے مگر پتہ کبھی جاتاتھا نہیں .
پتھر کے بٹ می موم ہے کوئی بتاتا نہیں .

---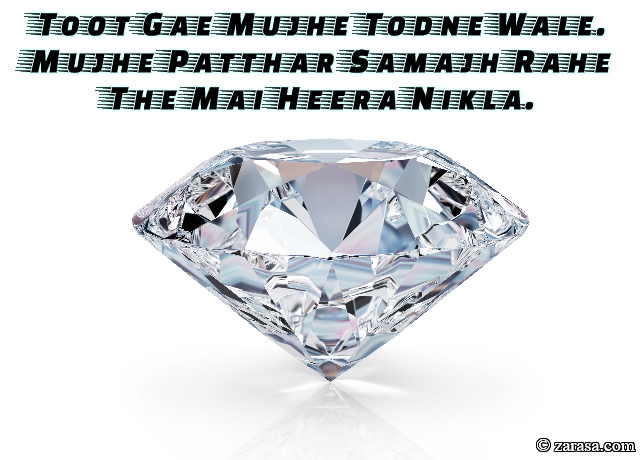 Toot Gae Mujhe Todne Wale.
Mujhe Patthar Samajh Rahe The Mai Heera Nikla.
टूट गए मुझे तोड़ने वाले .
मुझे पत्थर समझ रहे थे मै हीरा निकला .
ٹوٹ گے مجھے توڑنے والے .
مجھے پتھر سمجھ رہے تھے می ہیرا نکلا .
---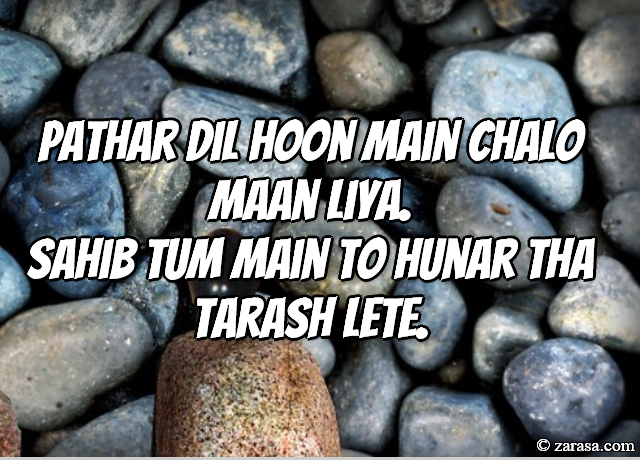 Pathar Dil Hoon Main Chalo Maan Liya.
Sahib Tum Main To Hunar Tha Tarash Lete.
पत्थर दिल हूँ मैं चलो मान लिया .
साहिब तुम मैं तो हुनर था तराश लेते .

پتّھر دل ہوں میں چلو ماں لیا .
صاحب تم میں تو ہنر تھا تراش لیتے .

---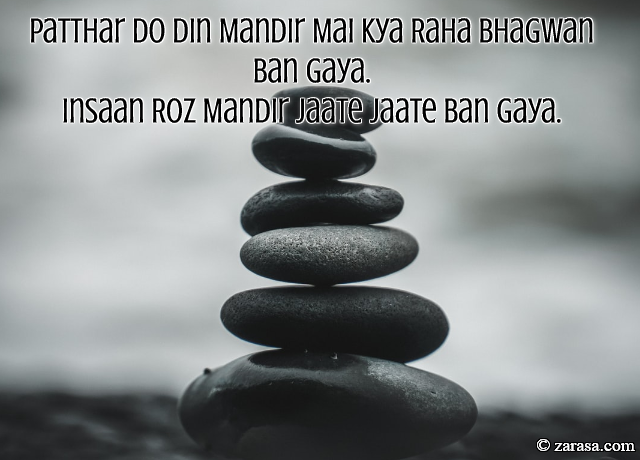 Patthar Do Din Mandir Mai Kya Raha Bhagwan Ban Gaya.
Insaan Roz Mandir Jaate Jaate Ban Gaya.
पत्थर दो दिन मंदिर मई क्या रहा भगवन बन गया .
इंसान रोज़ मंदिर जाते जाते बन गया .
پتھر دو دن مندر می کیا رہا بھگوان بن گیا .
انسان روز مندر جاتے جاتے بن گیا .
---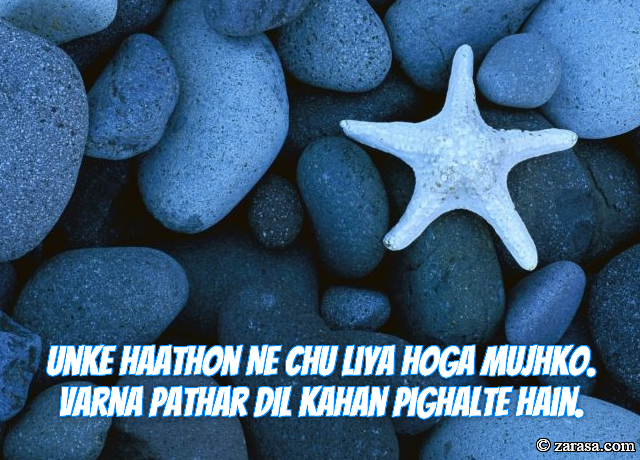 Unke Haathon Ne Chu Liya Hoga Mujhko.
Varna Pathar Dil Kahan Pighalte Hain.
उनके हाथो ने छू लिया होगा मुझको .
वर्ना पत्थर दिल कहाँ पिघलते हैं .
انکے ہاتھوں نے چو لیا ہوگا مجھکو .
ورنہ پتھر دل کہاں پگھلتے ہیں .
---