Phool SHAYARI "Ek Phool Usne Bhej Diya Hai Gulaab Ka"
|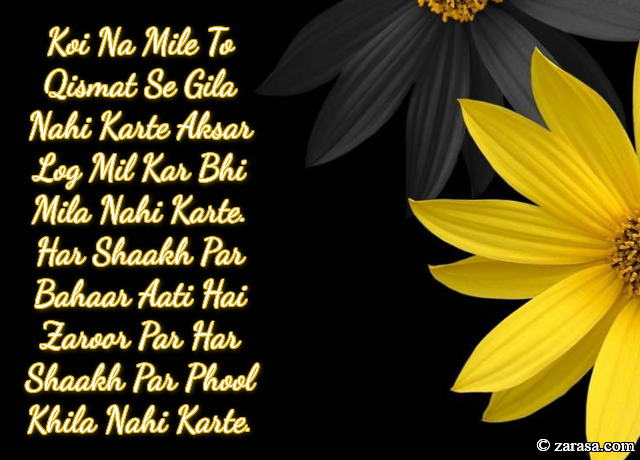 Koi Na Mile To Qismat Se Gila Nahi Karte Aksar Log Mil Kar Bhi Mila Nahi Karte.
Har Shaakh Par Bahaar Aati Hai Zaroor Par Har Shaakh Par Phool Khila Nahi Karte.

कोई न मिले तो क़िस्मत से गिला नहीं करते अक्सर लोग मिल कर भी मिला नहीं करते .
हर शाख पर बहार आती है ज़रूर पर हर शाख पर फूल खिला नहीं करते .


کوئی نہ میل تو قسمت سے گلا نہیں کرتے اکثر لوگ مل کر بھی ملا نہیں کرتے .
ہر شاخ پر بہار آتی ہے ضرور پر ہر شاخ پر پھول کھلا نہیں کرتے .

---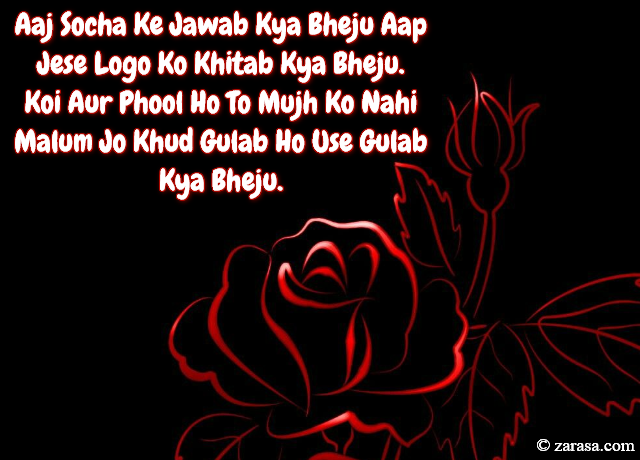 Aaj Socha Ke Jawab Kya Bheju Aap Jese Logo Ko Khitab Kya Bheju.
Koi Aur Phool Ho To Mujh Ko Nahi Malum Jo Khud Gulab Ho Use Gulab Kya Bheju.
आज सोचा के जवाब क्या भेजू आप जैसे लोगो को ख़िताब क्या भेजू .
कोई और फूल हो तो मुझ को नहीं मालूम जो ख़ुद गुलाब हो उसे गुलाब क्या भेजु .
آج سوچا کے جواب کیا بھیجو آپ جیسے لوگو کو کتاب کیا بھیجو .
کوئی اور پھول ہو تو مجھ کو نہیں معلم جو خود گلاب ہو اسے گلاب کیا بھیجو .
---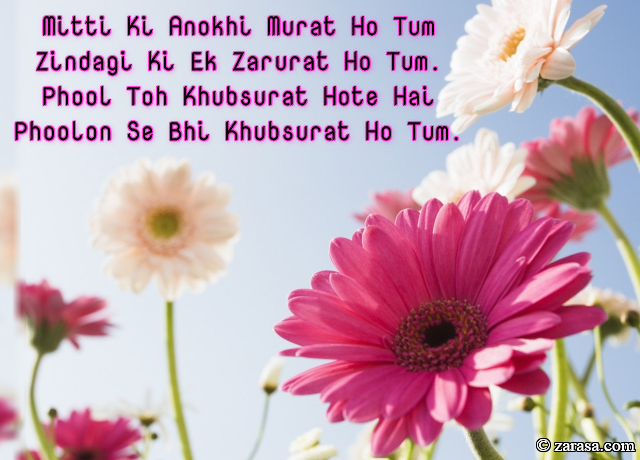 Mitti Ki Anokhi Murat Ho Tum Zindagi Ki Ek Zarurat Ho Tum.
Phool Toh Khubsurat Hote Hai Phoolon Se Bhi Khubsurat Ho Tum.
मिटटी की अनोखी मूरत हो तुम ज़िन्दगी की एक ज़रूरत हो तुम .
फूल तो ख़ूबसूरत होते है फूलों से भी ख़ूबसूरत हो तुम .
مٹی کی انوکھی مورت ہو تم زندگی کی ایک ضرورت ہو تم .
پھول تو خوبصورت ہوتے ہے پھولوں سے بھی خوبصورت ہو تم .
---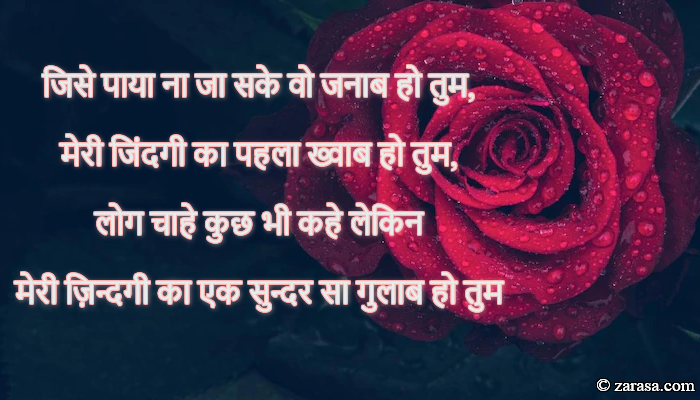 Jise Paya Na ja Sake Vo Janab Ho Tum,
Meri Zindagi Ka Pehla Khwab Ho Tum,
Log Chahe Kuch Bhi Kahe Lekin
Meri Zindagi Ka Ek Sundar sa Gulab Ho Tum.
जिसे पाया ना जा सके वो जनाब हो तुम,
मेरी जिंदगी का पहला ख्वाब हो तुम,
लोग चाहे कुछ भी कहे लेकिन
मेरी ज़िन्दगी का एक सुन्दर सा गुलाब हो तुम |

جسے پایا نہ جا سکے وو جناب ہو تم
میری زندگی کا پہلا خواب ہو تم
لوگ چاہے کچھ بھی کہے لیکن
میری زندگی کا ایک سندر سا گلاب ہو تم
---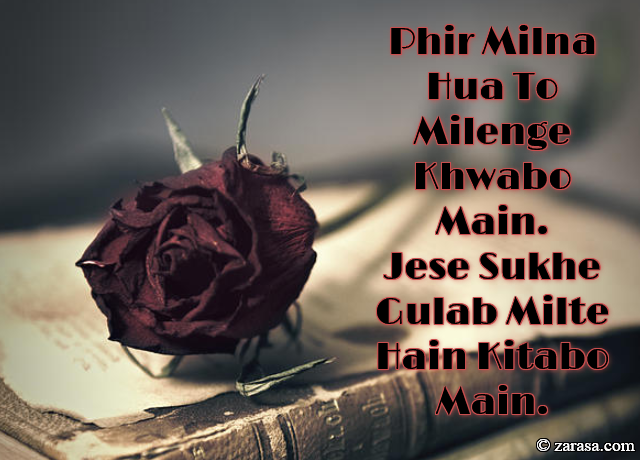 Phir Milna Hua To Milenge Khwabo Main.
Jese Sukhe Gulab Milte Hain Kitabo Main.
फिर मिलना हुआ तो मिलेंगे ख़्वाबों मैं .
जैसे सूखे गुलाब मिलते हैं किताबो मैं .
پھر ملنا ہوا تو ملینگے خوابو میں .
جیسے سکھ گلاب ملتے ہیں کتابو میں
---