Phool SHAYARI "Ek Phool Usne Bhej Diya Hai Gulaab Ka"
|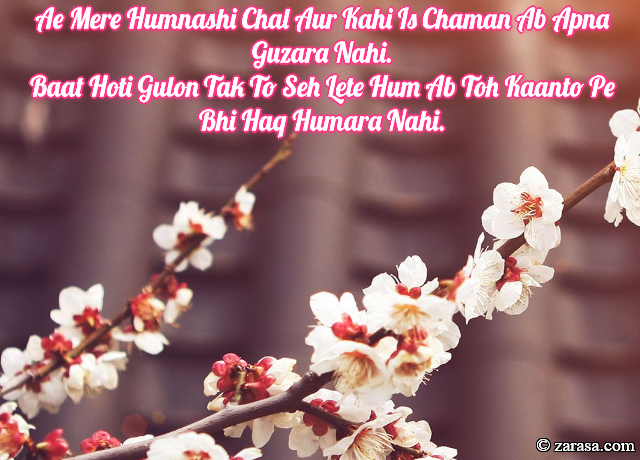 Ae Mere Humnashi Chal Aur Kahi Is Chaman Ab Apna Guzara Nahi.
Baat Hoti Gulon Tak To Seh Lete Hum Ab Toh Kaanto Pe Bhi Haq Humara Nahi.

ऐ मेरे हमनशी चल और कही इस चमन अब अपना गुज़ारा नहीं .
बात होती गुलों तक तो सेह लेते हम अब तोह कांटो पे भी हक़ हमारा नहीं .


اے میرے ہمنشی چل اور کہی اس چمن اب اپنا گزارا نہیں .
بات ہوتی گولوں تک تو سہ لیتے ہم اب تو کانٹو پی بھی حق ہمارا نہیں .

---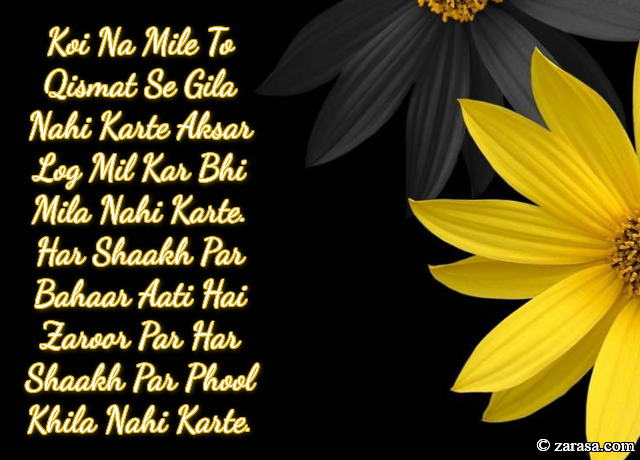 Koi Na Mile To Qismat Se Gila Nahi Karte Aksar Log Mil Kar Bhi Mila Nahi Karte.
Har Shaakh Par Bahaar Aati Hai Zaroor Par Har Shaakh Par Phool Khila Nahi Karte.

कोई न मिले तो क़िस्मत से गिला नहीं करते अक्सर लोग मिल कर भी मिला नहीं करते .
हर शाख पर बहार आती है ज़रूर पर हर शाख पर फूल खिला नहीं करते .


کوئی نہ میل تو قسمت سے گلا نہیں کرتے اکثر لوگ مل کر بھی ملا نہیں کرتے .
ہر شاخ پر بہار آتی ہے ضرور پر ہر شاخ پر پھول کھلا نہیں کرتے .

---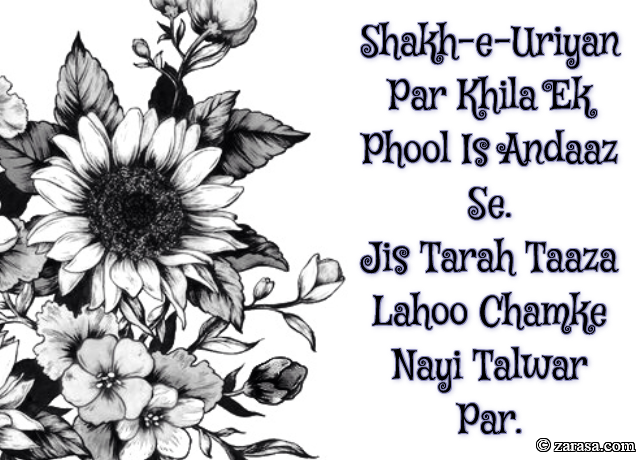 Shakh-e-Uriyan Par Khila Ek Phool Is Andaaz Se.
Jis Tarah Taaza Lahoo Chamke Nayi Talwar Par.
शाख -इ -ुरियाँ पर खिला एक फूल इस अंदाज़ से .
जिस तरह ताज़ा लहू चमके नयी तलवार पर .
شاخ -ا -عریاں پر کھلا ایک پھول اس انداز سے .
جس طرح تازہ لہو چمکے نیی تلوار پر .
---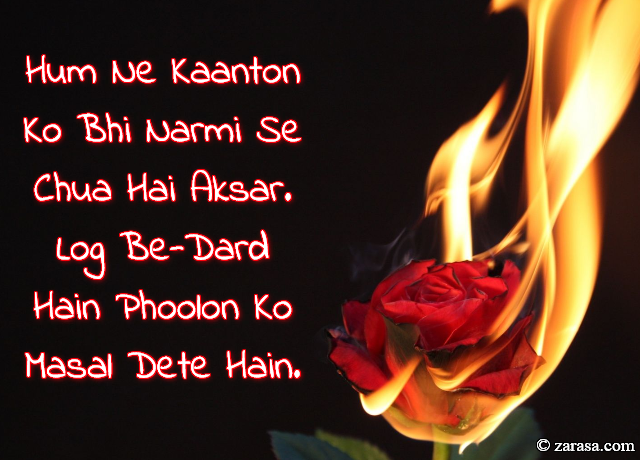 Hum Ne Kaanton Ko Bhi Narmi Se Chua Hai Aksar.
Log Be-Dard Hain Phoolon Ko Masal Dete Hain.
हम ने काँटों को भी नरमी से छुआ है अक्सर .
लोग बे -दर्द हैं फूलों को मसल देते हैं .

ہم نے کانٹوں کو بھی نرمی سے چا ہے اکثر .
لوگ بے -درد ہیں پھولوں کو مثل دیتے ہیں .

---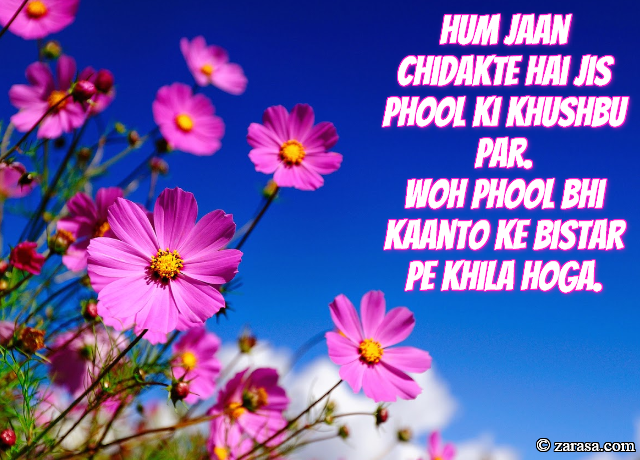 Hum Jaan Chidakte Hai Jis Phool Ki Khushbu Par.
Woh Phool Bhi Kaanto Ke Bistar Pe Khila Hoga.
हम जान छिड़कते है जिस फूल की ख़ुश्बू पर .
वह फूल भी कांटो के बिस्तर पे लिखा होगा .
ہم جان چدکتے ہے جس پھول کی خوشبو پر .
وہ پھول بھی کانٹو کے بستر پی کھیلا ہوگا .
---