Phool SHAYARI "Jo Khud Gulab Ho Use Gulab Kya Bheju"
Aaj Socha Ke Jawab Kya Bheju Aap Jese Logo Ko Khitab Kya Bheju.
Koi Aur Phool Ho To Mujh Ko Nahi Malum Jo Khud Gulab Ho Use Gulab Kya Bheju.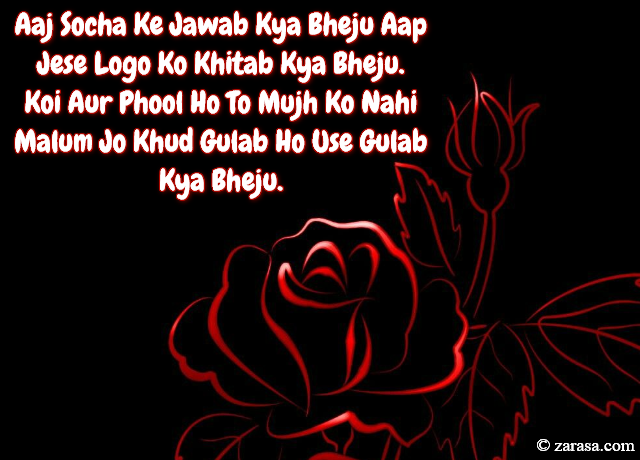 ---

आज सोचा के जवाब क्या भेजू आप जैसे लोगो को ख़िताब क्या भेजू .
कोई और फूल हो तो मुझ को नहीं मालूम जो ख़ुद गुलाब हो उसे गुलाब क्या भेजु .


---

آج سوچا کے جواب کیا بھیجو آپ جیسے لوگو کو کتاب کیا بھیجو .
کوئی اور پھول ہو تو مجھ کو نہیں معلم جو خود گلاب ہو اسے گلاب کیا بھیجو .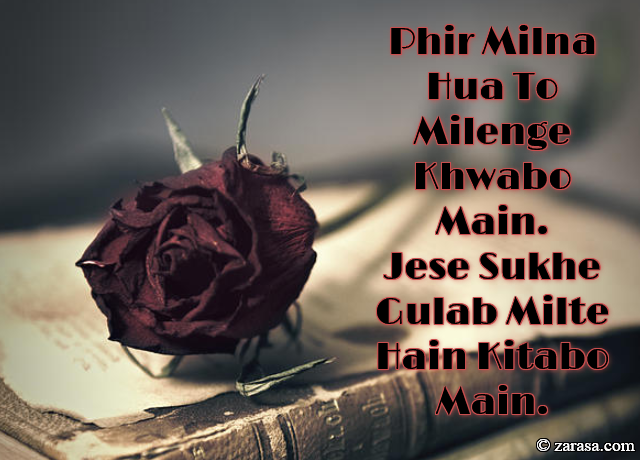 Phir Milna Hua To Milenge Khwabo Main.
Jese Sukhe Gulab Milte Hain Kitabo Main.
फिर मिलना हुआ तो मिलेंगे ख़्वाबों मैं .
जैसे सूखे गुलाब मिलते हैं किताबो मैं .
پھر ملنا ہوا تو ملینگے خوابو میں .
جیسے سکھ گلاب ملتے ہیں کتابو میں
---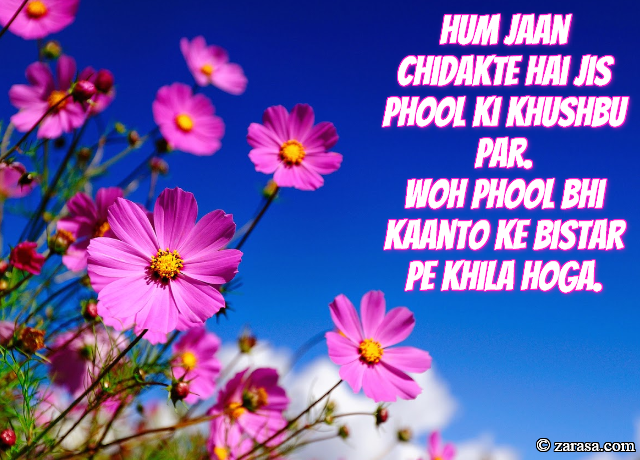 Hum Jaan Chidakte Hai Jis Phool Ki Khushbu Par.
Woh Phool Bhi Kaanto Ke Bistar Pe Khila Hoga.
हम जान छिड़कते है जिस फूल की ख़ुश्बू पर .
वह फूल भी कांटो के बिस्तर पे लिखा होगा .
ہم جان چدکتے ہے جس پھول کی خوشبو پر .
وہ پھول بھی کانٹو کے بستر پی کھیلا ہوگا .
---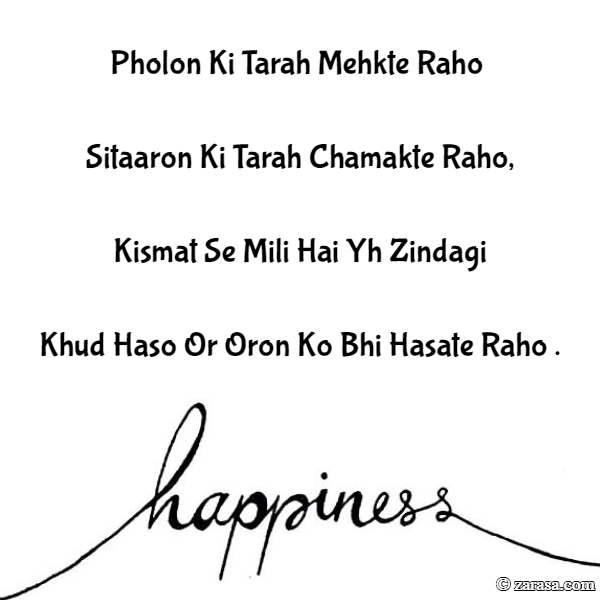 Pholon Ki Tarah Mehkte Raho
Sitaaron Ki Tarah Chamakte Raho,
Kismat Se Mili Hai Yh Zindagi
Khud Haso Or Oron Ko Bhi Hasate Raho .
फूलों की तरह महकते रहो
सितारों की तरह चमकते रहो,
किस्मत से मिली है ये ज़िन्दगी
ख़ुद हँसो और औरों को भी हंसाते रहो।
پھولوں کی طرح مہکتے رہو
ستاروں کی طرح چمکتے رہو
کسمت سے ملی ہے یہ زندگی
خود حصوں اور اروں کو بھی ہستے رہو
---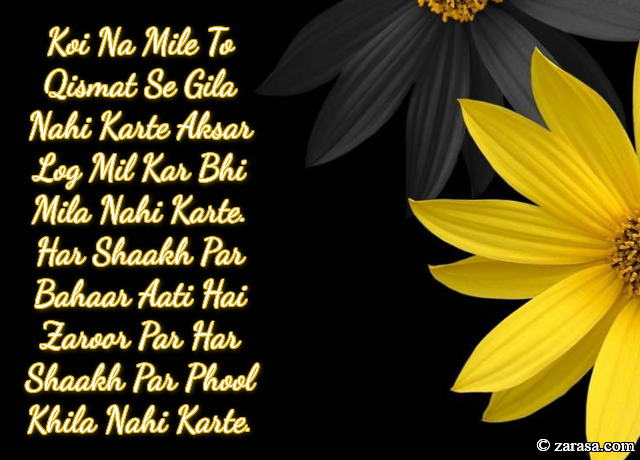 Koi Na Mile To Qismat Se Gila Nahi Karte Aksar Log Mil Kar Bhi Mila Nahi Karte.
Har Shaakh Par Bahaar Aati Hai Zaroor Par Har Shaakh Par Phool Khila Nahi Karte.

कोई न मिले तो क़िस्मत से गिला नहीं करते अक्सर लोग मिल कर भी मिला नहीं करते .
हर शाख पर बहार आती है ज़रूर पर हर शाख पर फूल खिला नहीं करते .


کوئی نہ میل تو قسمت سے گلا نہیں کرتے اکثر لوگ مل کر بھی ملا نہیں کرتے .
ہر شاخ پر بہار آتی ہے ضرور پر ہر شاخ پر پھول کھلا نہیں کرتے .

---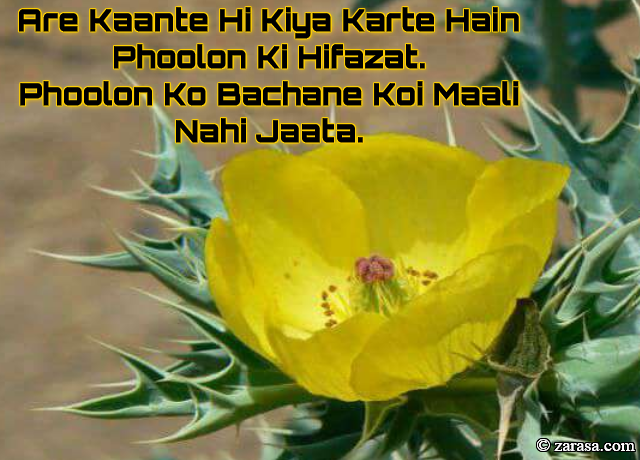 Are Kaante Hi Kiya Karte Hain Phoolon Ki Hifazat.
Phoolon Ko Bachane Koi Maali Nahi Jaata.
अरे कांटे ही किया करते हैं फूलों की हिफाज़त .
फूलों को बचाने कोई माली नहीं जाता .
ارے کانٹے ہی کیا کرتے ہیں پھولوں ک حفاظت .
پھولوں کو بچانے کوئی مالی نہیں جاتا .

---