Phool SHAYARI "Jo Khud Gulab Ho Use Gulab Kya Bheju"
|
Aaj Socha Ke Jawab Kya Bheju Aap Jese Logo Ko Khitab Kya Bheju.
Koi Aur Phool Ho To Mujh Ko Nahi Malum Jo Khud Gulab Ho Use Gulab Kya Bheju.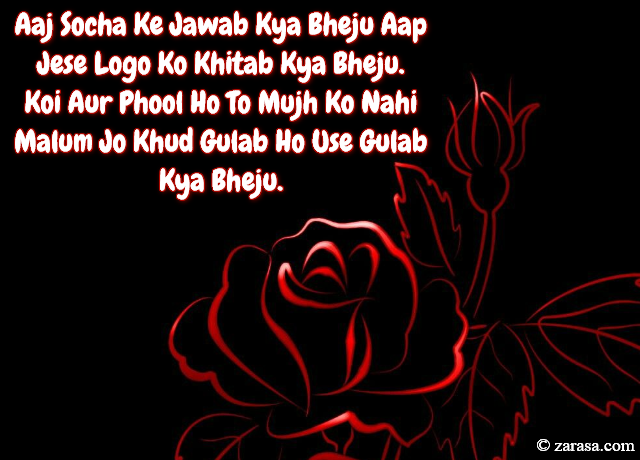 ---

आज सोचा के जवाब क्या भेजू आप जैसे लोगो को ख़िताब क्या भेजू .
कोई और फूल हो तो मुझ को नहीं मालूम जो ख़ुद गुलाब हो उसे गुलाब क्या भेजु .


---

آج سوچا کے جواب کیا بھیجو آپ جیسے لوگو کو کتاب کیا بھیجو .
کوئی اور پھول ہو تو مجھ کو نہیں معلم جو خود گلاب ہو اسے گلاب کیا بھیجو .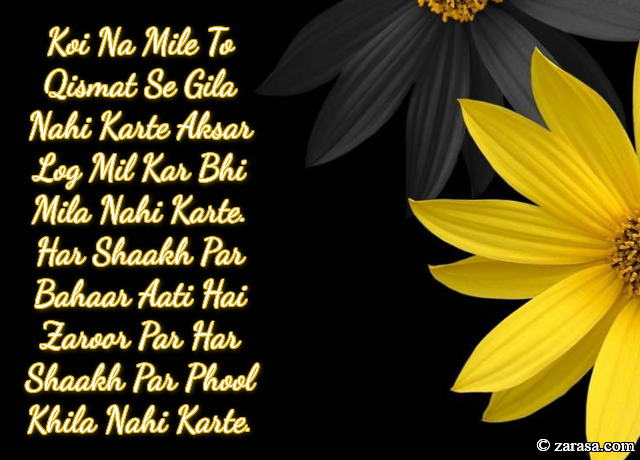 Koi Na Mile To Qismat Se Gila Nahi Karte Aksar Log Mil Kar Bhi Mila Nahi Karte.
Har Shaakh Par Bahaar Aati Hai Zaroor Par Har Shaakh Par Phool Khila Nahi Karte.

कोई न मिले तो क़िस्मत से गिला नहीं करते अक्सर लोग मिल कर भी मिला नहीं करते .
हर शाख पर बहार आती है ज़रूर पर हर शाख पर फूल खिला नहीं करते .


کوئی نہ میل تو قسمت سے گلا نہیں کرتے اکثر لوگ مل کر بھی ملا نہیں کرتے .
ہر شاخ پر بہار آتی ہے ضرور پر ہر شاخ پر پھول کھلا نہیں کرتے .

---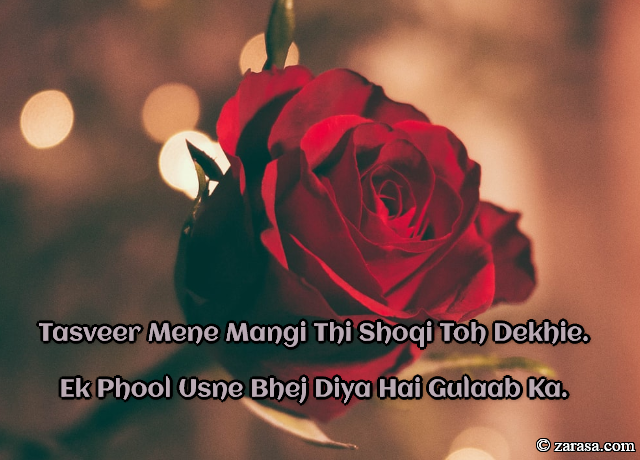 Tasveer Mene Mangi Thi Shoqi Toh Dekhie.
Ek Phool Usne Bhej Diya Hai Gulaab Ka.
तस्वीर मेने मांगी थी शोक़ी तो देखिए .
एक फूल उसने भेज दिया है गुलाब का .

تصویر منے مانگی تھی شوقی ٹوہ دیکھئے .
ایک پھول اسنے بھیج دیا ہے گلاب کا .

---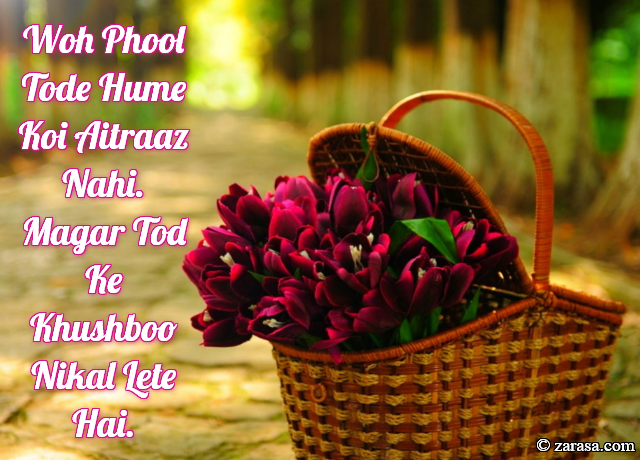 Woh Phool Tode Hume Koi Aitraaz Nahi.
Magar Tod Ke Khushboo Nikal Lete Hai.
वो फूल तोड़े हमे कोई ऐतराज़ नहीं .
मगर तोड़ के ख़ुश्बू निकाल लेते है .

وہ پھول تودے ہمے کوئی اعتراض نہیں .
مگر ٹاڈ کے خوشبو نکل لیتے ہے .

---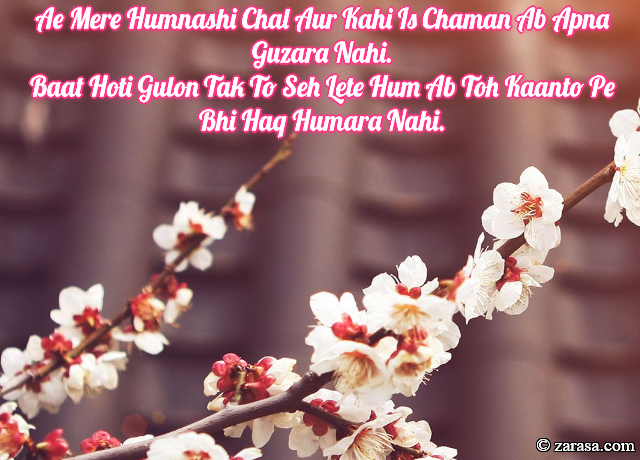 Ae Mere Humnashi Chal Aur Kahi Is Chaman Ab Apna Guzara Nahi.
Baat Hoti Gulon Tak To Seh Lete Hum Ab Toh Kaanto Pe Bhi Haq Humara Nahi.

ऐ मेरे हमनशी चल और कही इस चमन अब अपना गुज़ारा नहीं .
बात होती गुलों तक तो सेह लेते हम अब तोह कांटो पे भी हक़ हमारा नहीं .


اے میرے ہمنشی چل اور کہی اس چمن اب اپنا گزارا نہیں .
بات ہوتی گولوں تک تو سہ لیتے ہم اب تو کانٹو پی بھی حق ہمارا نہیں .

---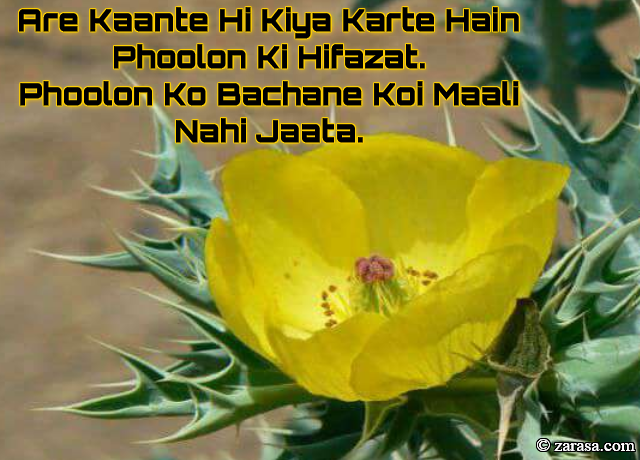 Are Kaante Hi Kiya Karte Hain Phoolon Ki Hifazat.
Phoolon Ko Bachane Koi Maali Nahi Jaata.
अरे कांटे ही किया करते हैं फूलों की हिफाज़त .
फूलों को बचाने कोई माली नहीं जाता .
ارے کانٹے ہی کیا کرتے ہیں پھولوں ک حفاظت .
پھولوں کو بچانے کوئی مالی نہیں جاتا .

---