Phool SHAYARI "Chaman Ke Rang Meri Choodiyo Mai Bhar Jae"
|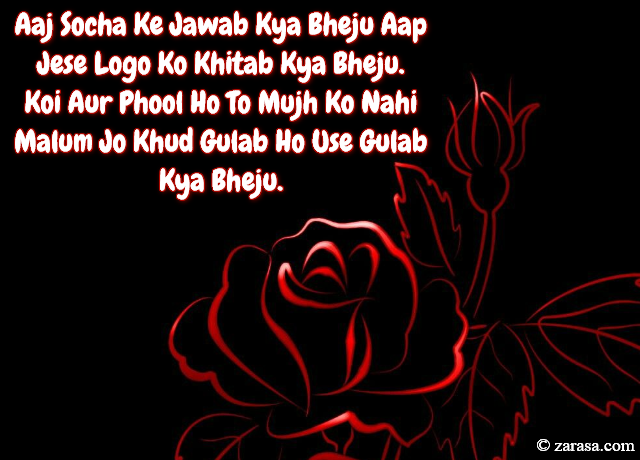 Aaj Socha Ke Jawab Kya Bheju Aap Jese Logo Ko Khitab Kya Bheju.
Koi Aur Phool Ho To Mujh Ko Nahi Malum Jo Khud Gulab Ho Use Gulab Kya Bheju.
आज सोचा के जवाब क्या भेजू आप जैसे लोगो को ख़िताब क्या भेजू .
कोई और फूल हो तो मुझ को नहीं मालूम जो ख़ुद गुलाब हो उसे गुलाब क्या भेजु .
آج سوچا کے جواب کیا بھیجو آپ جیسے لوگو کو کتاب کیا بھیجو .
کوئی اور پھول ہو تو مجھ کو نہیں معلم جو خود گلاب ہو اسے گلاب کیا بھیجو .
---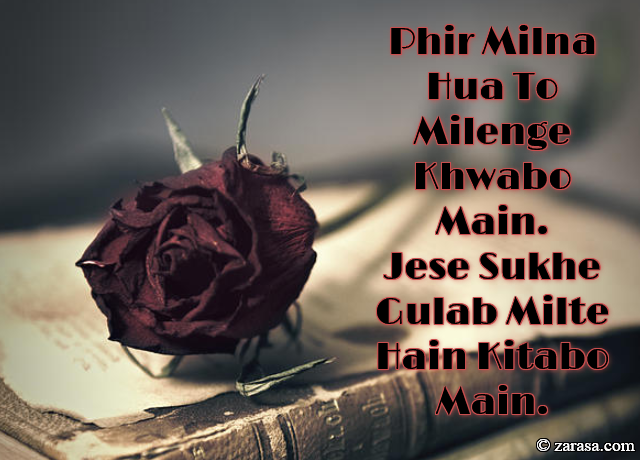 Phir Milna Hua To Milenge Khwabo Main.
Jese Sukhe Gulab Milte Hain Kitabo Main.
फिर मिलना हुआ तो मिलेंगे ख़्वाबों मैं .
जैसे सूखे गुलाब मिलते हैं किताबो मैं .
پھر ملنا ہوا تو ملینگے خوابو میں .
جیسے سکھ گلاب ملتے ہیں کتابو میں
---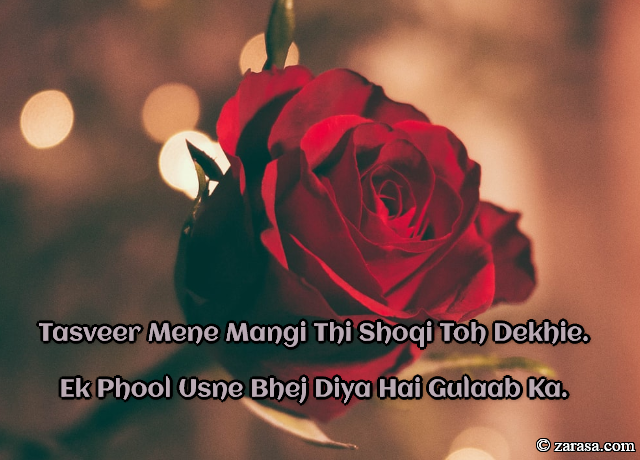 Tasveer Mene Mangi Thi Shoqi Toh Dekhie.
Ek Phool Usne Bhej Diya Hai Gulaab Ka.
तस्वीर मेने मांगी थी शोक़ी तो देखिए .
एक फूल उसने भेज दिया है गुलाब का .

تصویر منے مانگی تھی شوقی ٹوہ دیکھئے .
ایک پھول اسنے بھیج دیا ہے گلاب کا .

---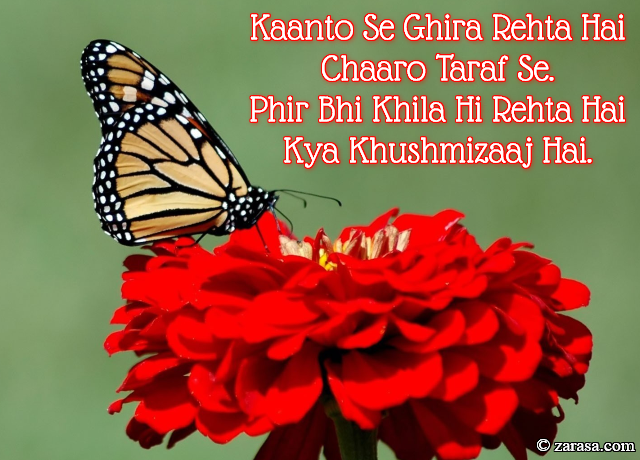 Kaanto Se Ghira Rehta Hai Chaaro Taraf Se.
Phir Bhi Khila Hi Rehta Hai Kya Khushmizaaj Hai.
कांटो से घिरा रहता है चारो तरफ़ से .
फिर भी खिला ही रहता है क्या खुशमिजाज़ है .


کانٹو سے گھرا رہتا ہے چارو طرف سے .
پھر بھی کھلا ہی رہتا ہے کیا خشمزاج ہے .

---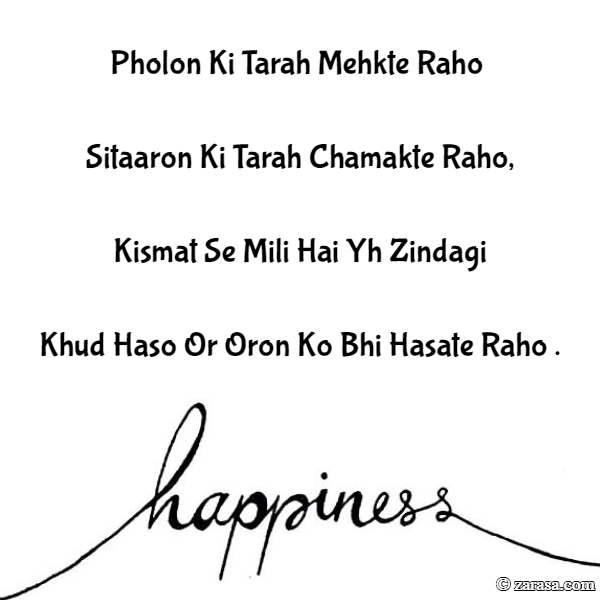 Pholon Ki Tarah Mehkte Raho
Sitaaron Ki Tarah Chamakte Raho,
Kismat Se Mili Hai Yh Zindagi
Khud Haso Or Oron Ko Bhi Hasate Raho .
फूलों की तरह महकते रहो
सितारों की तरह चमकते रहो,
किस्मत से मिली है ये ज़िन्दगी
ख़ुद हँसो और औरों को भी हंसाते रहो।
پھولوں کی طرح مہکتے رہو
ستاروں کی طرح چمکتے رہو
کسمت سے ملی ہے یہ زندگی
خود حصوں اور اروں کو بھی ہستے رہو
---