Phool SHAYARI "Kabhi Na Woh Murjhaye"
|
Tum Jis Phool Ko Hans Kar Dekho Kabhi Na Woh Murjhaye.
Tum Jis Hurf Pe Ungli Rakh Do Woh Roshan Hojae.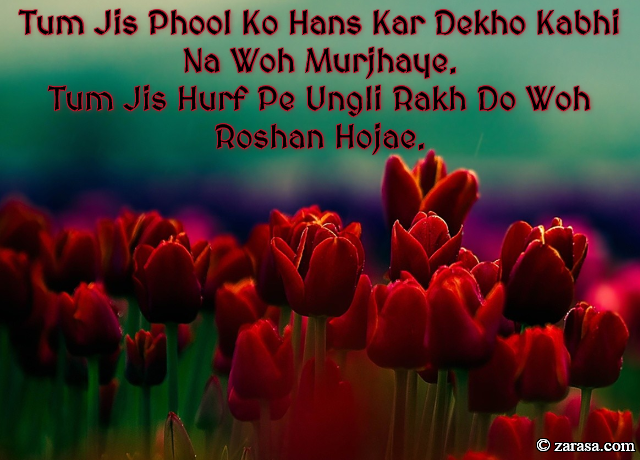 ---

तुम जिस फूल को हंस कर देखो कभी न वह मुरझाए .
तुम जिस हर्फ़ पे ऊँगली रख दो वह रोशन होजाए .


---

تم جس پھول کو ہنس کر دیکھو کبھی نہ وہ مرجھیے .
تم جس حرف پی انگلی رکھ دو وہ روشن ہوجاۓ .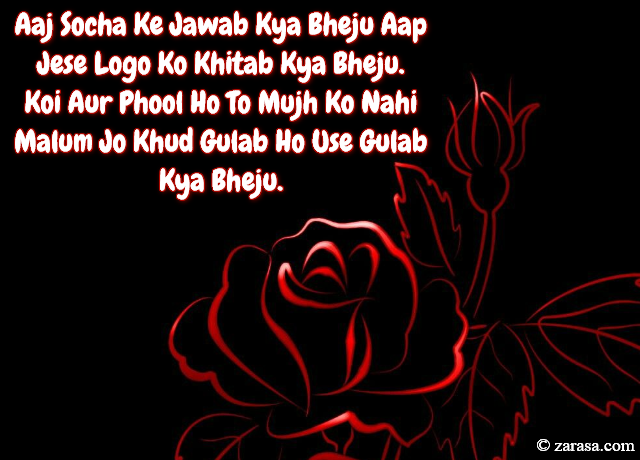 Aaj Socha Ke Jawab Kya Bheju Aap Jese Logo Ko Khitab Kya Bheju.
Koi Aur Phool Ho To Mujh Ko Nahi Malum Jo Khud Gulab Ho Use Gulab Kya Bheju.
आज सोचा के जवाब क्या भेजू आप जैसे लोगो को ख़िताब क्या भेजू .
कोई और फूल हो तो मुझ को नहीं मालूम जो ख़ुद गुलाब हो उसे गुलाब क्या भेजु .
آج سوچا کے جواب کیا بھیجو آپ جیسے لوگو کو کتاب کیا بھیجو .
کوئی اور پھول ہو تو مجھ کو نہیں معلم جو خود گلاب ہو اسے گلاب کیا بھیجو .
---
Nazuki Us Ke Lab Ki Kya Kahiye.
Pankhudi Ek Gulaab Ki Si Hai.
नाज़ुकी उस के लब की क्या कहिये .
पंखुड़ी एक गुलाब की सी है .
نازکی اس کے لب کی کیا کہئے .
پنخڈی ایک گلاب کی سی ہے .
---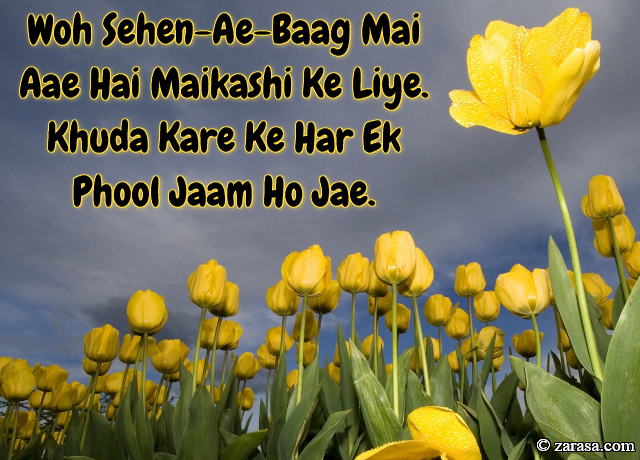 Woh Sehen-Ae-Baag Mai Aae Hai Maikashi Ke Liye.
Khuda Kare Ke Har Ek Phool Jaam Ho Jae.
वह सेहेन -ऐ -बाग़ मै आए है मैकशी के लिए .
ख़ुदा करे के हर एक फूल जाम हो जाए .
وہ صحن -اے -باگ می ے ہے میکشی کے لئے .
خدا کرے کے ہر ایک پھول جام ہو جاۓ .
---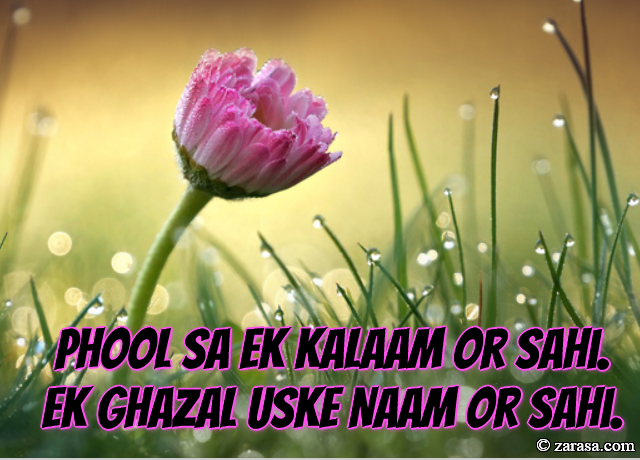 Phool Sa Ek Kalaam Or Sahi.
Ek Ghazal Uske Naam Or Sahi.
फूल सा एक कलाम और सही .
एक ग़ज़ल उसके नाम और सही .
پھول سا ایک کلام ور سہی .
ایک غزل اسکے نام اور سہی .
---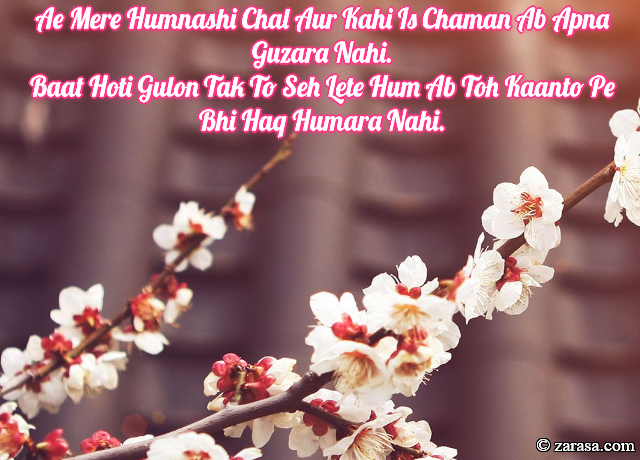 Ae Mere Humnashi Chal Aur Kahi Is Chaman Ab Apna Guzara Nahi.
Baat Hoti Gulon Tak To Seh Lete Hum Ab Toh Kaanto Pe Bhi Haq Humara Nahi.

ऐ मेरे हमनशी चल और कही इस चमन अब अपना गुज़ारा नहीं .
बात होती गुलों तक तो सेह लेते हम अब तोह कांटो पे भी हक़ हमारा नहीं .


اے میرے ہمنشی چل اور کہی اس چمن اب اپنا گزارا نہیں .
بات ہوتی گولوں تک تو سہ لیتے ہم اب تو کانٹو پی بھی حق ہمارا نہیں .

---