Shayari for Beauty "इस सादगी पे कौन न मर जाये ए खुदा"
|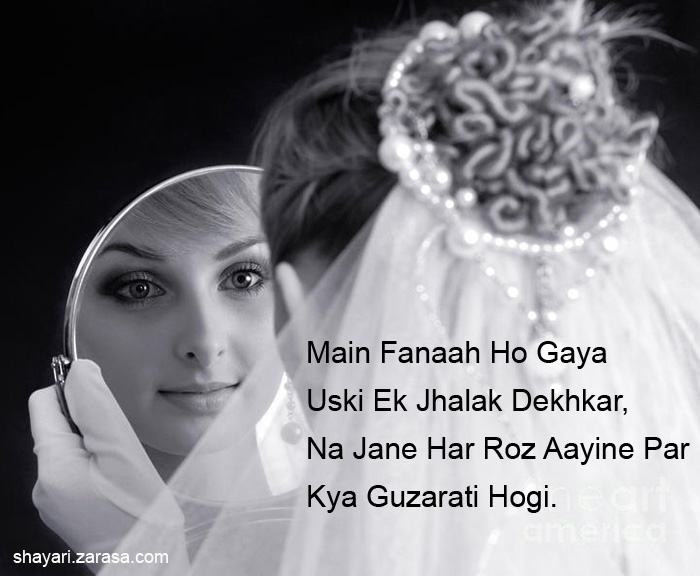 Main Fanaah Ho Gaya
Uski Ek Jhalak Dekhkar,
Na Jane Har Roz Aayine Par
Kya Guzarati Hogi.





मैं फनाह हो गया उसकी एक झलक देखकर,
न जाने हर रोज़ आईने पर क्या गुजरती होगी.
میں پھناه ہو گیا
اس کی ایک جھلک دیکھ کر،
نہ جانے ہر روز آئینے پر
کیا گزرتی ہو گی.
---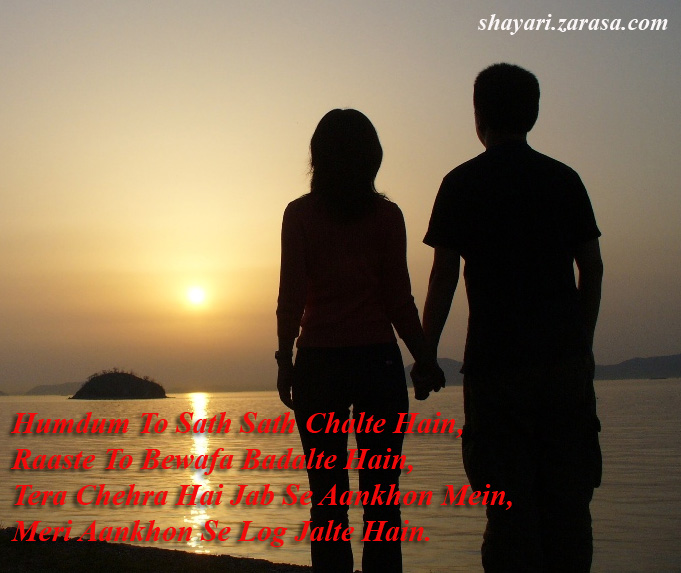 Humdum To Sath Sath Chalte Hain,
Raaste To Bewafa Badalte Hain,
Tera Chehra Hai Jab Se Aankhon Mein,
Meri Aankhon Se Log Jalte Hain.



हमदम तो साथ साथ चलते हैं,
रास्ते तो बेवफ़ा बदलते हैं,
तेरा चेहरा है जब से आँखों में,
मेरी आँखों से लोग जलते हैं.
ہمدم تو ساتھ ساتھ چلتے ہیں,
راستے تو بیوفا بدلتے ہیں,
تیرا چہرہ ہے جب سے آنکھوں میں,
- میری آنکھوں سے لوگ جلتے ہیں.
---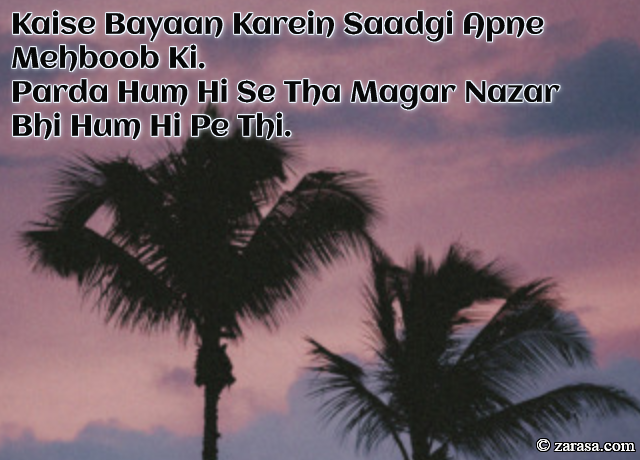 Kaise Bayaan Karein Saadgi Apne Mehboob Ki.
Parda Hum Hi Se Tha Magar Nazar Bhi Hum Hi Pe Thi.
कैसे बयान करे सादगी अपने मेहबूब की .
पर्दा हम ही से था मगर नज़र भी हम ही पे थी .
کیسے بیان کریں سادگی اپنے محبوب کی .
پردہ ہم ہی سے تھا مگر نظر بھی ہم ہی پی تھی .
---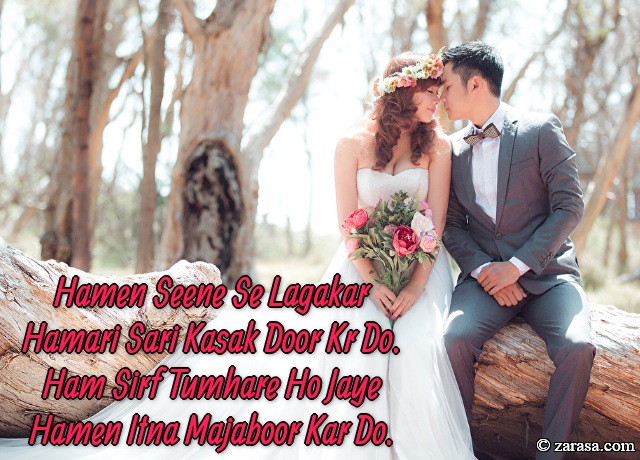 Hamen Seene Se Lagakar Hamari Sari Kasak Door Kr Do.
Ham Sirf Tumhare Ho Jaye Hamen Itna Majaboor Kar Do.
हमें सीने से लगाकर हमारी साडी कसक दूर कर दो .
हम सिर्फ तुम्हारे हो जाये हमें इतना मजबूर कर दो .
ہمیں سینے سے لگاکر ہماری سری کسک دور کر دو.
ہم صرف تمہارے ہو جائے ہمیں اتنا مجبور کر دو .
---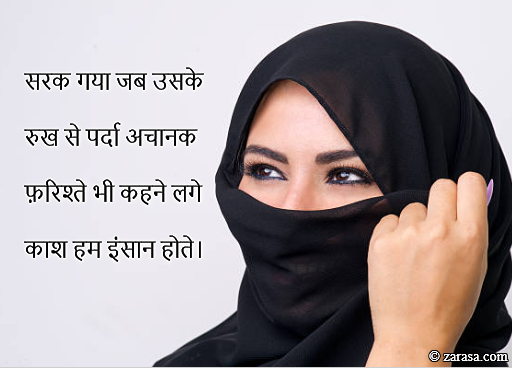 Sarak Gaya Jab Uske
Rukh Se Parda Achanak
Farishte Bhi Kehne Lage
Kaash Hum Insaan Hote.
सरक गया जब उसके
रुख से पर्दा अचानक
फ़रिश्ते भी कहने लगे
काश हम इंसान होते।
سارک گیا جب اسکے
رخ سے پردہ اچانک
فرشتے بھی کہنے لگے
کاش ہم انسان ہوتے-
---